No wonder it's a struggle to find the best apps for long distance friends.
Why? Because over 1100 apps added to Apple's app store every… single… day!
And let's face it, social media can only do so much to keep your friendships thriving.
To help, we've sorted through thousands of apps you could be using to find the ones you SHOULD be using.
Each app offers something different to help you stay connected with the people who matter most to you.
Let's get stuck in!
The Best Apps To Play With Friends Far Away
Feel
Is there anything more reassuring than the heartbeat of somebody you care about? With Feel, you and your friend can send each other your real-time heartbeats!
When you send your heartbeat, you can also write a message and pick a special heart design to go with it.
Some other features we love include:
Save heartbeats forever
Track your own heart rate throughout the day
Save your pet's heartbeat
You don't need any special equipment, either. To record your heartbeat, just hold your finger over the camera and flashlight.
Marco Polo
Have you been struggling to schedule video chats with your long distance friend? Life is busy, and Marco Polo can help friends connect regardless of time zones or busy schedules.
With Marco Polo, you can record video messages of any length and send them to your friends, who can watch and reply when they have time.
Unlike other social media platforms, Marco Polo doesn't sell your information to other companies. The app is totally ad-free, secure, and private.
You have to know the mobile number of the person you want to connect with, so you don't need to worry about strangers dropping in. You can even create different groups – have one group for your friends and another for your family!
Rave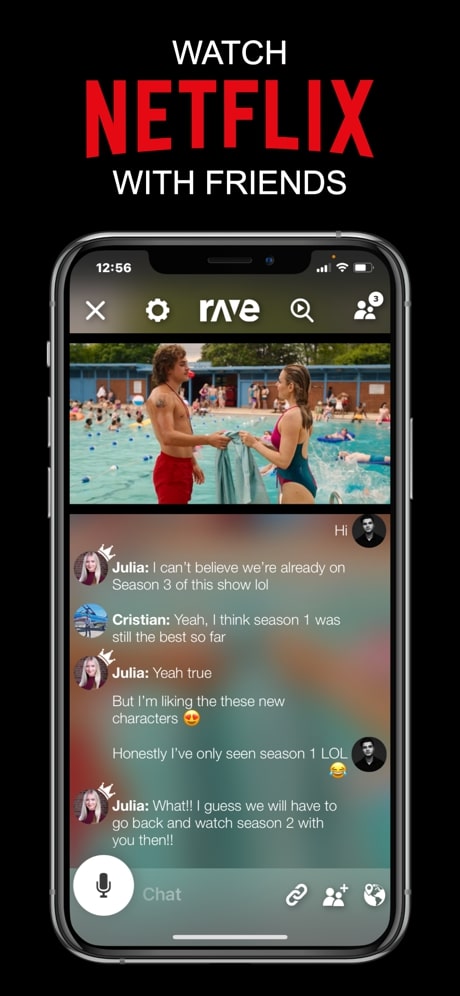 Do you miss movie night? Have watch parties with your friends no matter how far apart you are with Rave.
Watch your favorite content from Netflix, YouTube, Reddit, Vimeo, Google Drive, Amazon Prime, and more while also messaging or voice chatting with your friends.
Rave lets you do it all within one app. Now, you don't have to try to synchronize your streams on one device while using another to talk with your friend.
As an added bonus, when you get to visit your long distance friend in person, you can use Rave to synchronize your phones to create an instant speaker system.
LoveLight Connect App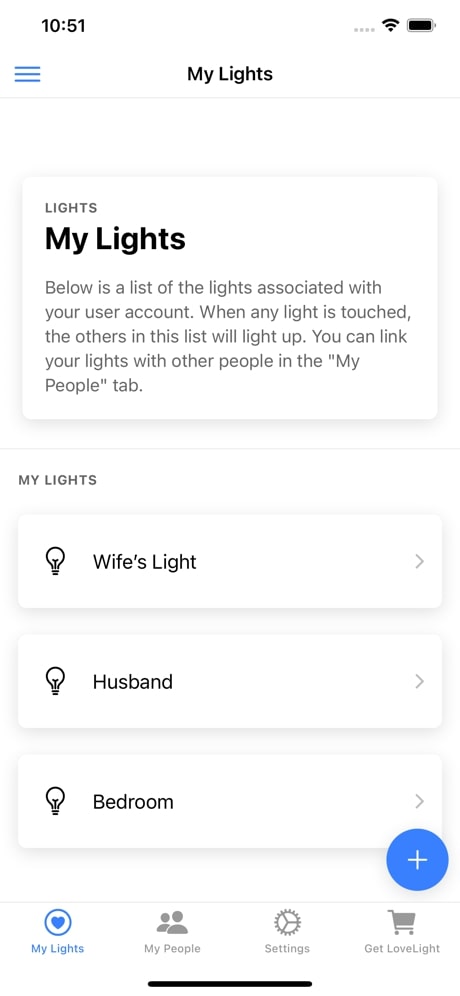 Brighten up your long distance friend's life with the LoveLight Connect App and LoveLights.
Send one LoveLight to your friend and keep one for yourself. When you touch yours, theirs will light up anywhere in the world.
The LoveLight Connect App allows you to add new Lights and change the color palette of your Light. You can even use the app to "touch" your Light to illuminate your friend's, even when you're on the go.
You can connect any number of LoveLights, so your entire friend group can feel connected, no matter how spread apart you are.
LoveBox Messenger App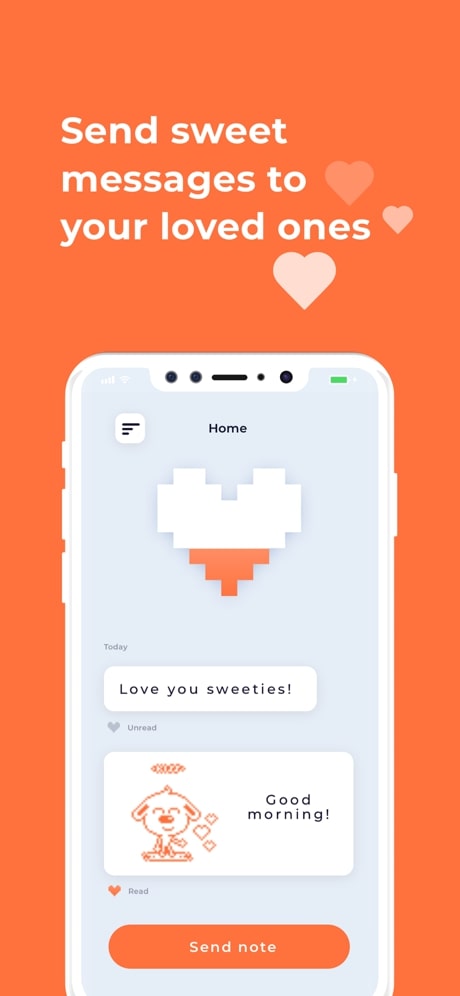 Wouldn't it be great if you could instantly send your friend a gift to open any time you want? With the LoveBox Messenger App, you can turn drawings, photos, or messages into a more tangible gift.
When you send a message to your friend's LoveBox, a heart on the front will spin, letting them know they have a message from you. Then, they lift the lid of the box to see the message, just like opening a real present.
The LoveBox Messenger App allows you to create and send the perfect message to your friend, and you can use the app to connect to as many LoveBoxes as you want.
Trivia Crack
Do you miss trivia night? Now you and your friends can do trivia together, even when you're apart, with Trivia Crack
Not only can you pick the topics that most interest you, but you can create quizzes on your favorite topic and connect with people around the world who share that same interest.
Battle your friends directly to see which of you knows certain topics best. Then, the next time you can go to trivia night together, you know whose answer to trust more on each topic!
SongPop2
Are you and your long distance friend both passionate about music? See who knows more song titles and artists with SongPop2.
This mobile application has more than 100,000 real music clips from every decade since the 1960s and a wide number of music genres, including today's top hits, classic rock, country, pop, Latin hits, and more.
You can battle your friends or strangers in daily multiplayer tournaments and earn badges along the way.
More playlists are added every day, so you have constant challenges to keep you and your friends busy.
Mario Kart Tour
Don't let the distance stop you from playing your favorite game together. Mario Kart Tour allows you to race your friend anywhere!
In addition to the classic Mario Kart courses, Mario Kart Tour features courses inspired by real locations around the world.
Since you can have up to 8 racers at once, your entire friend group can play together. If your friends are busy, race people from around the world.
Collect karts, drivers, gliders, badges, and more by completing certain challenges. Some races aren't even about taking first place; instead, they require a different approach to gameplay and strategy.
Words With Friends 2
Missing game night? Find that sense of competition with Words With Friends 2.
The world's most popular social mobile word game, Words With Friends 2 allows you to play with friends, strangers, or fictional personalities.
Now, there are more ways than ever to compete for points and the highest-scoring word. If a regular round is too slow for you, try new Lightning Rounds or Lightning Duels for a fast-paced approach to the classic word game.
You can also add Tile Styles, Profile Frames, and Stickers for a more personalized experience.
Smule: Social Karaoke Singing
If karaoke night was a staple part of your friendship, you can get that back with Smule.
Record a duet with your best friend, sing a song with your entire friend group, do a solo, or even try a capella – regardless of how far apart you are.
With more than 10 million songs in a variety of languages, you're sure to find your favorite tunes. And Smule offers something you can't get at your local bar – autotune plus other audio and visual effects.
Sing live or record yourself and create a music video. With all these features, long distance karaoke night might be almost as good as going together in person!
HEY Bracelet App
If you're looking for a unique way to stay in touch with your long distance friend, check out the HEY Bracelet and corresponding app.
When you tap one HEY bracelet, the band of the other connected bracelet will gently tighten. It gives you a quick, easy way to let your friend know you're thinking about them when you don't have time to send a message.
The app allows you to seamlessly connect the bracelets together and lets you keep track of each touch that was sent, when and where!
KOYA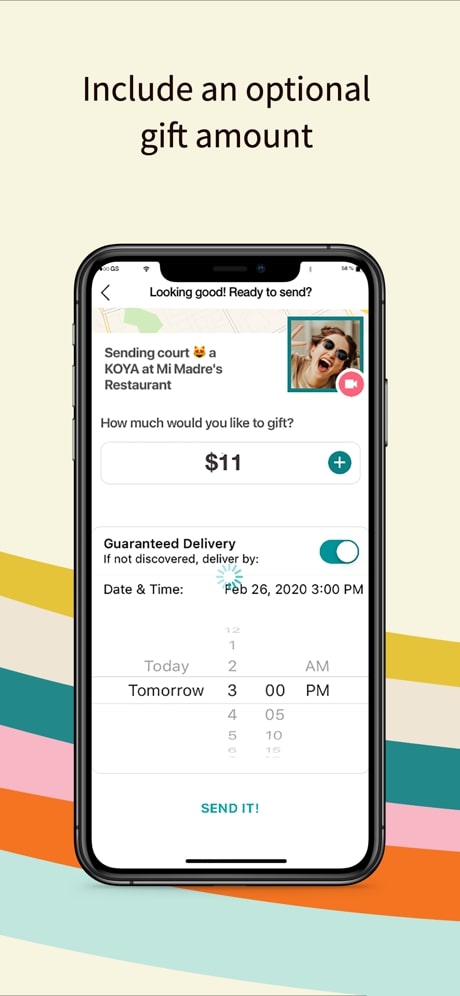 Surprise your friends with messages, videos, or money to spend at their favorite spots with KOYA.
This app for long distance friends uses geolocation technology to let you send surprises that your friend will only receive when they reach a certain location.
You can also use the app to deliver a video message when your friend arrives at your favorite hangout saying you wish you could join them. Or send a virtual gift card when they show up to their usual coffee shop!
Usage tip: You could even send your friend on a virtual scavenger hunt to explore their new city, with encouraging messages from you at every location!
Houseparty
If you're looking for a simple way to video chat with all your friends, you should check out Houseparty.
With Houseparty, you can create a room with up to 8 people. Any time you open the app, your contacts will be notified. If they're available, they can join your party and chat.
You can also play games with your friends within the app, including Trivia, HeadsUp!, Quick Draw, and Chips and Guac.
For those who like to play Fortnite, you can even cast your entire group into the game so you can all play together.
Which Apps Will You Choose For Your Long Distance Friendship?
Which of our apps for long distance friends do you like the most? Don't forget to send this list to your long distance bestie and see which apps peak their interest!
---
Hi, we are Lolo (Canada) & Nate (Australia) a couple that had to go through all that a long distance relationship has to offer, just like you. With our experience and lessons learned we want to help you keep your long distance relationship as strong as ever and ultimately last the distance!