DIY long distance relationship gifts are an amazing way to show your partner just how much they mean to you.
In reality, many of us push making something to the side and would rather purchase a gift.
While this is still a fantastic idea, there is something truly special about creating a handmade gift from scratch.
Not to mention the cost savings!
Just imagine your partner getting to see and use your DIY gift each and every day.
Not only will they have a smile from ear to ear 🙂 but it will make you feel great too.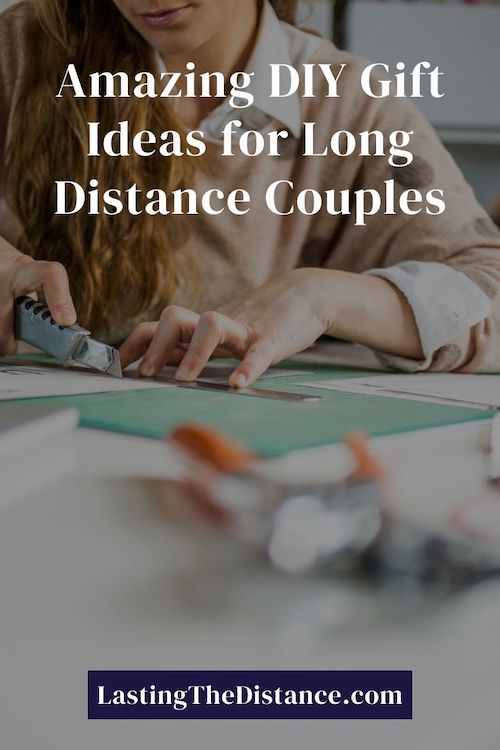 DIY Gifting Is Great For Your Mental Health!
Research by Heather Stuckey and Jeremy Nobel found that working on creative activities can reduce anxiety, stress, and other mood disturbances as well as have a positive impact on your overall wellbeing and quality of life.
If you are feeling down after a recent visit or just missing your partner, creating something can help you feel better while making them feel special!
Ready to get your hands dirty? Let's dive in!
QUICK NAVIGATION
The Best DIY Long Distance Relationship Gifts In 2023
DIY Friendship Lamps
These DIY Friendship Lamps will blow your partner's mind and show off your technical skills.
A big thank you to Patrick Blesi for the detailed instructions and codebase.
Linked via wifi, these lamps synchronize no matter the distance. Tapping one lamp will make the other connected lamp light up, letting your partner know that you are thinking of them in that very moment.
Materials
Unifun Touch Lamp
Particle Photon without Headers
NeoPixel Ring 24
10M-Ohm Resistor
Two ⅜" Felt Pads
A USB Phone Charger
A 1-1.5" Wooden Dowel
Wire (22AWG gauge)
Solder
Hot Glue
Goo Gone
Screwdriver
Razorblade
Soldering iron
Hot glue gun
Drill and 3/32" drill bit
Wirecutter/wire stripper
While you don't need an engineering degree, making these lamps isn't for the faint of heart! Luckily there are ready-made options available. Check out our past on the best friendship lamps for long distance couples, friends and families to stay connected.
DIY Care Packages
Care packages are a great way to show your loved one you care. By finding the perfect care package, you can customize it to your partner's tastes.
Include books, movies, candles, snacks, or other items to make your partner's day. You could even include items that you love, which can help your partner learn more about you in a completely different way!
We think care packages are perfect for international long distance couples who haven't yet had the chance to experience each other's hometowns.
Materials
Box
Gifts/Snacks/Mementos
Decorative items
Need a few care package theme ideas? Our complete guide on long distance care packages is exactly what you're looking for.
DIY Photo Frame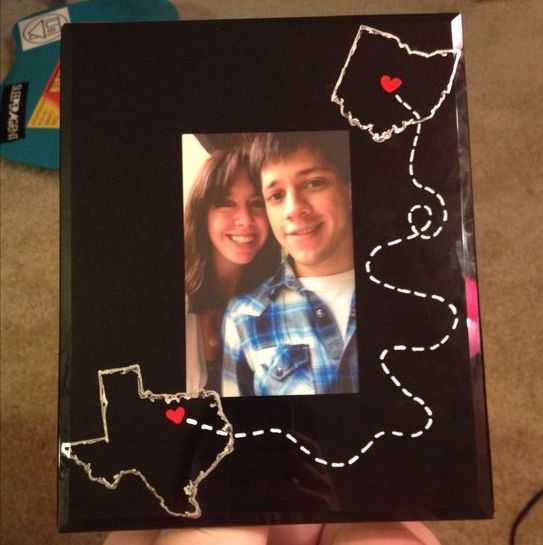 Give your partner the perfect way to display their favorite couple photo with a DIY photo frame. You can purchase a blank, natural wood frame, and then decorate it to match your partner's taste in decor or to reflect your commitment to each other.
Some ideas include: a dotted line between your two homes, your partner's favorite flower, a lyric from a meaningful song, or a quote from their favorite book. Whatever you choose, your partner will love that they can display you!
Materials
Blank Picture Frame
Paints or markers
Photo
DIY Spotify 'Our Song' frame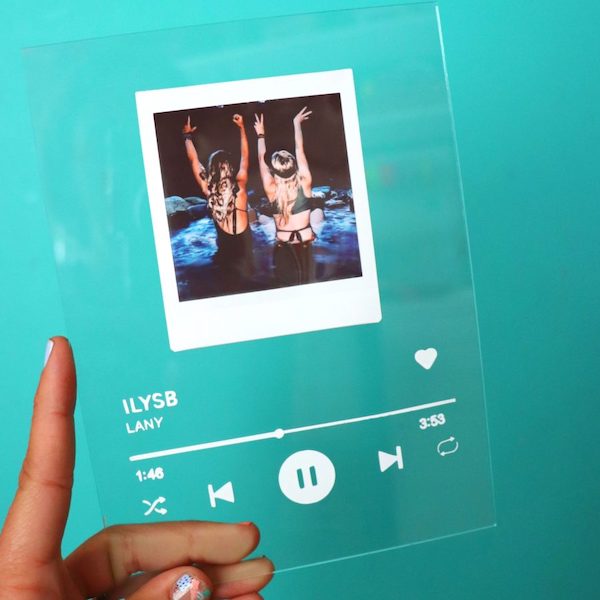 For couples with "our songs", the DIY Spotify frame is the perfect gift to immortalize the soundtrack to your relationship. Use a photo of the two of you and add the song and artist below to make a framed version of your Spotify playlist.
What's really cool is that Spotfiy also generates unique codes for specific songs. You can create a code, print it, and your partner can scan it from the photograph so it will play automatically.
Materials
Frame and clear glass (or plastic)
Vinyl to print the artist, track, and song onto
Photo to use as the "album cover"
USB Message in a Bottle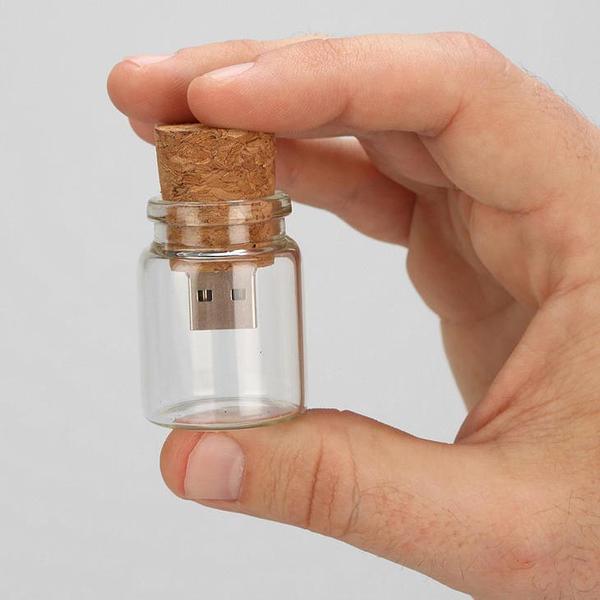 Give a gift that keeps on giving with a USB Message in a Bottle. Add photos, songs, movies, and letters to the flash drive and then send it to your partner. This is a perfect way to send a customized gift with lower postage fees – think of it as a digital DIY care package!
Materials
Digital photos, videos etc.
Simple DIY Long Distance Relationship Gifts
DIY Sharpie Mug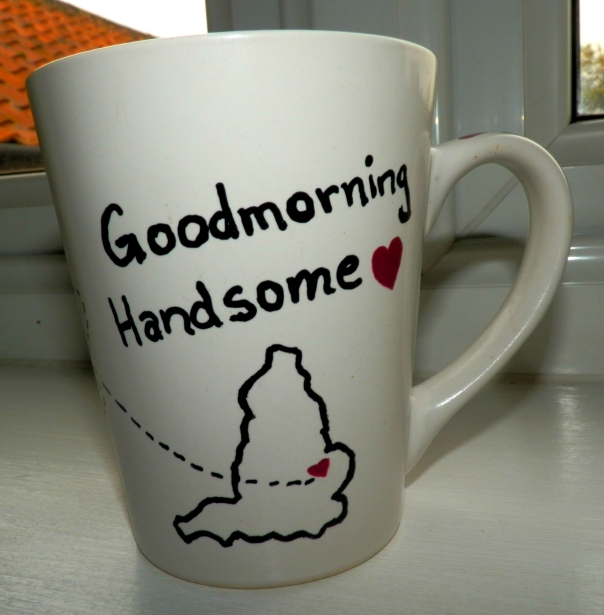 If your partner loves tea, coffee, or any other mug-based drink, a DIY Sharpie Mug is the perfect gift. Simply use a sharpie to draw on a plain white mug and then bake it for 30 minutes. Now every morning, your partner will think of you!
Why not make yourself a matching mug to strengthen your connection as you enjoy a hot drink "together".
Materials
Plain White Mug
Sharpie
Oven
Date Night Flip Book
Nothing is worse than getting to date night and neither of you knowing what to do. It is the "where should we eat," dilemma for long distance couples.
A pre-planned date night flip book, however, will alleviate that stress!
Plus, you'll be able to show your partner how much you care by taking the time to think about what they want to do on a night together.
Materials
Notecards
Sharpie
Ring hook
Optional: Laminator & laminator sheets
Foreign Coin Fridge Magnets
Perfect for international couples or couples who love to travel, foreign coin fridge magnets are a fun gift to give and receive. Plus, the gift only costs a few cents!
Find a fun coin from your country (or your partner's bucket list destination) and glue a magnet to the back. Your partner can put it on their refrigerator and think of you everytime they snack.
Materials
Foreign or local coins
Magnets
Hot glue gun
I'm There For You DIY Handprint
Create an extremely personalized gift for your partner and give them your hand(print!). Paint or ink up your hand and then place it on a piece of paper. Around it you can write a cheesy pick up line, like "My hand is heavy…can you hold it?" or something more sentimental like "You can't feel me, but I'm there, holding your hand through it all."
Either way, your partner will love that they can display a piece of you all the time!
Materials
Ink, paint or charcoal
Cardstock paper
Frame
Markers or Sharpie
DIY Long Distance Relationship Gifts for Him
Deck of Texts
Give him a gift that makes him laugh, cringe and cry with a deck of texts. On a deck of cards, paste your most funny and flirty exchanges for him to flip though. He will love looking at all of the goofy things you've said to him over the course of your relationship. Also, make sure to include a few where you compliment him!
Materials
Paper to print screenshots of texts
Deck of cards
Glue
DIY Photo Strip Box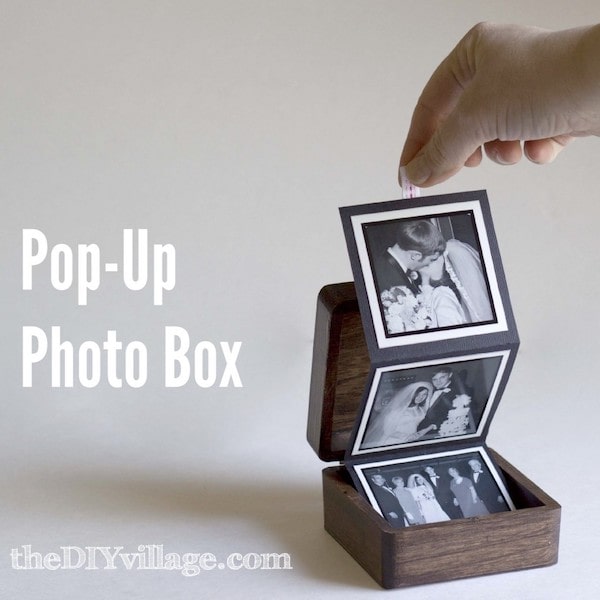 Make him a fun photo strip box that includes your (or his) favorite photos. This photo strip folds up in a decorative wooden box and can include cute candids or something spicier if that's what you are feeling.
Perfect for LDR couples, the photo box will remind him of all the fun you've had and all the fun you can have in the future!
Materials
Scrapbook paper
Glue
Ribbons
Wooden box
Stain and paint
Stencil
Protective finish coat
Keyboard Keys Message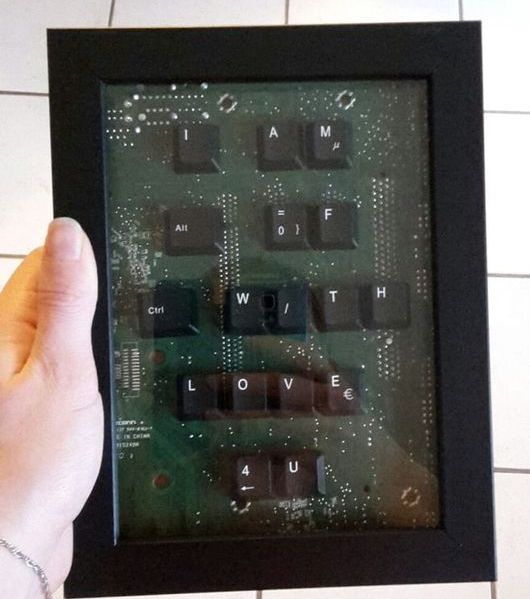 Have an old keyboard laying around?. Why not use the keys to write out a message just for him. A keyboard keys message is an especially great gift for a man who loves puns like:
"You have the keys to my heart", and
"You're Just My Type"
Plus, it is the perfect addition to any office and will keep him thinking of you around the clock.
Materials
1-2 old keyboards
Shadowbox Frame
Glue
Reasons Why You're a Catch Baseball Gift
A Reasons You're a Catch Baseball is the perfect combination of puns and sports. Simply write out all the reasons he is important to you on a baseball and let him know that's why he's "a catch". Even if your man doesn't play baseball, this gift is sure to be a homerun.
DIY Long Distance Relationship Gifts For Her
Countdown Kisses Jar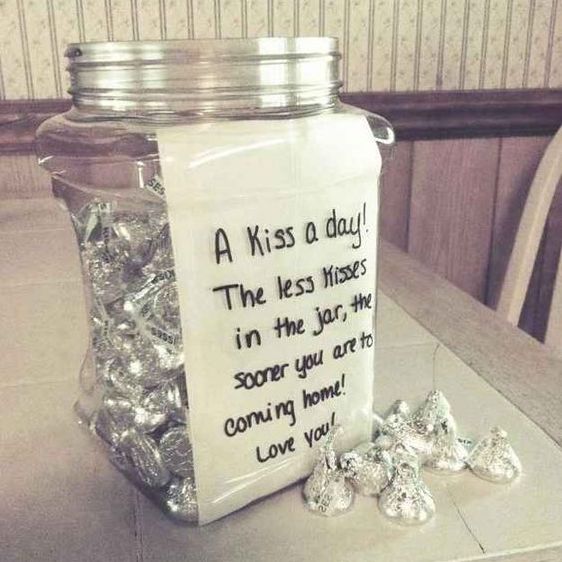 A countdown kisses jar takes an adorable spin on a classic countdown clock. Give her a kiss (chocolate kiss!) a day until you get to see her again. This gift is sure to make her melt when she first sees it and will also keep her counting down the days until you can be together.
Materials
Mason jar
Chocolate kisses
What I Love About You From A to Z Book
Give her affirmations from A-Z with a "What I Love About You" mini book. Each compliment goes with each letter of the alphabet. You'll show her not only the things you love about her, but also how creative you are by coming up with something for every letter (X is a challenge!).
Write down all the little things you love and notice about your partner and we have no doubt this DIY gift will have her smiling for days.
Materials
Notecards
Markers or pens
Ring hook
Optional: Laminator & laminator sheets
Key to Your Home
A key to your home is a great way to show her you are thinking about the future (and where she is in it!). By giving her something as simple as a key, you can show her that you want her in your life for a long time or forever.
If you are afraid to lose your home key in the mail, you can always use a symbolic key! It is the thought that counts.
Materials:
Key
Ring box
Note card
Pen (or printed)
Optional: Keychain
Your Hoodie She Loves
A simple, but lovely gift for her is your old hoodie. It's not just a gift, but a representation that you are willing to part with something of your own for her. She'll be able to smell your scent on the shirt which will make the miles between you melt away.
Materials:
Your old hoodie
Optional: a splash of cologne
T-Shirt Pillow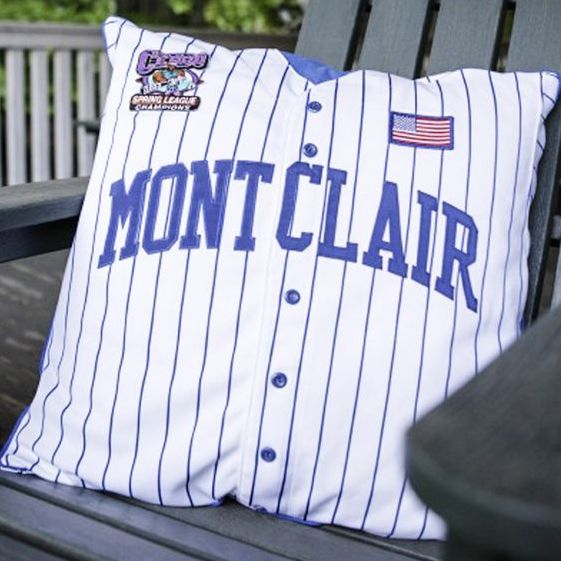 If you thought giving her an old t-shirt was a good idea, the t-shirt pillow takes it to another level. For this gift, you simply make a pillowcase out of one of your old t-shirts. Not only are you willing to part with her favorite shirt – but you also took the time to make it into something new.
Why not use a souvenir shirt from a pervious visit or vacation to add even more sentiment to this gift.
Materials:
Your old t-shirt
Pillow insert
Sewing Needles
Thread
DIY Written Long Distance Relationship Gifts
Open When Letters
Open When Letters are a great way to be with your partner even when far away. This gift is simple: write a letter to your significant other and tell them when to open it.
Some examples include, Open when you:
"Need to know how much I love you"
"Are having a really great day"
"Ace your finals"
These letters let you encourage, support, and love your partner in small moments that you may not be able to travel the distance for. Plus, your partner will be itching for the next "open when" moment!
Materials:
Paper
Envelopes
Pens or markers
Other decorations
Not sure what to write? Check out our post of ideas and examples to take your open when letters to the next level!
Remember When Memory Box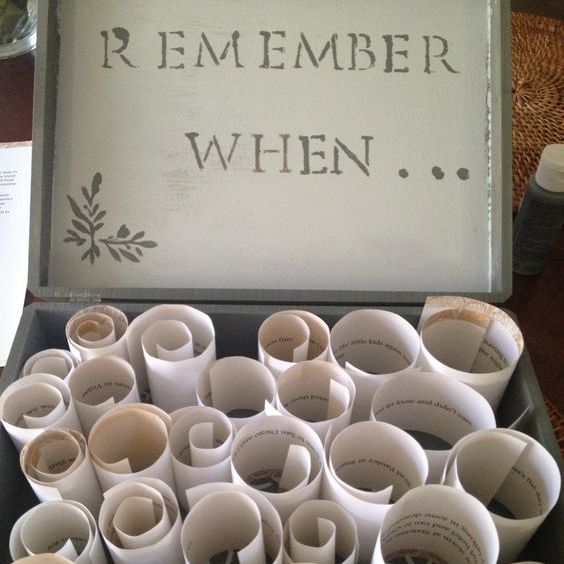 Create a memory box for your partner! Decorate an old shoe box and fill it with "Remember when…" notes. You can include funny anecdotes, romantic moments, or some sexy scenes.
Either way, you'll have your partner reminiscing every time they look at the box and counting down the days until you can make more memories.
Materials:
Paper
Markers
Shoebox (or plain box to decorate)
Decorative materials
Personalized Countdown Calendar Jar
A personalized countdown calendar jar is the perfect way to get your partner excited about an upcoming trip. For each day, write a special note about something you will do together on the trip, something you love about them, or a favorite memory.
This will make your partner even more excited to see you and will also make the days fly by!
Materials:
Mason jar
Notecards
Marker or pen
365 Day Note Jar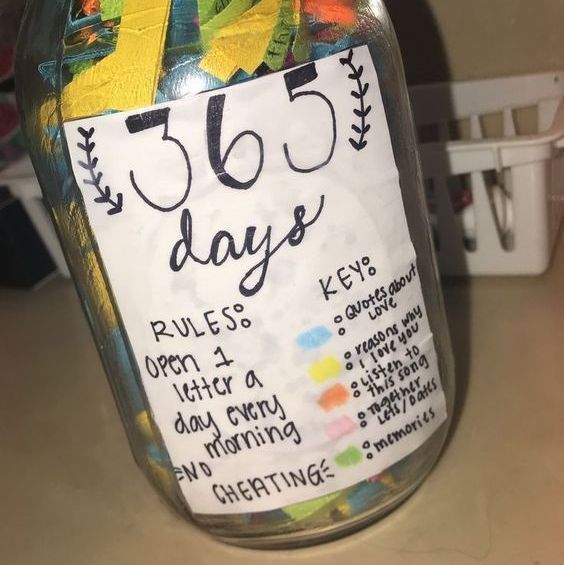 Keep your partner smiling all year long with a 365 day note jar. Each day your partner will pick out a note to read. You can color code your notes with different themes or just write out 365 things that will make them smile.
Materials:
Mason jar
Notecards
Highlighters and pens
DIY Handwritten Pillowcase
Use song lyrics, quotes, or a love letter to create a DIY handwritten pillowcase for your partner. Simply use a fabric marker to write to your partner on a throw pillowcase. A DIY pillow will make a fun, unique piece of decor that also reminds your partner daily of how much you care.
Materials:
Fabric Markers
Pillowcase
Optional: Throw pillow insert
Free DIY Long Distance Relationship Gifts
Google Maps Location Print
Print off the Google Maps location from significant moments in your relationship for a unique, geography-themed gift for your partner.
Use the location of where you met, where you first kissed, where you were engaged, or another landmark moment. Frame the map and present it to your partner to remind them every day of the unique milestones of your relationship.
DIY Greeting Cards
If you and your partner love snail mail, DIY greeting cards are the way to go. Make your partner the perfect set of greeting cards. Add puns, drawings, or other decorations to spice up their snail mail communications.
Plus, once they have a greeting card set, they can send more letters to you!
Materials:
Paper
Markers
Optional: Decorative items
DIY Scratch-Off Notes
Everyone loves a surprise! DIY your own scratch off notes. Simply write a sweet note to your partner and cover it with a scratch off sticker.
You can make this gift as simple or as involved as you'd like. Create a yearly calendar (combining the 365 day jar), a countdown calendar, or just a simple valentine, the scratch off notes are a versatile way to say "I love you!".
Materials:
Pencil or Pen
Scratch off stickers
Decorative items
Tasteful Polaroid Pictures
A sexy surprise, tasteful polaroid pictures are a nostalgic and fun gift for your partner. Take some sizzling boudoir shots or some cute selfies and send them to your partner. Do whatever you feel most comfortable and appropriate for your relationship!
Polaroids are easy to carry and display so your partner can carry them in their wallet or keep them displayed in their bedroom. Either way, your partner can marvel at their luck everytime they look at your photo.
Unique Long Distance Gifts DIY
State & Country String Art
Make your partner some creative string art to display. Use nails and string on a wood board to outline your home country or state (putting a heart around your town) to make a unique decor piece for your partner's home.
You can also make one of their home state or country to display in your home. Eventually, when you have a home together, you can commemorate your time apart by hanging the pieces together.
DIY Chocolate and Candy Poster
For a punny partner with a sweet tooth, a chocolate and candy poster is the perfect gift. Write out a message using chocolate and candy bars. This will not only show your partner how much you care, but also give them some snacks to eat later.
Some message ideas include: "You make me Snicker" or "You are a Hot Tamale". If you are in different countries, try and use candy unique to your home to add some international flare to the gift!
Materials:
Candy bars
Poster
Sharpies
Glue
DIY Memory Box
Make a DIY Memory Box for your partner with a shadowbox, map, and mementos from your travels. Long Distance couples spend lots of time traveling! Memorialize it with this memory box and add train, plane, and bus tickets or movie, theater, or concert tickets from your time together.
If the memento fits in the box, it is a perfect thing to add! Plus, as you travel to see each other, you can make a game of finding things to add to the box.
Materials:
Shadowbox
Map or photo
Mementos
Exploding Photo Gift Box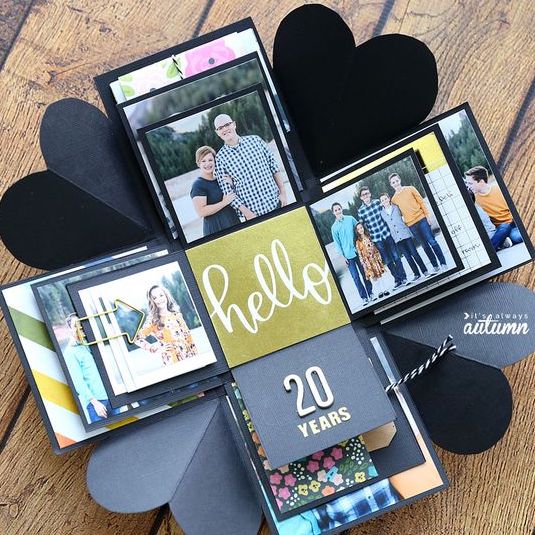 An exploding photo gift box is a fun surprise for anyone, but especially your partner. The box, seemingly a normal gift box, opens to showcase some of your favorite relationship photos! This gift will no doubt delight your partner as they look at the photos and the memories come flooding back.
This gift can be a little bit more complicated, but how-to guides are available and can help make the exploding photo gift box a reality!
Materials:
Photos
Cardstock (both plain and printed)
Adhesive
Scissors
Decorative materials
Now It's Your Turn
With something for every skill level and budget, we hope these awesome options have got your creative juices flowing! Which homemade long distance relationship gifts would you like to make for your partner?
If you're not sure and want some advice, join our LDR Support Group and ask our supportive and inclusive community for their opinion.
Our

FREE

7 day LDR challenge is BACK!
Unlock better date nights, deeper communication plus a stronger intimate & emotional connection.
SECURE YOUR SPOT!
---
Hi, we are Lolo (Canada) & Nate (Australia) a couple that had to go through all that a long distance relationship has to offer, just like you. With our experience and lessons learned we want to help you keep your long distance relationship as strong as ever and ultimately last the distance!