Learning how to be emotionally and physically intimate online is an imperative part of strengthening and maintaining your long distance connection.
You and your partner deserve to have a sex life that is just as fun, fulfilling, and impactful as traditional sex is.
But making the switch to FaceTime sex can make you feel like you're reliving your very first time all over again.
Nobody wants that!
So, if you're unsure of where to even start, or simply looking for some new tips to level up your sexy video calls, we've got you covered.
3 Things To Think About Before You Have Virtual Sex on FaceTime
1. It's More Intimate Than You May Imagine
Many believe that any sort of attempt at long distance sex. Be it by way of sexting, exchanging photos, erotic storytelling, or even FaceTime sex. Lacks the intimacy of a true romantic encounter.
After all, it's just words and images, right? You're not actually touching each other.
Well, yes and no. Yes, you're not actually touching your partner's body. However, words and images touch something just as powerful, maybe even more powerful. Your imagination and emotions.
Any sort of long distance sexual activity builds intimacy. In addition, engaging in phone or sex on FaceTime will make it much more tempting to have sex when you meet in person.
If you do want to experiment, don't let yourself be talked into doing or saying anything that makes you feel uncomfortable. More on this later…
2. Beware The Possibility Of Revenge Porn
What is revenge porn? Well, it's pretty much exactly what it sounds like. You have a bad breakup, and your hurt and angry ex-partner seeks revenge by posting explicit photos or videos of you online.
In most cases, there will be little or nothing you can do to stop them, and once that sort of content is out there on the internet it's almost impossible to remove completely.
You might think this couldn't happen to you. Think again. Holly Jacobs didn't think it could happen to her, either. Holly…
…was in a committed long-term, long distance relationship with a man she trusted. To keep the romance alive, she participated in a private sexual video chat with him. She didn't know he'd recorded it, but he did. She didn't know that after she broke up with him it would go viral on the Internet, but it did. Along with her full name, workplace and contact info.
Some countries and states have made it illegal to post "revenge porn". But it will be a long time, however, before you can depend on those sorts of laws to protect you from "unwanted exposure."
So think it through.
With the technology available today, your partner can record you with the click of a button.
While you're busy stripping, dancing, masturbating, or just talking dirty, your partner may well be recording it all and you wouldn't even know.
Even if he or she has perfectly innocent intentions at the time, good intentions are not always enough. Laptops get stolen, breakups happen, and formerly loving people can turn vindictive.
3. You May Have To Get Creative To Conquer The Awkwardness
So now you know that FaceTime sex builds real sexual and emotional intimacy, and that engaging in sexual behavior online is risky.
There's also this… Getting intimate via video chat can be flat-out, um, awkward.
Even if you're in a loving, trustful, relationship, and even if nothing gets you going like the sight of your partner and the sound of their voice, at the end of the day you're alone in a room with a computer screen.
It doesn't exactly "come naturally".
With some practice and some creativity, however, you will start to feel more comfortable.
There are plenty of ways to get creative and our article on long distance sex tips and ideas is a good place to start. But a little practice (on your own or with your partner) can go a long way to making you feel more relaxed.
How to Have FaceTime Sex
First things first, consent!
Before your FaceTimes get hot and heavy, have one where you keep your clothes on so you can focus on opening up to each other.
Having a conversation about boundaries, likes, and dislikes ensures you both feel comfortable exploring this new type of intimacy together.
Even if you've already talked about consent and sexual preferences, FaceTime sex is different than traditional sex. You may find there are certain things you enjoy doing when you're physically together but not on video calls.
Conversely, there might be things you each feel more open to trying in this kind of situation.
Having an honest conversation will help both of you feel much more confident going into it, and will avoid having to kill the mood if you feel uncomfortable with something they're doing.
Remember, it is always better to speak up or ask permission than to stay silent and not be enjoying yourself or do something and risk crossing your partner's boundaries.
AKA: No taking a screenshot unless you've already talked to your partner and you both are okay with it, no matter how hot they might look!
What You'll Need
As FaceTime is exclusive to Apple products, you'll both need to have an iPhone, iPad, or Macbook in order to use it.
We recommend using a Macbook as it's hands-free and has a larger screen (the better to see you with, my dear). That said, if your only option is an iPhone or iPad, you will still be able to have a connected and loving experience.
If you and your partner don't use Apple devices, there are other options that can give you a similar experience to FaceTime.
When looking into other options, it's important to consider safety. Apple is one of the best in the game when it comes to user privacy, and FaceTime uses end to end encryption.
Signal and Confide are two other encrypted services that we feel confident recommending as FaceTime alternatives.
Add Connected Toys to Your FaceTime Sex Sessions
Want to spice things up? You'll love app connected sex toys.
These devices allow you to get as close as possible to actually pleasuring your partner, no matter how far apart you are. These toys have the technology to interact with one another, meaning your partner's toy will respond to how you interact with yours.
Our favorite couple's option is Calor & Nora by Lovense.
These devices use touch-sensitive technology and bluetooth, allowing you and your partner to mimic the intimate connection you have when you're together.
For example: The faster Calor is stroked up and down, the faster the head of the Nora vibrator rotates. When Nora is inserted, the Calor's vibrations intensify.
Feel like putting all the attention on one of you at a time? These devices also have a remote control option via the Lovense Remote App that lets you pleasure your partner from afar.
These toys are also perfect for queer couples, as two Calor devices or two Nora devices can be paired.
Want to learn more? Check out our post where we compare and test the best sex toys for long distance couples to level up their intimacy from afar.
Start With FaceTime Foreplay
Taking time to set the mood and build up to it instead of jumping straight in will drastically improve your long distance sex life.
When together, you don't magically go from laying next to each other to having passionate sex. There are (hopefully) quite a few steps that happen in between.
But just because you aren't able to kiss and cuddle in the lead up, doesn't mean there aren't ways to tease each other and turn each other on.
If you know you have a planned FaceTime date that evening, you can build excitement by sexting or exchanging photos, videos, or audio clips throughout the day.
Not sure where to start? Why not take some time at the beginning of the call to:
Reminisce about a favorite sexual memory you shared,
Play a fun sex game like truth or dare and strip poker, or
Have a sensual conversation inspired by this Sex Talk Deck.
Explore Different Types of FaceTime Sex
Once you start feeling more comfortable with FaceTime sex. You both might want to explore some different approaches or positions to keep things fresh.
There are many different ways to approach it and no right or wrong way to do it!
Perhaps you and your partner already have an idea of what will work best for your relationship. But if you're looking for inspiration, check out some of our ideas:
Mutual Play
Probably the most common type of FaceTime sex, mutual play gets you as close as possible to mimicking the type of connection that in-person sex can bring.
Simon/Simone Says
Get a little bossy, in a fun way, and tell your partner exactly what to do to themselves. Or, more accurately, what you wish you could be doing with them if you were there.
Strip Show
Throw on some music and put on a show for your partner, or get the best seat in the house for their performance. It's a great opening act before busting out the connected toys!
Role Play
Why not live out one of your sexual fantasies! Switch things up, get a costume or prop, and role play a scenario that turns you both on until you can't take it anymore.
Want more ways to increase the excitement? Check out our post on the most fun and intense long distance sex games to play on video calls.
Find Your Angles
Turn on your front-facing camera and practice finding positions that are comfortable, sexy, and boost your self-confidence.
It's worth experimenting on your own to find what works for you, but here are some popular positions we think you might like:
Elevated
For beginners, a great first time option is propping your phone or laptop up a few pillows for a flattering, downward angle. This will ensure you feel good about yourself without feeling like the camera angle is too personal.
Up Close and Personal
Once you start feeling comfortable in front of the camera, you can try placing the camere close to your gentiles for a more intimate view, or kneeling right in front of it.
Face Only
Even with no nudity, holding the camera right above your face can be the most vulnerable and intimate position of all. Your partner will be able to see your expressions and hear your breath and moans as things intensify.
From Behind
Mary J. Blige knew what she was talking about when she said "put your thing down, flip it, and reverse it." Turn around on your hands and knees and give them a different view.
Full Body
Get a tripod or lay on your side with your phone or laptop on the other side of the bed in order to let your partner see everything that's happening.
How to Enhance Your FaceTime Sex Sessions
Nothing is going to be sexier than getting comfortable and intimate with each other. But that doesn't mean there aren't ways to enhance the fun.
While you might not be able to surprise your partner by filling their room with candles and rose petals. There are plenty of ways to create a more stimulating experience, even when you're in separate bedrooms.
A (Better) Webcam
If you opt to use a MacBook, they only have 720p to 1080p quality. Investing in a higher-quality webcam can drastically enhance your visual experience and help you feel more in tune with your partner.
We recommend the Logitech Brio Webcam, which has 4K HD video and a built in microphone.
Mood Lighting
No one feels sexy in harsh, cold lighting. Swap out the unforgiving overhead lighting for warm tones and creative options that help deepen intimacy.
A Smart Sunset Lamp is a great replacement that will not only set the mood, but leave you looking sun-kissed.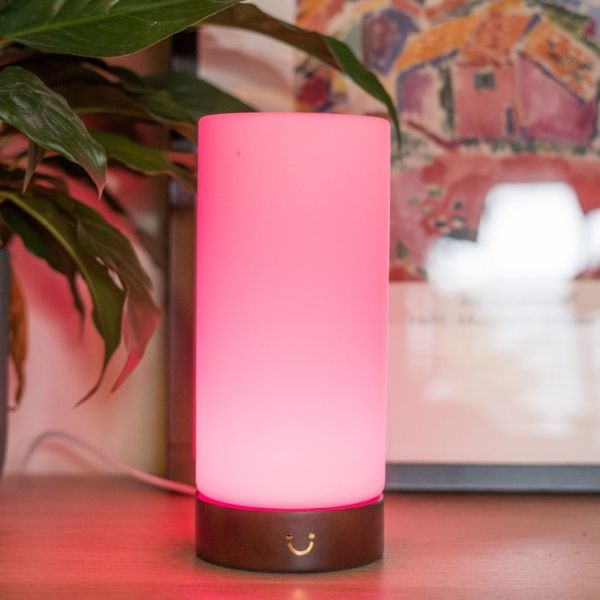 Friendship Lamps are another great option. Touching one lamp will control the other, so use a color like red or orange.
Lingerie & Costumes
Wearing something sexy and silky can turn your partner on and transform your confidence at the same time. Lovehoney is our go to spot to shop, and sending your partner something you'd like to see them in can be a sexy surprise.
Final FaceTime Sex Tips
Hopefully you're getting more and more excited about the intimate opportunities that virtual sex can unlock.
No matter how silky your lingerie is, perfect the lighting is lit, or hot your positions are. These last few pointers will help you use each call as an opportunity to feel more intimately connected to your partner.
Be Vocal
When you can't feel, and respond to, your partners physical responses, it's more important than ever to be vocal about what you like and what turns you on. If their facial expression is turning you on, tell them. If you like the thing they're saying to you, let them know.
Make Eye Contact
Making prolonged eye contact by looking 'through' your webcam can help create more of a shared experience. It can improve sexual chemistry and turn you both on through seeing the other's reaction to what's happening.
Laugh About Any Awkwardness
Whether a laptop gets knocked off the bed, or you can't find an angle that's working for you, share the experience of any uncomfortable moments! Remember, sex of any kind isn't supposed to be about perfection, it's just supposed to be about connection.
Don't Forget About Pillowtalk
Even if the sex was incredible, hanging up the phone immediately afterwards can rob you of an important chance to bond with your partner. Keep the video call going as you both chat through your nighttime routine or doze off together.
How Will You Level Up Your FaceTime Sex Sessions?!
As we stressed in the beginning, open communication is the number one most important part of having enjoyable FaceTime sex.
Kick that openness off by sharing this article with your partner and broach the topic in a low pressure way!
And, as with all long distance relationship struggles, remember that you are not alone in trying to figure out ways to maintain physical intimacy from miles away.
Check out our LDR Support Group to swap tips, get support, and connect with our inclusive community.
---
Having navigated a long distance relationship from Hawaii to Paris. Maggie knows what it takes to maintain a relationship from afar and close the distance! Now living with her partner in NYC, she joins Lasting The Distance as a contributing author. Using her experience to help readers learn from both her successes and mistakes.
Our

FREE

7 day LDR challenge is BACK!
Unlock better date nights, deeper communication plus a stronger intimate & emotional connection.
SECURE YOUR SPOT!