We know just how hard it can be to find gifts for big families that everyone will enjoy and actually use!
Many of our siblings (Lolo, one of four and Nate, one of six) have partners, children and live in different states or countries.
In such circumstances, you could be forgiven for drifting apart, as we get caught up in 'life'.
However, with today's technology, there are many ways to stay connected and we think the distance between us shouldn't be an excuse to fall out of touch.
Here are our favorite apps and products to help families come together despite the miles between them.
The Best Gifts for Big Families to Help Bridge the Distance in 2022
Long Distance Touch Lamps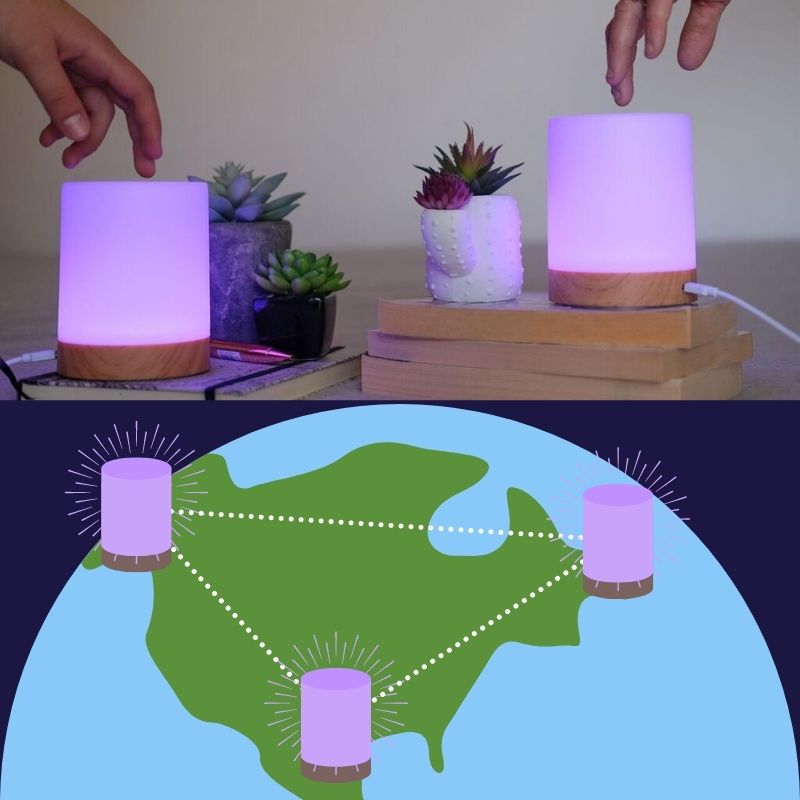 With these Long Distance Touch Lamp from FriendLamps, you can let your family know you're thinking of them in a subtle yet totally heartwarming way, no matter where they are in the world.
But how?!
All you need is a stable Wi-Fi internet connection.
The team at FriendLamps have made sure the setup process is super simple, and one that doesn't need any other third party applications. This is great for senior family members who may not have or like using smartphones.
Once set up, simply touch and hold your finger on the top of the lamp to circle through the 10 color options until you find the one you want to send, then touch your lamp again to light up the other lamps in your group.
"The other lamps in your group" is an important piece of information. There are other long distance touch lamps available, but only two can connect together. These options are great for long distance couples and friends but wouldn't make great gifts for large families.
With these touch lamps, you can connect as many as your family needs!
Usage tip: Take advantage of the ten different colors by associating a color to each family member. That way everyone will know who the message came from. If you have other colors left over, you could assign specific meanings like:
Purple

= Time for a family video call!

Blue

= Good night

Yellow

= Good morning
We love that these lamps use USB for charging, which makes them universal!
For more details on pricing and the setup process visit their official website: FriendLamps.com.
LoveBox Messenger by Marie Poulle & Jean Gregoire
While the LoveBox Messenger may look like any old box on the outside, what's on the inside has the ability to fill a loved one's heart with warmth from anywhere.
Created by Marie Poulle and her partner Jean Gregoire, the LoveBox is an internet connected device that can receive messages and images sent via their dedicated smartphone application.
We think they're a great gift idea for the patriarchs and matriarchs of large families that don't use mobile devices. All they have to do is lift the lid to see messages sent from family members.
How will they know they've received a message?
The cute heart on the front will spin, acting as a physical notification! See it in action here.
Needing only one LoveBox makes this a super affordable option and you can connect as many mobile devices to it, to send messages, as you want.
Update: The team at LoveBox have introduced a color screen version. For more details on the available options, visit UncommonGoods.com.
Gift Cash To Family Overseas With Wise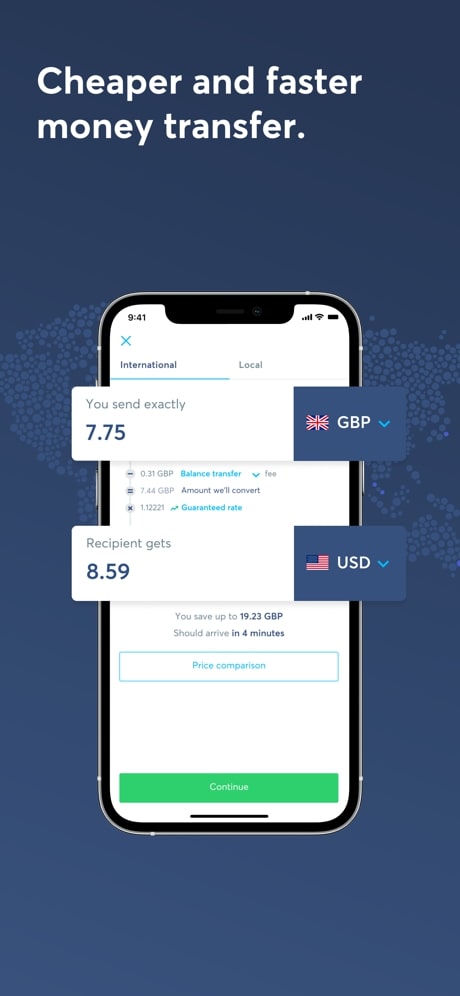 If like us, one or more of your family members lives in another country, you know how expensive money transfers can be. We use Wise rather than banks, which has saved us hundreds of dollars on overseas money transfers.
Banks can charge an average of $45 for international money transfers AND give you a poor rate on the currency conversion.
We like Wise because they use the real, current exchange rate and have super low fees to help you move money without feeling like you're being ripped off!
Usage tip: If you need to send money ASAP, transfers using a debit or credit card can take as little as a few minutes. Transfers through bank accounts can take around three days.
Family Sign Post by Chris Crooks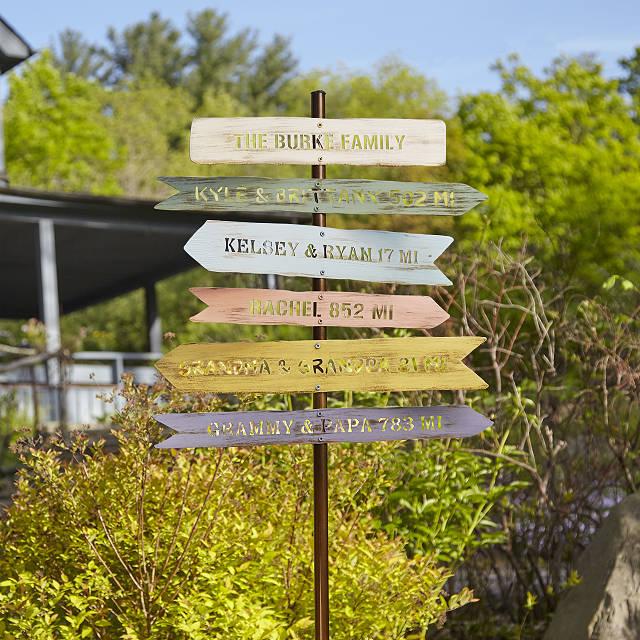 There's no place like home, and this Family Sign Post marks the home your kids can always count on while pointing in the direction of their homes, too.
The 6 foot signpost, which stands 5 feet tall when installed, is topped by a sign with your last name. Underneath you can add up to 5 signs with names and distances on an arrow pointing east or west.
The 16 gauge steel coated in acrylic paint and sealant will weather nicely and welcome your family home for years to come.
Family Sign Post Framed Print
Love the sign post but want every family member to be included? These Family Sign Post Framed Prints are a great option.
Each print is personalized with your family's last name on the top "sign" and each family member's name and distance from home on a sign pointing east or west.
While honoring and respecting the distance between you, this framed print is also a beautiful reminder that the miles don't need to separate you, and family is always welcome at home.
You can buy this print framed so it's ready to go on the walls or as just the print so it can be matted and framed to match any decor.
Facebook Portal TV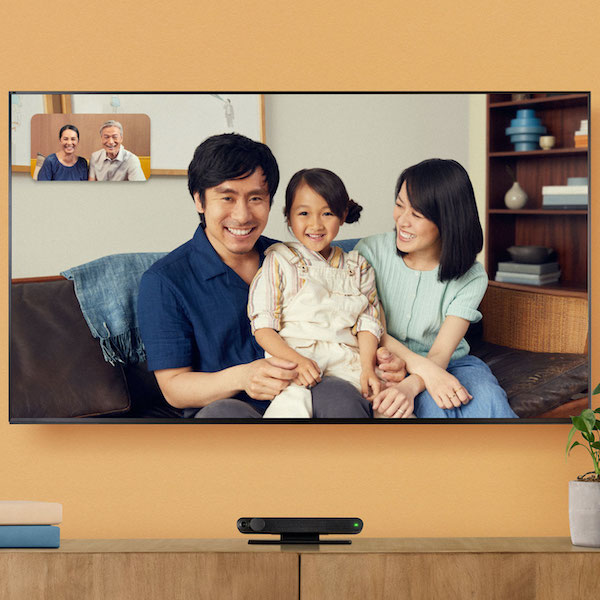 Are you tired of crowding around a tablet or mobile phone for video calls? With Facebook Portal TV, you can have video calls on the biggest screen in the house.
Facebook Portal TV has a Smart Camera that automatically pans and zooms to keep everybody in focus, even if you're moving around. It also has 'Smart Sound Technology', which enhances the audio of the person speaking while reducing background noise.
For those security conscious family members, they can rest assured knowing all calls are encrypted, and you can easily disable the microphone or camera. There's even a sliding cover for the camera, providing you an extra layer of safety and privacy.
We think they're perfect for senior family members because the device is controlled by a remote, which is something Grandma and Grandpa are likely to be comfortable with.
Personalized Family Member Hobby Mugs by Shelly Klein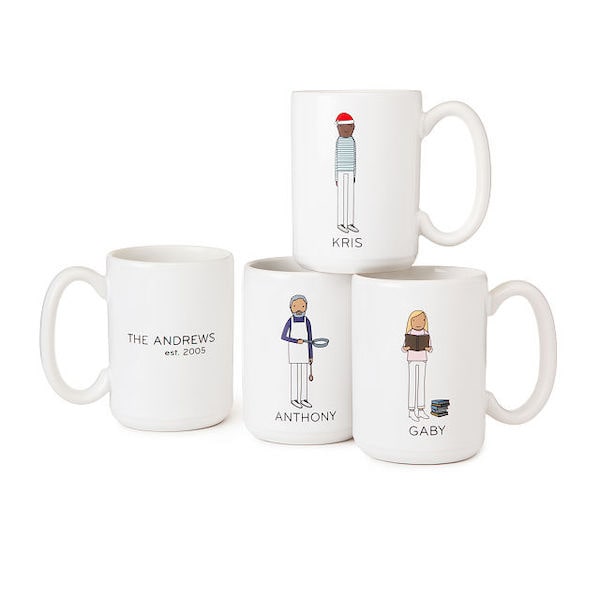 Celebrate your family as a whole and each member individually with these Personalized Family Member Hobby Mugs.
One one side of the mug, you can have your last name and the year your family was established. On the other, each person gets their own personalized character.
The options you get to choose for this unique gift include:
First name
Skin tone
Hair color
Clothing
Hobby
These mugs are a perfect reminder that every member of the family is unique while still being part of a bigger whole, even when they're out in the world on their own.
Universal Yums Snack Boxes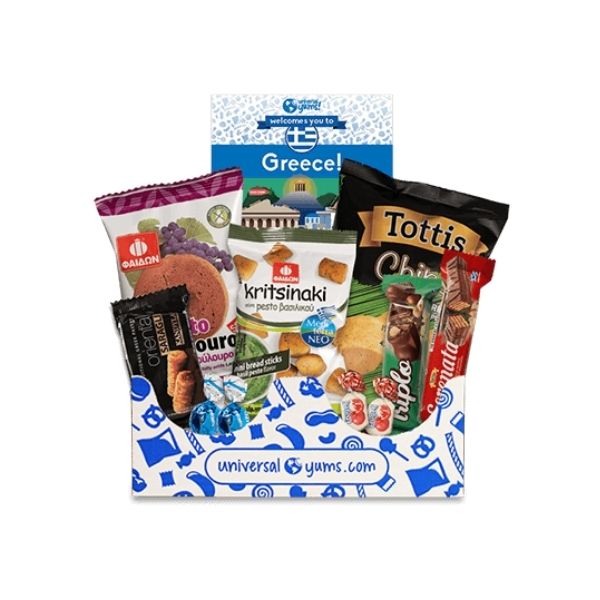 One of the hardest things about being separated is the ability to experience new things together.
Universal Yums Snack Boxes let you explore different countries with your entire family while you're each in your own home.
Each month, Universal Yums collects snacks from a different country. Since everybody gets the same box, you can all taste the snacks yourselves, then talk about your favorites and least favorites.
There are several different box sizes to choose from, ranging from the Yum Box with 5-7 snacks each month to the Super Yum Box, which includes up to 20 snacks.
Previous countries that Universal Yums has "visited" include:
Italy
Russia
Columbia
Egypt
Thailand
Idea: You could use the long distance touch lamps to designate a color (e.g. yellow) for "It's Universal Yums Time!".
Gift Stocks To Kids With EarlyBird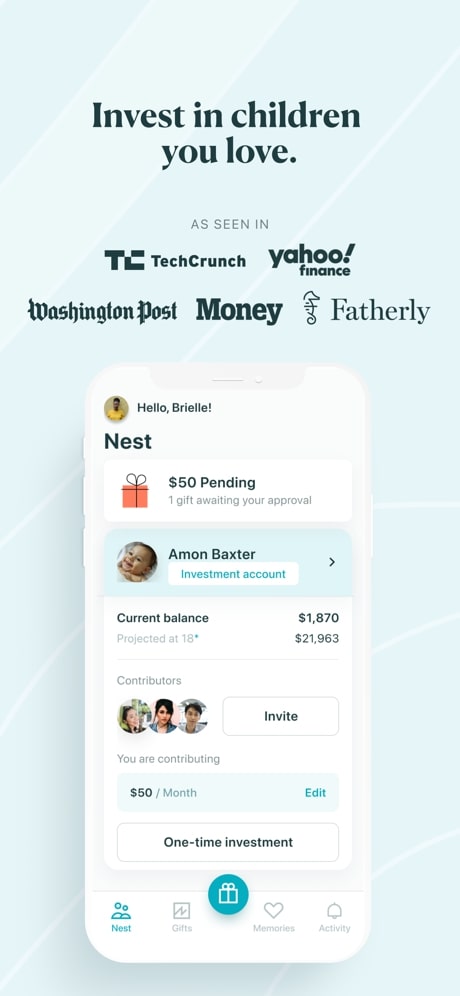 Wouldn't it be great if everyone could get together to invest in younger family members?
EarlyBird allows you to set up a custodial account for your children. Anybody in your family can add to your child's account at any time, and they can even add a message or short video with each gift.
When they become a legal adult, (18 or 21, depending on the state), they can access the money and use it for whatever they want: education, starting their own business, getting married, having a family – unlike a 529 Plan, the money doesn't have to be spent on school.
This app is especially great if you don't want to gift cash. It can also help teach the younger generation about compound interest and saving better than a traditional piggy bank.
Family Star Maps by Our Love Was Born
Honor important moments in your family's life with these highly personalized Family Star Maps.
They're created using professional astronomy charting software to show the stars' location at a certain place and date.
Cool option: Parents could choose to have a heart with stars how they looked on the date and location you got married surrounded by circles representing the birth dates and locations of each of your kids.
The customization options are nearly endless. Visit Our Love Was Born on Etsy.com to see the different colors, fonts, sizes, mediums (print or canvas), frames and other options you can choose from.
Homesick Candles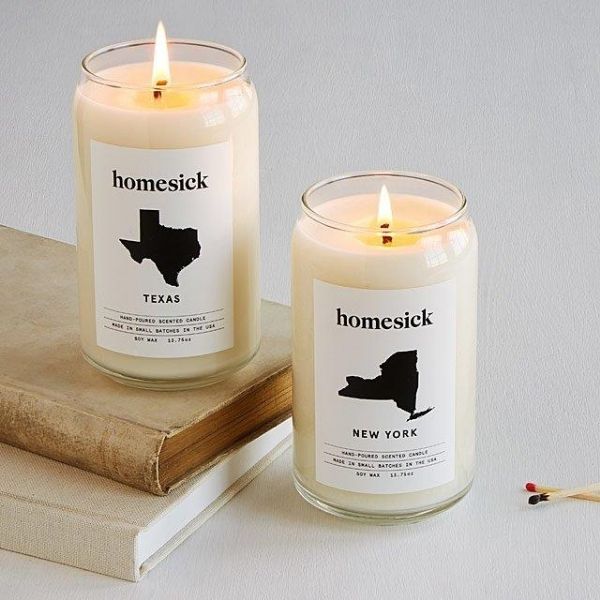 Memories can be strongly tied to your sense of smell. Why not send your family Homesick Candles to remind them of home?
These soy candles are made with natural fragrance oils, and each state has a different scent profile that was formulated with input from locals.
A few of the scents include:
SoCal – rose, carnation, and jasmine
Colorado – spruce, cedar, sandalwood, amber, and cinnamon
Texas – dark leather, fresh pine, and lemon
New York – apple, cinnamon, nutmeg, and pumpkin
Illinois – Honeysuckle, lavender, white flower, and violets
Florida – citrus, bergamot, vanilla, and amber musk
MyHeritage DNA
Why not honor your family by learning more about where you all come from?
With MyHeritage DNA, you can find out the geographic and ethnic origins of your ancestors across 42 top-level ethnicities and more than 2100 geographic regions.
Additionally, they can connect you with people who have common ancestry as you, meaning you could find long-lost family members!
Tip: You could purchase kits for every family member. But we think a better (and more affordable) options is to purchase one or two kits for the patriarch and matriarch of the family.
The simple cheek swab takes just 2 minutes, and you'll receive your results online in about 4 weeks.
For more details on the complete process, dna analysis and pricing, visit their official site at MyHeritage.com.
Minimalist Family Morse Code Bracelets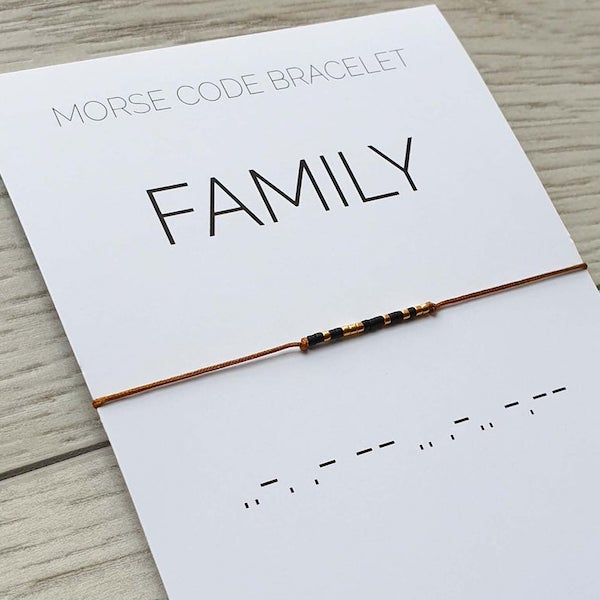 If you want a way for you or your loved ones to have a wearable reminder of the family, you'll love these Minimalist Family Morse Code Bracelets.
Long before texting and social media, morse code was used to send messages around the world. An alphabet code was created using a series of short (dot) and long (dash) pulses.
Those dots and dashes spell out the word "family" on these delicate customizable bracelets, which you can choose from a dozen cord colors and more than two dozen bead color combinations.
The minimalist design of these bracelets mean they'll match a variety of outfits and fashion styles.
Table Topics Family Edition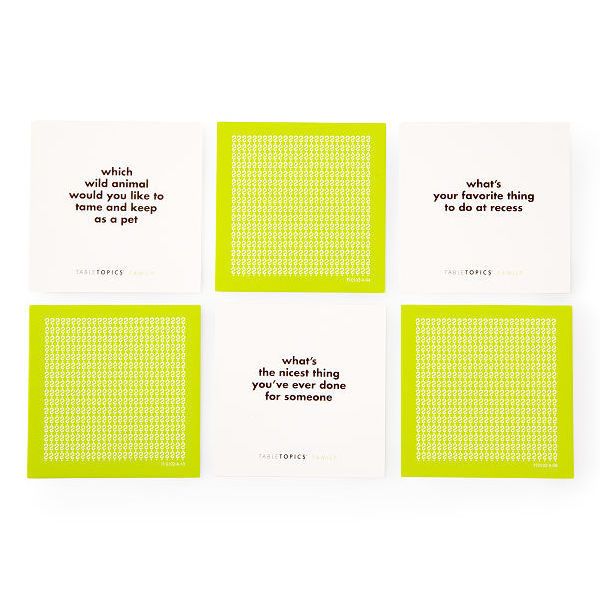 Does everybody tend to clam up when you get your whole family together? Whether it's a holiday dinner or a weekly video call, break the ice with Table Topics Family Edition.
Each cube contains 135 cards covering a variety of topics that are sure to spark interesting conversations.
Examples of some of the cards include:
"Which wild animal would you like to tame and keep as a pet?"
"What's your favorite thing to do at recess?"
"What's the nicest thing you've ever done for someone?"
Face Smash Family Photo Socks by Fab Swag
Are you looking for a fun, unique way to keep your family with you everywhere you go? With Face Smash Family Photo Socks, you can do just that!
Just send in the photos of the faces you want to be used. You can include up to 12 faces, making them perfect for large and multigenerational families
Fab Swag will cut out just the faces and hair of each person in the photo and design these Face Smash Family Photo Socks with the heel and toe color of your choice.
The socks are available in 3 different sizes, so you can order a pair for everybody in your family.
Custom Family Pajamas by Stone N Silver
If you're a family that loves a good laugh, you're all sure to get a chuckle out of these Custom Family Pajamas.
Just as the image above shows, these fully customizable pajamas allow you to have the faces of you, your family and even your family pet all over them.
Once ordered, all you have to do is send the picture(s) you want the faces from, select the color and sizes. You also have the option to select the full pajama set or just the pants.
With 11 colors and 6 sizes to choose from, you can customize a set for each member of your family!
Family Cookbook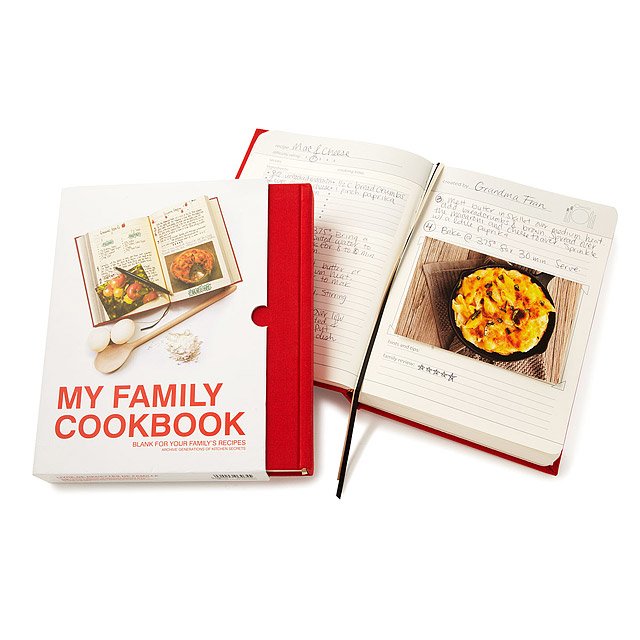 Do you have a box filled with hand-written index cards, newspaper clippings, and barely legible scraps of paper containing generations of family recipes?
With Family Cookbook, there's a better way to keep your family recipes organized and pass them on to future generations.
The book has space for 80 recipes including room for photos and conversion tables. While it's a little more work, w like the inclusion of a table of contents page, which will help in the long run.
Usage tip: Add your favorite recipes and pass it on for other family member's to add theirs. Overtime you'll have a delicious piece of family history!
Handwritten Recipe Cutting Boards by Boutique Heritage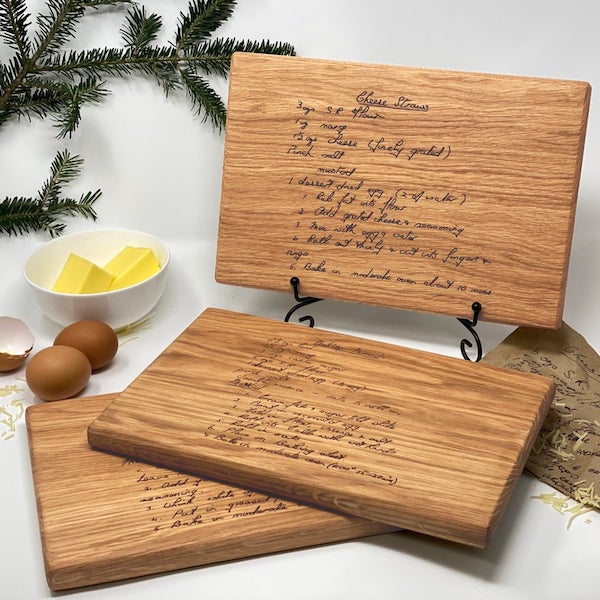 What better way could there be to hand down your favorite family recipes than with these Handwritten Recipe Cutting Boards?
Preserve the memories attached to the recipe itself by having the actual handwriting engraved onto a wood cutting board.
Whether it's a sloppy script or perfect penmanship, every detail of your most treasured recipes can be preserved forever and passed down.
Choose from oak, walnut, or cherry in one of three sizes and include an image of the recipe you would like engraved on the cutting board. You can also purchase a stand, gift-wrap, or other add-ons to further personalize your gift.
Kit To Gift Homemade Hot Sauce
Is your family always on the hunt for the perfect hot sauce? Why not create it yourself with this Kit To Gift Homemade Hot Sauce!
The kit includes spices, bottles, instructions, and more to help you create the perfect hot sauce according to your taste.
You can also add fresh ingredients like garlic, onions, cilantro, and tomatoes to make the ideal blend to suit your tastes.
The included peppers are:
Guajillo for a mild heat with fruity flavor
Chipotle for a medium heat, smoky flavor
Arbol for super spicy sauces
We think there are two great ways to use this gift for big families:
Create your own hot sauce blend and send it to every member of the family
Send a kit to every member of your family to create and share own perfect blend
FamilyAlbum Premium
The FamilyAlbum App is already one of the best ways to keep and share your child's pictures, milestones, and memories as they grow.
With FamilyAlbum Premium, you get amazing additional features for a low monthly price. The benefits of FamilyAlbum Premium include:
Upload videos up to 10 minutes long rather than just 3 minutes
Free shipping on FamilyAlbum products
Custom groups for sharing with only certain people
View photos by child
Upload photos and videos from your computer rather than just a mobile device
Personalized Family Portrait by Shelly Klein
Are you looking for a whimsical way to represent your family?
With this Personalized Family Portrait, you get to choose from a variety of options to create characters that best represent the members of your family.
Including pets!
You can choose as many as 18 characters, which makes this perfect as a gift for large families to all have a portrait, or just for senior family members.
Some of the personalizations you can select include:
Skin tone
Hair style and color
Eye color
Clothing
Eyeglasses
You'll also be able to purchase these portraits unframed or with your choice of a black or walnut frame.
Our Favorite Gifts For Large Families
One of the biggest obstacles to staying in touch is time. That's why we recommend Long Distance Touch Lamps, which allows everybody to check in with just a tap.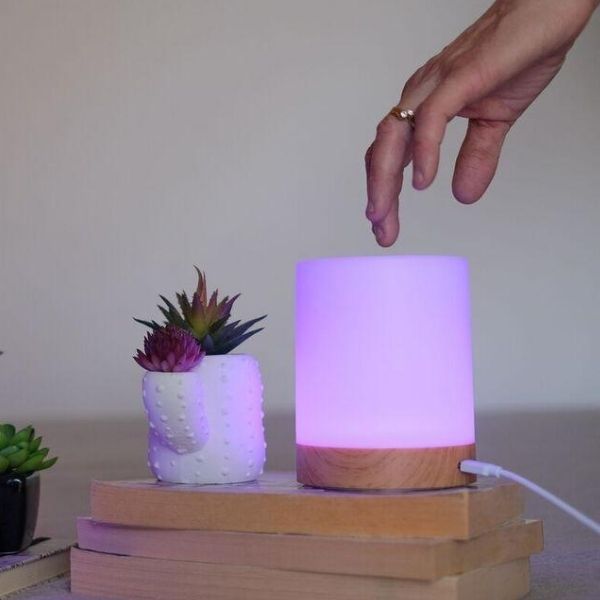 You can connect as many Lamps as you need, and with 10 colors to choose from, every household can have their own color.
Just think about how senior family members would react to seeing their lamp light up, knowing their family is thinking about them in that very moment.
Would they smile. Of course, and from ear to ear!
To note: As of 27th September 2022, the team at FriendLamps are running a 40% off promotion. To check out the offer and see if these lamps are right for your family, visit their official website: FriendLamps.com
Now It's Your Turn
Which of these gifts for big families are your favorites? Surprise your family with these gifts or send this article to everybody to pick the one – or ones – everybody likes the best!
---
Hi, we are Lolo (Canada) & Nate (Australia) a couple that had to go through all that a long distance relationship has to offer, just like you. With our experience and lessons learned we want to help you keep your long distance relationship as strong as ever and ultimately last the distance!