It's no secret that long distance relationships are different in many ways when comparing ourselves to 'geographically close' couples.
We truly believe those differences need to be celebrated in their own unique way.
Marriages have gift giving traditions for specific anniversaries. But why should they have all the fun with symbolic customs!?
The number of challenges long distance couples face in a month is more than most relationships deal with in a year.
Our list of long distance anniversary ideas aims to help you celebrate those challenges with LDR centric milestones and timelines.
Why It's Important To Celebrate Relationship Milestones
Research has shown that celebrating anniversaries can help strengthen relationships in a variety of different ways, including increasing admiration for one another.
Doing this consistently will also help draw focus to positive aspects of your relationship, while putting the difficult times into perspective.
So let's dive in!
QUICK NAVIGATION
Long Distance Anniversary Ideas To Help You Celebrate From Afar
TL;DR Breakdown of Long Distance Anniversary Milestones
Here's a quick breakdown of each long distance anniversary and its corresponding theme. We've also included gift and date night ideas that align with the theme and represent the current stage of your relationship.
| Anniversary | Theme | Gift Idea | Date Night Idea |
| --- | --- | --- | --- |
| One Month | Discovery | Conversation Starters | Deep & Mindful Topics |
| Three Months | Embrace | Your Shirt or Hoodie | Watch Movies In Sync |
| Six Months | Connection | Couples Tech Gadgets | Virtual Hometown Tour |
| One Year | Intimacy | Connected Adult Toys | Romantic Night In |
| Two Years | Reminisce | Memory Boxes | Revisit Past Stories |
| Three Years | Commitment | House Key & Keychain | Plan Your Next Trip |
| Four Years | Strength | Promise Rings | Watch The Sunset |
| Five Years | Growth | DIY & Handmade Gifts | Cook From Scratch |
One Month Long Distance Anniversary Ideas
Milestone Theme: Discovery
Whether you started as a long distance couple or became one after being together, the initial month involves a lot of firsts and new experiences.
Maybe you're both just getting to know each other, learning how they take their coffee in the morning or what keeps them up at night, or maybe this new relationship dynamic has uncovered new information about how you navigate challenges as a couple.
Either way, these experiences are setting the foundation for your relationship.
Taking time to commemorate everything you've discovered during your first month together will allow you to share the most important things you've learned so far with one another and set the tone for the months to come!
Gift Ideas
Table Topics: Couples Addition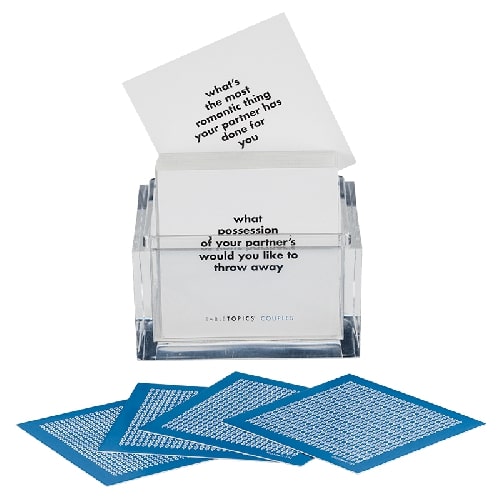 With thought-provoking questions and conversation prompts, this conversation deck will help you and your partner connect deeply on topics you may never have considered before.
Free Alternative: 101 LDR Questions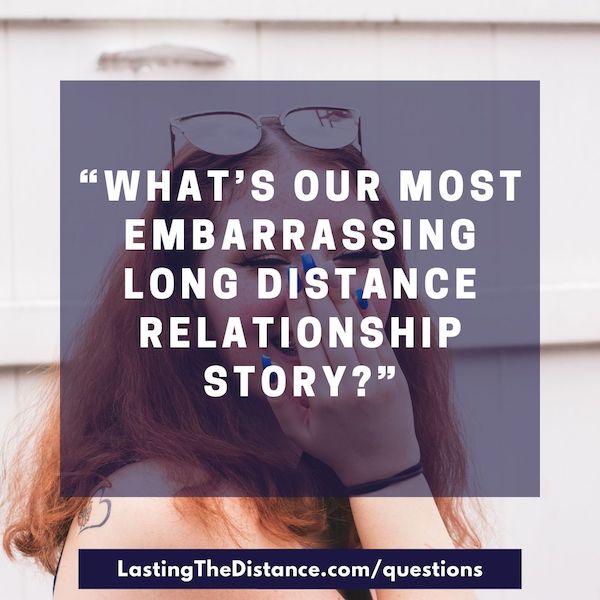 Whether you want the topic to be light or serious, hypothetical or personal, reflecting on the past or dreaming about the future, there is a question in here for every type of person and relationship.
Date Night Idea: Deep & Meaningful Date Night
Setting aside time for a romantic date night focused on communication and connection can help both of you have deeper and more meaningful conversations.
Snuggle up under a comfy blanket with your favorite drink and snack, then open up your laptop so you can open up to each other about yourselves, your lives, and your relationship.
Three Month Long Distance Anniversary Ideas
Milestone Theme: Embrace
While everything still feels exciting and new, after three months you are becoming more comfortable with being apart and settling into a routine.
You better understand each other's needs, know how to work around changing schedules, and have figured out what kind of communication works best for you as a couple.
You've overcome roadblocks and difficult times together, with each situation helping you build trust and accept the realities of a long distance relationship.
While you may not be able to physically embrace each other, make sure to acknowledge the growth that has taken place over the last three months and embrace your partner with your love from afar.
Gift Ideas
Worn T-Shirt or Hoodie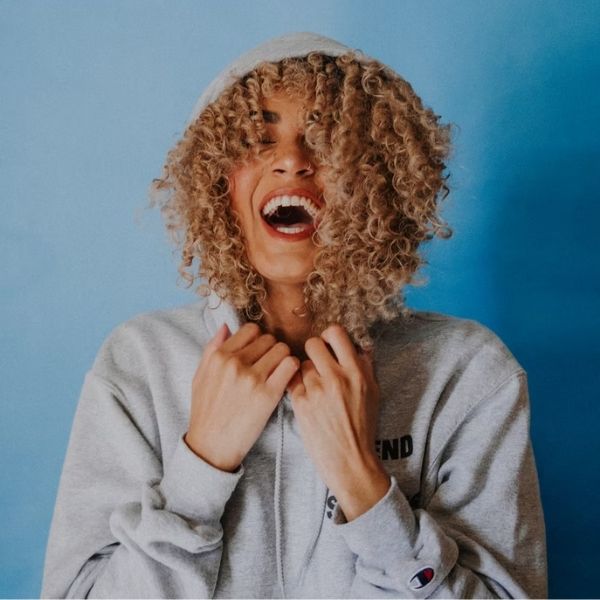 If you can't be wrapped up in your partner's arms, being wrapped up in one of their comfy sweatshirts is the next best thing (especially when it smells like their perfume or cologne).
Another great option is to use the article of clothing as a pillow cover and snuggle it as you fall asleep.
Treasured Personal Item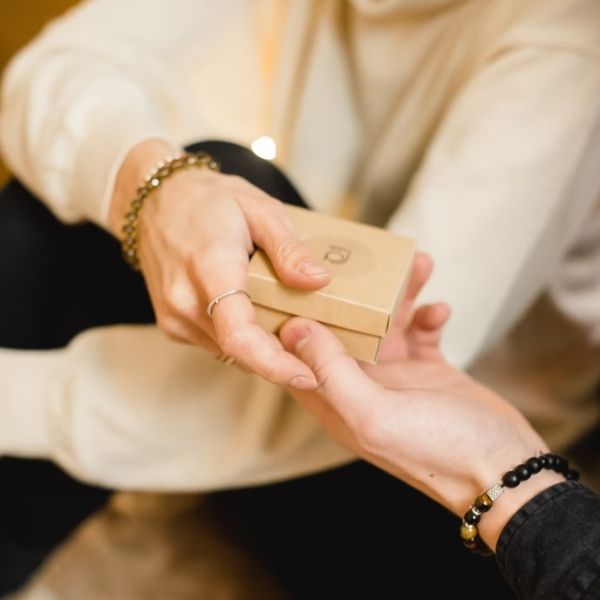 Is there something you own that your partner is always complimenting or borrowing?
Whether it's a favorite hat or your coffee mug they always adopt when they visit, gifting them something that's important to you will be much more meaningful.
Date Night Idea: Trip To The Movies
Get comfortable (bonus points if you wear your new shirt or hoodie!), grab some popcorn, and have a movie night with your partner.
Use a service like Kast or Teleparty to sync up the movie with your partner to truly feel like you're watching together.
Make the date more personalized by one of you showing a childhood classic or all-time favorite, or, if you're in an international couple, pick a famous film from one of your countries to give the other a new cultural experience!
Want more? Check out our post on awesome long distance date ideas and activities you can try tonight!
Six Month Long Distance Anniversary Ideas
Milestone Theme: Connection
You've been deepening your relationship and demonstrating your commitment to one another every month since your long-distance journey began and by month six you've reached the point where you are truly connected as an LDR couple.
Through FaceTime dates, countless text messages, and hundreds of miles spent traveling to see one another, you and your partner have invested time, money, energy, and an ungodly amount of cell phone data to build your connection.
Recognize that connection on your six month long distance anniversary by incorporating fresh and sentimental demonstrations of love into your day-to-day routine.
Gift Ideas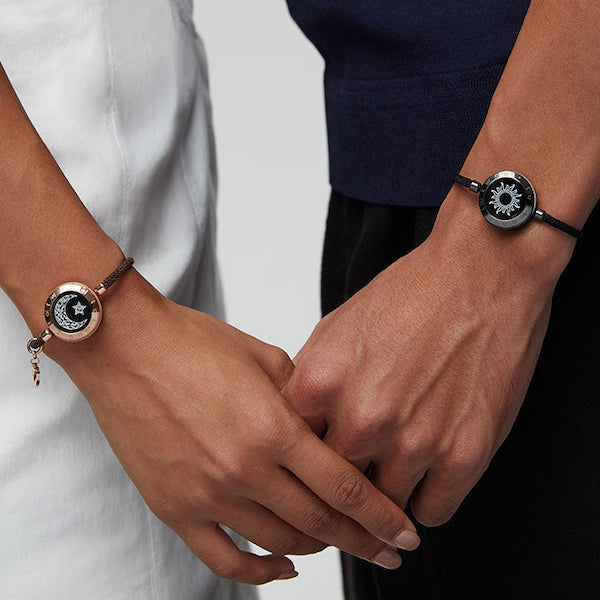 The technology behind these bracelets allows you to connect with your partner no matter where in the world you both are.
Simply touch your bracelet, and your partner's bracelet will let them know that they're on your mind by lighting up and vibrating!
Long Distance Friendship Lamps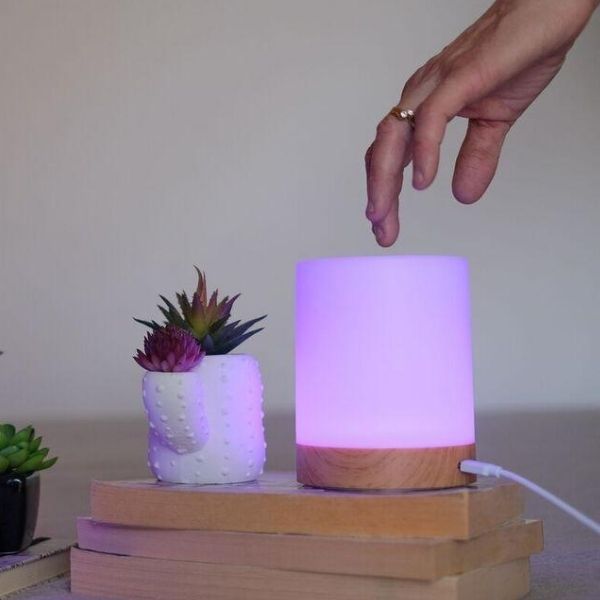 Tap your lamp and your partner's lamp will light up in response, it's that simple!
You can set different colors to convey different messages (like red for "I love you") and let your partner know how you're feeling throughout the day.
If you love tech & gadgets as much as we do, you'll love our posts on the best long distance touch bracelets and friendship lamps for LDR couples!
Date Night Idea: Virtual City Tour
Keeping up with the theme of virtual connection, help your partner feel more connected to your hometown/city (and vise versa) by taking each other on FaceTime dates to your local spots.
Take them to your favorite coffee shop, the place you spend time when you're feeling overwhelmed, your go-to lunch spot, or the neighborhood bar you've frequented enough for the bartender to know your usual.
No matter where you take them, showing them a place that's special to you or that represents a special memory for you will help them understand your connection to where you live in a way they may not have been able to before.
One Year Long Distance Anniversary Ideas
Milestone Theme: Intimacy
Being in a long distance relationship challenges you to be more creative and communicative about your intimacy than in a standard relationship.
By your one year anniversary, you've likely been intimate (both virtually and in person) many times, but hitting a full year of long distance can still be an extremely romantic and intimate milestone on its own.
Throughout that time, you and your partner have worked to figure out what type of intimacy feels most comfortable for both of you, and experimented with different ways to connect with and please one another.
Celebrate the ways you've intimately bonded so far, both physically and emotionally, and continue your journey forward by taking it to the next level!
Gift Ideas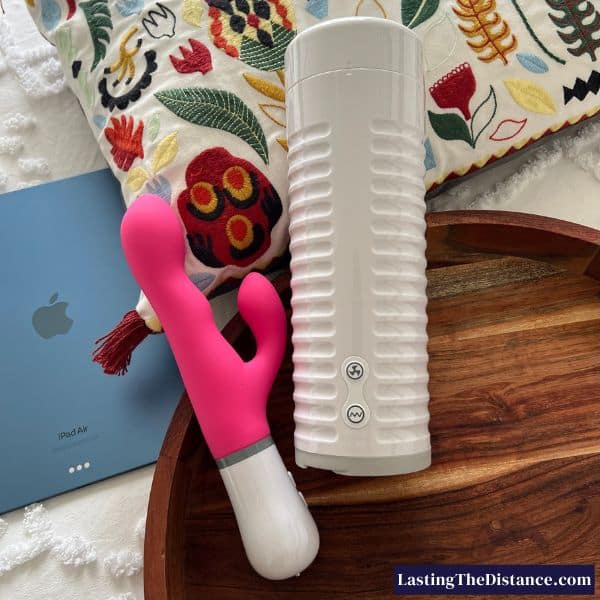 These His (Max 2) and Hers (Nora) adult devices connect over Bluetooth, enabling them to respond to each other.
If one toy is moved faster, the other mimics those movements, intensifying sensations. This tech has helped long distance sex to feel more connected and intimate than ever before.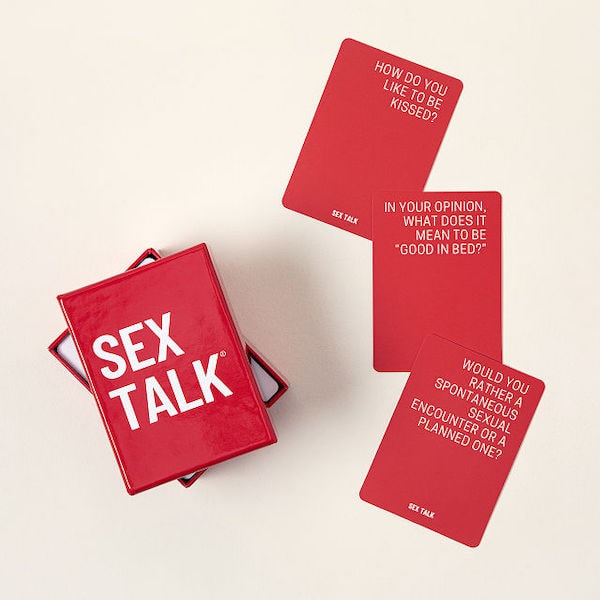 It doesn't matter if you're expressive or shy, this 'sex talk' card deck will help you open up, uncover secret fantasies, unknown likes/dislikes, or new desires.
With questions specifically designed to help couples feel relaxed when talking about sex, even more conservative or timid couples will feel at ease.
Are these intimate gifts peaking your interest? We compared the best sex toys for long distance couples to help you make an informed decision.
Date Night Idea: Getting Intimate
Dedicate an entire day to connecting intimately with your partner, no matter how many miles separate you.
Start the morning with a suggestive photo or steamy sext, and let the tension continue to build throughout the day. Once you're both home and able to really turn up the heat, get the evening started with a sexy game like Truth or Dare.
Finally, when it's time, put your new gifts to use! Regardless of how many intimate moments you've had over the past year, we promise you this celebration will be one to remember.
Pro Tip: Nothing is more intimate than understanding the other's boundaries! Always check in with your partner and make sure you're both on the same page and enjoying yourselves when trying something new.
Two Year Long Distance Anniversary Ideas
Milestone Theme: Reminisce
A unique perk of being in a long distance relationship is the number of adventures you are able to experience.
Not only does every reunion involve a new trip or vacation together, but each time you simply have a FaceTime date or just recount your day to your partner, you are transporting each other into the other's world.
Throughout two years, you have created numerous memories, both as a couple and as individuals.
Your two year long distance anniversary is a wonderful time to be nostalgic and look back on all the moments you've shared together and how far you've come as a couple.
Gift Ideas:
Personalize a memory box and fill it with special mementos like plane tickets, notes, hotel key cards, and photos.
The best part is, you can keep adding to it with every visit in the future!
Connected Photo Frame by LuvLink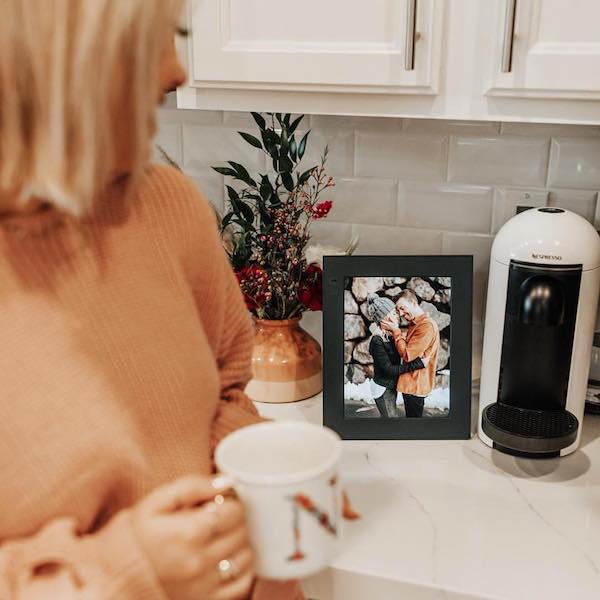 With two years' worth of memories, it's almost impossible to pick one photo to represent it all.
LuvLink's Connected Frame allows you to add thousands of photos and even share with your friends and family so they can follow your adventures.
Date Night Idea: Remember When…
Before your date, take some time to gather your favorite photos, souvenirs, videos, or messages you've exchanged over the years.
Share them with each other, and explain what exactly about those moments makes you cherish them.
Be detailed!
Tell them you love that picture of them sitting in front of the Eiffel Tower because that trip was when you realized you wanted to spend the rest of your life with them.
Or how you saved the ticket stub from that concert because the one thing that always cheers you up after a long day at work is listening to that song you first danced to together.
Three Year Long Distance Anniversary Ideas
Milestone Theme: Commitment
A dissertation written in Germany found that, on average, long distance relationships last just under three years.
So, it's a big accomplishment to have made it to that three-year mark while still supporting each other through the frustrations and hardships that being apart creates.
Perhaps you've begun to make plans to permanently close the distance at some point in the future, or maybe that's not an option for the two of you right now but you know, no matter what the future holds, you want to be with each other.
Three years is about commitment. Even with all of the uncertainty that comes with a long distance relationship, you have remained certain about each other.
Gift Ideas
Adventure Challenge For Couples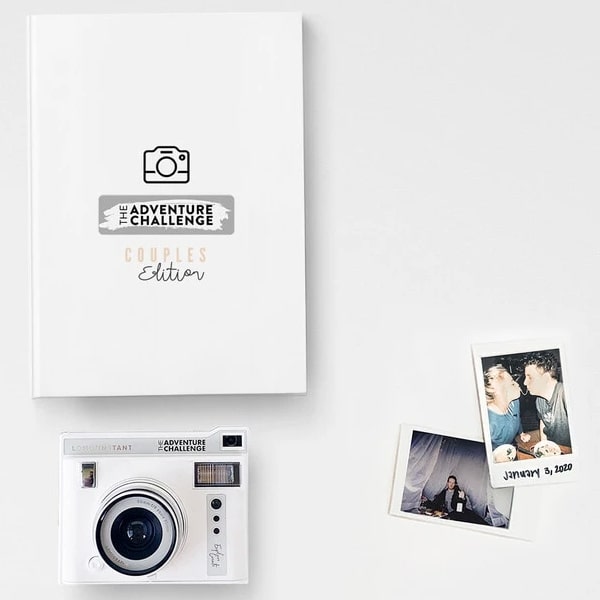 With 50 scratch-off adventures, this book provides countless date night ideas.
Ranging from silly to sentimental, they are all designed to help you and your partner explore new sides of your dynamic. It's meant to be played in person making it perfect for your next visit!
Long Distance Themed Keychains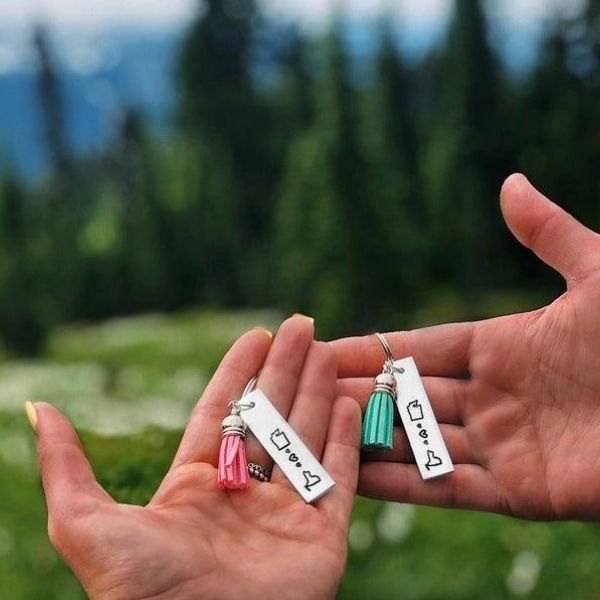 Choose one from our list of unique keychains, and slip on a key to make it extra special.
While the key can be a copy of the key to your home, giving a blank key that symbolizes them holding the key to your heart is just as significant.
Date Night Idea: The Next Adventure
If possible, demonstrate your ongoing commitment to one another by celebrating this relationship milestone in person.
Tip: Use our Closing The Distance Calculator to make sure you are budgeting correctly and planning ahead to set yourselves up for success.
If you're unable to celebrate this milestone in person, spend a date night planning for future trips or visits!
Make vision boards of cities or countries you've always dreamed about visiting, make a bucket list of experiences you want to have together and brainstorm ways you can start saving and budgeting to help relieve the financial stresses of travel.
Four Year Long Distance Anniversary Ideas
Milestone Theme: Strength
A month of long distance isn't easy, let alone four years! Making it this far represents just how strong you are as individuals and as a couple.
It represents all you've sacrificed for each other, all the tear-filled goodbyes and miscommunications, hours of traveling, financial stresses, and nights alone.
It represents all of the hurt and hard times you have been willing to go through because of how important your love is.
Gift Ideas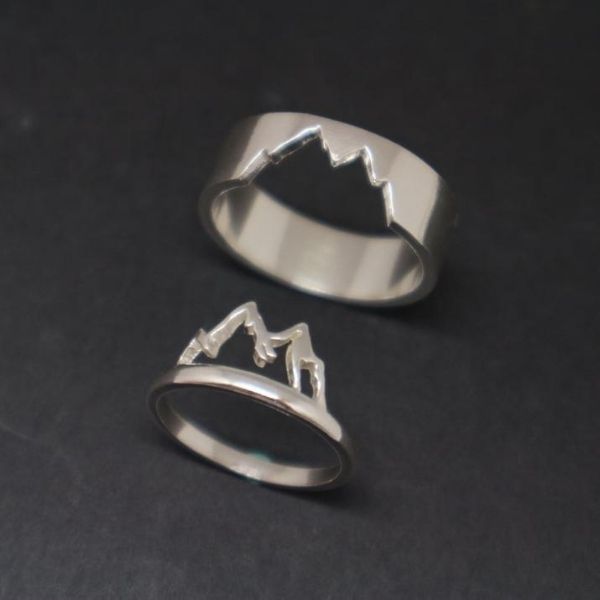 Read our post on long distance promise rings and give your partner a constant reminder of the journey you're on together.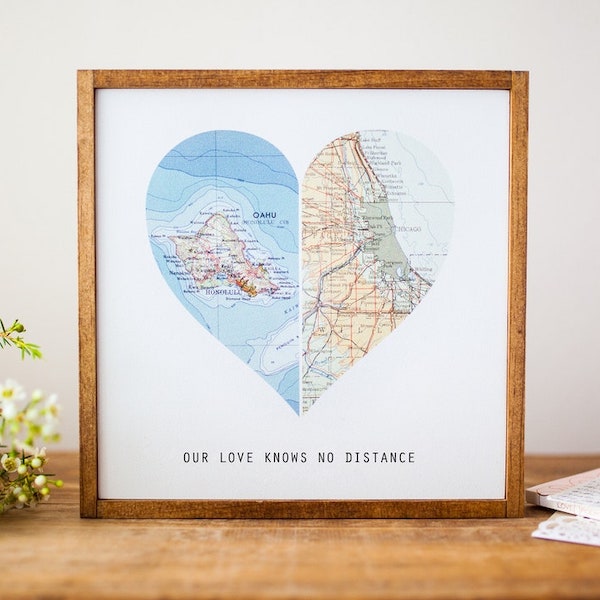 Pay tribute to both your individual homes and lives while symbolizing that no matter where you are, love knows no distance!
Date Night Idea: Swoon At The Sunset!
There are many benefits to watching the sunset. They help you:
Slow down
Be present
Feel inspired, and
Help you be thankful for each day
Not only are sunsets objectively romantic, but experiencing the beauty of one with your partner will give you the opportunity to reflect back on how far you've come while getting excited about what's on the horizon for the two of you.
So grab a blanket and a bottle of wine, and either watch the sunset together over FaceTime if you're in the same time zone or take turns showing each other what the view is like in your city as the sun dips below the clouds.
Pro tip: Enter your location into the sunset calculator on timeanddate.com to make sure you don't miss it!
Five Year Long Distance Anniversary Ideas
Milestone Theme: Growth
The experience of being in a long distance relationship that stretches across half a decade shapes you in many ways.
It shapes you as a couple, as you both learn how to improve communication, cope with jealousy issues, bond in creative ways, and articulate needs.
It also shapes you as an individual, as you boost your self-confidence, build your independence, and push yourself to accomplish personal goals.
It's time to honor the tremendous growth that has taken place over the years for your fifth anniversary!
Gift Ideas
Not sure what to put in a care package for your partner? No worries!
Our ultimate care package guide has ideas for every situation, your partner will be touched to see what you've noticed about their likes and preferences during your time together.
Taking time to make a gift by hand demonstrates the effort you're willing to put into your partner, and represents the time and effort you've both put into your relationship over the past five years.
We've put together a list of suggestions to help you get inspired.
Want another amazing DIY option? Check out our guide to creating open when letters that will have a major impact on your partner, when they need it most.
Date Night Ideas: Cook Together
Swap favorite recipes and learn how to make each other's dinner of choice from scratch.
In an international long distance relationship? This can be a great opportunity for one or both of you to learn more about your partner's culture.
If you're in different time zones, you can cook each other's favorite meals for whatever time of the day it currently is. Although, who doesn't like the occasional breakfast for dinner!?
Final "When All Else Fails" Long Distance Anniversary Idea
Favorite Activities Day With Friends
While you can celebrate with your partner virtually. Why not be with your friends and celebrate physically?
Gather some friends who can go out with you and then do something as a group that you enjoy doing with your special someone when you're together.
Check in with each other from time to time while you're out.
Send them photos or videos, and don't forget to connect over video!
What Milestone Will You Celebrate With Your Long Distance Partner Next?
What milestone is next for you and your partner? Share this guide with them to jumpstart your planning and get excited about your next long distance anniversary!
Feel free to customize each gift and date as you see fit for your relationship, but we feel confident that symbolizing each stage of progression in your relationship will make you more connected and optimistic as a couple.
Join our LDR support group to connect with other long distance couples for even more tips and ideas to honor your relationship.
---
Hi, we are Lolo (Canada) & Nate (Australia) a couple that had to go through all that a long distance relationship has to offer, just like you. With our experience and lessons learned we want to help you keep your long distance relationship as strong as ever and ultimately last the distance!
Our

FREE

7 day LDR challenge is BACK!
Unlock better date nights, deeper communication plus a stronger intimate & emotional connection.
SECURE YOUR SPOT!