Our mothers play a major role in our upbringing, guiding us through life, helping to navigate the highs and lows and just being there whenever we need them.
Unfortunately, we tend to take these things for granted and only truly realize how much we rely on them when they aren't just around the corner.
Being separated by distance might change your relationship, but there are still many ways to show your mother just how much you love and appreciate them.
Long distance gifts for mom (which is why you're here!) are a great option.

We've put together a list of affordable options that your mother will not only love but will also acknowledge the distance in your relationship and what you're willing to do to keep your bond as strong as ever!
The Best Long Distance Gifts For Mom In 2023
1. Touch Bracelets by Bond Touch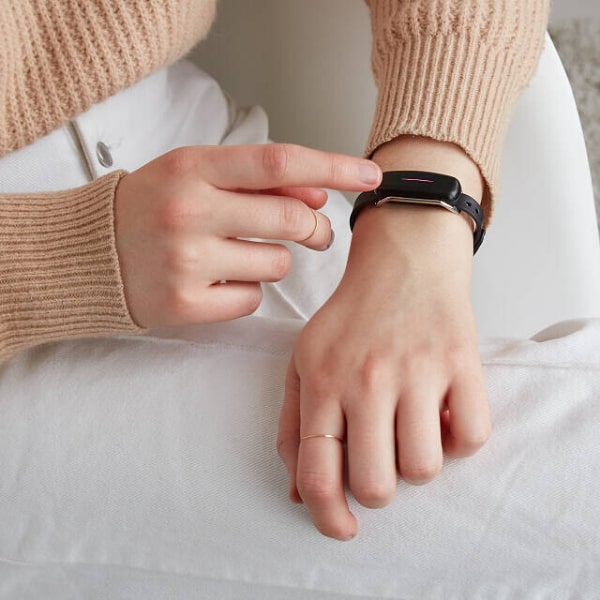 Bond Touch bracelets work in a similar fashion to the friendship lamps above and are perfect for people 'on the go'.
Wherever you are in the world, all you need to do is touch your bracelet and it will notify your mother that you're thinking of them.
How does it do that?!
Well, with a little help from the Bond Touch smartphone app, you can connect two bracelets together. When you touch your bracelet, your mother's will light up and vibrate.
Speaking of the app, it also includes cool features like private messaging and the ability to see past touches. There is also a countdown timer so you can count the days until you next see each other!
It's worth noting that the bracelets are waterproof up to 3ft/1m and there are several different band colors to suit your styles.
Want more? We recently reviewed and compared the three best long distance touch bracelets that make the perfect gifts for long distance moms.
2. Wifi Touch Lamps by FriendLamps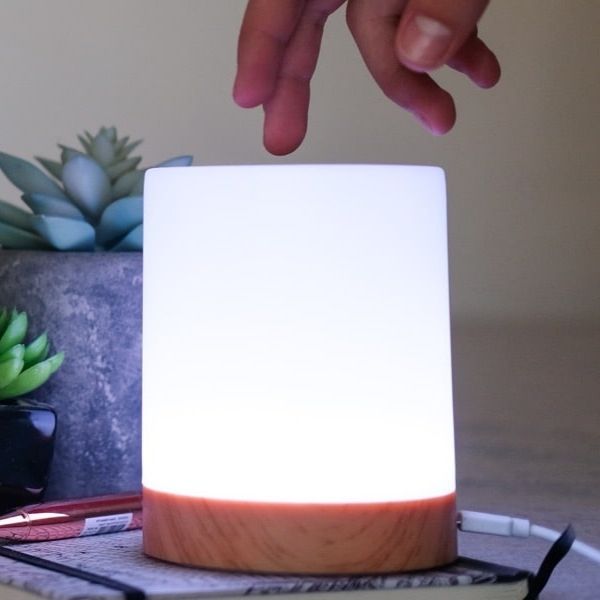 These Friendship Lamps from FriendLamps.com are a wonderful way to stay connected.
With a simple touch, you can let your Mom know that you love her and that's you're thinking about her. Of course she can do the same!
You have two lamps that are paired together via a WiFi connection. When one of the lamps is touched, the other will light up! You can even choose which color it will light up in.
We think these lamps do an amazing job of creating a heartwarming experience that will give you both that comforting fuzzy feeling.
Like the idea of friendship lamps? Check out our recent article where we reviewed the best touch lamps for long distance couples, friends and family.
3. LoveBox Spinning Heart Messenger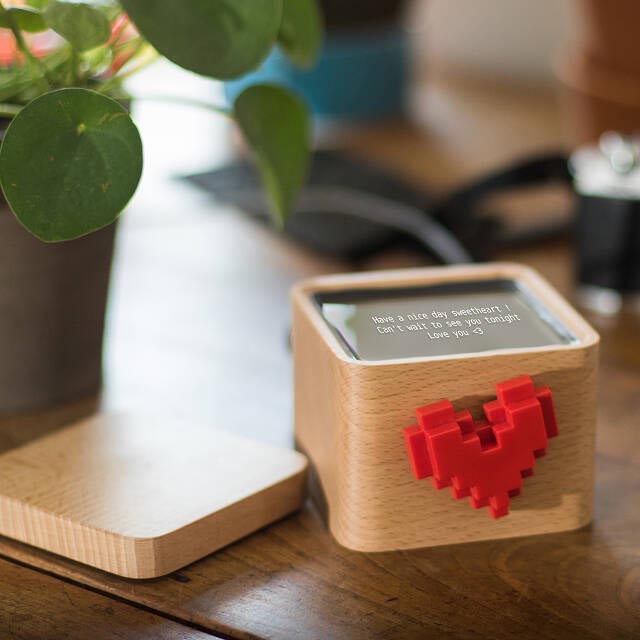 When it comes to special relationships and occasions, traditional messaging systems can sometimes feel a bit hollow.
We think the LoveBox Spinning Heart Messenger does a great job of changing that.
When a message is sent, the heart on the front of the box will spin, which is sure to put a huge smile on your mother's face. When she lifts the lid, she'll see your heartwarming message.
To send messages (and even pictures) the LoveBox App pairs your smartphone and the spinning heart messenger together.
4. What I Love About Mom (By Me) Book
The What I Love About Mom (By Me) Book is sure to bring a tear to your mother's eye.
Each page has a prompt that will encourage you to write about why your mom is so special to you, such as:
"I love that you encourage me to . . ."
"I love your taste in . . .", and
"I love getting your advice on . . ."
It's beautifully presented and something that your mom is going to be able to go back to whenever she is missing you.
It's also a present you'll love too. Enjoy reminiscing while filling out all of the pages and remembering all the reasons you love her so much.

Long Distance Mothers Day Gifts
5. MyHeritage DNA Kit
DNA kits have become increasingly popular and it's easy to see why.
They help you find out where you come from and allow you to dive deep into your family history.
The best part is that they are super easy to complete and the results will be fascinating! All MyHeritage needs is a small saliva sample and you'll get the results back in around 3-4 weeks.
We think revealing this information will help you and your mother to strengthen your connection through your family's past and present.
For more details visit MyHeritage.com/dna.
6. Long Distance Mothers Day Candle
Many people love candles and if your mother does, then this Long Distance Mothers Day Candle is going to be the perfect gift.
Through Define Design on Etsy, you can choose the two states or countries that you and your mother live, to put on the front. You can also add a personal message to the top of the lid.
There are two size options available to go with a wide range of different scents. Some include:
Salt + Sea
Wild Rose + Honey, and
Cabin in the Woods
You can also take this amazing candle one step further and upgrade to a gift box. It contains a matchbox, a 'miss you' ceramic mug and a 'reasons why I miss you' notepad.
7. Custom Engraved Recipe Cutting Board
Does your Mom have an amazing recipe that is special to you? Perhaps your mother loves cooking the same meal that she learned from her mom.
In both situations, getting a custom engraved cutting board would be an amazing gift.
To make it as meaningful as possible, the team at Kustom Products has included plenty of customization options, check them out here.
For the recipe, you can have it engraved either vertically or horizontally and can also get further engraving on the back.

Long Distance Mother Daughter Gifts
Fun fact: Have you ever heard that mothers and daughters just 'get each other'? A study published in the Journal of Neuroscience found that mother-daughter relationships are the strongest of all parent-child bonds when it comes to how their brains process emotion!
This means your mother is better equipped to understand problematic situations you may be going through because she can put herself in your shoes.

8. Mother & Daughter Letter Book Set
The Mother & Daughter Letter Book isn't just a present for when you're separated and it's not just a present to share when you're together.
This is a present that can be cherished for a lifetime.
The letter book includes 40 different cards that you can treasure and exchange.
They are the keepsakes which you'll both have a lot of fun completing and something that your mother will treasure. Once finished, it becomes an amazing piece of family history, which can be passed down from generation to generation.

9. Long Distance Bracelet For Mom
When it comes to what gift you should get your long distance mom, jewelry is always a good idea.
This bracelet by Laurel Denise not only looks beautiful but also includes a touching message they'll love showing off to their friends:
"always my mother, forever my friend"
There are 10 different color options available so you'll be able to find one that matches her existing jewelry or favorite color.

10. Letters To My Long Distance Mom
Letters To My Mom is a great gift idea for anyone who might struggle to put their feelings into words.
If that's you don't worry, we've all been there!
There are several situation-specific prompts that will help you to express just how much your Mom means to you.
Your Mom can then open each letter when it's most appropriate, like:
"Read me when you miss me", and
"Read me when you need to know how much I love you"
You'll also receive a cute keepsake box to send and store the letters in.

11. Custom Mother & Daughter Night Sky Print
This Mother Daughter Night Sky Print will help to make the distance between you disappear, every time you look at it.
Along with adding the night sky of you and your mother's locations. Coffee Black Thanks, the creators of this amazing print, have included several other customization options to help you create a piece that is as unique as your relationship.
They include:
Our Favorite Long Distance Gifts For Mom
Without a doubt, our favorite long distance gifts for mom are the touch bracelets from Bond Touch.
We love technology, especially when it is used to better connect couples, friends and families.
But that's not the only reason why they're a great option…
We love gifts that you can enjoy together, especially those that you can use no matter where you are.
There is something special about being able to let your mother know that you love her and that she's in your thoughts with one tap.
Just think of the smile it will put on your mother's face when her bracelet vibrates and lights up.
For more details, check out the 180+ customer reviews and actual customer photos on UncommonGoods.com.
---
Hi, we are Lolo (Canada) & Nate (Australia) a couple that had to go through all that a long distance relationship has to offer, just like you. With our experience and lessons learned we want to help you keep your long distance relationship as strong as ever and ultimately last the distance!