When it comes to keychains, people usually fall into one of two categories.
Person 1: "Keychains? Who cares, they are that thing you just put keys on."
Person 2: "Keychains are awesome! They're a subtle way to express yourself."
As you're currently reading our article on long distance keychains, it's probably safe to say you fall into the second category :).
We love the idea of gifting keychains for couples in long distance relationships because of what they represent in the present: Working as a team and the journey you're on together.
They're also a super affordable way to put a smile on your partner's face, each and every day.
We searched through hundreds of keychains to bring you what we think are he most unique and affordable options that are perfect for LDR couples.
QUICK NAVIGATION
Coordinates Keychains
Leather & Steel Coordinates Keychain by Maven Metals Inc
Leather and stainless steel complement each other nicely. This is especially true with the coordinates keychain from Maven Metals Inc.
The leather accents are handcrafted from top grade birdle leather from the USA, which can be embossed with the initial of your choice.
You also have the option of burgundy, black, chocolate or brown colored leather.
While the image above shows engraved coordinates, which is our personal favorite, you can have any text added up to a maximum of 35 characters.
Check out the customer reviews with images on Etsy to see how they look out in the wild!
Love the symbolism of coordinates? Then you'll definitely love our post on the best coordinates gift ideas to celebrate your special locations!
State & Coordinates Keychain by Cali Girl Customs
Made from aluminum, these lightweight and tarnish resistant keychains from Cali Girl Customs include both states and coordinates, which are an excellent reminder of where your heart lies.
Chelsea Ann the creator of Cali Girl Customs also states that you can have text engraved on the back of the coordinates bar at no extra cost.
While we have mentioned that this is a US state keychain, there are some countries available.
They also come ready to gift in a gift bag and tag. For more details or to check out processing and shipping, head on over to Etsy.
Silver Bar Coordinates Keychain by The Anniversary Shoppe
The Anniversary Shoppe has made these coordinate bar keychains with stainless steel so they wont tarnish. They are also hypoallergenic!
We think the addition of the compass is a nice touch. But what's really cool is the customization options.
The bar can be hand stamped on each side:
Name of your choice – 'Lolo'
First part of the coordinates – '45.5016º N'
Second part of the coordinates – '-73.5672º S'
Any text you like! (for an additional fee)
Check them out on Etsy for more details on the ordering process and to see the customer review photos.
Leather Coordinates Keychain by Engra World
Most keychains we see are either metal or plastic based. Engra World has gone a step further and created these rustic leather coordinates keychains.
This is the perfect options for someone who isn't into shiny accessories or hates the noise that keys and keychains make when they bang together!
There are five colors available: Dark green, wine, light brown, dark brown and black.
Engraving can be done on the back and front and if you also want the hand made box, you can select what is engraved on that too!
Take a look at their listing on Etsy to see each of the leather colors and engraving options in more detail.
State to State Long Distance Keychains
State & Message Keychains by The Lonely Moose
The Lonely Moose's hand stamped jewelry and accessories look amazing, and their long distance keychains are no different.
Made from stainless steel and aluminum, these keychains include a state or country emblem with another plate for a personal message.
You can see the quality of their craftsmanship with how clear the intricate hand stamping is.
There are many customization options available like the location of the hearts, having stars instead of hearts plus many more.
Check out their listing on Etsy for more information on the customization options or to make sure they have your state or country available.
State/Country Keychains Set by The Light & The Dark
For those who like the minimalist style, these state to state keychains from The Light & The Dark are a great choice.
Nikki, the founder of The Light & The Dark was also in a long distance relationship so she understands the ups and downs we all experience.
All US states and Canadian provinces are available, plus 19 countries, which are made from high quality aluminum. While the ring made from stainless steel.
If you want to support another LDR community member then these keychains are it! Visit Etsy for more details.
State/Country Bottle Opener Keychain by The Jewelry Girl's Place
Is your partner a fan of beer? If so they will be a fan of this bottle opener keychain from The Jewelry Girl's Place.
With a length of 2.125 inches, this simple (yet effective) accessory is made from 2mm thick stainless steel.
We really like the option of engraving states or countries especially for those people who aren't from the USA, Canada or major countries that other makers usually don't include.
You can also choose to have a message other than 'Miss Your Face'.
To get a better idea of the quality engraving, check out the images that previous customers have included on the Etsy listing.
State/Country Bar Keychain by The Light & The Dark
Another awesome option from Nikki at The Light & The Dark is this hand stamped bar keychain.
This popular option has a ton of customer review images, so you may be able to see your state or country up close to get a better idea of what it will look like in the flesh.
Made from aluminum, the bar measures 2″ wide, 1/2″ tall and has a thickness of 12G so it won't look too bulky.
Nikki also makes sure the edges are smooth so they don't do any damage in your pocket or bag.
Check them out on Etsy for more details.
A similar option is also available from The Light & The Dark but as an adjustable ring! Check it out here in our post on Long Distance​​ Rings.
His & Hers Keychains
His & Hers Puzzle Piece Keychains by Cali Girl Customs
Puzzle pieces are a great symbol for long distance relationships, especially when you can put them together to show how you both 'fit' 🙂
Cali Girl Customs has created a simple yet elegant set of couples keychains made from food safe, tarnish resistant aluminum and measure 2.5″ wide and 1.5″ long.
Along with the two hearts connected by a dotted line, you can personalize these puzzle pieces with an initial stamped into each.
Cali Girl Customs also has the option to have something hand stamped on the back, which you can find out more about from their Etsy listing.
Bronze His & Hers Keychains by Jewelry Everyday
Another options for those of us that love minimalist designs. These bronze couples keychains create a cut out heart when put together.
Each bar also includes an initial for personalization.
People who have purchased these long distance keychains have mentioned that they really like how small and lightweight they are.
Natalie from Jewelry Everyday has also made these keychains available in aluminum.
For more details on choosing the aluminum option or any other information, check out her listing on Etsy.
His & Hers Promise Keychains by Les Bijoux d'Elise
Long Distance Relationships are built on trust, which is why we like these 'pinky promise' couples keychains.
The moulded pinky promise sign and initial both measure between 15mm wide and 16mm long, which is similar to the size of the charms on charm bracelets.
Les Bijoux d'Elise also includes a gift tag that you can put a personalized message on before giving it to your partner.
Pick up this Bestseller on Etsy before they sell out. There are many customer review images to check out too.
His & Hers Hand Stamped Keychains by Black Wolf Designs
We really like hand stamped and customized accessories because they add a level of uniqueness that mass produced products can't match.
Black Wolf Designs have created a very simple yet elegant couples keychain that includes:
3/8″ x 1 1/2″ stainless steel bar
1/2″ x 3/4″ stainless steel heart, or
1/2″ stainless steel disc
All of which can be hand stamped with dates and initials.
Michelle from Black Wolf Designs does mention that the letters may not be perfectly aligned as they are all made by hand. We definitely don't see this as a downside and think this adds to the authenticity.
If you have any questions or are looking for a similar custom design, head over to their listing on Etsy.
King & Queen Keychains
His Queen Her King Keychains by Stamp Out Loud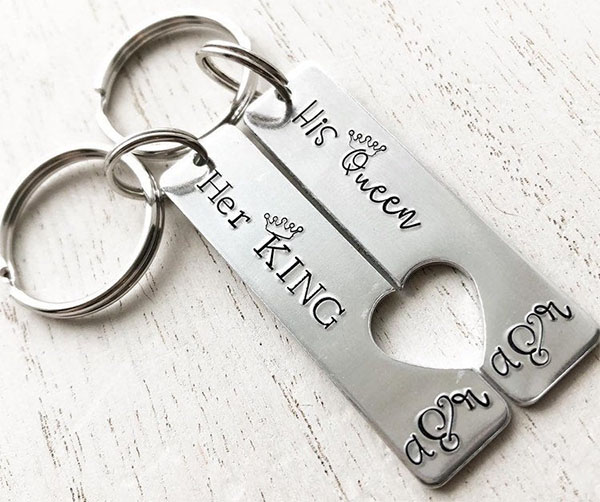 Similar to the bronze keychains, this option from Stamp Out Loud also makes the shape of a heart when the two bars are put together.
Made from a thicker and higher quality 14G aluminum, these keychains won't tarnish and are hypoallergenic.
You can add a touch of personalization by adding each of your initials.
Further personalization options are available by contacting Nadine, the founder of Stamp Out Loud via Etsy.
King & Queen Charm Keychains by YLYS
If you're into more quirky designs, the king and queen keychains from YLYS are for you.
They include a charm in the form of a playing card, a crown and another for adding an initial.
You can choose to have K and Q on them for king and queen or decide on something more personal like your first names.
YLYS has also given you the option to add a birthstone for a fee.
Head over to Etsy for more information on the birthstone or any other keychain options.
YLYS makes a bracelet in the same design! Check it out here in our post on Long Distance Brac​​elets.
King & Queen Crown Keychains by Jewelry Everyday
Natalie from Jewelry Everyday makes the list again with these stylish and intricately moulded king and queen charms made from zinc alloy.
There are also a couple of personalization options available with these keychains:
Add a heart shaped charm and have one to three characters hand stamped into it.
Add a bar charm and have initials and a date stamped into it.
Check out the product photos included within Natalie's listing on Etsy to get a better idea of the personalisation options available.
His Queen Her King Bar Keychain by Beaditch
Our final keychains for long distance couples are these hand stamped bar options from Beaditch.
Each measures 1 3/16″ by 5/8″, which allows them to fit nicely on a small set of keys.
Personalization options include adding initials and a specific date. Chelsie of Beaditch does mention that the dates will be stamped exactly as you type them. Some options might include:
01.02.03
01.02.2003
1.2.2003
To see how they look with different stamping options, check out the photos from reviews on their Etsy listing.
Helpful Tips For Keys and Keychains
How To Organize Your Keys
Keychains make an excellent gift, but if they are paired with a crazy amount of keys, they will just get lost in the mess!
Also, did you know that a heavy set of keys can do a lot of harm to your cars ignition system?
That's right! Just through regular driving, making turns and going over bumps, a heavy set of keys can wear out tumblers in the ignition.
So here are some tips to better organize your keys and keychains.
Remove keys you rarely use (put this second set in a safe place you'll remeber)
Group keys by usage on separate keychains (daily, monthly, infrequently etc)
Remove duplicates
For more tips on organizing your keychain, check out this video by Vanessa of Get Simplifized.
Now It's Your Turn!
There are a number of special keychains for couples in long distance relationships available, and all of them would make a great gift.
Which one of these options caught your eye?
If you have any questions or want to chat with other long distance couples come and join our LDR Support Group!
---
Hi, we are Lolo (Canada) & Nate (Australia) a couple that had to go through all that a long distance relationship has to offer, just like you. With our experience and lessons learned we want to help you keep your long distance relationship as strong as ever and ultimately last the distance!
Our

FREE

7 day LDR challenge is BACK!
Unlock better date nights, deeper communication plus a stronger intimate & emotional connection.
SECURE YOUR SPOT!