Whether you miss your partner or you've stayed up too long facetiming each other.
Getting to sleep can be a real struggle for long distance couples.
Don't worry, we've been there too!
It can be a lonely experience when your thoughts are constantly on how your partner isn't there.
A long distance pillow might just be enough to make it that little bit easier to fall asleep.
Having a long distance pillow in this situation can make life a little easier.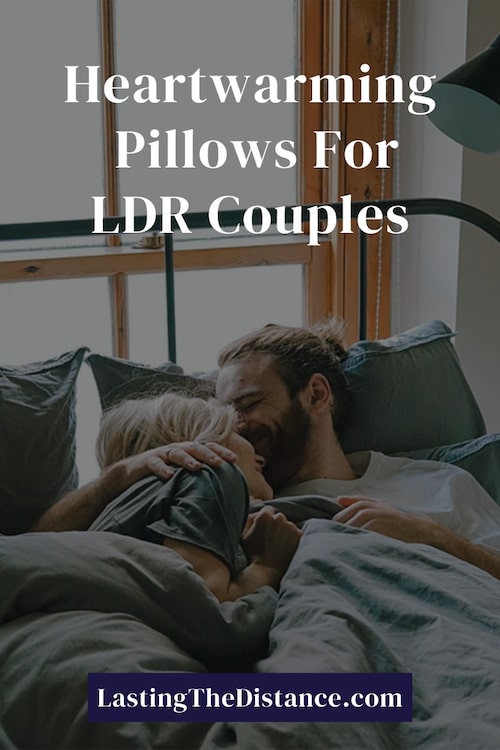 Why Pillows Make A Great Gift
Simply put, research has shown that pillows are vital to getting a good night's sleep.
Not only will you be helping your partner out but also giving them a lovely reminder of the love you share.
We've put together 13 options that are sure to be a great gift and one which will make your partner very happy.
QUICK NAVIGATION
Long Distance Heartbeat Pillow
Pillow Talk by Little Riot
While Pillow Talk isn't an actual pillow. What it can do will come as a surprise.
Known as a long distance heartbeat pillow, this device by Little Riot sends the rhythm of your heartbeat to your partner's device in real-time, and vice versa.
The wristband recognizes your heartbeat and transmits the signal to the other part of the device, which is underneath your partner's pillow.
The setup is super simple via an application you can download on your smartphone.
It's easy to see why long distance couples are saying they love Pillow Talk because it makes it feel like your placing your head on your partners chest!
Check out Pillow Talk by Little Riot for more details.
Long Distance Couple Pillows
Handmade State/Country Couples Pillows by Mrs DD Crafts
If you and your loved one live in different states of the US then this is a pillow which is going to catch your eye.
Mrs DD Crafts customize these long distance couples pillows by hand, allowing you to have any state included and place a heart in the specific locations you live or wish to highlight.
In an international LDR? Don't worry, countries can be added instead!
You also have the choice of purchasing the handmade cover in it's own or to have it filled.
They are a perfect gift and the enforced seams make this a premium quality option.
Dimensions: 12×12", 18"x18" or 12″x24″ (inches)
Fabric: Cotton
Visit Mrs DD Crafts' listing exclusively on Etsy for more details.
Love Has No Distance™ Couples Pillows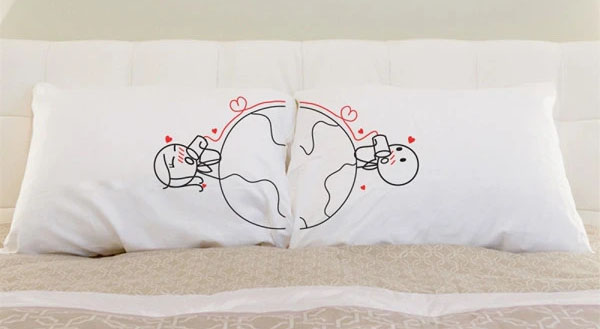 Here is the first of a few options that we really like from the team at BoldLoft. They've created many items for couples and even have a section dedicated to long distance relationships.
The design of the Love Has No Distance™ couples pillows split the globe in half with one person on either side holding a can on a string, which depicts them communicating their love to each other.
We think this is a really cute option for couples in an international long distance relationship.
Dimensions: 20″x30″ or ​20″x40″ (inches)
Fabric: Cotton & polyester
Visit BoldLoft for more details on pricing, sizing and delivery options.
Miss Us Together™ Couples Pillows
The Miss Us Together™ couples pillows is another option we like.
The picture on these pillows is of a couple missing each other, sending their love across a beautiful cityscape at night.
It's great for those who share a common city like view but are currently too far apart.
The pillows cases themselves are very well made from cotton and polyester mix which will give you many nights of comfort.
Dimensions: ​20″x30″ or ​20″x40″ (inches)
Fabric: Cotton & polyester
Find out more about the Miss Us Together™ couples pillows at BoldLoft's official website.
Wish You Were Here™ Couples Pillows
Something tells us you can relate to this Wish You Were Here™ couples pillows design from BoldLoft.
Remembering the countless nights we would stay up late messaging each other really takes us back to where it all began. For many of you, it's what you're experiencing right now.
This design shows a boy and a girl at opposite sides of the world messaging and expressing how much they mean to each other.
Each of you can have a pillow as a sweet reminder of the love you have.
Dimensions: ​20″x30″ or ​20″x40″ (inches)
Fabric: Cotton & polyester
Find out more about the Wish You Were Here™ couples pillows here.
You're Worth Every Mile™ Couples Pillows
We feel many different emotions when we're away from our partners. One constant is the willingness to do almost anything to be closer together.
We think the You're Worth Every Mile™ couples pillows from BoldLoft are a great representation of that.
The design shows a boy and a girl on separate worlds using all of their strength trying to pull each other closer together.
Dimensions: ​20″x30″ or ​20″x40″ (inches)
Fabric: Cotton & polyester
Visit Boldloft.com for more details on the You're Worth Every Mile™ couples pillows.
Long Distance Body Pillows
Personalized Long Distance Body Pillow by TVBlankets
Body pillows make a great gift, they're not only something that people rarely buy but can also be a great option for 'side sleepers'.
The Personalized Long Distance Body Pillow from TVBlankets uses the whole length and width of the pillow to imprint any image of your choice. For example, imprinting you or your partner!
The soft microfiber makes it very easy to sleep with and you won't have to worry about the zip poking you at night as it is completely concealed.
Dimensions: 20"x 54" (inches)
Fabric: Soft microfiber
For more details on the printing process and image quality, visit their listing on Etsy.
Say I Love You® Body Pillow
Boldloft has created a minimalist style body pillow similar to one we highlighted earlier as couples pillows.
The Say I Love You® Body Pillow depicts a long distance couple using cups on a string to say how much they love each other, no matter how far away.
Just like thier other pillow products, it's made from a breathable cotton and polyester mix that will help deliver a comfortable night's sleep.
Dimensions: ​20″x54″ (inches)
Fabric: Cotton & polyester
For more details, check out BoldLoft's official website here.
From My Heart to Yours™ Body Pillow
The From My Heart to Yours™ body pillow from BoldLoft uses the same characters but swaps out the cup and string to tell your partner how much they mean to you, for blowing love bubbles.
This cute design shows how a fun and loving gesture can make us feel. We think blowing love bubbles just like blowing kisses, is a great symbol of love from afar.
Dimensions: ​​20″x54″ (inches)
Fabric: Cotton & polyester
Head on over to BoldLoft for more details on the From My Heart to Yours™ body pillow.
Long Distance Boyfriend Pillows
The Original Boyfriend Pillow
If you fancy sleeping next to a realistic pillow then this is going to give you great comfort.
While it is described as a novely, the Original Boyfriend Pillow is a well-made and durable item that can give real relief to long distance couples that are missing each other.
The shirt above is a nice light blue but you can choose from several different colors to allow you to get something a little more personal.
Dimensions: 24" arm, 22" length, 12" & 6" depth
Fabric: Premium cotton
Find out more about the Original Boyfriend Pillow at Amazon.
Muscle Man Pillow
Like the boyfriend pillow but want something a little more 'ripped'? The Muscle Man Pillow might be the answer!
The style is very similar to the Original Boyfriend Pillow, but more time has gone into the stitching, giving it a sculpted design.
The material of the pillow is very soft to touch and has the right level of firmness to keep it's shape, which makes it comfortable to sleep with.
It is also made from body-safe materials that won't cause any irritation or reaction. It's great to cuddle up to for a comfortable night of sleep.
Dimensions: 18.1" x 17.7" x 7.9"
Fabric: Super soft boa
Check out the Muscle Man Pillow at Amazon for more details.
Long Distance Girlfriend Pillows
Girlfriend Pillow With Arm by McPoodleShop
We can't leave out those LDR couples looking for a girlfriend pillow can we?
McPoodle Shop on Etsy creates one of a kind girlfriend pillows. Being handmade gives it a much more stylish finish than other's we've seen but that also means they're a little more expensive. We think that's a good tradeoff!
You can even get the underwear on the pillow in different colors depending on your needs.
Custom sizing is also available if you want something a little more specific to match your partner, which could be great for a more realistic snuggle session.
Dimensions: 72 cm length
For finish, sizing and underwear options, visit McPoodle Shop on Etsy.
The Original Girlfriend Pillow
A cheaper option that we think will be better served as a novelty gift is the Original Girlfriend Pillow.
It comes in a classic pink color with a what the company calls an 'ample bosom', which you can lay your head on comfortably.
Dimensions: 11 x 16 x 4 inches
Check it out at Amazon for more details.
Long Distance Light Up Pillows
We wanted to include the long distance pillow that lights up because it is truely unique, but not as an option. Unfortunately they are not available.
Through our research, we've struggled to find if these were actually ever available to purchase.
Maybe one day!
But for now, the closest thing from a technology standpoint would be Pillow Talk by Little Riot.
Taking Care Of Long Distance Pillows
Why You Should Wash Your Pillows & Pillowcases?
Your pillows and pillowcases can quickly become the dirtiest things in your household. Why you ask?
We shed up to a staggering 15 million skin cells each night. If they are left to build up overtime, your bed can become a feeding and breeding ground for dust mites. Yuck!
When To Wash Pillows & Pillowcases?
Experts say you should wash pillowcases and sheets at least once a week, using your preferred washing detergent with the hot water setting. But when it comes to your actual pillow, it all depends on what it's made of.
Natural filled pillows: Natural filled pillows can usually be machine washable but you will need a quick spin to be able to get most of the moisture out of there. Air dry them thoroughly to avoid feathers staying damp.
Polyester/hollowfibre pillows: These pillows are generally quite easy to clean and can be done in the machine. You wouldn't want to use a lot of detergent. They can be air-dried or you could simply throw them in a dryer.
Foam pillows: These are quite harder to clean but can be done manually with a sponge and some soapy water. They need to be well rinsed and once you have finished you want to let them dry naturally but away from any direct sunlight.
Our Favorite Long Distance Pillows
To be completely honest, we are huge fans of technology that helps long distance couples strengthen their bond and make the distance feel shorter.
Our favorite choice is the long distance heartbeat speaker/pillow, Pillow Talk by Little Riot.
It's a cool and unique piece of technology that can have a real impact on how you sleep and connect with your partner, even when hundreds or thousands of miles apart.
Now It's Your Turn!
Which option caught your eye? Join our LDR Support Group and let us know or we've missed any you think we should add!
Join our FREE LDR challenge & learn the
secrets
to strengthening your relationship in just 7 days.
"We just want to tell you how amazing this all is & we can't thank you enough!"

Becca (USA) & James (AUS), Challenge Participants
By entering your email address you agree to receive emails from Lasting The Distance. We'll respect your privacy and you can unsubscribe at any time.
---
Hi, we are Lolo (Canada) & Nate (Australia) a couple that had to go through all that a long distance relationship has to offer, just like you. With our experience and lessons learned we want to help you keep your long distance relationship as strong as ever and ultimately last the distance!