Our Vibease Review is brought to you by Claire Stewart, our Female Sexual Health & Long Distance Intimacy Contributor.
As the world's first app controlled vibrator and wearable smart massager. Vibease took the world by storm helping long distance couples to level up their intimate moments from afar.
But the real question is: How does it compare to newer options available today?
Vibease promises a completely immersive experience incorporating sound, emotion, and fantasy to truly create a mindblowing experience.
It's time to see if this still rings true!
Unlike others, our Vibease review will walk you through our complete 'before, during & after' breakdown. So that you can make an informed decision.
But if you are in a hurry…
Here's our TL;DR review.
Our TL;DR Vibease Customer Review
4 out of 5 stars. For $119, Vibease is still one of the best wearable vibrators with partner control features for discreet fun in public or at home. It's simplistic design and quiet motor is great for beginners. While still packing a punch, offering a variety of vibration intensities plus music and audiobook sync via the Vibease app.
QUICK NAVIGATION
Vibease purchase, delivery & set up
You likely know enough about Vibease and are trying to find out if it's right for you.
Firstly, you're in the right place!
Secondly, we want to quickly go through how it works for those who don't know.
What is Vibease & how to use it
The Vibease vibrator is an app-controlled smart massager designed to fit discreetly inside your underwear and sit securely against your clitoris. Being smart means you and your partner not only have the ability remotely control vibration modes and intensities via the Vibease app. You can also sync vibrations to music with Spotify and in-app erotic audiobooks to create an all-encompassing experience.
Purchase process
The official Vibease website design is a little outdated. But it's easy enough to navigate and find what you're looking for on mobile or desktop.
To note: They take all the major cards plus PayPal if you prefer to use your balance or to keep your card details private.
All successful purchase, invoice were received alomst instantly. Although the most important email containing delivery tracking information took a few days (maybe five) to arrive.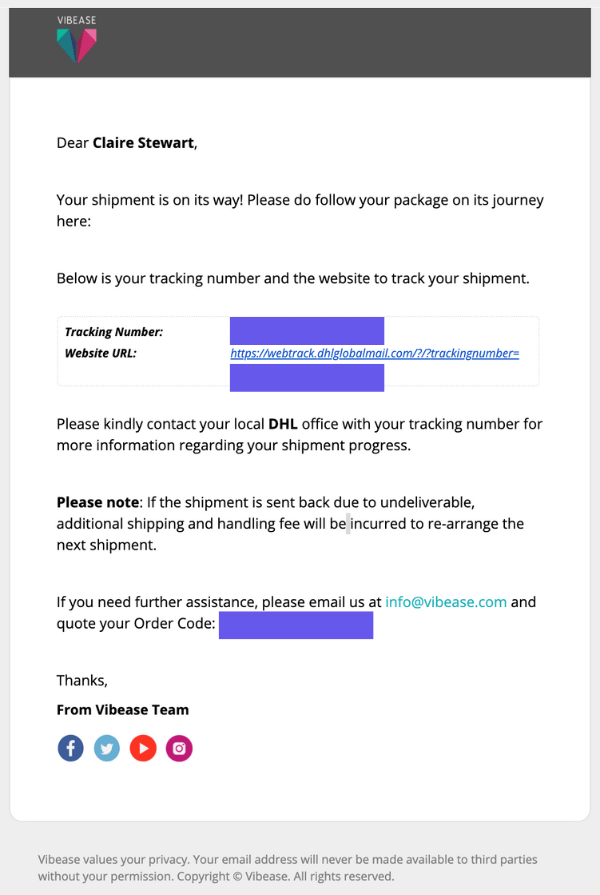 Within a few days it arrived on my doorstep in discreet (boring brown cardboard) packaging.
Unboxing experience & first impressions
Upon opening the box you're met with a sleek looking device along with a portable and organized box for your accessories.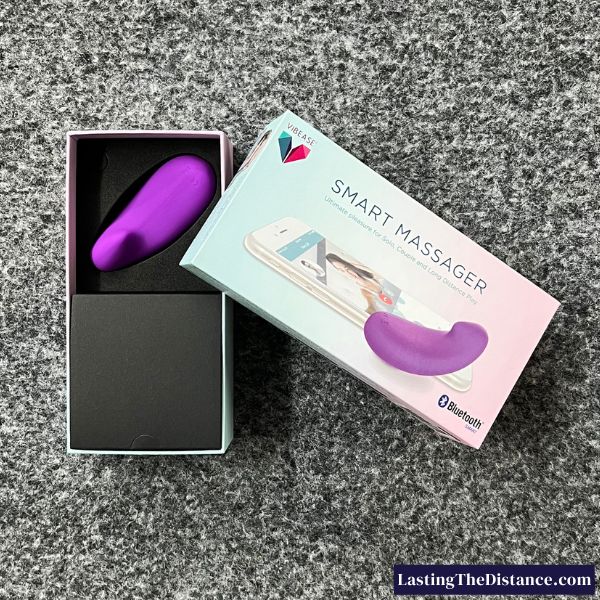 Along with the Vibease Smart Vibrator you will receive:
User manual
Quick start guide
Two USB chargers, and
Storage pouch
Apologies, we forgot to add the second (shorter) charging cable and the quick start guide!
First impressions
Upon picking up my Vibease it felt soft and smooth. Rubbing my thumb on the extended tip feels silky and gave me an idea of what it will be like when wearing it. Exciting!
In the hand it's compact and gives me peace of mind knowing that it can easily be worn in regular underwear without being noticed.
I always loved seeing the addition of a silky storage pouch. Now though, I'd be shocked not to see it when unboxing a device.
The second charging cable was a nice touch. As someone who is constantly losing her chargers, this was a much appreciated perk. But the fact that Vibease doesn't have magnetic charging means it hasn't had a significant update, potentially not at all.
Two other accessories I'd like to see, that are available in some but not all competing vibrating panty options are:
Underwear specifically designed to hold a Vibease device, and
Sample water-based lubricant sachet.
While I think it's a great option for beginners, adding these two items would make the purchase a 'no brainer'.
To note: Even if Vibease included a single use packet. I'd also recommend purchasing their water-based lubricant at the same time so you're ready to go from day one.
How to use your Vibease
There are two things I always do when using any device for the first time:
Wipe down your Vibease: Yes, the box is sealed but there may be some residue on the device from the manufacturing, quality control or packing process. Giving it a quick clean will also highlight any issues.
Turn your Vibease on: There should be some battery life from the testing/quality control process. If not, don't worry. Charge it then test it again.
Charging your Vibease
The user guide states you should initially charge your Vibease for three hours. I did this and recommend you do the same. For every other time you charge the device it should only take one to two hours (depending on battery level).
A full charge will give you around three hours of play time, which is similar to other vibrating panties.
To note: You'll know it's charging when the LED indicator light on your Vibease is blinking white. Once fully charged the LED light will change to blue.
Connecting to the Vibease App
First, download the Vibease app, which is compatible with both iPhones and Androids.
Upon opening the app I had the option to create an account or sign up via Facebook or Apple.
For some reason I was getting an error message when trying to create an account from scratch. I used the 'sign up via Apple' feature instead.
Tip: Use 'sign up via Apple' as it won't use your email address, which adds a level of privacy.
The process to connect your Vibease to your phone is simple.
Hold down the power button on your Vibease for 5 seconds. Wait until the LED indicator turns white, which means your device has activated bluetooth for pairing. Tap "Connect to Device" in the app and you're ready to go!
How to set up long distance control
My partner Matt and I found the process to set up long distance (or partner control) straightforward.
To add your partner as a friend, simply click the chat icon and type in your partner's username to send them a request.
Once they accept, you'll be able to:
Exchange messages and photos
Have voice and video calls, and
Request or relinquish control of your Vibease!
Tip: Once friends, I recommend adding them to your 'trusted partner list' in the settings menu, so their Vibe Requests to be approved automatically.
How to wear your Vibease properly
Vibease is designed to fit comfortably in your underwear, which was the case for me.
The extended tip should be in a place that works best for clitoral stimulation (and that might be different for everyone). I suggest playing around with where it feels best for you.
Don't be afraid to test out different positions to see if that changes based on if you're sitting or standing.
I found there are a couple of tradeoffs:
It isn't uncomfortable BUT it can feel unusual at first (you will get used to it fairly quickly).
It is discreet BUT it does create a 'bulge' (I recommend a skirt or dress over shorts or pants).
But the big question is…
Will my Vibease stay in place!?
To test it out I made an absolute fool of myself running, dancing and jumping around my apartment.
Let me tell you, this thing stays put.
Tip: Wear tighter underwear. This will help to create more pressure between the extended tip and your clitoris. Giving you peace of mind that it wont fall out when in public.
Vibration patterns
There are two ways to access vibration patterns:
Using the buttons on your Vibease to cycle through five pre-programmed vibration patterns.
Using the Vibease app to select 11 different vibration patterns (known as pulse options in the app).
There is also a 'Quick Play' option on the app that allows you or your partner to control Vibease by moving your finger around the screen. Adjusting vibration intensities from:
Speed: Slow to fast, and
Strength: Soft to hard.
To note: I have an iPhone with the larger screen size. While not a dealbreaker, I found it odd that the control guides on the x and y axis couldn't be seen clearly (see above).
My verdict
Not only do you have more options in terms of vibration patterns and ways to play. It's also the only way to truly make it a 'hands free' experience.
You and your partner can also customize the vibration patterns in pulsation settings. Giving you unlimited options to find what works best for you.
Tip: Change the names of each pattern from the boring 'Pulse 1, 2, 3' etc and add another level of intrigue and excitement to your long distance intimacy sessions!
Usage Scenarios
As a wearable device
Being a device that sits on top, rather than used internally. I was skeptical whether my Vibease would be quiet enough to use in public.
I was surprised how quiet it was. Even when using the more intense vibration patterns and speeds.
You will probably use your Vibease in two positions more than others, just as I did. Either sitting or standing.
When standing: Your clothing helps reduce any noise the vibrations create.
While sitting: The angle can create extra pressure between your clothing and the device, which makes it slightly more noticeable.
I actually preferred sitting over standing because of the extra pressure it put on my clitoris.
In both situations, all noise from vibrations will be blocked out by a decent amount of ambient sound, background music or conversation while out in public.
I definitely felt comfortable wearing my Vibease, especially in a restaurant setting. But for peace of mind I'd suggest going to places that you know will have a high level of background noise.
To note: As Vibease isn't waterproof you can't submerge it in water. So if you want to use a wearable vibrator in the bath or shower, I'd recommend the Ferri by Lovense.
As a handheld device
As mentioned earlier, I prefer to wear my Vibease while seated because of the added pressure. When lying down there isn't as much, which gives me the urge to use it as a hand-held device to apply more and accurate pressure to where I want it most.
Because of Vibease's compact size it's easy to handle and the extended tip makes it super easy to hit the exact point I want for the most clitoral stimulation.
Using your Vibease as a handheld device does make the 'local controls' on the toy much easier to use. But you (and your partner) will get more out of it by using the Vibease App.
Erotic Audiobook Sync
If you're into:
Reading all types of erotica, or
Get aroused by sounds and audio…
This is the toy for you.
I was surprised just how extensive the Vibease audiobook library is. Not only that, it's ability to sync vibration levels to align with different moments of each story opened up a whole new world.
For example: As the dialogue gets more intense, so do the vibrations. When the story hits its climax, well so do you!
There are a few of drawbacks:
Many of the best audiobooks are only available if you pay for the premium membership. BUT there are still a decent variety of free options.
The review system doesn't allow for a star rating. Although it does show total downloads and the amount of likes.
I found the search experience to be much better on a computer compared to the app. Where you can refine your search and look at different tags.
Spotify Music Sync
Vibease claims…
Feel the beat of your music through the synced vibrations.
They weren't wrong!
Their Spotify Music Sync feature lets you listen to your favorite songs while syncing vibrations to the beat.
You can connect your account within seconds by tapping the Spotify tab in the 'Fantasy' section of the app. All of your playlists will be accessible, so you can create specific ones to be used with your Vibease!
I recommend bass heavy songs. You definitely won't regret adding Faded by ZHU to your 'special playlist'.
The end result
As someone who orgasms from clitoral stimulation I wasn't sure if my Vibease would be powerful enough or produce the pressure needed to climax.
Powerful enough? Check!
Enough pressure? Semi-check!
While there wasn't enough pressure for my liking when standing. The level of stimulation coupled with being in public situations still felt amazing.
Playing discreetly in public has been super exciting but I don't see us doing it frequently. This means I'll be getting the most out of my Vibease while at home. Which is perfect because I preferred to wear it while sitting and use it as a handheld device when lying down.
The Vibease App makes giving control over to your partner super easy and being able to adjust the speed and intensity of vibrations means we can explore different scenarios with each session.
Cleaning and Storage
How to clean your Vibease
As the Vibease isn't fully waterproof you do need to be mindful when cleaning. But the process is still fairly straight-forward.
Like most adult devices, wash it before and after each use with some mild soap (or sex toy cleaner) and warm water.
Just make sure not to leave it submerged underwater.
To note: When patting it dry, have a good look at the device from every angle to make sure there are no issues with the silicone.
Storing safely
Always make sure your Vibease is completely dry before storing it away. Otherwise you run the risk of moisture buildup, which can cause bacteria to grow.
The included silk pouch is perfect for keeping it protected, clean, and subtly tucked away.
To note: Don't store it anywhere that would expose it to direct sunlight. Not because you don't want a spotlight on it for all your guests to see, but because it increases the risk of burns or electrocution if the battery is exposed to excess heat.
Considering to buy after our Vibease Review? (final thoughts)
Although we haven't seen any major updates to the Vibease hardware since it's launch a few years go. It is still a great device, especially for long distance couples and individuals who enjoy public play, erotica, and an overall more immersive experience.
As advertised, it is super discreet. Add in the fact that it is also small, not intimidating and produces a secure fit makes it a device I wouldn't hesitate to recommend to beginner and novice users.
The Vibease App makes it super easy to connect with your partner no matter how far apart you are, but the added features and hands free options make it just as appealing for solo play.
The added features are definitely reflected in the (ongoing subscription) price. If you aren't into erotic novels or musical experiences, there are other long distance vibrating panties available that will do the trick.
Ready to jump in? Visit the official Vibease website for more details and take advantage of the current discounted pricing.
Our

FREE

7 day LDR challenge is BACK!
Unlock better date nights, deeper communication plus a stronger intimate & emotional connection.
SECURE YOUR SPOT!
---
Claire is a Long Distance Intimacy Contributor at Lasting The Distance, focusing on couples & general female sexual health. She (along with her partner, Matt) has been living the 'LDR life' for over two years and wants to help other long distance couples level up their intimate moments to build a strong connection from afar.