Our Bond Touch More Review is by Lolo & Nate, the founders of Lasting The Distance.
If you've read our original Bond Touch review you'll know how amazing we think they are for long distance relationships.
Now, the new 2nd generation Bond Touch More has hit the scene with:
A sleek updated design,
Enhanced touch & swipe gestures, plus
The ability to pair with up to 3 bracelets.
But… are these upgrades worth the price?
Lets find out as we dive into what they are like to wear, how user-friendly the setup process is, and what it feels like to receive a touch!
In a hurry? Here's our TL;DR breakdown.
Our TL;DR Bond Touch More Customer Review
4.6/5 stars. For $89 each, the second-generation Bond Touch More bracelets are a futuristic yet modern way for loved ones to stay connected. The new tap and swipe gestures are easy to send and also feel amazing to receive. Being able to connect with up to three other bracelets makes this model the best option for friends and families.
Bond Touch More pros & cons
Pros:
Gender-neutral fitness tracker design will fit everyone's fashion styles.
Setup and partner connect processes are quick and easy with the Bond Touch app.
Ability to connect with 3 other bracelets now makes them perfect for friends, and families.
New swipe and tap gestures create even more precise vibrations.
Magnetic charging dock is a level up compared to the original.
Waterproof to IPX7 levels so no issues submerging in water.
Cons:
Cannot connect all bracelets as a 'group'. Only 1-to-1 personal connection with multiple bracelets.
As of 22nd September 2023, only black modules are available and there aren't many accessories but this will change.
Bond Touch More bracelets cost ~30% more than the original due to upgraded hardware.
QUICK NAVIGATION
Unboxing The Bond Touch More Bracelets
Bond Touch's packaging hasn't really changed from the original to the More models, other than the print designs. Nevertheless, we love the Apple product vibes it's giving off.
From a gifting perspective, the box is quite small, which will help reduce the cost of shipping.
Tucked neatly under the bracelet you'll find a quick start guide with English, Spanish, and French translations. Plus their new magnetic charging dock, which we'll explore further in the battery and charging section.
Bond Touch More Design
Side by side, you can tell that the Bond Touch More is an upgraded or next-generation model. It looks similar to the original, while also being more refined at the same time.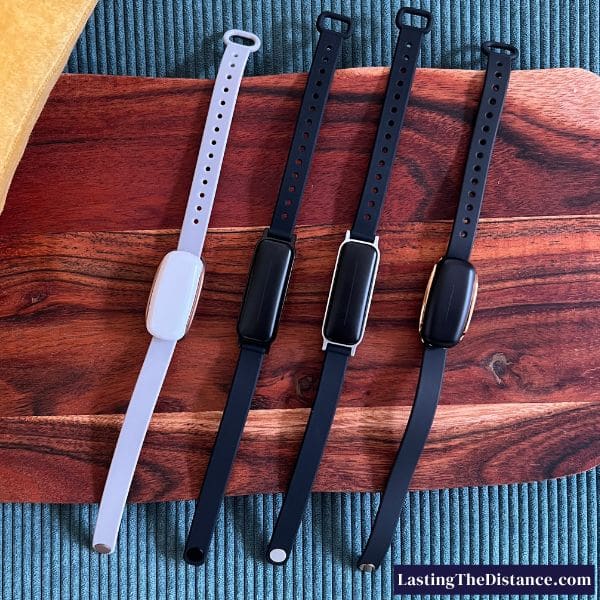 The module is quite long but also looks very slim.
Combine this with a watch-like band that attaches to the ends of the housing and you've got a touch bracelet that looks and feels more streamlined.
Tip: The band also has a similar width to the module. Pairing it with the black housing (instead of silver) makes it look even slimmer on the wrist.
As of 22nd September 2023, only black bands and modules are available. You can choose between silver or black metal module housing (we purchased one of each). Other colored bands, modules and module housing should be available soon.
How Comfortable Are Bond Touch More Bracelets?
On your wrist, it won't just look good, it should feel pretty good too. Being mostly made of high-grade plastic and silicone means the only reason you know it's on your wrist is because you can feel it on your skin.
The overall weight is negligible, which is pretty impressive when you think of the larger module size and enhanced tech they've included in comparison to the original Bond Touch.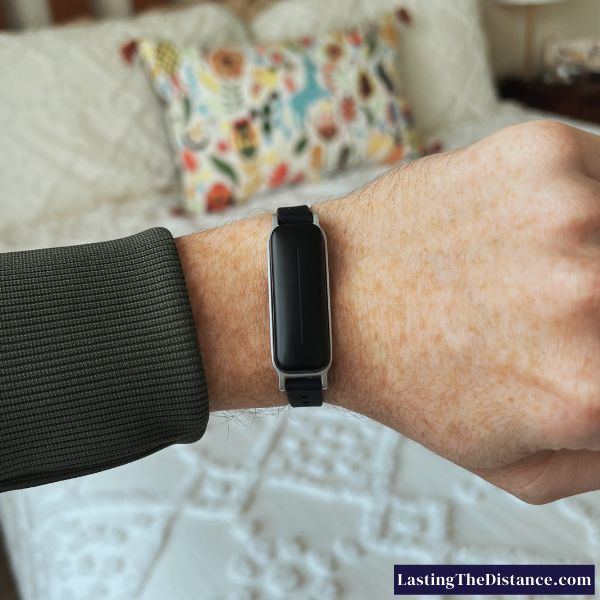 Magnetic charging is one of those enhancements that actually improves the Bond Touch More's wearability. Now, you might be thinking…
How does magnetic charging impact comfort!?
See those two convex shapes? They are the two magnets, sticking out slightly on the bottom of the module.
We found that the contact they make with your arm is not only comfortable but also helps it to stay in place. This provides the Bond Touch More with even better stability during general and physical activity.
Speaking of phsyical activity… If a bath or shower is called for afterward. You'll have peace of mind knowing that they are completely waterproof.
To note: Bond Touch More bracelets are IPX7 rated, which means they can be submerged to around one yard/meter MAX and for around 30 minutes.
How to Setup and Pair Bond Touch More Bracelets
There are four setup steps to complete before starting to send touches. They are:
Account creation
Bracelet pairing
Touch tutorials, and
Partner connect
We found the process super simple to complete (less than 5 minutes) thanks to the Bond Touch App (iOS & Android).
Account Creation
The first thing you'll be asked to do is add a phone number so you can receive a code to verify your account.
Once verified you'll then add your:
Birthday
Email
Username, and
Profile photo.
Tip: We recommend you don't skip uploading a photo and username because they appear on your dashboard (you'll see a dashboard example below).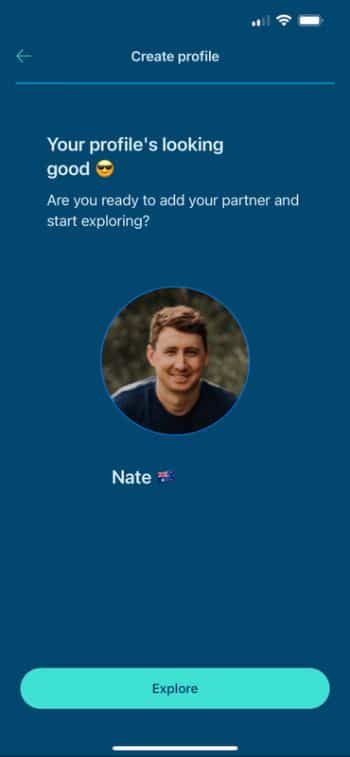 Pairing The Bond Touch More To Your Phone
Pairing the Bond Touch More is easy with the Bond Touch app. The process makes sure:
It's connecting to the right bracelet,
That Bluetooth is on, and
You're 'waking up' the bracelet so it can be found.
You'll then move onto picking colors of touches and vibration intensity (we use medium or high).
To note: The color you are choosing is what your partner's bracelet will light up in. Not what yours will light up with when your partner sends a touch.
The 'How to' Enhanced Touch Tutorials
The touch tutorials can be skipped. But we recommend you complete them as Bond Touch More's enhanced touch gestures are a little more intricate than the original bracelets.
They walk you through:
Double tapping to wake up your bracelet, and
Sending different taps, swipes, and a combination of both.
We like that this isn't just a 'watch along'. You have to complete each step before you can move to the next tutorial.
Connecting to Your Partner's Bond Touch More Bracelet
At this point, you're so close to sending touches! Connecting to your partner's Bond Touch More is the last step. It's a straightforward process, where you both need to add each other's number or find them in your contacts.
With emphasis on 'You both need to'…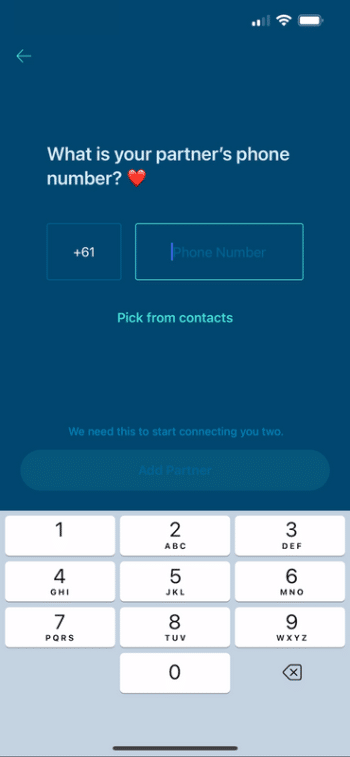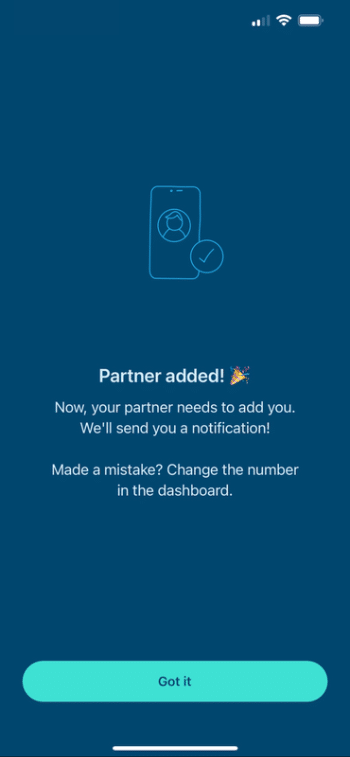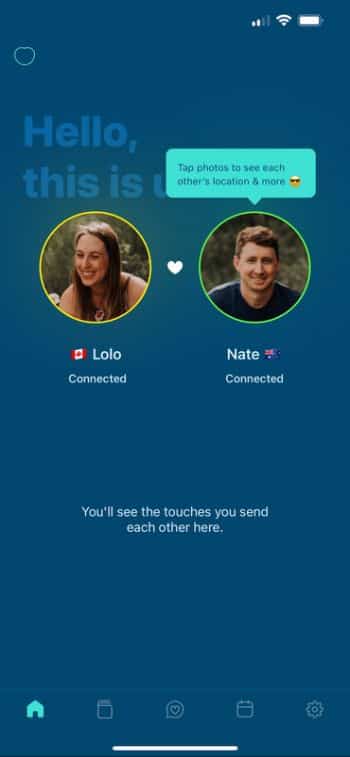 We think the process would be easier if only one person were to send a partner connect request and the other just needs to accept it, just like Totwoo's partner connect process.
Regardless, it's still simple enough and our bracelets connected on the first try.
Tip: If you own the original Bond Touch bracelets (like we do) then you will have to disconnect them from the app first. Go to:
Settings > My Bond Touch Bracelet > Disconnect this bracelet
Don't forget that you also have to forget your bracelet in your phone's Bluetooth settings. It will be shown as "BOND".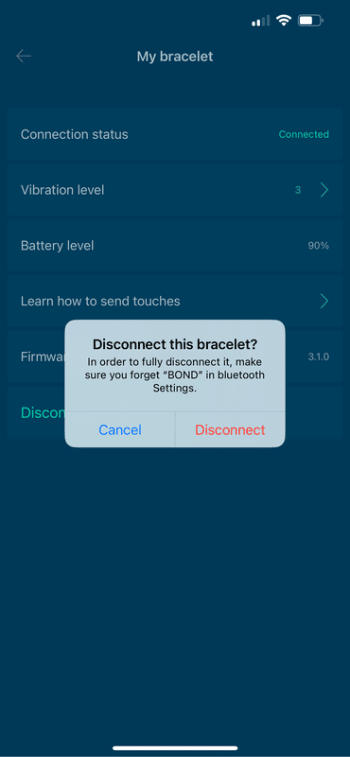 Want a deeper comparison? Check out our in-depth guide of the original Bond Touch compared to the Bond Touch More bracelets.
How to Send Touches to Your Partner
If you complete the Touch Tutorials you'll find the process of sending touches with the Bond Touch More bracelets to be easy. Check out our video for a quick demonstration.
All you need to do is:
Wake up (it will light up) your bracelet with a double tap on the module , then
You can tap and swipe on the module up to ten times.
The swipe functionality might feel like a gimmick but the haptic sensors do an amazing job of pinpointing exactly where you tap and the speed of your swipe.
We found these gestures are perfectly replicated with vibrations being felt in the exact places where taps and swipes are made.
The result? We started using swipes in +50% of messages.
How Receiving A Touch Feels
If we're to describe how the vibrations feel when receiving a touch. It's worth comparing the sensations felt by the original and Bond Touch More bracelets.
With the original Bond Touch bracelets there is NO:
Swipe functionality, or
Multiple vibration points.
For this reason, the sensations you feel when wearing a Bond Touch More blows the original out of the water.
By tapping different parts of the Bond Touch More module and being able to swipe your finger from one end to the other and have them exactly mimicked by vibrations creates a more intricate, precise, and at the end of the day, just better overall experience.
Now, that's what you physically feel on the outside. But what about inside?
When receiving a touch, we couldn't help but feel overcome with happiness and warmth.
Because knowing that your partner is thinking of you at that very moment and wants to tell you is POWERFUL.
Delay Between Sending/Receiving Touches
From our tests, it took around the same time (two to ten seconds) for touches to be received.
We'd consider this immediate.
To note: You may not have the same experience as we did and it will all depend on your distance, data speeds, and signal strength.
Bond Touch App Features & Ease of Use
The engineering team at Bond Touch has created one of the best app user experiences we've seen.
Whether it's the setup process, onboarding help, or partner connect features. Everything feels like it's been created with one goal in mind and to help you complete it quickly.
There's no getting bogged down in bloat or unnecessary features as there are only three:
Touch Language, and
The messaging platform: Secret Space
Secret Space is the app feature we used the most.
You can send each other messages and photos and intertwined you'll see a log of your previous touches.
Unfortunately, we don't recommend Secret Space for important conversations as all messages are wiped after 72 hours.
On top of being able to send photos you can also 'Secret Send' them. These photos can only be opened with a passcode, Face ID, or tapping your bracelet.
Tip: You could send spicy-pics using Secret Send but be warned. If a screenshot is taken the sender will receive a notification. Be sensible!
Touch Language (give touch combinations meanings)
Being able to tap and swipe any part of the module to send messages is a complex addition.
These additional gestures give you what feels like an infinite amount of unique message combinations. But GOOD LUCK trying to remember them all.
Thankfully, with Touch Language you can:
Save the best messages
Give them meaningful names, and
Select multiple colors they can vibrate to.
You now have what feels like an infinite amount of ways to tell your partner they are in your thoughts!
To note: The best messages to save are those that are simple enough to replicate so the Bond Touch app can match them easily.
Unfortunately, we've also found instances where a touch message that doesn't look or feel similar to a saved touch is picked up as one.
Example: For our 'Check your phone' touch to appear we need to tap the bottom then top of the Bond Touch More module. But we're finding that if we touch the middle of the module three times the system thinks it's the saved touch.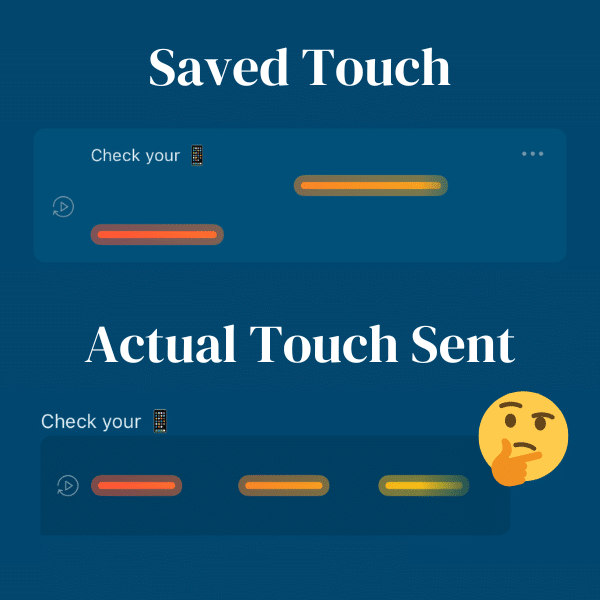 Next Encounter (visit countdown timer)
What is one thing all long distance couples, friends and families do?
They count down the days until they next see each other.
With Next Encounter there's no need to do the math in your head. Just add a date and it will show on the dashboard.
See how it works in our demo video.
Out of the three main features it is the least necessary. But if you could have multiple countdowns and even a widget for the phone's home screen, we'd definitely use it more frequently.
Charging Time & Battery Life
We are happy to see the Bond Touch More charging process join the 21st century! This is mainly due to the inbuilt magnets that help the module and dock snap together.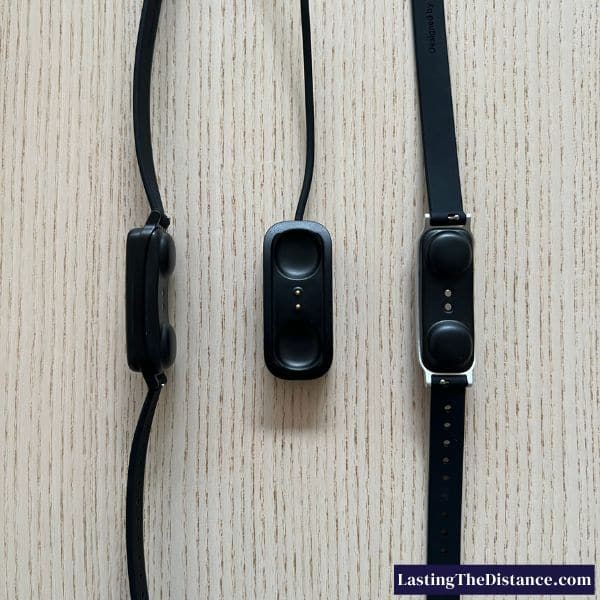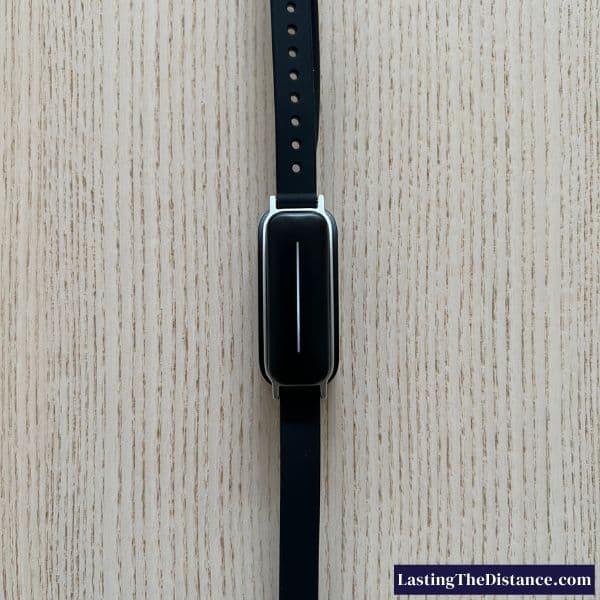 To note: Bond Touch states a full charge will take three to four hours. On our first charge, both bracelets never moved from the charging (blinking light) stage to fully charged (steady light). But once we had used them for a day after they were fully charged the second time they both did show a steady light.
In regards to battery life, we found our Bond Touch More bracelets used around 30-35% of the battery per day. This fell within (at the lower end) Bond Touch's stated three to four days of use on a full charge.
Final Thoughts & Verdict Of Our Bond Touch More Review
There's no getting away from the fact that these bracelets are expensive. But if you are looking for a tool that will actually strengthen your long distance relationship, Bond Touch More bracelets are the best device we'd recommend.
Here's why…
A touch is so much more than a text
It's true, Bond Touch More bracelets aren't necessary to stay connected. Texting will have the same impact on some people. But what many don't think about is that texts are generally emotionless and they're easy to send.
Anyone can send a text, not everyone can send a touch.
Sending a touch is only reserved for the most important people in your life. This makes receiving a touch so much more meaningful.
You're always connected
Being apart from those you love can be heartbreaking at the best of times. Being able to use Bond Touch More bracelets at any time and anywhere means you're only one tap away from feeling loved and knowing you're in their thoughts.
Receiving a touch changes you mentally
Something amazing happens when you receive a touch and only other Bond Touch device owners will know what we're talking about. The heartwarming feelings you're overcome with after receiving a touch are undeniable.
It's really amazing how a single tap can completely change your outlook. Now, the fact that you have tap-and-swipe functionality at your disposal takes it to a whole new level.
Create your own 'private sanctuary'
The bracelets and app combined create a special place just for you and your loved one(s).
Yes, you likely have conversations with each other on other apps but there is nothing like the Bond Touch ecosystem that helps to drown out the noise and focuses solely on your relationship.
Ready to strengthen your bond? You can find out more about the Bond Touch More bracelets and their other products for long distance relationships by visiting their official Bond Touch website. Alternatively, you can also visit one of our other recommended retailers below.
Bond Touch More Bracelets FAQ
How many Bond Touch More bracelets can connect together?
You can connect with up to 3 other Bond Touch More bracelets. Making them great for friends and families. However, you cannot connect all 4 as a 'group' and can only communicate with the other bracelets separately.
Are Bond Touch More bracelets waterproof?
Yes, Bond Touch More bracelets are waterproof. They have a rating of IPX7, which means they can be submerged in water to a maximum depth of around 1 yard/meter. This makes them ok to swim with and wear in the bath or shower.
Can a Bond Touch More and an original Bond Touch connect together?
Due to having different touch gestures you cannot connect Bond Touch More with an original Bond Touch bracelet. If one of you already has a bracelet, make sure you purchase the same one as they are only compatible with each other.
How close do my phone and Bond Touch More bracelet need to be to send and receive touches?
We suggest keeping your phone on you at all times or at least arm's length away when wearing your Bond Touch More. You should be able to send and receive touches when your phone and bracelet are within 10 ft (3 m) of each other.
How many times can I touch my Bond Touch More bracelet in a message?
You are able to tap and swipe your Bond Touch More up to 10 times for a single message. These gestures can vary in length, pattern, and speed (e.g. hold your finger down, wait longer between touches and swipe up and down at different speeds). The module will then blink white when the 10-gesture limit has been reached.
Do Bond Touch More bracelets have a warranty?
Bond Touch More bracelets have a one-year "Limited Product Warranty" that starts from the date of purchase. It is for bracelets that don't work as intended because of material defects or from manufacturing. The warranty period doubles to two years from the date of purchase if you live in the Europe Economic Area.
Are Bond Touch More bracelets secure?
Communications via Bond Touch More bracelets and the Bond Touch app use 256-bit encryption. The app also deletes all logged touches, messages and photos after 72 hours. For secret photos, this is reduced to 24 hours, which is similar to other apps like Snapchat.
Do Bond Touch More bracelets have a subscription plan?
Bond Touch products don't require a paid monthly/yearly subscription. Only a one-time upfront cost to purchase a set of Bond Touch More bracelets is necessary.
Our

FREE

7 day LDR challenge is BACK!
Unlock better date nights, deeper communication plus a stronger intimate & emotional connection.
SECURE YOUR SPOT!
---
Hi, we are Lolo (Canada) & Nate (Australia) a couple that had to go through all that a long distance relationship has to offer, just like you. With our experience and lessons learned we want to help you keep your long distance relationship as strong as ever and ultimately last the distance!