Our in-depth Bond Touch Review is by Lolo & Nate, the founders of Lasting The Distance.
Whether it's on Reddit or one of the many long distance relationship groups on Facebook.
Bond Touch bracelets are frequently mentioned as the best way to stay connected from afar. Especially for those whose love language is Physical Touch.
Even celebrity musicians Shawn Mendes and Camila Cabello wore them during their long distance relationship (without endorsement).
It's time you found out what they are like to wear, how user-friendly the setup process is, plus what it feels like to receive a touch!
If you're in a rush, here's our TL;DR breakdown.
Our TL;DR Bond Touch Customer Review
4.4/5 stars. For $69 each, Bond Touch bracelets are an innovative and highly practical way for people to stay connected from afar. It is easy and fun to send touches, but the best part is the feeling you get when receiving one. Thanks to the dedicated Bond Touch app, setting up and connecting bracelets is a simple process.
Bond Touch pros & cons
Pros:
Fitness tracker-like design fits most fashion styles.
Very simple setup and partner connect processes via the Bond Touch app.
Secret Space feature removes the need for other messaging apps.
No issues wearing in water as it's completely waterproof (IPX7).
Cons:
The band setup makes the Bond Touch module look bigger than it is.
No video message or voice/video call functionality in Secret Space.
Fastening the bracelet would be easier with a smaller plug and softer silicon.
QUICK NAVIGATION
Unboxing The Original Bond Touch Bracelets
Opening the packaging was a little tedious because the lid and box create quite a tight fit (at least you know it's secure). After a couple of shakes, there was enough surface area to remove the lid.
Bond Touch's packaging is giving us Apple product vibes and we're here for it! We think this is perfect for the gifting experience.
Also included in the box is a quick start guide (in English, Spanish, and French) plus their very unique charging dock. We'll touch on this in the battery and charging section.
The unboxing experience is very similar to their latest model: Check out our comparison of the original Bond Touch vs Bond Touch More.
Bond Touch Design
Straight away you can see that a Bond Touch bracelet resembles a fitness tracker more than a piece of jewelry. We like this gender-neutral modern look, and think it will pair well with any fashion style.
Having the module slide onto band rather than attaching like a watch is an interesting design choice.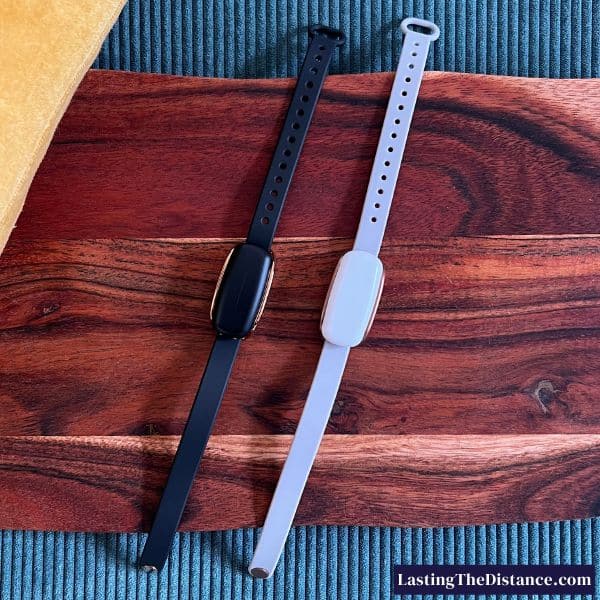 While the overall size is still small. This setup does make the module stick out on your wrist, giving the impression it's larger than it really is.
We purchased the black (with gold housing) and white (with rose gold housing) models. Black blends in well, while white is quite noticeable.
Tip: If you prefer louder colors, Bond Touch has a number of accessories, including:
How Comfortable Are Bond Touch Bracelets?
On the wrist, it's hardly noticeable and feels very light. The smooth silicone band feels really comfortable against the skin.
The loop at the end of the band helps to put the bracelet on with one hand, but securing it was a little challenging. This is due to the end of the plug being larger than the hole and the silicone band being quite hard.
This should also give you peace of mind because any initial difficulty in putting it on means that it's unlikely to come off!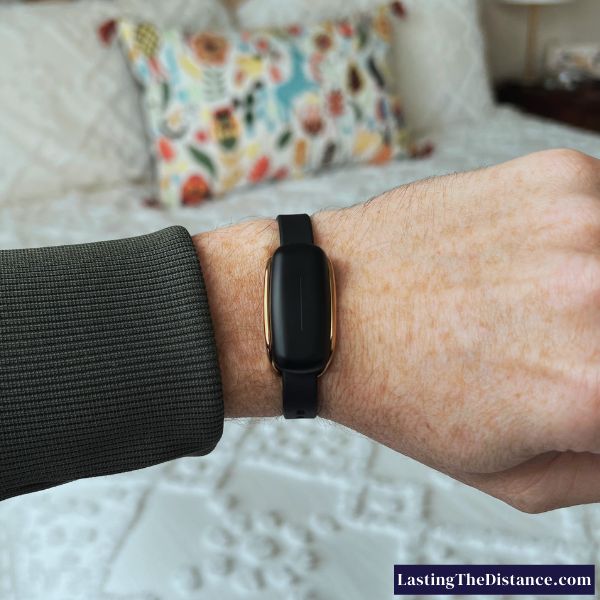 To test how well the band and module would fare, we wore them doing everything from general day-to-day tasks to physical activity. In most cases, the bracelets weren't noticeable or restrictive when worn close-fitting. However the module did move around slightly with more rigorous physical activity.
After working up a sweat the shower might be calling and because the Bond Touch bracelets are waterproof there was no hesitation to keep it on.
To note: Bond Touch bracelets have an IPX7 rating. In waterproofing terms, this means they can be submerged to a maximum depth of around one yard/meter for around 30 minutes.
This is also where you benefit from a silicone band over one made from fabric or porous material. It doesn't absorb water so it will dry quickly and without becoming smelly.
How to Setup and Pair Bond Touch Bracelets
Before you can start sending touches there are four steps in the setup process to complete:
Account creation
Bracelet pairing
Touch tutorials, and
Partner connect
Everything is done through the Bond Touch App (iOS & Android), which was super easy to use and had us completing the setup in around five minutes.
Creating Your Account
When opening the Bond Touch app, you'll be asked to add a phone number to receive a verification code.
Once you've added the code you'll first be prompted to add your date of birth. Then to add an:
Email
Username, and
Photo for your profile.
Tip: Don't skip adding a photo or username because they will appear on your dashboard.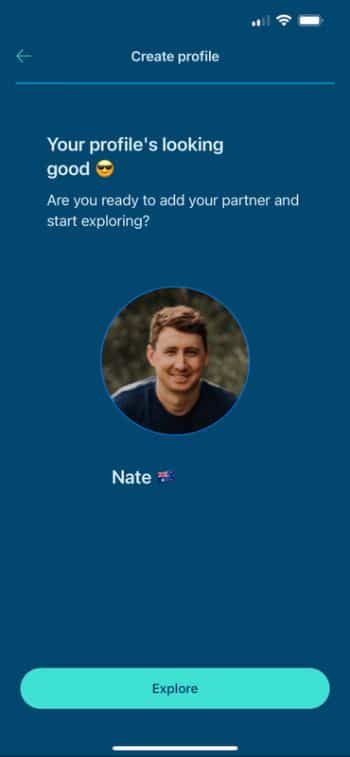 Pairing Your Bond Touch Bracelet to the App
Bracelet pairing is simple with the Bond Touch app. It makes sure you're:
Connecting the right device (there are multiple),
Bluetooth is active, and
'waking up' the bracelet so the app can recognize it.
You'll then move onto picking the color your partner's bracelet will light up with when sending a touch. At first glance you might think this is for your bracelet, it is for your partner!
Choosing the vibration intensity (low, medium, high and strong) of your bracelet will be next.
Tip: It's easy to miss touches using low. Choose medium. You'll feel every touch with little sound from vibrations.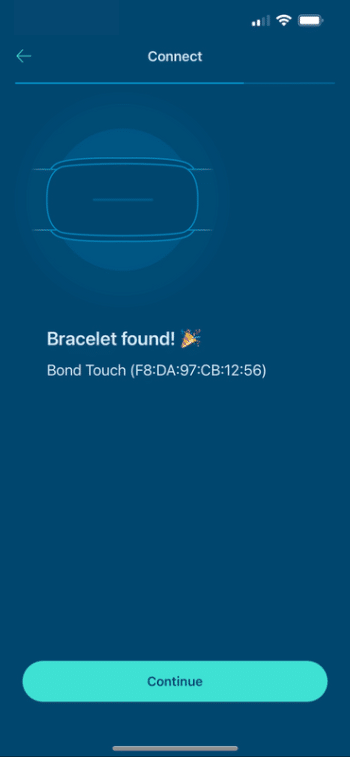 The 'How to' Touch Tutorials
The touch tutorials are a nice… touch 😏.
They walk you through:
'Waking up' your bracelet (double tap), and
Sending different types of touches.
What's really cool is that the process makes you do it properly before it's marked as complete.
To note: While the tutorials are skippable, it only takes a couple of minutes. So we recommend you go through it.
Connecting Your Bond Touch Bracelets Together
At this point, we were getting antsy knowing that we were so close to sending touches! But we still had to connect our bracelets together.
Luckily this process is straightforward and accessed straight on your dashboard. All you need to do is add your partner's number directly or find them in your contacts.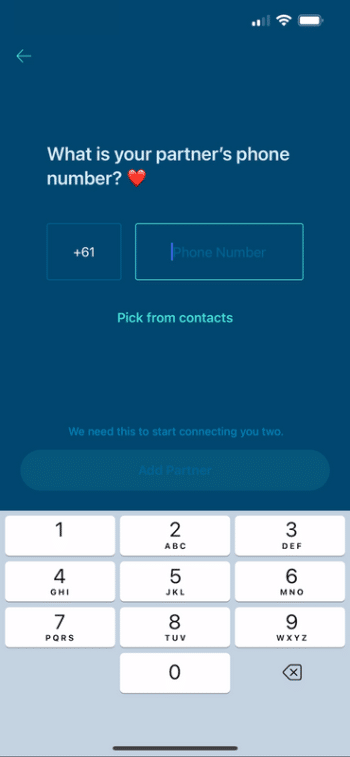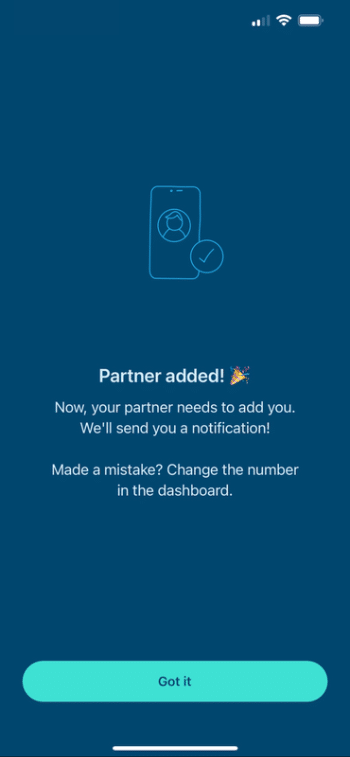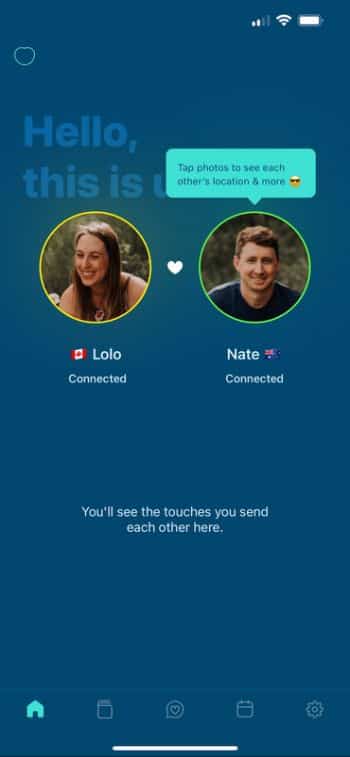 One odd part of the process is that BOTH of you need to do this step. It is straightforward, but just having an invite for the others to accept would be quicker and easier.
Our bracelets connected without a hitch and we were ready to send touches!
How to Send Touches to Your Partner
When you work your way through the touch tutorials you'll know just how easy it is to send touches:
Wake it up with a double tap (it should light up in your color), then
Tap the bracelet up to ten times to create a message.
Tip: You'll know you're creating a message because your bracelet will light up and vibrate as you tap it.
One feature we really like using (and recommend you do too) is holding a finger down on the module to increase the length of the touch.
This one gesture creates even more unique messages to assign special meanings to.
How Receiving A Touch Feels
The feeling of vibration on your wrist is really nice, but the real feeling is the warmth it fills you with inside!
Knowing that your partner is thinking of you at that very moment is POWERFUL.
In terms of vibration levels, we tested all four (low, medium, high, and strong) and preferred medium. It creates the right amount of vibration so you'll:
Never miss a message from your partner, and
Is quiet enough that vibrations won't be heard by anyone around you.
Delay Between Sending/Receiving Touches
On average, we found it took two to ten seconds for a touch to be received after being sent.
We'd consider this to be immediate.
To note: There could be delays depending on your distance, data speeds, and signal strength.
Bond Touch App Features & User Experience
To be frank, the Bond Touch app has one of the best user experiences we've ever seen.
From the setup process, onboarding help, and other features to connect you and your partner. Everything has been created to guide you through each step and quickly.
Rather than having 50, there are only THREE main features, which to be honest is a breath of fresh air. They are:
Secret Space
Touch Language, and
Next Encounter
Secret Space (messaging platform)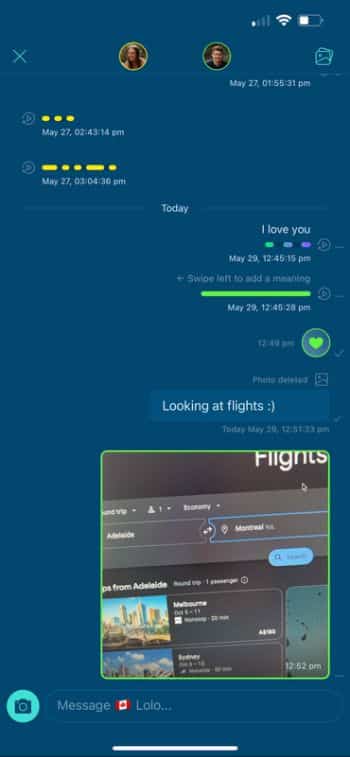 Secret Space is where we and likely you will get the most use out of the app.
This is a private place to send each other messages, photos. It also shows a log of your touches.
Unfortunately, all messages are wiped after 72 hours so it might not be the best place for important convos.
You can also send photos using 'Secret Send', which can only be opened by using a passcode, Face ID, or tapping your bracelet.
Tip: Secret Send is a good option for spicy-pics but be warned. If a screenshot is taken the sender will be notified.
Touch Language (give meanings to touch combinations)
We mentioned earlier that you can tap your bracelet up to ten times per message. You can also hold your finger down to create taps of different lengths.
The result? Almost limitless message combinations.
Now, trying to remember all of those messages and meanings would be ridiculous and Bond Touch knows this.
Their Touch Language feature lets you save touches, give them names and even assign (multiple) different colors to them.
Play the video to see it in action.
Next Encounter (countdown timer)
If there's one thing long distance couples, friends and families are doing it's counting down the days until they see each other.
Next Encounter does just that. You can add a date and it will show on the dashboard between your two photos.
Check out our demo video to see how it works.
It's a nice feature, but not really necessary. If you could store multiple dates and it had a widget option for your home screen then we'd definitely use it more frequently.
Charging & Battery Life
The Bond Touch charging setup is quite unique with the connection points being on the side of the module. They have designed the charging dock to slide directly onto it.
You'll know you've connected it properly when you hear a 'click' sound and the module flashes white. It will then turn to a consistent white light when fully charged.
We found it didn't slide on properly every time, but the more we did it the easier it became.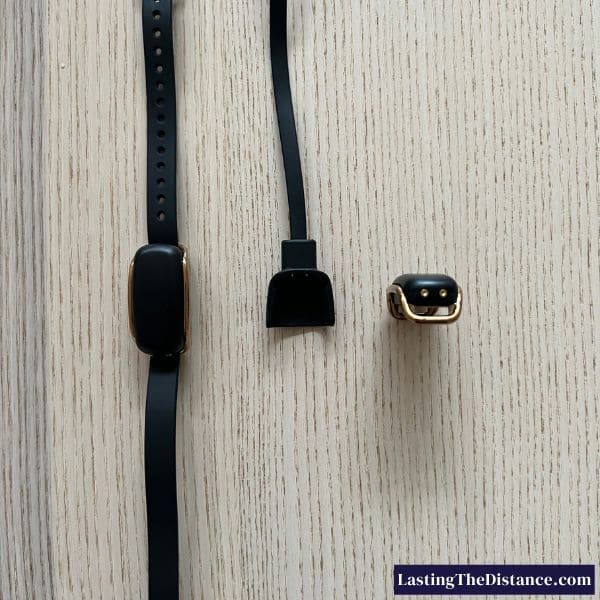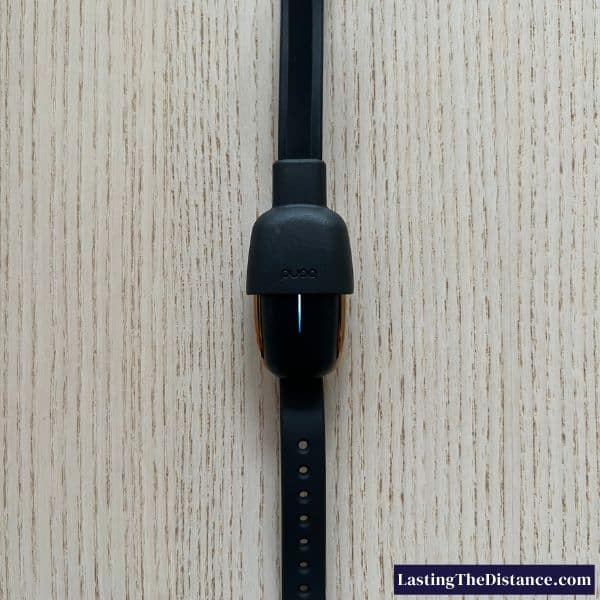 In terms of how long Bond Touch bracelets take to charge, they state the first time will be around four hours. For us, it took only two. This probably has something to do with the quality control process when they test the bracelets (residual charge).
They also state that bracelets should get three to four days of use from a full charge. We used 20% to 25% of the battery each day, so we found this to be fairly accurate.
Tip: Don't wear the bracelets until they need to be charged. Instead, treat them like other devices that you charge overnight (smartphone etc).
Considering to buy after reading our Bond Touch review? (final thoughts)
We think most couples, friends, and families will benefit from incorporating Bond Touch into their long distance relationships. Here's why…
You're connected anytime anywhere
Being apart from someone you truly care about can be gut-wrenching. But having Bond Touch bracelets means you're just one tap away from knowing that you're loved and in their thoughts.
Receiving a touch is euphoric
Now, euphoric might be a strong word but the heartwarming feelings you're overcome with after receiving a touch are undeniable. It's amazing how one simple gesture can completely change your mood and you cannot help but smile.
Touch is more than a text
It's true that Bond Touch bracelets aren't necessary to stay connected. For some, a text could have the same impact. The thing is, anyone can send a text, but not everyone can send a touch. It is reserved for only the most special person in your life.
It's just for the two of you
Whether it's sending touches or messaging one another using Secret Space. The Bond Touch bracelets and app help to create your own little universe that focuses on and strengthens your connection.
Ready to strengthen your bond? Head on over to the official Bond Touch website or one of our other recommended retailers below.
Frequently asked questions about Bond Touch Bracelets
How many Bond Touch bracelets can connect together?
Only two of the original Bond Touch bracelets can connect together. Making them a good option for couples. However, with the new Bond Touch More bracelets you can connect with up to three other bracelets. Making them the recommended option for friends and families.
Are Bond Touch bracelets waterproof?
Yes, Bond Touch bracelets are waterproof and IPX7 rated. They can be submerged to a maximum of one metre. Making them ok to swim with and wear in the bath or shower.
How close do my phone and Bond Touch need to be to send and receive touches?
You will be able to send and receive touches when your phone and bracelet are within 10 ft (3 m) of one other. We recommend keeping your phone as close as possible when wearing your bracelet.
How many times can I tap my Bond Touch bracelet?
For a single message, you can tap your Bond Touch bracelet up to 10 times. These taps can vary in length and pattern (e.g. hold your finger down or wait longer between taps). Your bracelet's light will blink white when you reach the 10-tap limit.
Do Bond Touch bracelets come with a warranty period?
Yes, they have a one-year (from the purchase date) "Limited Product Warranty" for Bond Touch bracelets that are defective due to materials or manufacturing. If you reside in Europe (Economic Area) the warranty period is two years from the date of purchase.
How secure are Bond Touch bracelets?
Bond Touch bracelets and the Bond Touch app use 256-bit encryption to keep your communications secure. Also, every touch, message and photo gets wiped after 72 hours and for Secret Photos it's 24 hours.
Can I use Bond Touch bracelets without a smartphone?
No, you need a smartphone to use Bond Touch bracelets because they communicate via your phone's Bluetooth and cellular or wifi connection.
Do Bond Touch bracelets require a subscription?
There are no monthly subscription fees. Just a one-time upfront cost to purchase a set of Bond Touch bracelets.
Our

FREE

7 day LDR challenge is BACK!
Unlock better date nights, deeper communication plus a stronger intimate & emotional connection.
SECURE YOUR SPOT!
---
Hi, we are Lolo (Canada) & Nate (Australia) a couple that had to go through all that a long distance relationship has to offer, just like you. With our experience and lessons learned we want to help you keep your long distance relationship as strong as ever and ultimately last the distance!