We love long distance bracelets because they are a constant reminder of the person who bought it, creating that feeling of closeness, which no doubt helps to strengthen the bond between you. 
Think about your partner, looking down and seeing their bracelet while they are working, studying or relaxing at home.
What happens next?
They smile. Their face lights up thinking about you, making the distance feel that much shorter.
Let's face it. Who wouldn't want to make their partner feel this way?!
Bracelets have been used for many years by many different cultures. Types of beaded bracelets are expected to give you luck or different types of energy and charm bracelets can have many personal items placed on it to give you special memories.
FUN FACT: Recently, stone bracelets over 40,000 years old were discovered! That's definitely the definition of 'tried and true'.
There are also the likes of friendship and string bracelets which can have a very personal touch. They are often a symbol of never ending love and for a long distance relationship, which can be heart-warming.
Having a symbol of that bond can be a special way to connect. Whether you are near or far, you always feel as though a part of them is with you. We want to make sure that you can enjoy the same connection and have found some amazing options for you.
QUICK NAVIGATION
Long Distance Touch Bracelets
Long distance touch bracelets are the perfect mix of technology and jewelry. These gadgets usually connect via bluetooth and the internet, allowing multiple bracelets to communicate with one another.
Vibrating Bracelets by Bond Touch
We have a soft spot for technology that enables long distance relationships to become stronger and these vibrating bracelets from Bond Touch make a great LDR couples gift.
The bracelets are a very stylish, minimalist design with a similar look and feel of popular fitness bands.
They're really easy to use too. Once both devices are connected via the Bond Touch app, sending messages is simple!
1. Tap the touch sensor twice whenever you want to send a signal to the other device.
2. The other device will then light up and vibrate right away!
Here's what you get:
Two Bond Touch modules
Two USB chargers
Two TPU bracelets
They are also packaged separately making it super easy to post the second device to your partner! To learn more, visit UncommonGoods.com.
Coordinates Bracelets
Coordinates Cuff Bracelet by Mackenzie Treasury
Having specific coordinates on a bracelet is an incredibly romantic idea which is going to let you remember the memories of a specific location. This could be where you met, your home or anywhere that is special to you.
Beautifully handmade from high-quality sterling silver which can be plated with either rose or yellow gold. Mackenzie Treasury's Coordinates Cuff Bracelet has an open-cuff design to sit perfectly on your wrist and it's a stunning piece of jewelry.
Bottom line, it will constantly help you to have those warm memories of your loved one.
Check them out on Etsy and you'll see why this is definitely one of our favorites.
Leather Coordinates Bracelet by Orange Bridge Supply
For some people, metal jewelry isn't for them. A leather bracelet can be a fantastic substitute and this is another where you are going to be able to feature the coordinates.
Available in a wide range of sizes, these leather bracelets come with a solid brass snap, helping to secure it on your wrist.
They are made from horween chromexcel leather which not only looks great but it will give you a very high level of durability, ensuring it's a treasured gift for a long time.
We were surprised to find that this bracelet can be engraved on both the inside and outside! Find out more about the engraving options here on Etsy.
Coordinates Bar Bracelet by GIGIMEY
Bar bracelets are perfectly suited for coordinates as they are very visible. They are a great talking point and you'll have many people asking what they mean. Two-sided engraving is available, allowing you to have something personal on the inside.
The 35x4mm bar is available in sterling silver, or 14k rose gold or gold filled.
Combined with the rest of the bracelet it makes for a very pretty piece of jewelry.
Check out GIGIMEY's Bar Bracelet on Etsy to get an idea of just how good it could look on your or your partner's wrist.
Thin Cuff Coordinates Bracelet by Nikki & Nibbi
Having a thin cuff bracelet is a very simple way of adding a touch of personalization to your jewelry. You have the choice of buying one or perhaps combining multiple bracelets together, with different colors, to create something unique.
You can even have multiple coordinates added for each place that is special to you.
These cuff bracelets are available in 6 different finishes: aluminum, brass, copper, silver, gold and rose gold.
Nikki & Nibbi also offer inked engraving, which could really make your coordinate bracelet pop! Check them out on Etsy for more details on their inked engraving.
State to State Bracelets
State/Country Cuff Bracelet by Cheech & Chelsea
If you're across different states then it can be hard to feel connected. This bracelet will act as a constant reminder of your connection with a loved one. Whichever state your partner is in, these will make you look down and smile.
It's made from the highest quality materials that comes in a brass, aluminum or copper finish.
All 50 states are available but we were excited to find out you can also get different countries added too! You can find them on Etsy to see if what countries are available.
Cheech & Chelsea also make this piece as a necklace, which we've included in our post on Long Distance Necklaces.
Stirling Silver State/Country Bracelet by Y.H.TANAFF
The design of this bracelet is simply fantastic. It is able to wrap around your wrist with your two chosen states at each end. It's a unique piece of jewelry, made with sterling silver, which is sure to catch the attention of anyone who sees you wearing one.
They are handmade without any nickel in order to protect against allergies. It's a great gift and one which will help to give you that closeness.
There are different sizes available so be sure to check them out on Etsy to make sure you our your partner gets the perfect fit!
Y.H.TANAFF also make a similar piece as a ring! Check out our post on Long Distance Rings for more details.
Fine Chain State/Country Bracelet by Little Miss Lilyan
If you want a fine piece of jewelry for you or your loved one then this would make a great choice. It is hand made with a high-quality chain and your two chosen states hanging from it.
There is also a lot of customization options with this bracelet.
They are available in silver, gold or rose gold with the option of having it engraved or not. You can also pick as many states as you want with the option of adding hearts, birthstones and initials.
It will definitely make for a very unique and special gift. View the full list of customization options on Etsy.
USA Map w/ Hearts Bracelet by CoCo Wagner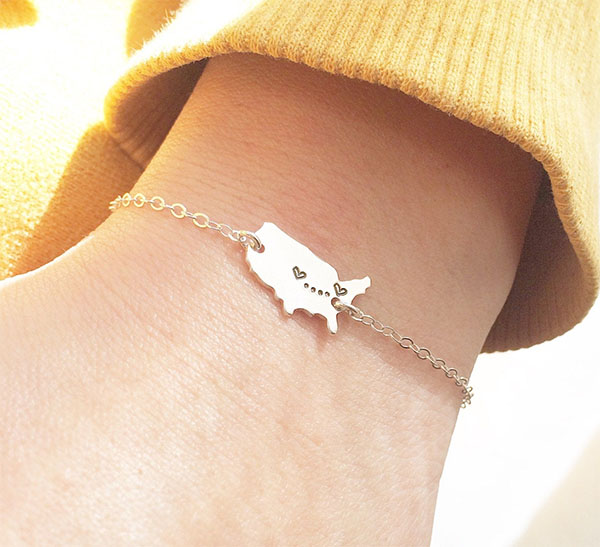 This bracelet has a different take on the state to state design as it has a map of the USA with two love hearts showing your two locations, which makes for a wonderful conversation starter and a warming reminder of your loved one.
This beautiful bracelet is made with the highest level of quality that you can get it in gold, rose gold or a silver finish depending on your preference.
See their listing on Etsy to find out why we think this is the best option for long distance couples in the USA.
His & Hers Bracelets
His & Hers Custom Date & Initials Bracelets by Mikado Jewels
Sometimes the most subtle solutions are the most effective and this beautiful little bracelet by Mikado Jewels is exactly that.
These bracelets have an aluminum plaque where you'd be able to have your custom writing then also a leather strap and a stainless steel clasp.
It's a great mix of materials, with a wide range of sizes for the perfect fit, and it's all put together to make a very high-quality product.
If there is a special date you and your partner want to remember forever. Then this bracelet set on Etsy is the perfect option.
His & Hers Microcord Bracelets by Art Engraving Studio
Getting matching bracelets is a great way to feel connected as you'll always know your partner is wearing the same one. This is a simple yet stylish bracelet that will comfortably sit on your wrist.
There are seven different color options available depending on your personal preference and you can also choose your own engraving and font type.
Multiple colors means it will be hard to go wrong if you pick these bracelets up! Check them out on Etsy to find out more about the color, and font options.
His & Hers Beaded Bracelets by Galaxy Accessories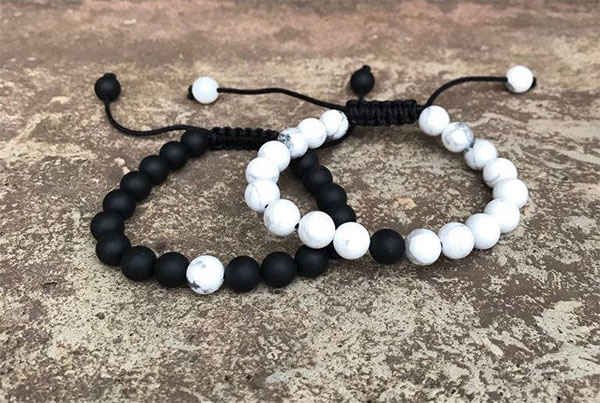 For those looking for something a bit more subtle than an engraving or metallic finish, this would make a great option.
Each bracelet is going to have its own unique color and therefore you know that your set of bracelets is going to be special.
They are a different option from more traditional jewelry and their uni-sex design is ideal for having a matching set.
These bracelets are a high quality option for those on a budget. When you see the price you will know why they're a top seller on Etsy!
His & Hers Eternity Knot Bracelets by Fanfarria
Sometimes the most beautiful designs are some of the most simple. The Eternity Knot is a beautiful design where you're going to have the two different colors of cord to represent the two different parts of your relationship.
The waxed cord is highly durable to ensure they stay on your wrist for as long as you're together.
Both of the bracelets are going to be adjustable and therefore you can be confident that you're going to get a perfect fit.
Check them out on Etsy to find out why these bracelets are a great option for active couples.
King & Queen Bracelets
Adjustable 'His Queen' & 'Her King' Bracelets by Spirit In Silver
The King & Queen designs of these bracelets are super stylish.
They're available in materials of either aluminum, brass, copper or silver and all of them are going to look great on your wrist. It just comes down to which one you prefer!
Handmade and hand stamped by the team at Spirit In Silver, giving them a high quality yet unique look and feel.
One thing we really liked was that they come beautifully wrapped to make an amazing gift. Check out their listing on Etsy for more details on the bracelets and their gift wrapping.
King & Queen Stone Bracelets by Zone by JK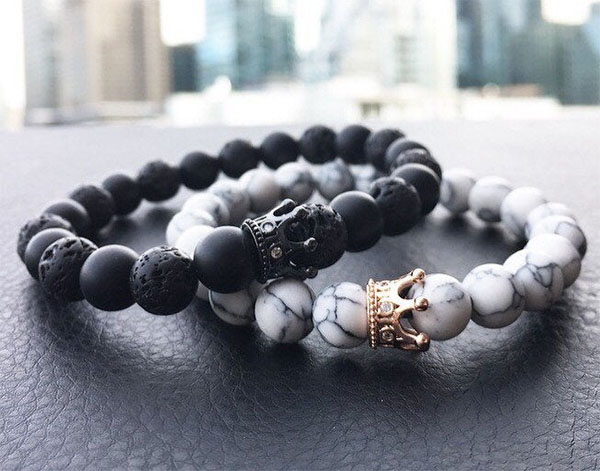 These King & Queen bracelets have a beautiful level of detail and make a great set.
The King bracelets are made from a mixture of lava rock and onyx stones with a black platinum crown to given them a beautiful level of uniqueness and intricate detail.
While the Queen bracelets are made from white howlite with a rose gold platinum crown.
The build quality is brilliant as the stones are individually selected to make sure they have the highest quality.
We found Zone by JK have the most sizing options available on their Etsy listing. Definitely check it out to get the perfect fit.
King & Queen Leather Bracelets by B Genuine
Leather bracelets are a great option as they suit both sexes and are a little bit different from traditional jewelry. Now, mixing that leather with stainless steel makes for a design that is very 2021.
There are four different colors available to choose from. What we personally liked is that the makers, B Genuine, allow you to choose to have two of the same bracelets OR choose different colors to make sure you both get your favorite.
Just note that this option from B Genuine is only available on Etsy. They also have several engraving options to get the perfect message on your wrist.
King & Queen Charm Bracelets by YLYS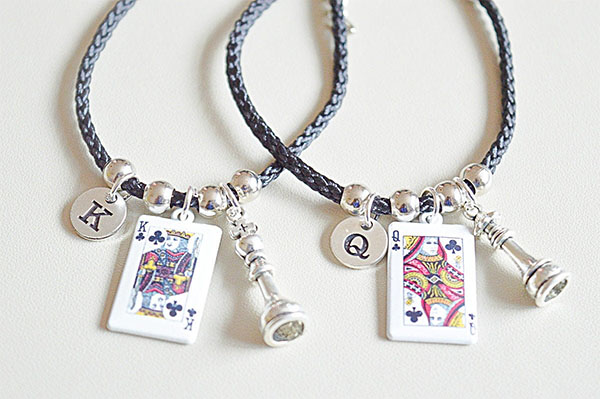 If you're looking for the ultimate in king and queen charm bracelets then this is the one you've been looking for.
It has three separate charms with a king and queen playing card as well as their matching chess piece.
YLYS has also given you the option of having an initial on the bracelet. You can choose to have K and Q on them for king and queen or decide on something more personal.
They are made from silver and you also have the option of having extra initials if you wish. To find out more check them out on Etsy.
YLYS also make a similar piece as a necklace. Check it out here in our post on Long Distance Necklaces.
Helpful Tips When Buying Long Distance Bracelets
What to Think About When Buying a Bracelet for a Man
When buying for a man you want to make sure that you're taking his style into account. A lot of men won't like pretty or intricate jewelry but there might be others who are happy to wear it. If you're not sure then you should take a look at any existing jewelry he has.
More formal bracelets are made from duller metals and for more fun wear shiny metals might be preferred. Men's bracelets are usually more basic with other materials such as leather, cord and stone also being popular.
What to Think About When Buying a Bracelet for a Woman
For women, more intricate jewelry is often preferred. It's important to look at what they wear to find out whether or not a bracelet would fit their style. If she wears delicate and pretty jewelry all the time then she might not suit a leather bracelet, for example.
You also have to consider the type of metal you are going for. A lot of women will only wear one color of metal and therefore you'd need to match that. Taking in other factors such as lifestyle into account as with some jobs or activities, certain bracelets might not be appropriate.
Bracelet Sizing & Measuring
Before getting a bracelet it's important to know what size it should be. It's good to know what the average size is, but you can measure your own wrist fairly easily.
You should also consider whether or not you'd want a snug, comfortable or loose fit.
WOMENS SIZES
Most common: 7 inches
Average range: 6.5 – 8 inches
MENS SIZES
Most common: 8 inches
Average range: 7.5-9 inches
How to measure your wrist
Measure your wrist using a flexible tape where you intend to wear the bracelet
Add an inch to that measurement to give it a comfortable fit
If you want a loose or snug fit, take/add around half an inch from this figure
If you have large beads, give it an extra half inch to accommodate them
Check out the video below for a visual demo on how to measure your wrist.
Bracelet Care & Maintenance
When it comes to maintaining your bracelet and making it last as long as possible, there are a few simple rules that you should follow.
Put your bracelets on after getting ready to avoid any chemicals
Store it in a box or bag to avoid scratches
Remove it before completing any tasks which may damage it
Don't wear it when bathing or in a swimming pool
Don't wear it while playing sports
There are also some key rules you need to follow when it comes to cleaning your bracelet. Using the wrong methods could mean your partner never sees the long distance bracelet on your wrist again!
Use mild soap and warm water with a damp cloth
Polish it using a fine jewelry cloth
Avoid contact with any chemicals
Never use alcohol, acid, vinegar or ammonia to clean your jewelry ​
Your bracelets may fade over time and trying to avoid little scratches can sometimes feel impossible. Using these tips will keep your precious item looking great for a long time.
Here are some final care tips for specific types of bracelets.
Beaded Bracelets
With a beaded bracelet, you should never stretch it more than just over your hand. This can quickly ruin the bracelet and affect its fit. You should avoid wearing it for physical activities and also avoid chemicals as these can ruin the elastic and the beads.
Leather Bracelets
You can wear leather for most daily activities including work but it's another which should be kept away from chemicals. You also don't want to submerge it in water as this can ruin it. When it comes to cleaning, do it with a damp cloth and mild soap.
Cord/Rope Bracelets
People who wear cord or rope bracelets often like to wear them for an extended period of time in all conditions. Exposure to water can make them shrink but some like the snug and semi-permanent fit this gives. Washing can be done with mild soap and it's best to air dry the bracelet.
Silver Bracelets
Sterling silver can become dull over time but there are plenty of things you can do to make it shine. Soap and water can be used but it's best to get some polish to give it that shine. Sunlight and chemicals can tarnish it but you can always restore it should this happen.
Our Favorite Long Distance Bracelets
We really like all of the options above. With so much diversity there is definitely a bracelet or two to suit you and your long distance partner.
But if we're honest. Our favorite has to be the vibrating bracelets by Bond Touch.
It's true, we do love technology. Especially if that technology is dedicated to helping long distance couples strengthen their relationships, especially through communication.
When a simple tap on the touch bracelet sends a signal to your partner, letting them know you're thinking about them, it has the ability to change their day.
While it might sound simple in theory, it's POWERFUL when it comes to impact.
No wonder these bracelets are in high demand! Take a look at the reviews on UncommonGoods.com and you'll know what we mean.
Now it's Your Turn!
Which one of these long distance bracelets suits your style? Thankfully there are many special options out there to always keep you connected to the one you love.
Have questions? Looking for advice? Join the conversation in our supportive and inclusive LDR Support Group!
Join our FREE LDR challenge & learn the
secrets
to strengthening your relationship in just 7 days.
"We just want to tell you how amazing this all is & we can't thank you enough!"

Becca (USA) & James (AUS), Challenge Participants
By entering your email address you agree to receive emails from Lasting The Distance. We'll respect your privacy and you can unsubscribe at any time.
---
Hi, we are Lolo (Canada) & Nate (Australia) a couple that had to go through all that a long distance relationship has to offer, just like you. With our experience and lessons learned we want to help you keep your long distance relationship as strong as ever and ultimately last the distance!