In a rush? Here's our TL;DR breakdown of the best long distance relationship gadgets for couples:
Our Top Choice
LuvLink Friendship Lamps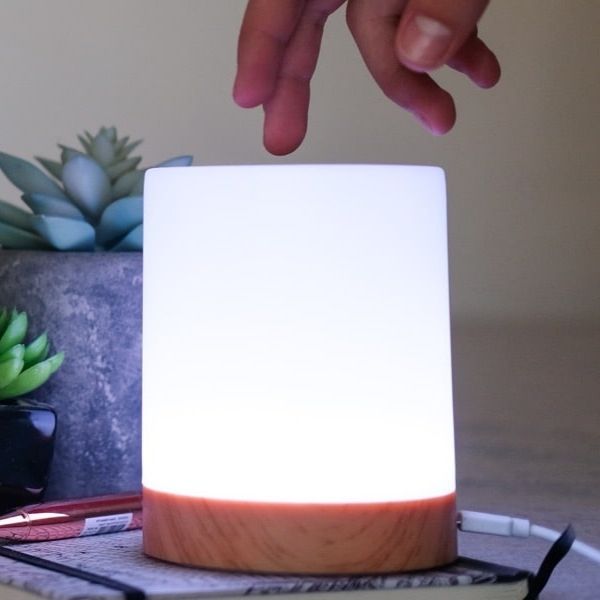 The most popular long distance gadgets of 2023. Their 40% off promotion is currently active.
Unique Alternative
Totwoo Touch Bracelets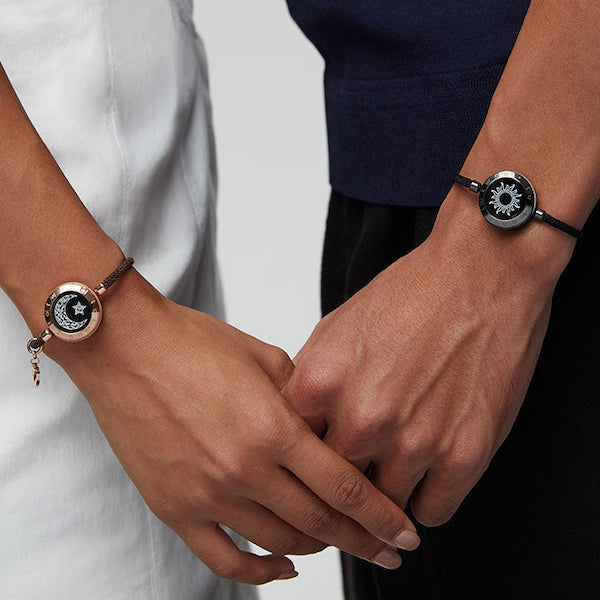 Tap one bracelet to make the other light up & vibrate. No matter where you both are in the world.
Cool Tech
LoveBox Heart Messenger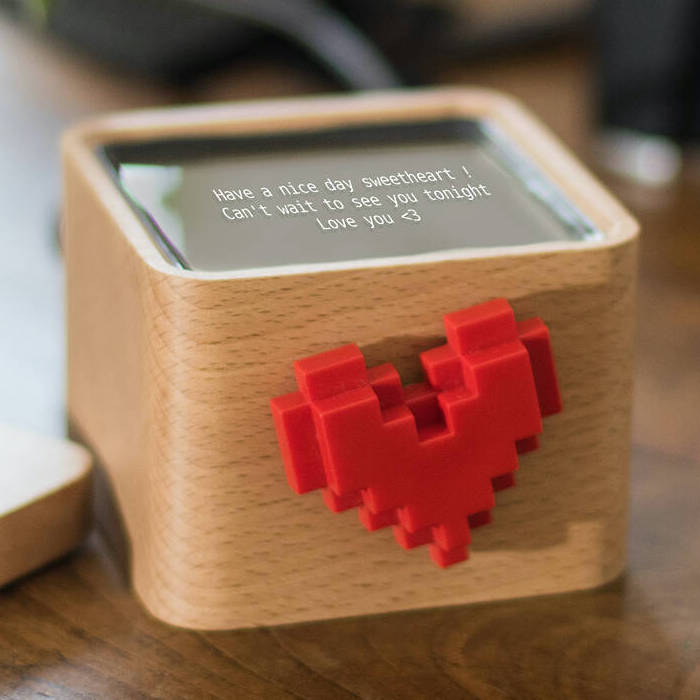 Send loving & heartwarming messages from afar to your special someone & watch the heart spin!
Long distance relationship gadgets and tech products can help improve your relationship.
It's backed by research too!
Amanda Bloom of Purdue University found the use of technology contributed significantly to long distance couples' relationship satisfaction.
If you're struggling with being apart. Tech products like friendship lamps could help bridge the gap distance creates.
What's cool is there are many options dedicated to keeping long distance couples connected from afar. Some you won't believe are real!
Let's dive into our favorite options!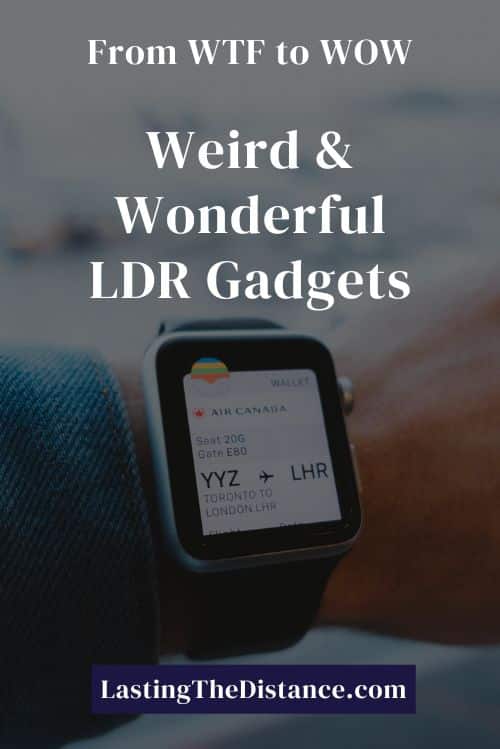 QUICK NAVIGATION
1. Long Distance Touch Lamps by LuvLink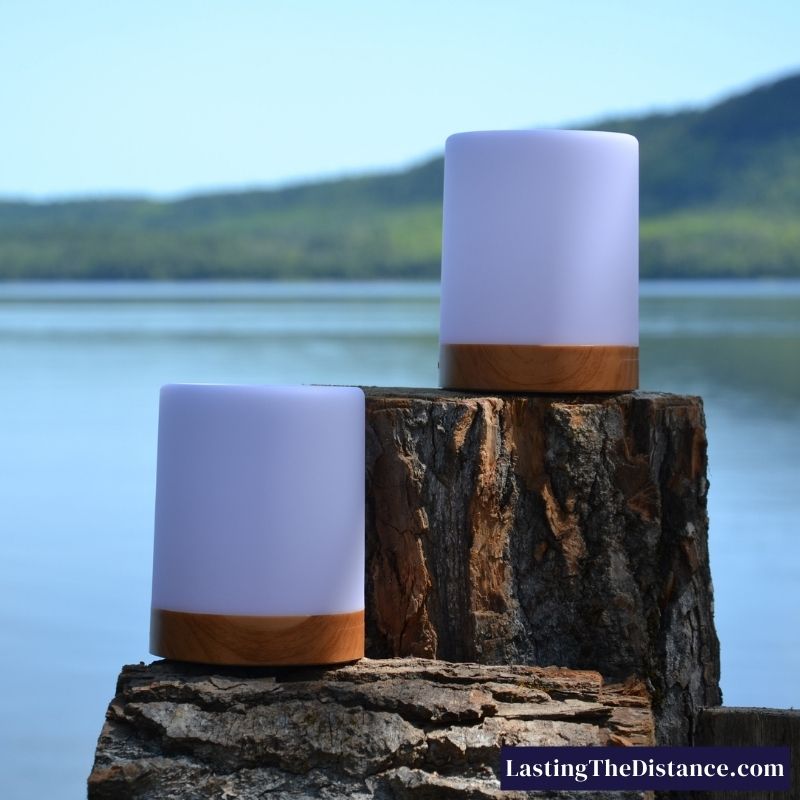 You may have seen these long distance gadgets going viral on social media. So consider this your sign to take the plunge and buy a set of the best touch lamps around!
These lamps by LuvLink, make an amazing tech gift for loved ones separated by distance.
How they work is both simple and genius:
Tapping one lamp will cause the other to light up. No matter where in the world it is!
This is all possible because the lamps pair together using your Wi-Fi connections.
Just imagine your loved one seeing their lamp light up. Letting them know that you're thinking of them at that very moment. We think their heart would be full and have a smile from ear to ear!
To note: Holding your finger down on the top of the lamp will make it cycle through different colors, which you can give meaning to. E.g. Red = I love you! Blue = I miss you! Yellow = Good morning! Green = Are you free?
LuvLink has made the pairing process super easy to follow. So even the least tech-savvy users will be able to set them up seamlessly by using their dedicated app. You can see just how easy they are to set up via the app in the video below:
LuvLink Friendship Lamp Set up video
What's really cool is that the team at LuvLink has recently launched four new designs.
But the best part…
Each design including their original friendship lamp can connect to one another. This means you don't have to buy two of the same lamp and can purchase whichever best suits your style and room decor.
LuvLink is currently running a 40% off promotion, so head to FriendLamps.com to take advantage!
Last checked 22nd September 2023.
Don't forget to check out our post on the top long distance friendship lamps that are perfect for long distance relationships.
2. Long Distance Touch Bracelets by Totwoo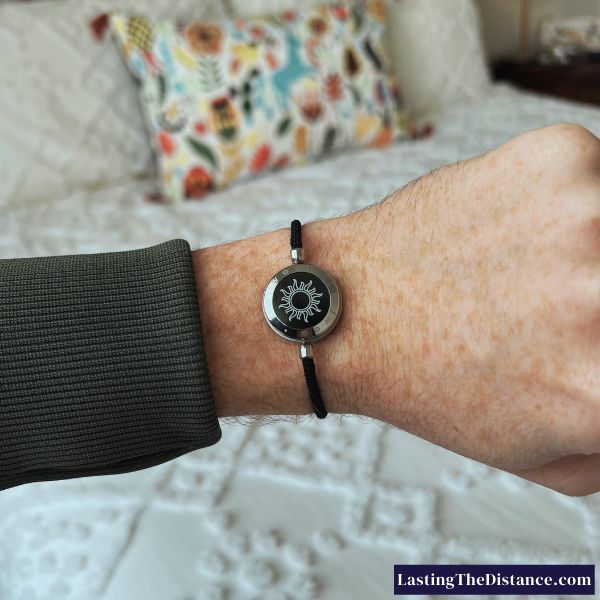 These long distance touch bracelets are the ultimate fashion accessory. While other options look similar to a fitness band, these will get your heart racing for another reason!
Whenever you or your partner are thinking about each other, tapping the bracelet will send a subtle but sweet message.
The other bracelet will light up and vibrate!
Just imagine sending a touch and what happens to the person that receives it, knowing they're in your thoughts in that very moment.
They'll feel loved and have a smile from ear to ear!
We love that you can choose what color it will light up with, which means they work in a similar way to friendship lamps. But what's really cool is that you can adjust the vibration intensity (via the Totwoo app) to give your messages further meaning!
They're really unique and come in a variety of designs! So check them out on Totwoo's official online store and don't forget to look through their customer reviews and images to learn more.
While Totwoo's touch bracelets that light up AND vibrate are fairly new. They've also produced options that just light up. The video below is a popular unboxing of the Totwoo Touch Bracelets that light up by YouTuber Hollywood Frodo.
Don't forget to check out our post comparing the best long distance touch bracelets we uncovered for LDR Couples.
3. LoveBox Messenger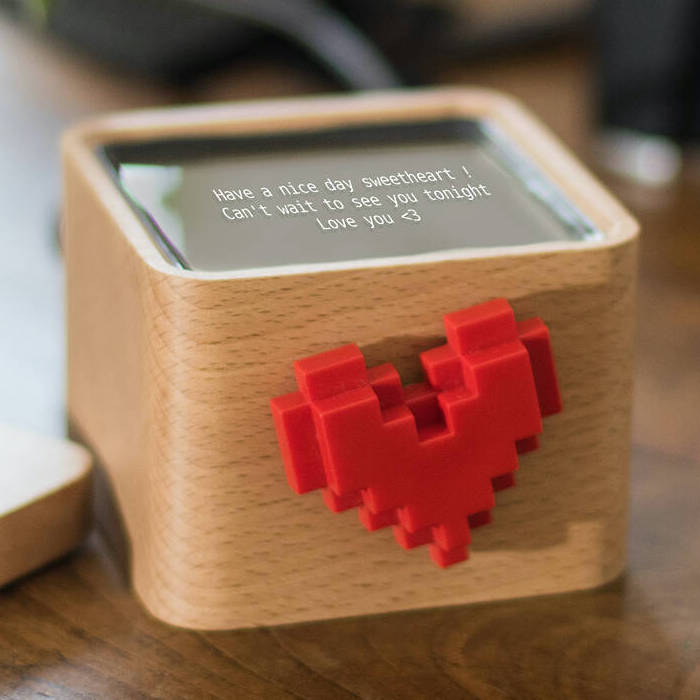 Do you feel that text messages have become impersonal? We definitely do!
Now, you can give them greater meaning and a much more personal touch with the LoveBox Messenger.
This unique device pairs with the Lovebox app, which allows you to create heartwarming messages for that special someone and display them in the Lovebox.
When you send a message the heart on the front will spin until the recipient lifts the lid. Then, the message shows up on the screen inside. See it in action here.
We think this is an amazing way to brighten their day. Just imagine the smile on their face as they rush over to see your message!
To note: We love the latest models because they allow you to send text-based messages, handwritten messages, emojis, and photos.
If you want to level up your texts and give more meaning to your messages. The LoveBox Messenger is for you! Check out the hundreds of reviews and customer photos on UncommonGoods.
4. Long Distance Touch Rings by TheTouchX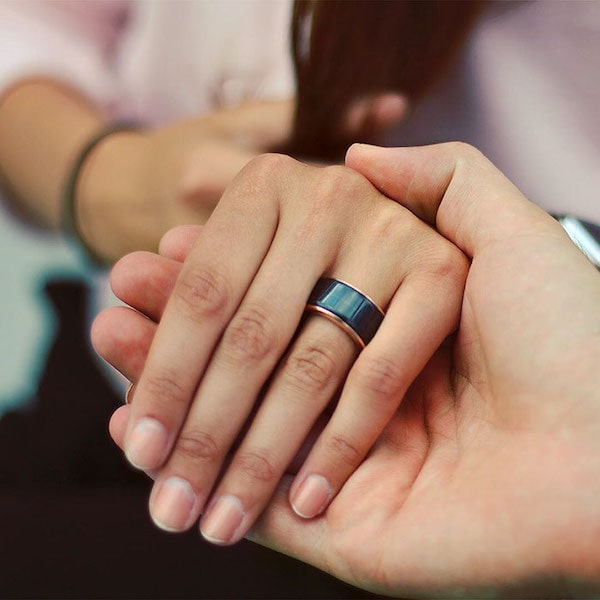 To note: These touch rings are more expensive when compared to other long distance relationship gadgets on our list. That's because of the high-grade materials and the amount of tech packed into such a small product.
We've worked directly with the creators to make them more affordable for our readers. So here's 20% off which is automatically applied on the checkout page!
If there were approved promise rings for long distance couples, the HB ring would be number one!
The HB ring allows you to feel your partner's heartbeat in real-time, with additional options to play a saved heartbeat.
It's as simple as connecting your ring to the app and tapping it twice each time you want to feel your partner's heartbeat.
There's also a cool 'surprise me' feature that sends you your partner's heartbeat at random times of the day!
It doesn't hurt that the rings are also gorgeous with many options including rose gold, 18k rose gold, and jet black finishes.
5. The LDR Watch by Kitmen Keung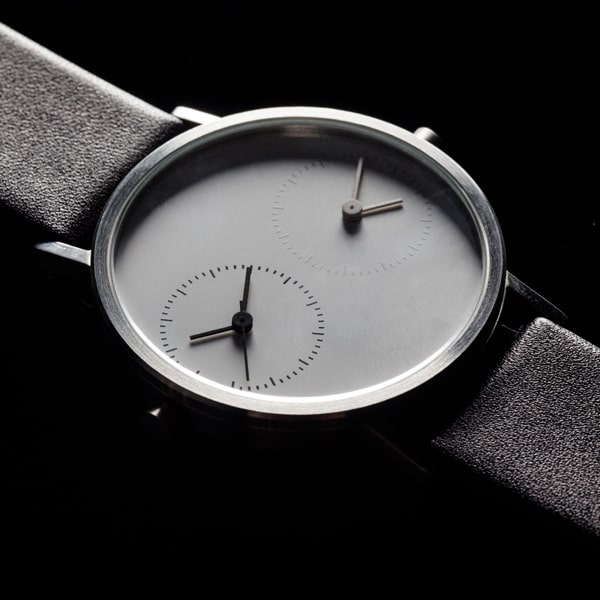 Not only is this Kitmen Keung watch super sleek, stylish, and carefully hand-crafted, but it is also super cool and handy for long distance relationships.
Keung's design allows you to set two timezones, one with a dark finish and a second with a light finish. This is a unique fashion statement you don't want to miss out on.
Now you'll have no excuse for missing your next Date Night!
6. The Apple Watch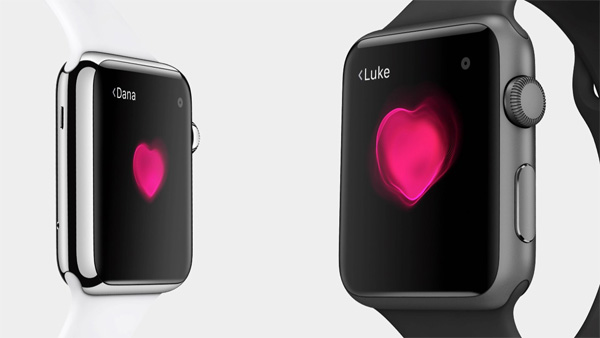 We've all heard about the Apple Watch, but chances are you haven't unlocked its full LDR gadget potential!
The Digital Touch feature allows you to stay near and dear to your partner, regardless of the distance. Through taps, sketches, and even heartbeats, you can feel closer to one another than ever before, regardless of the distance.
There are also dual display options in the latest Apple Watch models, which is great for those LDR couples that are in different time zones.
The Apple Watch Series 4, 5, 6, 7, 8, and SE are all available for purchase. We recommend the Series 4 through Amazon because of their unbeatable price (and free shipping).
The how-to video below shows you just how easy it is to 'send your heartbeat' to your partner.
Want more? See our post on stylish dual time zone and smart long distance watches.
7. Long Distance Sex Toys by Lovense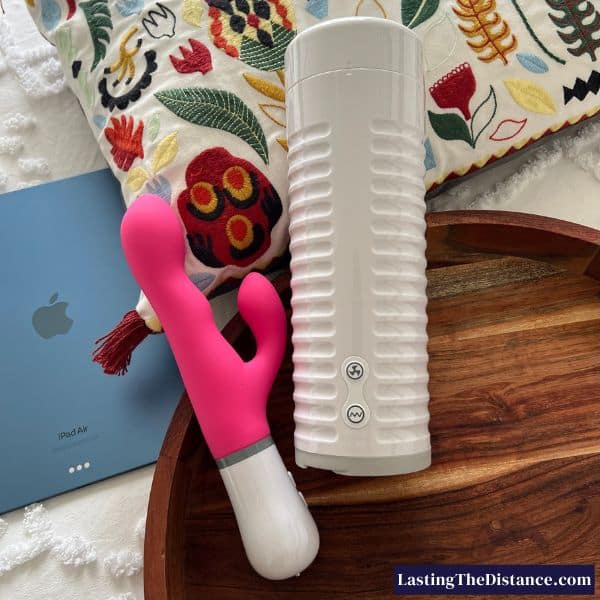 Sex toys have been around for years, and they're exciting and all, but they're not nearly as fun as having private time with your partner.
Lovense may just be the answer if you're looking to keep your sex life spicy, regardless of the distance.
They have a unique line of vibrators (their long distance couples set, Max & Nora are pictured above) including vibrating panties, butt plugs, and automatic strokers But what makes it so special is that you can connect with your partner using the "Long Distance" tab on the app.
Once you're connected, you can video chat through their app while also controlling your partner's toy so that, even from across the country or globe, you can still have some naughty fun together.
Want more options from Lovense? Check out our in-depth reviews of their Edge 2 (prostate massager) and Lush 3 (wearable vibrator) with app-control for long distance fun.
8. Connected Sex Toys by Kiiroo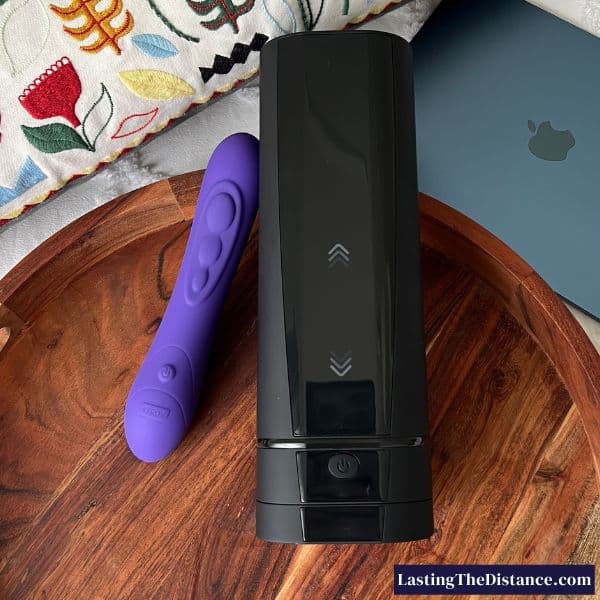 Kiiroo also creates long distance sex toys that can help you "feel someone else in a whole new way".
As soon as the Pearl 3, the women's vibrator, is inserted inside of her, the sensors send a signal via Bluetooth to Onyx+, the male masturbator, to create a sex-like experience. 
With the simple touch of a keypad, you can control vibrations to make your sexual encounter whatever you'd like it to be.
Want more? Check out our related post on the wildest remote control vibrators for long distance couples.
9. Remote Control Vibrators by Vibease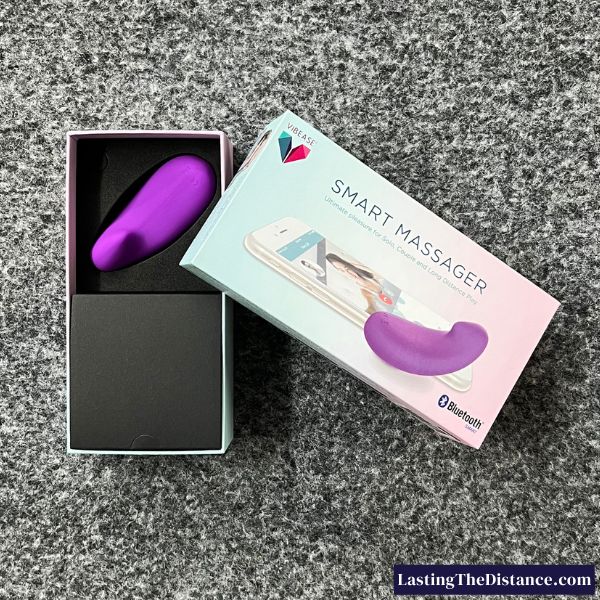 Vibease does just what its name suggests—it lets you use a vibrator with ease.
Having been featured in magazines ranging from Allure to Women's Health, this hands-free vibrator makes intimacy easy despite the distance. One of the more interesting features is that it can even be worn in your underwear.
You can create custom vibes for your partner—or vice versa—and pleasure one another from anywhere in the world. See the video below for a tutorial.
Has Vibease caught your eye? Check out our in-depth Vibease Review and see why it's a great option for long distance couples wanting to level up their intimacy from afar!
10. The Hug Shirt by CuteCircuit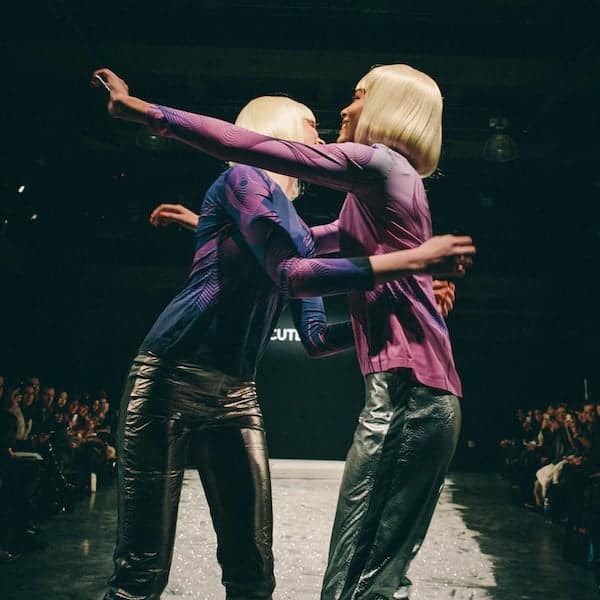 Try saying The Hug Shirt without it bringing an inquisitive smile to your face.
It's impossible!
An amazing product with the goal of simply making people who miss their loved ones happy, this shirt allows you to send hugs back and forth with your partner in real-time.
The co-founders of this product developed the technology in 2002, using strong sensors that can utilize skin warmth and heart rate data to recreate the sensation of a hug. It has come a long way since then!
To send a hug, you record your hug while wearing a HugShirt via the HugShirt app. The app then sends the hugging sensation to your loved one's shirt. The shirt has actuators built into the fabric that can recreate the sensation of touch, therefore, transmitting the hug to the shirt's wearer.
This is the perfect way to give your loved one a hug, even if you can't be there physically.
11. The Sound Shirt by CuteCircuit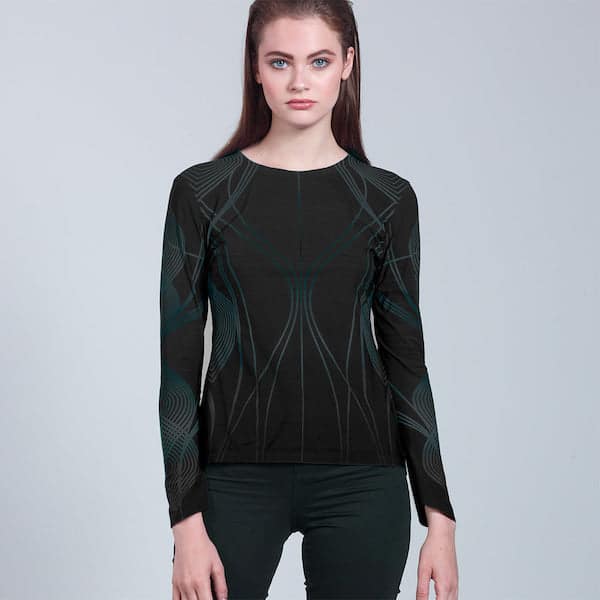 Feel music on your body, on the go.

CuteCircuit
The SoundShirt uses a lot of the same technology as the HugShirt. But to create an even more immersive experience they have included more haptic actuators (28).
You can still use the SoundShirt for hugs. Where it really shines though is when you're listening to music, watching movies, or playing video games together.
It's worth noting that these shirts are quite expensive and sell out fast. If you are interested, make sure to sign up for their mailing list to be notified when they become available.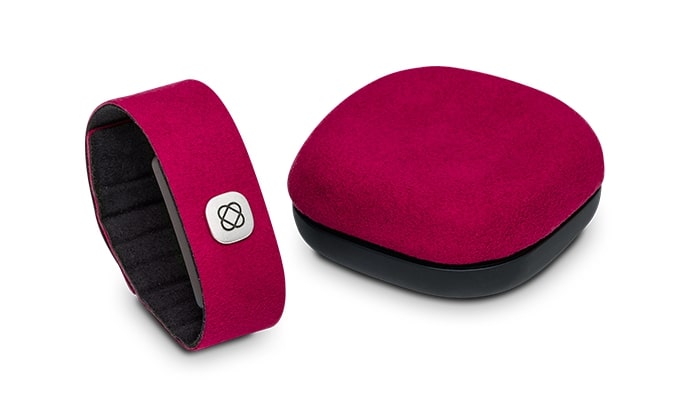 If your least favorite part of a long distance relationship is sleeping alone, then Pillow Talk's long distance pillow heartbeat speaker might be what you've been searching for.
Pillow Talk is a wristband you wear when you sleep, it recognizes your heartbeat and sends it to your partner in real-time.
All you have to do is download the app, place the speaker under your pillow, and slip the wristband on. That's a small price to pay for being able to 'fall asleep' with the one you love.
Check them out on their official website, LittleRiot.com for more details.
See our related article on Long Distance Themed Pillows for LDR Couples.
13. ChatLight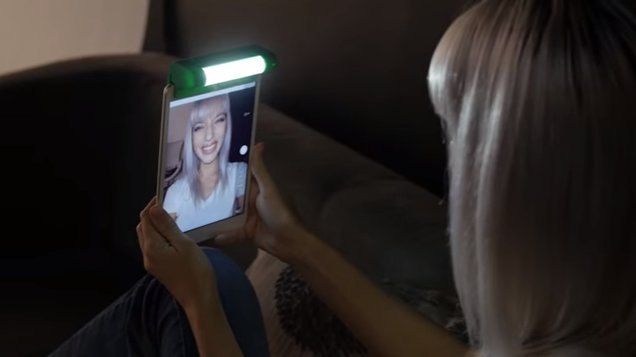 ChatLight makes every day feel like you're video chatting with your love under bright Hollywood lights.
The tiny light, which has been featured on the likes of HSN and The Grommet, is easily portable and can be used on any laptop, smartphone, or tablet.
The company boasts that the light lasts over 50,000 hours and charges in fifteen minutes.
14. Kissenger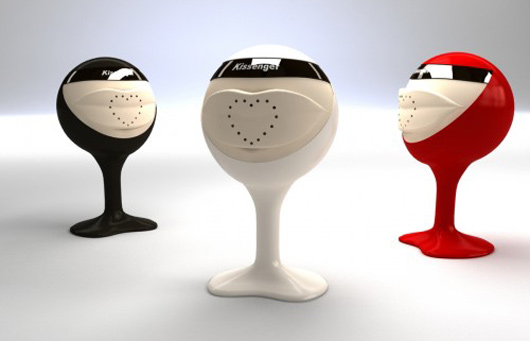 For us, this was a real WTF!? moment.
As you might guess, Kissenger's product name is derived from the words "kiss" and "messenger", and they boast that they are the world's first commercial kiss transfer device.
It was first developed in 2011 in Singapore and has been making its way around the world since 2015. The technology uses a pair of silicone lips to replicate your and your partner's own lips.
15. Kissenger Mobile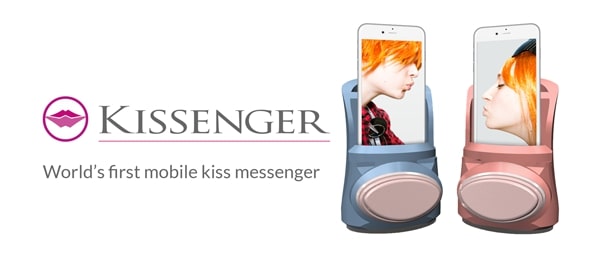 This Kissenger App is a more on-the-go approach to sending kisses to your loved ones.
Send a kiss whenever you'd like, and feel the force on your own lips when your significant other offers up a kiss in return. The high-tech app uses precise force sensors under the silicone lips to make this as close to a real kiss as you can get without being in the same room.
Take a look at a review by The Gadget Show.
16. Watch Anything Anywhere with Kast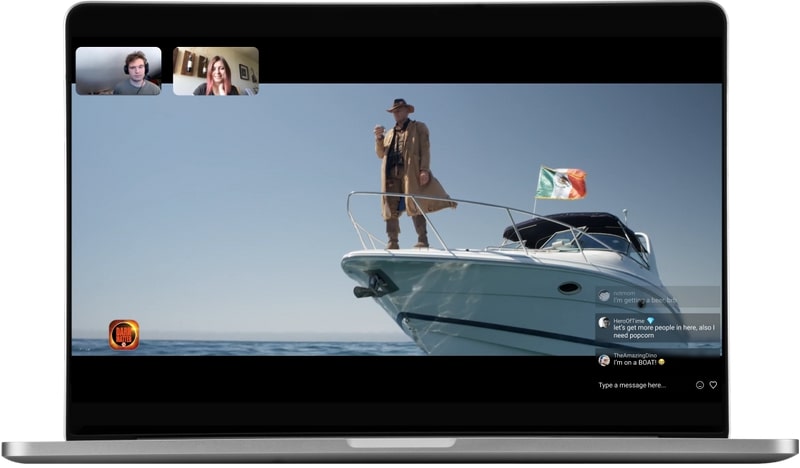 Kast started with the idea of being able to watch anything with anyone, regardless of where you are in the world.
It lets you watch movies and videos in sync with your partner through platforms like Netflix, Hulu, and YouTube. It even includes the ability to chat and use your webcam while watching.
Both the app and website allow you to experience everyday events with the person you love, and we all know that even the most mundane of experiences can be fun when you're sharing them with 'your person'.
17. The LDR App 'Without'
The Without app is unique in that it was created by a man who was in the same boat we're all in.
Jeremy Schoenherr's girlfriend landed her dream job across the country from where they lived, and they were thrusted into an LDR a week later. The couple had a tough time adjusting, deciding that texting was getting old, but that existing apps for couples were lame or overcomplicated. So, Jeremy decided to create his own.
You can read the original story on Medium.
The app tells you what the weather and area are like where your significant other is. You can also send selfies with one tap, making real-time conversations easier and more meaningful.
Love apps? Check out our article Empowering LDR Apps You Should Download!
18. Emotive Gloves for Physical Touch Over Distance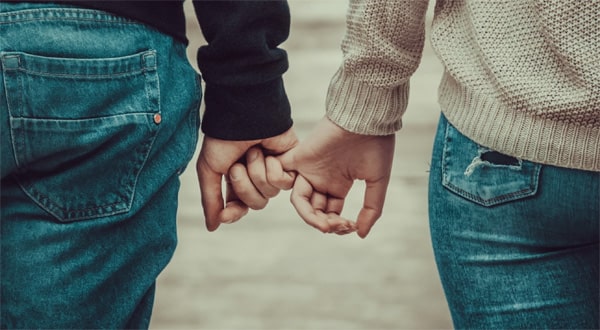 The Flex N Feel Gloves are still in the prototype stage, but they could definitely make a weirdly wonderful LDR gadget! After all, anything that makes us feel closer to our partners is a definite win.
These flexible gloves have sensors on each finger, which allow you to feel your partner's touch and movements as they happen. If you worry about being startled by unexpected touches throughout the day, don't worry, they even have a small soft switch that serves as a gentle way of letting you know that your partner wants to initiate touch.
The creators of the product say that their goal was to create a flexible, mobile product for LDR couples.
19. Frebble Hand Holding Device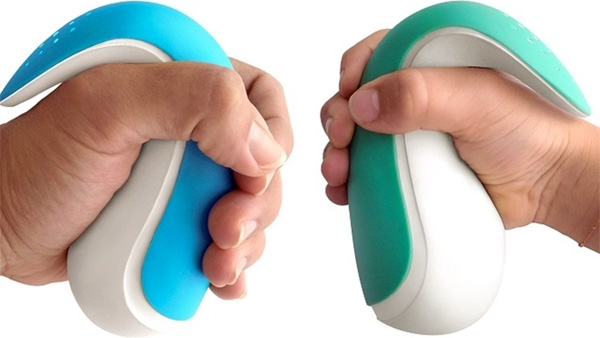 A Kickstarter success, the Frebble is a wireless device that allows you to hold your love's hand from anywhere.
Frederic Petrignani created the product after hearing fellow MBA students say how they wished there was a way to hold hands with the people they loved through the internet.
When you squeeze a Frebble device in your hand, the person you send your hand-hold to will receive your touch in real-time. The developers suggest using the product while video-chatting, as it creates a truly realistic and meaningful experience.
Which Long Distance Gadgets Will You Choose?
Have you tried any of these long distance relationship gadgets, or are there others that make your LDR easier? Our community and we would love to hear how they helped your relationship, join our LDR Support Group and let us know!
Our

FREE

7 day LDR challenge is BACK!
Unlock better date nights, deeper communication plus a stronger intimate & emotional connection.
SECURE YOUR SPOT!
---
Hi, we are Lolo (Canada) & Nate (Australia) a couple that had to go through all that a long distance relationship has to offer, just like you. With our experience and lessons learned we want to help you keep your long distance relationship as strong as ever and ultimately last the distance!