In a hurry? Here's our TL;DR breakdown of the best family gifts for long distance family members to keep connected from afar:
Our Top Choice
LuvLink Friendship Lamps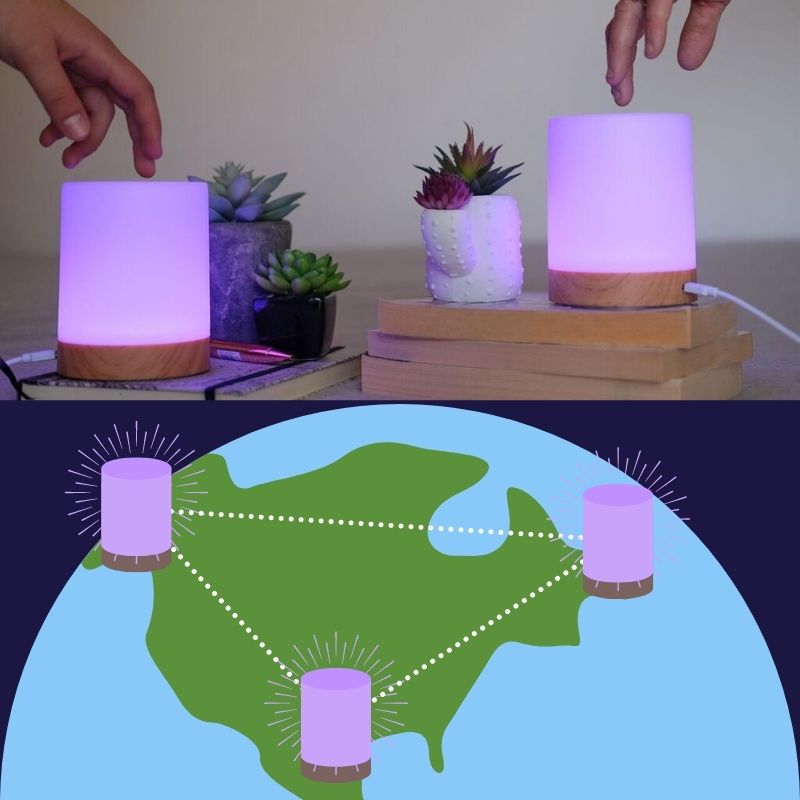 A single touch will light up your loved ones' lives no matter where they are.
Unique Tech
LoveBox Messenger
Easily send loving messages anywhere in the world & watch the heart spin!
Great Value
Portal TV by Meta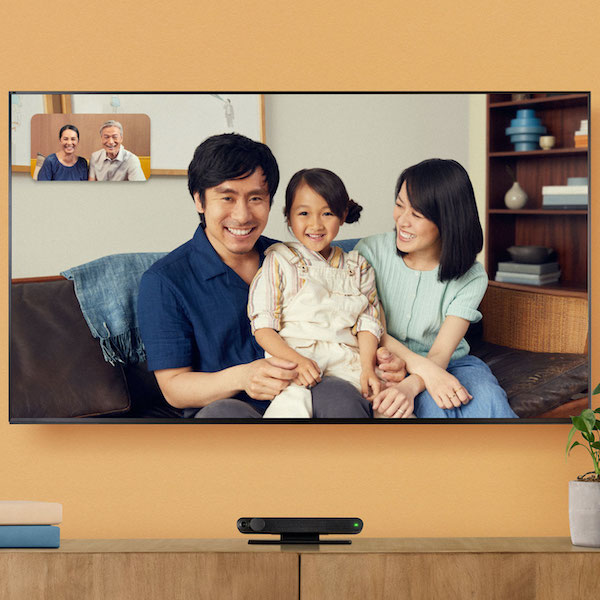 Easy to use video call system we think is perfect for senior family members.
When moving from Australia to Canada, we knew we wouldn't get to see family as much as we wanted.
To be honest, we struggled to adapt but we worked hard to do things that would keep us all connected.
Regular FaceTime calls and our family WhatsApp group became irreplaceable!
Another area that helped was gifts. Especially those, like friendship lamps, that kept us connected and in each other's thoughts.
To help you find the right gift for your family, we've put together a list of options we KNOW will be appreciated and used frequently!
QUICK NAVIGATION
The Best Long Distance Family Gifts in 2023
1. LuvLink Friendship lamps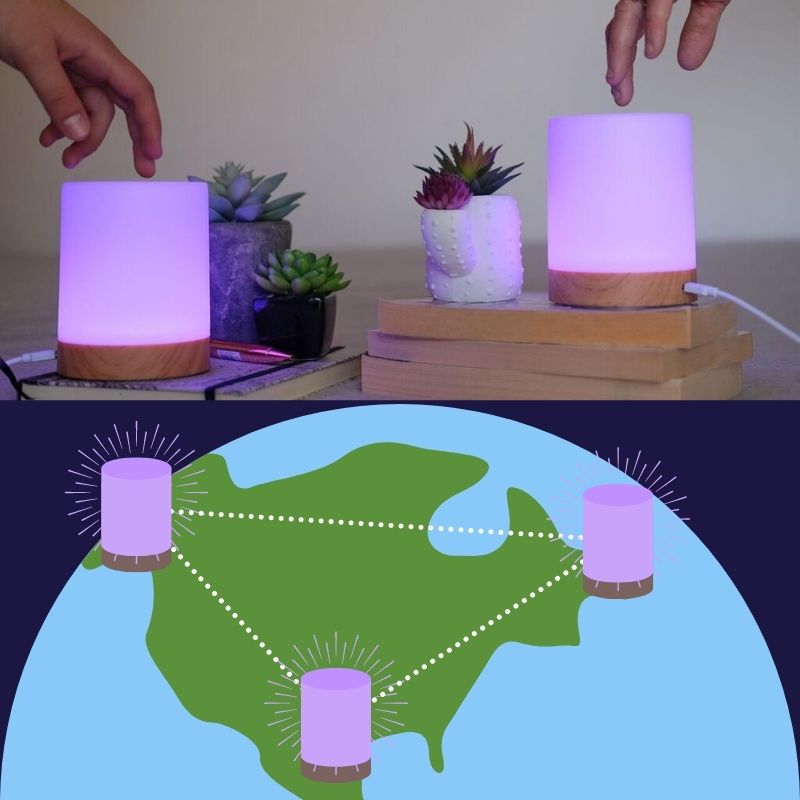 Friendship Lamps are a great gift idea for a wide range of long distance relationships, especially families. The model above from the LuvLink team at FriendLamps.com uses wifi and touch sensors, which allow them to connect and control one another.
When one of the lamps is activated (by touching the top of the lamp) the other is going to light up, no matter where it is in the world!
It's truly an amazing yet subtle way to let family members know they're in each other's thoughts.
We think friendship lamps make great gifts for long distance families because you have the ability to connect more than two lamps together, making them perfect for big families.
That's right
A great example is when you want to connect grandparents with multiple grandchildren. Whether the grandchildren are in separate rooms or even separate homes, they can all be set up to communicate with each other.
To note: Take advantage of the (infinite) different color options by associating one with each family member. That way everyone will know who the message came from. If you have other colors left over, you could assign specific meanings like:
Purple

= Time for a family video call!

Blue

= Good night

Yellow

= Good morning
LuvLink is currently running a 40% off promotion, so head over to their site FriendLamps.com to take advantage!
Last checked 22nd September 2023.
2. LoveBox Spinning Heart Messenger
While the LoveBox Messenger may look like any old box on the outside, what's on the inside has the ability to fill a loved one's heart with warmth from anywhere.
Created by Marie Poulle and her partner Jean Gregoire, the LoveBox is an internet connected device that can receive messages and images sent via their dedicated smartphone application.
We think they're a great gift idea for the patriarchs and matriarchs of large families that don't use mobile devices. All they have to do is lift the lid to see messages sent from family members.
How will they know they've received a message?
The cute heart on the front will spin, acting as a physical notification! See it in action here.
Needing only one LoveBox makes this a super affordable option and you can connect as many mobile devices to it, to send messages, as you want.
To note: The team at LoveBox have introduced a color screen version. For more details on the available options, visit UncommonGoods.com.
3. The Adventure Challenge – Family Edition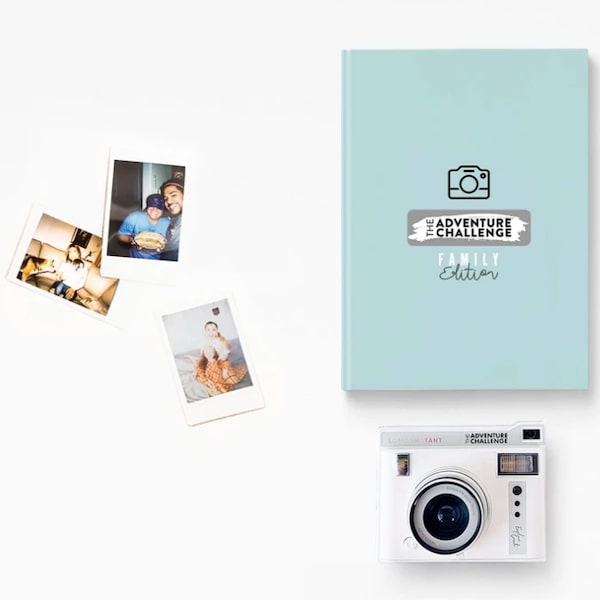 When you get to see each other in person, you want to create memories that can last a lifetime. The Family Edition of The Adventure Challenge is a unique way to have new experiences you may never think to try otherwise.
The Adventure Challenge is a book with 50 unique challenges, but you won't know what they are until you scratch them off.
You get a title and some hints (like whether it's an indoor or outdoor experience) before you scratch it off, then do the adventure, take pictures, and record the memories to look back on the next time you're apart.
Once you've scratched off an adventure, you have to try it, no take backs!
Some example challenges include:
"Texas Snowball Fight," which involves filling socks with flour and throwing them at each other
"The Great Indoors," where you set up a tent and go camping inside your home.
They also have an option that includes a polaroid camera! Check it out at TheAdventureChallenge.com.
4. Bond Touch Bracelets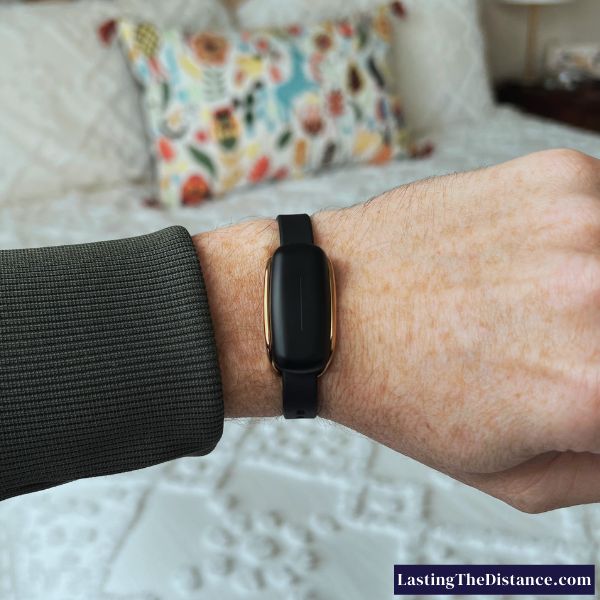 These bracelets from Bond Touch are another unique way of showing someone that you're thinking of them from afar.
Similar to the lamps above, the bracelets will light up and vibrate when the other is touched. You can even tap the bracelets multiple times to send unique messages.
We think they're a great option between parents and children or even close siblings who are separated by distance but want to stay in touch.
Want more? Check out our article comparing the top long distance touch bracelets for couples, friends and families to stay connected from afar.
5. Meta Portal
Meta's (previously Facebook) Portal range is a great option for video calls with multi-generational families. Their setup guides are easy to follow and each model benefits different types of users.
Portal TV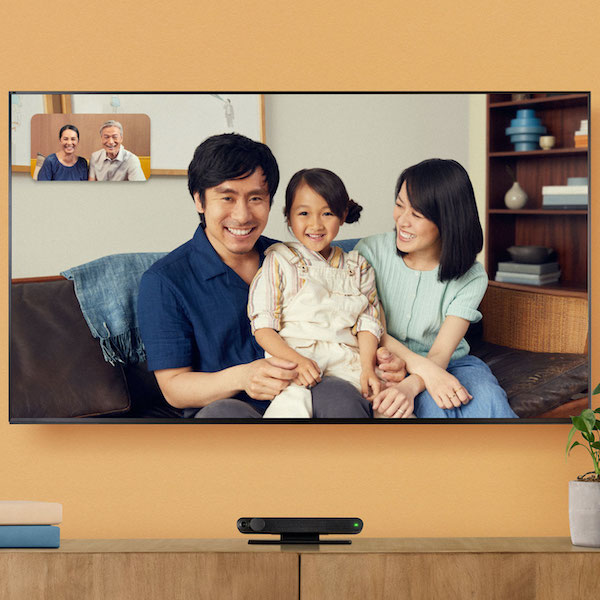 Portal TV connects to your television for an immersive video calling experience. It's a great option for senior family members who are used to using remotes.
We feel the living room creates a comfortable setting where they can really connect with the person they're speaking too.
Portal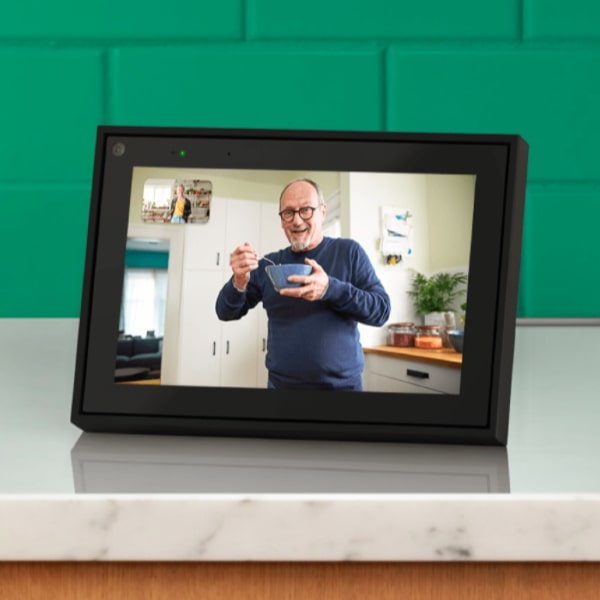 Portal is the standard 10" display that makes video calling easier than ever. The setup process is a breeze and it's perfect for all members of the family.
Portal Mini
For those who would prefer a smaller version or haven't got the space for the Portal, the Portal Mini is a great alternative.
Portal Plus
The Portal Plus is a dynamic option for those looking for a lot of functionality.
You can use the display in portrait or landscape mode and even move around while talking with loved ones as the Smart Camera will keep you in the frame.
6. Personalized Family Member Sign Post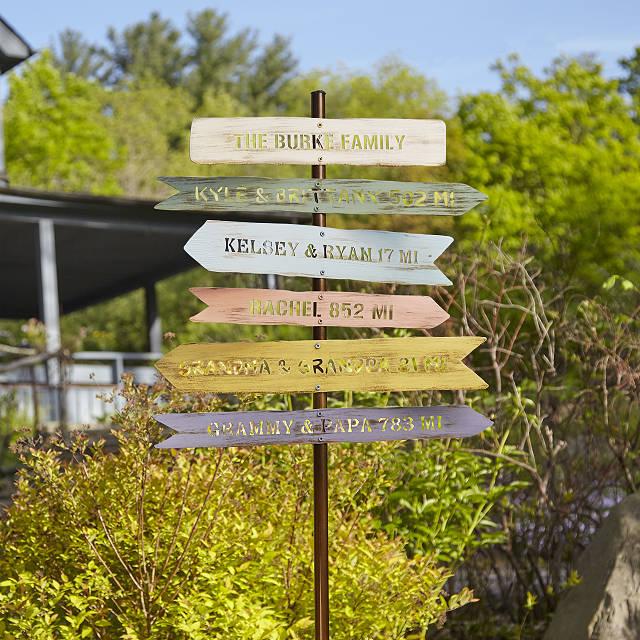 Have children who have 'left the nest' or want a way to connect your multigenerational family in a symbolic way?
This Personalised Family Member Sign Post is an amazing option. It's handmade, which allows for personalization options. They include:
Three to six signs
Family member names and distances
East & west sign 'arrow' directions
We love the weathered look and off-center signs giving it a warm and homely feel. This is an option that's sure to put a smile on every family members face!
7. Family Member Sign Post Print
Chris Crooks, who makes the sign posts, also offers a print version!
If you like the idea of a sign post but are unsure your family member would like a physical post sticking out of the ground then this is a great alternative.
Where you may have only purchased on family member signpost, you can now purchase multiple prints for each family member!
It's also a great option if you wanted to add more than six signs, which is the maximum amount available on the physical posts.
8. Personalized Family Prints
While regular family portrait photos can be great, why not get creative and have one designed.
We love the illustration styles of Mary and Shelly Klien who offer personalized family prints through UncommonGoods.com.
The customization options are excellent and they've made it a fun and easy experience when it comes to picking the likeness of all your family members.
You can choose just 2 figures all the way up to 12, giving you the option of either putting immediate family on there or your wider family, including pets!
There is plenty to love about these prints which will hang proudly in any home.
9. Personalized Family Member Hobby Mugs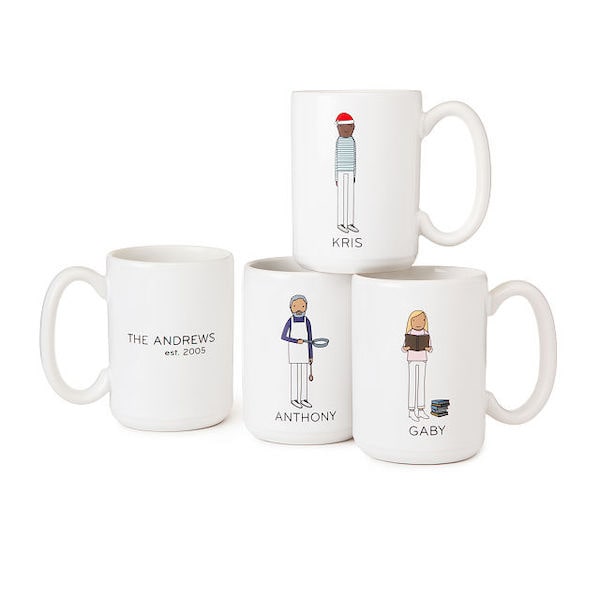 Celebrate your family as a whole and each member individually with these Personalized Family Member Hobby Mugs.
One one side of the mug, you can have your last name and the year your family was established. On the other, each person gets their own personalized character.
The customization options you get to choose include:
First name
Skin tone
Hair color
Clothing
Hobby
We think these mugs are a perfect reminder that every member of the family is unique. While still being part of a bigger whole, even when they're out in the world on their own.
10. Minimalist Family Morse Code Bracelets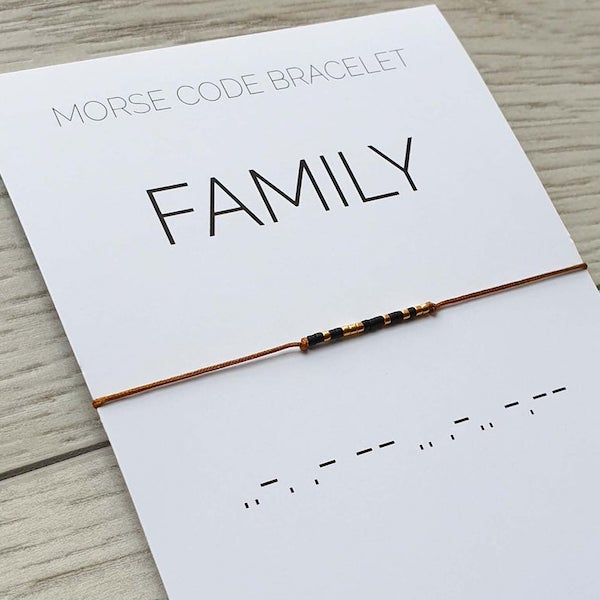 If you want a way for you or your loved ones to have a wearable reminder of the family, you'll love these Minimalist Family Morse Code Bracelets.
Long before texting and social media, morse code was used to send messages around the world. An alphabet code was created using a series of short (dot) and long (dash) pulses.
Those dots and dashes spell out the word "family" on these delicate customizable bracelets, which you can choose from a dozen cord colors and more than two dozen bead color combinations.
The minimalist design of these bracelets mean they'll match a variety of outfits and fashion styles.
11. Personalized Memory Box
Sharing memories and reminiscing about the past can be some of the greatest moments we share with our families.
If you've collected items along the way, bundling them together to give to a family member that is moving or has moved away can make for an amazing gift.
Especially when they're housed in something sentimental, like this Personalized Memory Box from Dust & Things.
As well as being able to decide what's written on the top of the box, there are options to include message on the bottom and the inside. You can also choose from two sizes if you've held onto a lot of memories!

12. Travel Fund Money Box
Being apart can be tough and it can seem like the end is never in sight in terms of seeing them again.
Whether it's planning a vacation or to travel back home, a travel fund box can be a helpful way to set goals towards the next visit. You'll also find that it keeps you in closer contact, as you talk about travel plans and how much has been saved.
Let's not forget that seeing the money build up overtime can be a rewarding experience on it's own!
You have the choice of an atlas or vintage style map for your destination and black or white framing.
13. Gift Cash to Family Overseas With Wise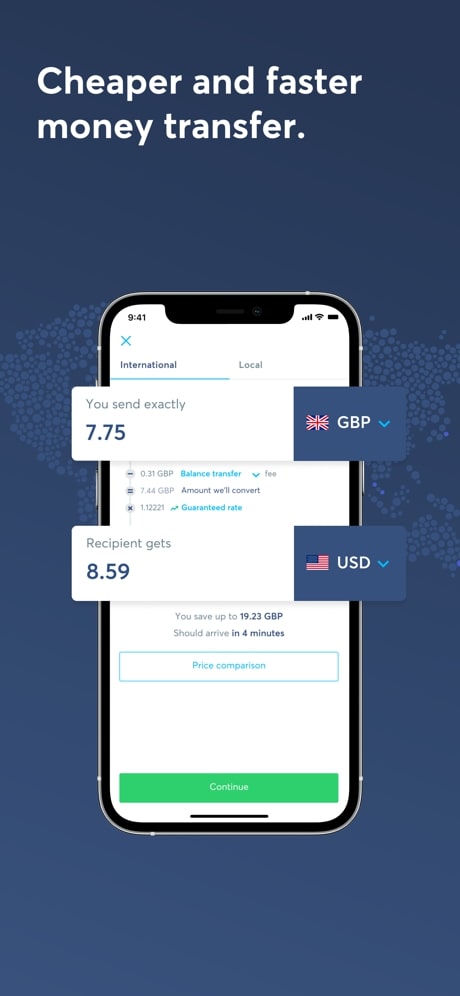 If like us, one or more of your family members lives in another country, you know how expensive money transfers can be. We use Wise rather than banks, which has saved us hundreds of dollars on overseas money transfers.
Banks can charge an average of $45 for international money transfers AND give you a poor rate on the currency conversion.
We like Wise because they use the real, current exchange rate and have super low fees to help you move money without feeling like you're being ripped off!
To note: If you need to send money ASAP, transfers using a debit or credit card can take as little as a few minutes. Transfers through bank accounts can take around three days.
14. Leather Bound Journal With Initials
There's something special about a classic-looking journal and this is a great option for family members who love to write or draw.
There are a ton of options available to for the perfect setup, they include:
180 pages using blank, lined, recipe template or waterproof paper
Embossing with up to four characters
We loved the addition of the leather wrap closure, which makes it look like a super unique piece.

15. My Family Cook Book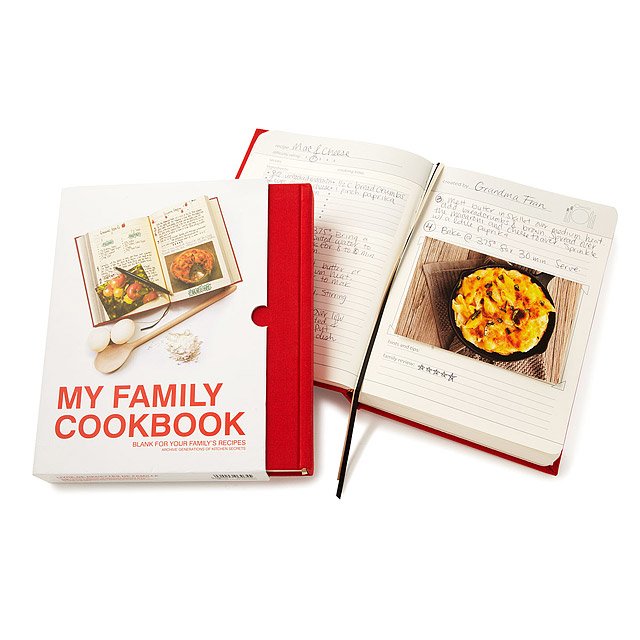 There is nothing quite like eating food from a family recipe that's been passed down from generation to generation.
Whether it's a college bound child that misses their parent's cooking, or for a grandparent who wants to pass on and immortalize on their recipes. This Family Cookbook is a fantastic way to store all the amazing recipes in one place.
The book itself is completely customizable and includes space for 80 recipes, areas for conversion tables, photo galleries and even a place for family members to review the recipes!
Just imagine how amazing it would be to look over your family's thoughts when it's handed down through the generations.
16. Handwritten Recipe Cutting Boards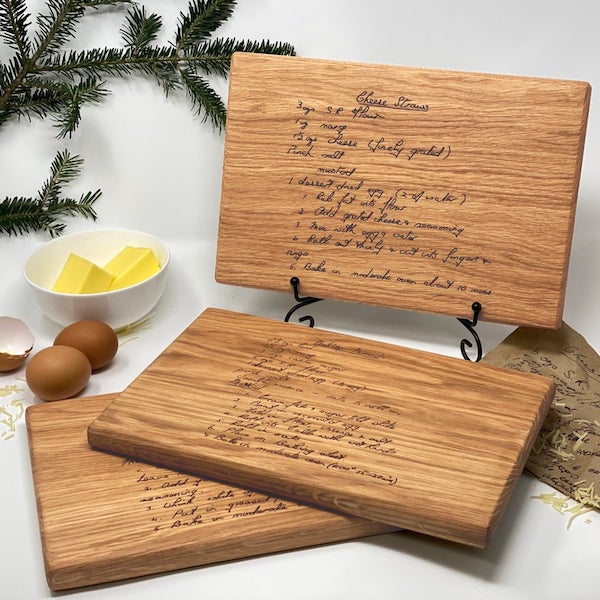 What better way could there be to hand down your favorite family recipes than with these Handwritten Recipe Cutting Boards?
Preserve the memories attached to the recipe itself by having the actual handwriting engraved onto a wood cutting board.
Whether it's a sloppy script or perfect penmanship, every detail of your most treasured recipes can be preserved forever and passed down.
Choose from oak, walnut, or cherry in one of three sizes, and include an image of the recipe you would like engraved on the cutting board. You can also purchase a stand, gift wrap, or other add-ons to further personalize your gift.
17. Family Album App
Rather than a gift for just one member of the family, this is something that you can give to everyone.
The Family Album app is the perfect way to keep everyone up to date on the latest pictures, videos and events.
This is a great option for family members who don't have social media accounts or that don't want to post photos of their children for example.
To note: There is also a premium option available. For a low monthly price you get amazing additional features.
Upload videos up to 10 minutes long rather than just 3 minutes
Free shipping on FamilyAlbum products
Custom groups for sharing with only certain people
View photos by child
Upload photos and videos from your computer rather a mobile device
18. Gift Stocks to Kids With EarlyBird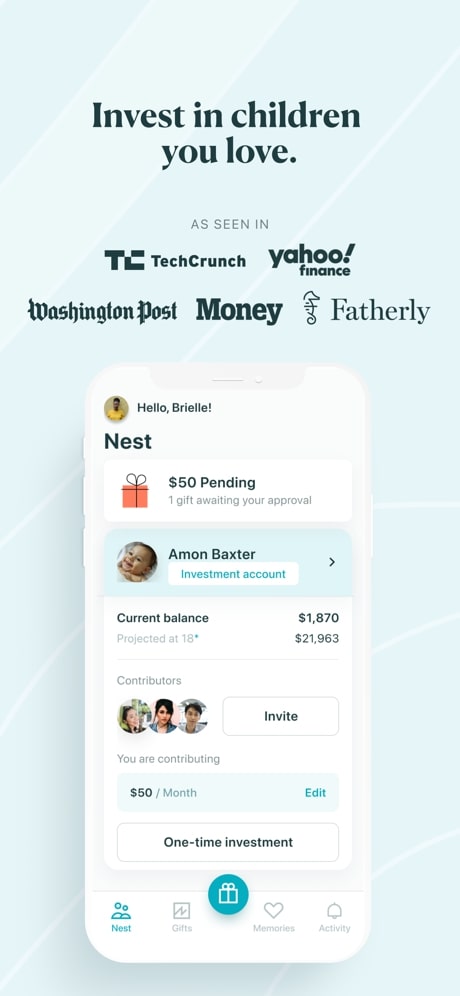 Wouldn't it be great if everyone could get together to invest in younger family members?
EarlyBird allows you to set up a custodial account for your children. Anybody in your family can add to your child's account at any time, and they can even add a message or short video with each gift.
When they become a legal adult, (18 or 21, depending on the state), they can access the money and use it for whatever they want: education, starting their own business, getting married, having a family – unlike a 529 Plan, the money doesn't have to be spent on school.
This app works well if you don't want to gift cash. It can also help teach younger generations about compound interest!
19. Table Topics Family Edition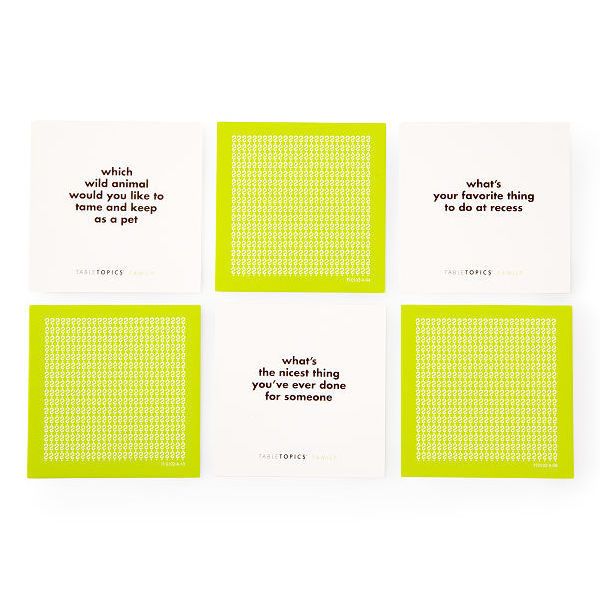 Does everybody tend to clam up when you get your whole family together? Whether it's a holiday dinner or a weekly video call, break the ice with Table Topics Family Edition.
Each cube contains 135 cards covering a variety of topics that are sure to spark interesting conversations.
Examples of some of the cards include:
"Which wild animal would you like to tame and keep as a pet?"
"What's your favorite thing to do at recess?"
"What's the nicest thing you've ever done for someone?"
20. Face Smash Family Photo Socks
Are you looking for a fun, unique way to keep your family with you everywhere you go? With Face Smash Family Photo Socks, you can do just that!
Just send in the photos of the faces you want to be used. You can include up to 12 faces, making them perfect for large and multigenerational families
Fab Swag will cut out just the faces and hair of each person in the photo and design these Face Smash Family Photo Socks with the heel and toe color of your choice.
The socks are available in 3 different sizes, so you can order a pair for everybody in your family.
21. Personalized Songs by Songlorious
Have you ever wished you could write a song for a family member, if only you knew how?
With Songlorious, you can collaborate with professional musicians to create a personalized song.
You get to choose the style and mood of the music as well as the gender of the vocalist. If there's a singer on the site you really like, you can ask for them, and they'll do it if they're available. If not, Songlorious will choose a singer who closely resembles them.
Then, tell Songlorious who the song is for and for what occasion. You can add in details like your favorite memories and your relationship story.
Within seven days you've got a completely original masterpiece!
What's really cool is that you can also purchase add-ons like a CD, vinyl, or teddy bear recording of the song!
The best part, it's actually more affordable than you might think.
Here's a super cool video of 'song reveals' by Songlorious customers.
Our Favorite Gifts For Long Distance Families
When it comes to buying long distance family gifts, we can't go past the range of Meta (Facebook) Portals.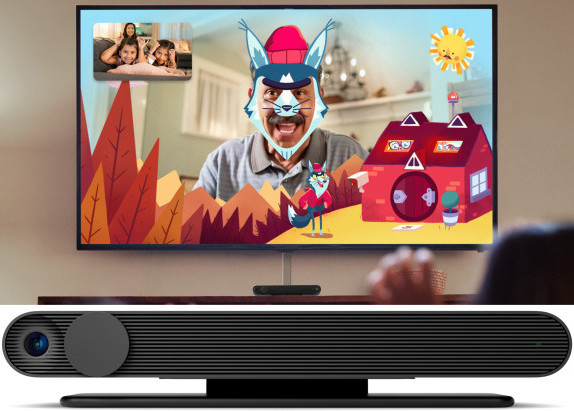 Communication is the lifeblood of a long distance family's ability to stay connected and Portal helps with this immensely.
They offer great options for all family members, no matter their age or how savvy they are with technology.
Which Gift(s) Will You Choose?
Which has been the gift idea you're most excited about? Are there any options you've come across that help connect long distance families? If so, let us know in the comments below!

---
Hi, we are Lolo (Canada) & Nate (Australia) a couple that had to go through all that a long distance relationship has to offer, just like you. With our experience and lessons learned we want to help you keep your long distance relationship as strong as ever and ultimately last the distance!