Our Long Distance Touch Bracelets Gift Guide
Our Top Pick
Bond Touch Bracelets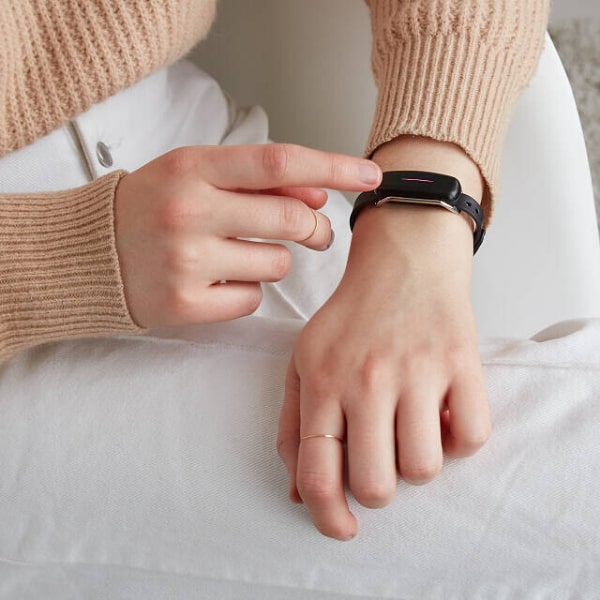 The first mainstream and most popular long distance touch bracelets in 2022.
Next Best
Totwoo Connected Bracelets
Most versatile connected bracelets with numerous design & style options up to 40% off!
All long distance couples will agree with this statement:
There is nothing better than the feeling you get when you're finally in each other's arms.
Unfortunately, the opposite is also true for the time you are apart.
We know how the distance can be overwhelming, especially when all you want is to feel their touch and to have them next to you.
In fact, studies have shown that touch is crucial for our emotional and physical well-being.
When you can't be with each other in person, long distance touch bracelets are the next best thing. Being able to virtually 'touch' your partner and letting them know they're in your thoughts, can help make the distance between you melt away.
How do touch bracelets work?
Touch bracelets connect to a mobile application via Bluetooth. When one person touches their bracelet, the application triggers the other bracelet to vibrate and/or light up (even squeeze, in the case of the Hey Bracelet).
As long as you're both near your phones with the application running in the background, the bracelets will work, no matter how far apart you are.
Pretty cool, right?!
With the positive impact a device like this can have on your connection and overall relationship, the decision of which long distance touch bracelets to purchase, shouldn't be taken lightly.
To help you make an informed decision, we've compared the best options available today.
QUICK NAVIGATION
The Best Long Distance Touch Bracelets in 2022
Couples Touch Bracelets by Totwoo
Those wanting a modern and stylish design will adore the latest innovation in long distance touch bracelets, the High End Smart Bracelets by Totwoo.
While these bracelets won't look out of place at a formal event, they're also the perfect option to be dressed down for daily wear.
The Always Sun & Moon couples set is not just our favorite option because of the simple yet timeless design, but also because of what it symbolizes for keeping long distance couples, friends and family members connected.
Which is perfectly reflected in thier quote:
You'll be the sun, I'll be the moon – just let your light come shining through' and when night comes, just like the moon, I'll shine the light, right back to you.
If black and rose gold isn't for you, no problem! Totwoo's Sun & Moon collection is also available in silver.
If the Sun & Moon designs aren't for you, that isn't a problem either! There are numerous amazing designs available, which we go into more detail here. Meaning you are sure to find an option that suits both your styles.
To take versatility a step further Totwoo also gives you the option of purchasing their DIY necklaces to house the charms.
How Totwoo Smart Bracelets Work
The Always collection of Totwoo connected bracelets work in a couple of cool ways. Tapping one bracelet will make the other light up in the color chosen through the Totwoo app. You can also use the app to send 'surprise messages', which can only be unlocked by touching the charm.
You can view a detailed demonstration here.
To note: Couples sets from Totwoo's Always collection don't vibrate, they only light up. There are options that also vibrate but are not waterproof and don't have as many styles.
Totwoo Bracelet Setup Process
After downloading the Totwoo App, both of you will need to add your phone number to receive an authentication code to activate your account.
Once you've accepted the various permission requests (bluetooth, camera, microphone, contacts etc) you will then be prompted to connect your bracelet in the 'LOVE' dashboard of the app. This dashboard displays every product, making it easy to know which option to select.
Once synced and paired to your own devices you can then connect to each other. Both of you will be prompted to add one another through your mobile contacts lists. Select each other's numbers and Totwoo's servers will connect your bracelets!
Here's their detailed pairing instructions.
Totwoo App Features
We love that the Totwoo has integrated some very unique features into their app:
Speaking of friendship lamps: Check out our post comparing the best long distance touch lamps that help to melt away the miles.
Style & Color Options
This is where Totwoo really stands out. With so many designs and styles to choose from you are sure to find an option that will suit you and your partner. General options include:
Finishes: Black, gold, rose gold and silver.
Faceplate designs: Sun, moon, mountain, wave, heart, lock, key, star and smile.
Bracelets: Snake chain, leather, Milan rope, bangle and Figaro (thick).
To note: Not all options are interchangeable, meaning specific designs have different customization options. Here are a few examples we love!
Totwoo Specs
Materials: Stainless steel, Plastic, AAA Grade Cubic Zirconias
Charm dimensions: L 0.73″ x W 0.73″ x H 0.34″
Band length: 5.9″ to 8.9"
Battery life: 15 to 30 days (battery)
Waterproof: Yes
Warranty: 1 year
What we like & what could be better
Ability to send surprise messages that can only be opened in the app by touching the charm.
High-end design, premium materials AND many style options makes them so versatile.
Option to purchase a necklace chain is a great idea.
Not all charms light up AND vibrate. Their best options only light up.
Would prefer a charging option over having to change batteries every month (even if you receive five replacements with your purchase).
The app could be a lot more robust.
The team at Totwoo are running various sales (up to 40% off, last checked 27th September 2022) on some of their touch bracelet couples sets. Visit their official website to find out more.
Long Distance Touch Bracelets by Bond Touch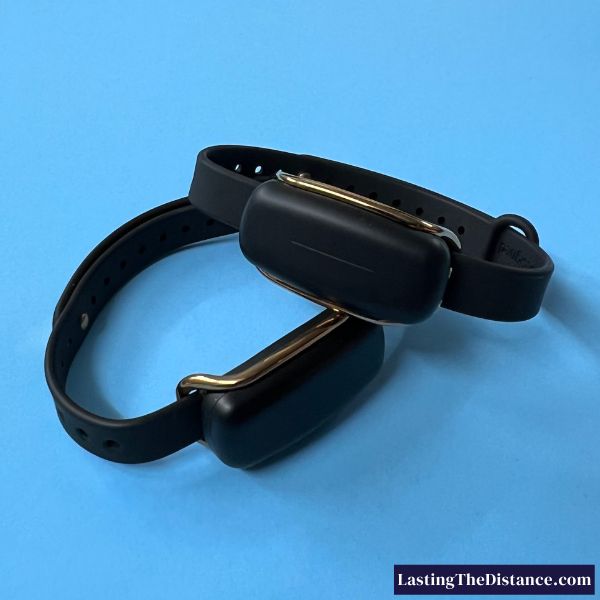 The Touch Bracelets for Couples by Bond Touch are the most popular option that are currently available on the market.
Why? We hear you asking 🙂
Since their launch a few years ago, the team at Bond Touch have made continuous improvements to their bracelets, including:
Waterproofing
Faster charging times
Better battery life, and
A feature rich mobile app
In fact, they've done such a great job, their bracelets have been spotted on the wrists of celebrities like Shawn Mendes and Camila Cabello! (without endorsement)
There's also several different band color options that will match just about anybody's style. The bands themselves are affordable enough that you could buy multiple colors and match your Bond Touch to different outfits!
How Bond Touch Bracelets Work
Tapping on the charm of one bracelet causes the other to vibrate and light up. The color it lights up in can be chosen through the Bond Touch app. You can tap the bracelet up to ten times to send unique touch messages. For example, three taps could mean "I love you" and four taps "I miss you".
Bond Touch Setup Process
The Bond Touch has a quick and easy-to-follow process to connect each bracelet. This is possible because their app does most of the heavy lifting.
Within the app, you'll set up your profile and be asked to select which color you want your partner's bracelet to light up with (when sending touches). Once this is complete, the app will then search for your bracelet's Bluetooth signal to pair with your phone.
When both profiles are set up, to connect both bracelets, all you'll need to do is add each other's area code (zip/post code) and phone number. Then you can start sending touches!
Bond Touch App Features
The app has been well thought out to keep you connected to your partner with several great features.
You can see each other's location, time, and weather with a quick glance, keeping you up to date on the little things.
The app tracks and saves past touches, allowing you to replay them and reminisce.
Next Encounter is a cool feature that lets you insert the date you will next be together, then visualises it as a countdown timer.
With encrypted chat, you get a private space that's just for you and your partner to share messages, pictures, and more.
Style & Color Options
Each Bond Touch comes with a standard black band, but you have the option to purchase other colors like: twilight blue, emerald green, ghost white, ruby red, pacific green, gray stone, and pink sand.
Bond Touch Specs
Materials: Stainless steel, TPU, #7 Plastic
Charm dimensions: L 1.45" x W 0.78" x H 0.59"
Band length: 9.5"
Battery life: 4 days
Waterproof: Yes
Warranty: 1 year
What we like & what could be better
The setup and pairing process is super simple.
They're the only option that's waterproof (to 1 m/3 ft).
Eight different band colors gives you a lot of choice.
While it's understandable that you can't send touches if "do not disturb" is active. It's also the case when "low power mode" is turned on.
Connected Bracelets by Hey Bracelet
NOTICE: Due to the recent manufacturing and global shipping issues, Totwoo and Bond Touch bracelets are currently the only options in stock.
Rather than vibrating, the Long Distance Touch Bracelets by Hey Bracelet incorporates a motor and some unique tech, known as haptic feedback, that produces a light squeeze around your wrist. Creating the sensation of your partner touching and holding your wrist with their thumb and forefinger.
Available in black or white, the modern design incorporates a repeating "H" pattern, which gives it a high-fashion look and feel. While these bracelets aren't waterproof, they are weatherproof, so you don't need to panic if you get caught in the rain.
It's worth noting that House of Haptics, which makes the Hey Bracelet, plans on releasing new products like necklaces in the future.
How Hey Bracelets Work
Sensors on the bracelet detect touches, and send them to the app via Bluetooth, which sends a notification to the other phone. When a Hey Bracelet receives a notification, a small motor pulls part of the wristband into the casing producing the gentle squeeze.
Hey Bracelet Setup Process
After downloading the Hey Bracelet App and creating a profile, the app is prompted to find the bracelet's Bluetooth signal. Unlike other apps, connecting the bracelets is as simple as one of you sending an email invitation to the other.
Hey Bracelet App
The Hey Bracelet App's main function is to help pair the devices.
While it doesn't have any chat capabilities, it does visualize a timeline to keep track of sent and received touches and the locations they came from.
You can also send touches directly from the app, which is great if you want to let your partner know you're thinking about them, but your bracelet's battery is empty!
Style & Color Options
There are currently only two options available, but each use classic colors that will complement most wardrobes. You can choose from either white with rose gold accents or black with anthracite. House of Haptics has mentioned that they are planning to release more bracelet colors in the future.
Hey Bracelet Specs
Materials: ABS plastic, silicon
Charm dimensions: L 2.17" x W 0.79" x H 0.55"
Band length: 9.25"
Battery life: 3 days
Waterproof: No
Warranty: 1 year
What we like & what could be better
The gentle squeeze technology makes it a unique device.
Customers have said the squeeze feels more like a touch than vibrations do.
OUT OF STOCK 🙁
The app has received reviews that report connectivity issues.
Currently doesn't ship worldwide (USA, Canada and Europe).
Hey Bracelet vs Bond Touch & Totwoo Comparison
When comparing Hey Bracelet vs Bond Touch and Totwoo we can see many similarities but there are a few features and benefits worth highlighting.
| | Hey Bracelet | Bond Touch | Totwoo |
| --- | --- | --- | --- |
| Sold out? | Sold out | IN STOCK | IN STOCK |
| Style options | 2 | 10 | 30+ |
| Charm length | 2.17" | 1.45" | 0.73″ |
| Charm width | 0.79" | 0.78" | 0.73″ |
| Charm height | 0.55" | 0.59" | 0.34″ |
| Band length | 9.25" | 9.5" | 8.9" |
| Battery life | 3 days | 4 days | 15 days |
| Full charge | 2hrs | 3-4hrs | Battery |
| iOS | 8 ↑ | 10.3 ↑ | 9 ↑ |
| Android | 7 ↑ | 5.0 ↑ | 5.1 ↑ |
| Waterproof | No | Yes | Yes |
| Warranty | 1 year | 1 year | 1 year |
| Returns | Unopen | 14 days | 14 days |
| Ship separate | No | Yes | Yes |
| Pricing | $$ | $$$ | $$$ |
When comparing Hey Bracelet vs Bond Touch and Totwoo we can see many similarities but there are a few features and benefits worth highlighting.
Bond Touch bracelets offer separate shipping, so you can save money by sending one of the bracelets directly to the other recipient.
Totwoo also offers separate shipping but not for every couples set. What stands out is their battery life (15 to 30 days depending on usage), which is four to eight times longer than any other.
Hey Bracelets will work with older model smartphones that may not be able to update to the latest OS software.
Our Favorite Long Distance Touch Bracelets
While all three options are bound to have a positive impact on your relationship, there are a few reasons why we can't avoid Bond Touch when it comes to selecting our favorite long distance touch bracelets.
To note: The recent manufacturing and global shipping issues that have caused options (like Hey Bracelet) to be sold out have not impacted our recommendation. Bond Touch bracelets have always been our top choice for the reasons below and many more.
Not only is the Bond Touch the most affordable option (with stock availability), it also has the most feature rich app when comparing all three.
The Bond Touch App creates your own little universe and does the work of multiple apps in one.
Having the ability to ship both bracelets separately saves you time and money.
It's the OG touch bracelet. The company continues to update their products, and it's received amazing reviews.
Which Touch Bracelets Will You Choose?
While we love the touch bracelets for couples from Bond Touch, which bracelets caught your eye?
If you do purchase one option, don't forget to come back and let us know about your experience and how you use them!
If you aren't feeling any of these touch bracelets but want to stay connected from afar, these friendship lamps might just be what you're looking for!
Our

FREE

7 day LDR challenge is BACK!
Unlock better date nights, deeper communication plus a stronger intimate & emotional connection.
SECURE YOUR SPOT!
---
Hi, we are Lolo (Canada) & Nate (Australia) a couple that had to go through all that a long distance relationship has to offer, just like you. With our experience and lessons learned we want to help you keep your long distance relationship as strong as ever and ultimately last the distance!