Being able to connect and communicate is a struggle at the best of times for a long distance relationship. Different time zones add another level of (unwanted) complexity.
Finding and spending quality time with each other is crucial for relationship success.
But, when you can't it can riddle you with uncertainty, frustration, and loneliness.
While you might want to have a long romantic video chat before bed. You need patience and understanding to keep in mind that your partner is 'living' a different part of the day or night.
That can be challenging! So, what can you do to make it easier?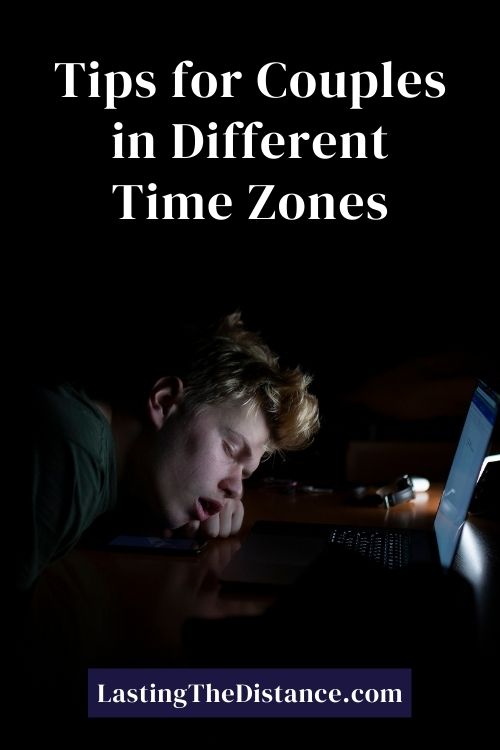 It's time to acknowledge and embrace these obstacles to come out on top! Here are some tried-and-tested tips for coping with different time zones.
How To Deal With Time Difference In A Long Distance Relationship
1. Make It Routine
They say routine can be the death of romance, but it can be a saving grace for couples in long distance relationships.
When you live in a different time zone than someone you love, routine becomes even more important, because the chances diminish that you'll catch them with a quick, spontaneous phone call.
Scheduling your calls in advance can also take some of the stress and distraction out of the relationship—you'll spend less time during the day wondering if and when you're going to talk to each other. And if one of you can't make it at the scheduled time, you know when you'll probably talk next.
So if you're living in different time zones, embrace predictability and schedule some calls in advance. If you aim for at least one long distance "date" every weekend and one longer call mid-week (if that can work), this can take some of the pressure off and prevent you from feeling like you need to try to talk every single day.
2. Find The Rhythm
Are you a morning person or a night owl? What is your work or study schedule? When do you spend long periods commuting, or have regular evenings or mornings free at home?
When you're in a long distance relationship across time zones, figure out when you tend to be most awake, alert, and able to be present for long distance dates. Take that into account when you're planning out times to connect.
I was living in Los Angeles when my husband and I were first dating. He lived in Papua New Guinea. He was 18 hours ahead of me, and a morning person, so sometimes we would be able to grab an hour-long Skype date around my lunchtime and his early-morning time.
3. Spring Sweet Surprises On Them
Planning, scheduling, and trying to find the rhythm that works best for both of you is great, and sensible.
But sometimes you need to throw "sensible" out the window, stretch a bit out of your comfort zone, and break out of that routine.
So, surprise them sometimes.
Set the alarm on your phone to wake you up at just the right time to wish them an unexpected good morning or good night. Record a sleepy midnight video message and send it to them. Or send a "straight to voicemail" message to their phone that will be there when they wake up in the morning.
What other ways could you surprise your long distance love?
4. Utilize Apps As Much As Possible
I took forever to buy a Smartphone.
Yes, seriously. For several years I used a little $20 Nokia phone. Then I decided to upgrade and, hello… straight to the iPhone.
I know you're all way ahead of me on this, but the apps you can incorporate into your long distance relationships nowadays are amazing. I don't know if Mike and I would ever have gotten together without email and free video calling, so take advantage of today's tech to build that love!
Here are some of my favorite tech-tips for those of us in a long distance relationship with time difference.
5. World Clock-Time Zones
Maybe, like my husband, you can keep multiple time zones in your head and do those scheduling conversions with ease. Maybe, like me, you're constantly trying to remember what time it is in Washington DC and using your fingers to figure out the math.
If you're anything like me, this app will help you.
6. Get Free Text Alternatives
Texting internationally gets expensive fast! Get and use a free text and message alternative like Whatsapp, Viber, or Facebook Messenger.
7. Can't talk? Send Pictures & Videos
The ability to easily send video messages back and forth can be especially useful for couples in different time zones.
There are a bunch of different apps you can check out on this front.
Glide bills itself as the fastest live video message system on the planet.
Viber also lets you send video messages as well as being a free messaging and calling app.
However, I generally recommend Whatsapp. It's been around the longest, has a clean and simple interface, and let's you send videos, pictures and more.
8. Go Straight To Voicemail
Figure out how to go straight to voicemail so you can leave them a voice message at any time of day or night without worrying that you're disturbing them. Then they'll have a treat to listen to when it's convenient.
Here's an article on three ways to go straight to voicemail (although the VoiceDrop App doesn't seem to exist anymore, you might want to try the SlyDial App).
Alternatively, you could just use the microphone feature in iMessage and Messenger to send voice messages.
9. Get Visual
Sending photos throughout the day is awesome, but it can be even more fun over time to make a visual "diary" or collage that you both contribute to.
For example, you could set up a private Instagram account where only the two of you know the password. That way, you have an ever-growing record of your daily lives and a portfolio of nostalgia-inducing snapshots that you can both enjoy repeatedly.
Think very carefully before you post anything too risqué here, (revenge porn is real, folks), but if you decide to take off any clothes make extra sure to double-check the privacy settings.
10. Give Couple App a Try
Couple App aims to be the best of all the worlds we've been talking about. It has private audio, video (only if you're both using an iPhone), photo, to-do lists, drawing and games.
You can keep a private timeline of your special moments, draw together with LiveSketch, or interact in real-time with Thumbkiss (which sounds corny, but is actually heart-warming and cute in action).
You can also send private "Secret photos" which disappear after a certain amount of time (if you really want to take your clothes off, this is probably the way to go.)
11. Practice Patience
OK, I know this sounds like the most boring tip in the world, but all this insta-tech can made us addicted to insta-contact. We can start to feel insecure and uneasy when we don't get a quick reply to an email, message, or text.
Especially when you're in a long distance relationship across different time zones, do not get sucked into the trap of expecting instantaneous responses to texts and messages.
Try to assume that the other person will not be able to get back to you straight away. Do not become a tech addict. Intentionally practice an independent sort of patience.
12. Send Letters, Postcards, Cards, Gifts, or Care Packages
OK, so technology is amazing, especially when you're in a long distance relationship across time zones. However, you should be looking for several different "touch points" to help you stay connected across the miles. So don't forget to go all old-school and low-tech sometimes.
Sending letters, postcards, cards, gifts or care packages takes time, but that's part of what makes them so special and heart-warming.
Try to send something physical, tangible, and thoughtful at least once a month. Twice is better.
13. Be Flexible
These tips and tricks are all good, but remember to be flexible, too.
For example, when you're trying to set a routine, sometimes the best time for the two of you to talk is also the best time for one of you to be hanging out with friends or family and investing in other relationships. If that's the case, don't plan to talk every single week at that time.
And it's all well and good to want to talk at a time that suits your daily rhythm best, but sometimes that's just not going to work. So be prepared to stretch out of your comfort zone and/or ditch the routine when one of you really needs to connect in a different way or a different time.
How Will You Deal With Time Difference In Your Long Distance Relationship?
The most important piece of advice we can give you is to pick one method at a time and see how it impacts the amount of time you're able to spend together.
Start by figuring out when you're both free and lock in a time. From there, setting up a routine will become super easy.
Have questions? Join our free LDR Support Group and get thoughtful advice from other long distance couples that have gone through similar experiences.
---
Lisa McKay is an award-winning
author
and
psychologist
. She is also the founder of Modern Love Long Distance, now a part of Lasting The Distance. Drawing upon her own extensive experience with long distance relationships, Lisa helps couples navigate LDR pitfalls and forge meaningful, enduring connections across the miles.
Our

FREE

7 day LDR challenge is BACK!
Unlock better date nights, deeper communication plus a stronger intimate & emotional connection.
SECURE YOUR SPOT!