Ok, some of these long distance Valentine's Day gifts are a little cheesy. But maybe that's what it's all about?!
Well, that cheesy holiday is creeping up FAST.
Do you know what you're going to get them? Or maybe you're wondering if you should celebrate this 'commercial invention' at all?
We think long distance couples shouldn't pass up an opportunity to say "I love you" on a day when so many other couples will be showering each other with love.
To help, here's our comprehensive list of Valentine's Day gifts for long distance relationships. Let's get cracking!
Love them? Tell them why with these long distance Valentine's Day gifts
Most of us appreciate thoughtful words of love and encouragement just as much (or more) than physical presents. So this Valentine's Day, why not spend some time telling your partner what makes them so special?
There are so many ways to do this…
If you're on a budget, get creative. Perhaps make a list of reasons you love them and things you admire about them using the alphabet. For A, you might write "you Appreciate other people", etc.
Or collect some of your favorite quotes for them and make some Open When letters.
You can totally do this yourself. Write these things on plain paper or note cards. Or jazz it up a bit with glitter, stickers, and fancy stationary. Get them together, mail them on time, and you have an awesome Valentine's Day love-bomb package headed their way.
But if you're looking for something more polished, check out Valentine's Day gifts by KindNotes.
You pick between a glass jar and tin box and customize the color and design of the filling, envelopes, and ribbon. You can select your messages from their library or order this gift with blank cards so you can handwrite love notes yourself.
Or, you could Create Your Own Personal Love Story with LoveBookOnline.
Totally customizable, these books let you list all the reasons why you love someone and illustrate your words with casually cute stick figures. No Matter The Distance This Gift Will Bring You Closer Together.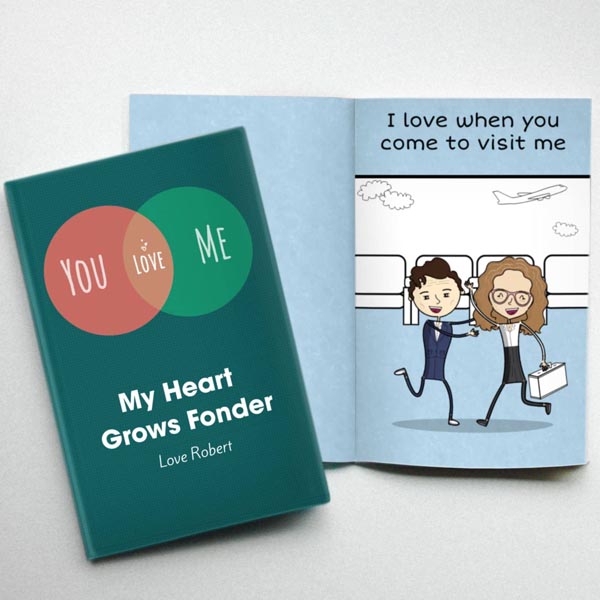 You could also use Post-It notes to deliver a lovely surprise based on this idea. Enlist the help of a colleague or roommate.
After you've filled out a stack of notes, send these Post-It notes to your accomplice and ask him or her to plant them around your love's office or dorm room for them to find on a special day.
Make them a Valentine's Day video
If you're more of a talker than a writer, you could always use your cell phone to record a video to tell them how much they mean to you. Some things you could talk about are:
What's the first thing you remember noticing about them?
What are two things you really love about them?
What are two things you really respect and admire about them?
What's something they're really good at?
What's reminded them of you this week/When have you really missed them this week?
How would you like to be celebrating this day if you were together?
What do you hope for them today and this week?
If you really want to go all out you could also contact 5-10 of their close friends and ask them to make a short 30 second-2 minute video talking about something they really appreciate and admire about your partner.
Put those videos all together in a giant "we love you" montage and I guarantee you've come up with a gift they will never forget.
Make them a Valentine's Day gift
Did you know that remembering the good times you've had makes you happier in life?
If you've been together a while you probably have You probably have hundreds, maybe thousands of digital photos of the two of you smiling and smooching and doing fun things. Why not pull some of these together to create a highlights reel of happy memories?
You can do this the old-fashioned way–with a blank notebook, a bunch of photos, and a glue-stick.
Or you can save some time and check out Custom Photo Books at Mixbook.
MixBook allows you to create classy photo books and other gifts (calendars, cards etc) quickly and easily. They can also print your photos onto canvas and stretch them for easy hanging.
You can do this digitally. Create a slideshow that tells the story of your relationship and showcases some of your highlights. Set it to music, load it up, and you've got something you can both watch again and again.
Pro tip: If you need some inspiration here's a slideshow I made for my husband for our anniversary. We lived in Laos for most of that time, hence all those images with temples, waterfalls, and elephants in them.
Celebrate Valentine's Day through song
How about making them a playlist? (Yes, this is the new and improved version of, "make them a mixed tape.")
Music has an incredibly powerful influence on emotions and mood. It can lift us up, pump us up, calm us down, or give voice to our pain and longing. So pick music you think your love will enjoy (or music that says things you want to say) and send it to them.
If you have blank CDs lying around, you could burn them a CD to play during their commute or while they're making dinner at the end of a long day.
Or, you could make them a modern mixtape that has all the old-fashioned romantic glamour of the old-school ones! This creative retro cassette flash drive gives you that throw-back feel AND lets you load up to 2000 songs!!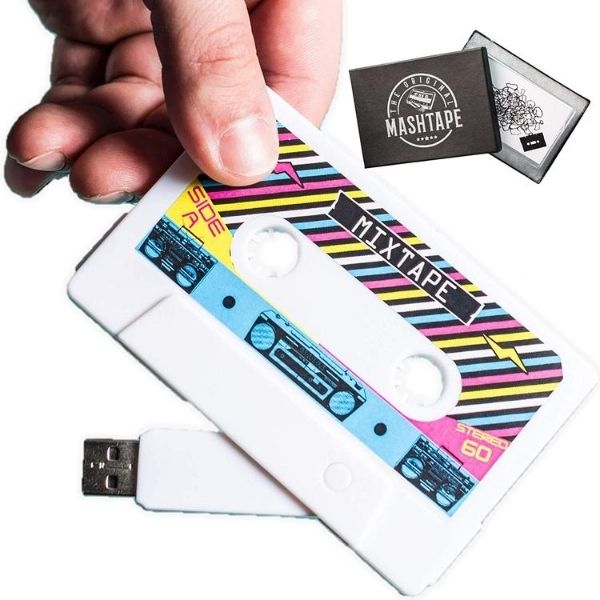 Give them sweet treats
Valentine's Day is traditionally all about flowers and chocolates, so we really shouldn't neglect the basics in this list.
You have plenty of options when it comes to shipping flowers, but I recommend Flowers Fast. There is a wonderful love story behind these family-farmed roses, as well.
And as for treats that taste sweet, one of my favorites is jazzing up Hershey Kisses with red heart stickers. You can pick up red heart stickers in any dollar store.
Give them the greatest gift of all
Flowers and chocolates are lovely, but they pale in comparison to a gift that truly says "I really want to learn more about you and for us to grow closer."
In my opinion one of the greatest long distance Valentine's Day gift is the message that you're looking to the future and want to build a closer relationship—that you want to give them your time and attention.
We've got just the thing for this!
LDRs THAT WORK will help you and your partner learn how to solve the biggest problems causing long distance relationships to fail. So you can create a strong, loving and fulfilling relationship from afar that leads to achieving the ultimate goal of closing the distance and living 'happily ever after'.
You'll get 11 in-depth lessons with 29 worksheets that will help you and your partner build the crucial habits needed for your long distance relationship to succeed.
Give them something unique
If you're a huge fan of giving a gift you actually have to wrap up, here are a couple of my favorites…
This unique necklace is made using your fingerprint instead of numbers to "mark the spot".
The sterling silver (or gold or rose gold) bar necklace is engraved with your personal fingerprint. Can't get much more of a personal touch than that!
There are a lot of lame pillowcases and mugs out there, but I actually like this pillow…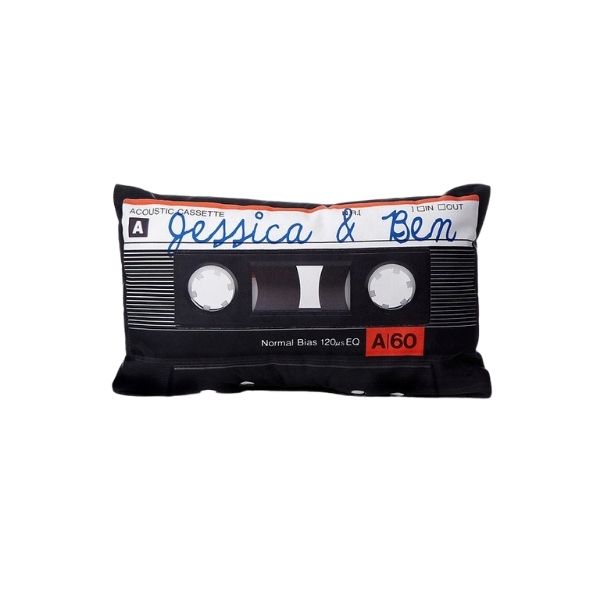 And these mugs…
Also, who doesn't love warm, snuggly blankets? This is perfect for keeping your favorite certain someone warm and cozy even on the coldest of evenings, and the message will warm their heart at the same time.
Finally, put your thinking cap on and simply get them something you know they'll love or use. Think beyond traditionally romantic gifts. How about a fitbit? A portable speaker so they can take tunes anywhere? A panda planner to help bring positivity to everyday life? The possibilities are endless.
Help them do something
We all know that money can't buy happiness, but if can buy experiences. And it turns out that experiences can bring and build happiness. So if you want to make your loved one happy (and who doesn't) my final suggestion is give them an experience.
Either book them an experience where they live that they can do alone—a massage, a pottery making class, a wine-tasting evening (though you might want to line up friends to go along on this one, because who wants to go wine tasting alone? No one.)
Or, book an experience the two of you can do together when you next see each other. Go for adventure and novelty on this one. Is there an amazing restaurant you'd like to try? What about parasailing or hot-air ballooning? Research fun tourist things to do and plan to build your bond by doing something fun together for once.
Which Long Distance Valentine's Day Gifts Will You Choose?
If you're still struggling to find the right gift, check out our article that covers a wide range of long distance gifts for multiple occasions.
Remember that it's not all just about how much you spend, it's more about how much effort you put in to expressing your love. If money is tight, check out our list of free Valentine's Day gift options.
---
Lisa McKay is an award-winning
author
and
psychologist
. She is also the founder of Modern Love Long Distance, now a part of Lasting The Distance. Drawing upon her own extensive experience with long distance relationships, Lisa helps couples navigate LDR pitfalls and forge meaningful, enduring connections across the miles.
Our

FREE

7 day LDR challenge is BACK!
Unlock better date nights, deeper communication plus a stronger intimate & emotional connection.
SECURE YOUR SPOT!