This in-depth Lovense Edge 2 Review is by Lucas Knight, our Male Sexual Health & Long Distance Intimacy Contributor.
We're going to do things a little differently when it comes to our review of the Lovense Edge 2.
Rather than just talk about the product, we're giving you a complete 'before, during and after' breakdown. From purchase process and unboxing through to using the device (with over two years of updates). Plus our final verdict.
We've split up each section so you can choose to read everything or skip to the parts that matter most to you.
If you're in a rush, here's our TL;DR review.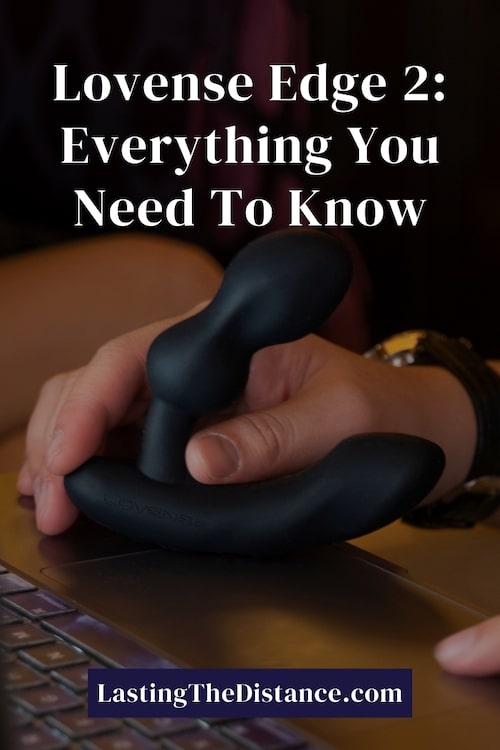 Our TL;DR Lovense Edge 2 Customer Review
4.5 out of 5 stars. For $99, the Lovense Edge 2 is a great update to the original. It has better battery life, standby time and a safer magnetic charging port. Beginners & intermediate users will enjoy the slightly smaller max diameter (from 1.41 to 1.38 inches) and how easy it is to connect and control using the Lovense Remote app.
Edge 2 pros & cons
Pros:
Ability to control internal and external vibrating motors separately.
Easy to adjust the flexible neck for maximum P-spot contact.
App is simple to use, especially long distance control options.
Cons:
External vibrating motor can get quite loud at max levels.
Highest vibration settings are only for experienced users.
Connection can drop out if your phone is not close by.
QUICK NAVIGATION
Lovense Edge 2 Purchase, Delivery & Setup
Most of you know what you're looking for, that's why you're here! But before jumping in we want to quickly touch on how the Lovense Edge 2 works for those who may have stumbled across our review.
How the Lovense Edge 2 works
The Edge 2 is a next generation remote controlled vibrating prostate massager from the team at Lovense. It utilizes dual vibrating motors in the main arm and base of the device to simultaneously stimulate the prostate and perineum, which can enhance overall pleasure and produce powerful orgasms. You or a long distance partner can control the vibration intensity and patterns via the Lovense Remote App.
If this has peaked your interest, let's keep moving!
The Purchase Process
Lovense.com is very easy to navigate and while I know the checkout and payment process is secure it also looks and feels secure. I didn't have any hesitations when it came to hitting the buy button.
I received all the necessary successful purchase emails, but the most important email that was sent was for the shipment tracking number.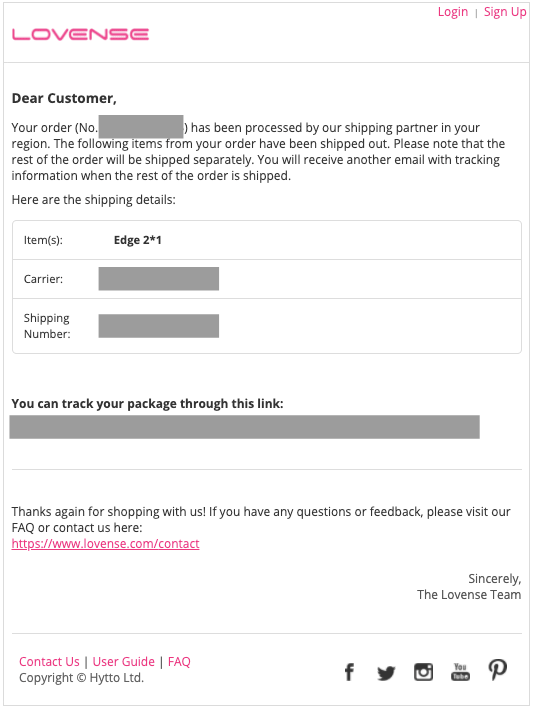 You can also track the shipment through your account dashboard, which is under the tab 'My Orders'.
This made it super easy to keep tabs on the delivery and within a few days it was at my front door.
The Unboxing
Not all adult toy manufacturers provide discreet packaging. So it was nice to see Lovense living up to their promise with a boring cardboard enclosure.
Perfect!
Removing the cardboard revealed the clean, shrink-wrapped Lovense Edge 2 box.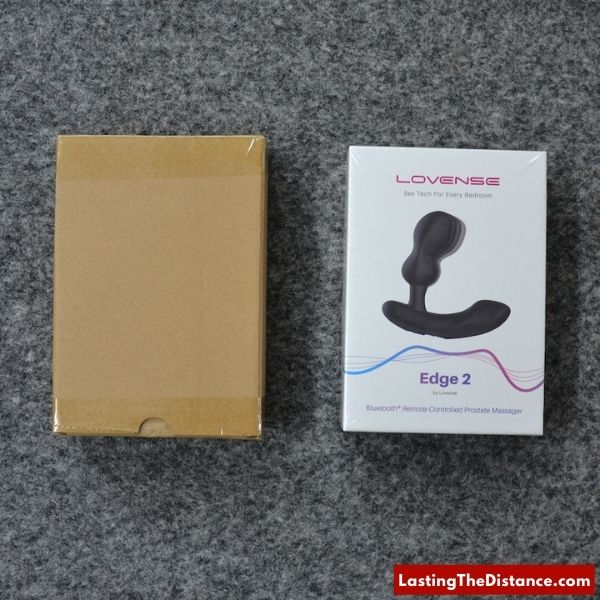 Upon opening you're met with the sleek looking Edge 2. Everything else has been tucked away nicely, creating a cool unboxing experience.
Along with the Edge 2, you also get:
User manual
Quick setup guide
Magnetic USB charging cable, and
Storage pouch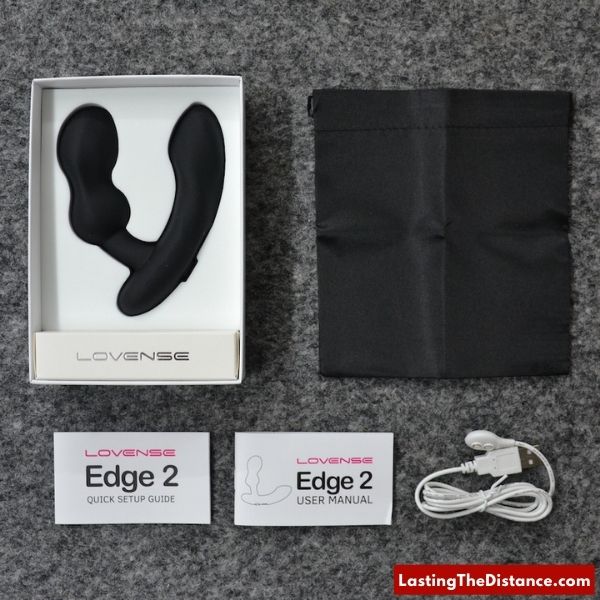 One item I would have liked to see included is a single-use packet of lubricant. Especially for beginners who may not have any on-hand.
I recommend adding Lovense's water-based lubricant to your cart.
Something the original Edge didn't have was a storage pouch. It's a great addition and also made me wonder "what else has changed?".
Differences Between Lovense Edge vs Edge 2
The main difference between the Lovense Edge and Edge 2 is that the Edge has a larger insertable width of 1.41 inches compared to 1.38 inches on the Edge 2. Making the new model a better experience for beginners.
Original Lovense Edge Dimensions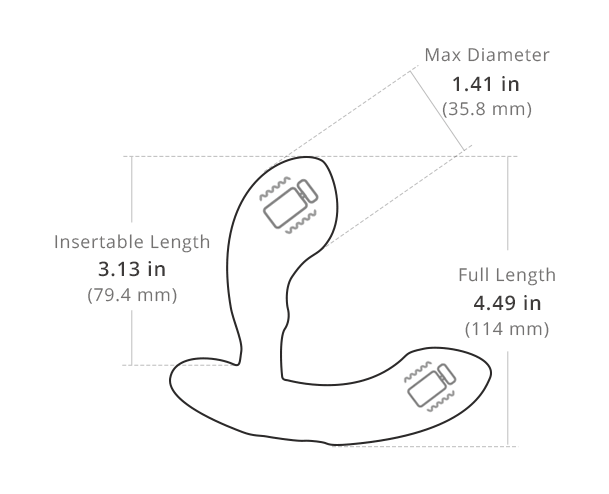 Lovense Edge 2 Dimensions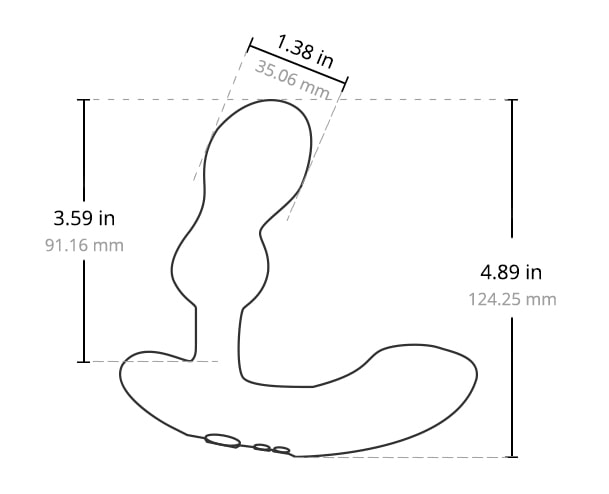 Other differences include:
Some users of the original Lovense Edge mentioned that the connection would drop out. The antenna position has moved to produce a better signal and stronger connection.
A second 'bulb' has been included in the new design to better hold it's position when in use.
The magnetic charging port brings the Edge 2 into the 21st century while also improving waterproofing.
Overall, these are great improvements. Now it's time to give it a test drive!
How To Use Your Lovense Edge 2
Before getting started I did two things, and you should too:
Give your Lovense Edge 2 a light clean: Why? Although it's just come out of the box, I did it more for peace of mind. We'll go over cleaning tips at the end, but this makes you look over every angle to make sure there are no tears in the silicon or other issues.
Test turning it on: I wanted to make sure it was working. If yours doesn't turn on, it's ok, the next step is to charge it fully and then test it again.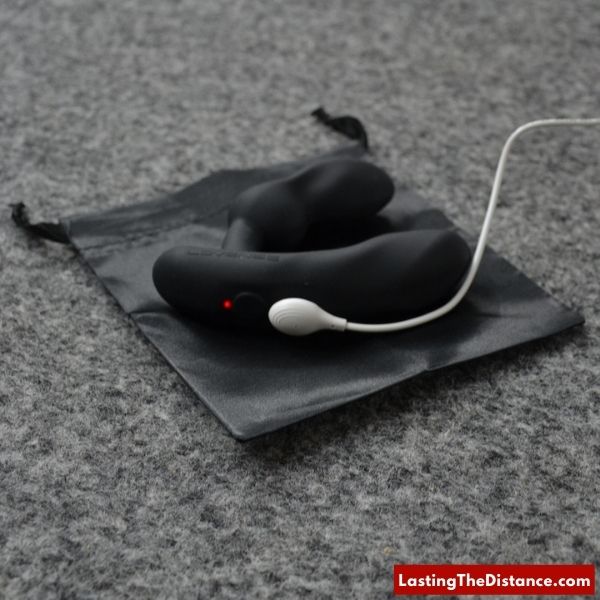 The user guide says it should take 100 minutes but I gave it two hours just to make sure. The red charging light was off so I knew it was ready to go!
What's really cool is that there's also a battery indicator within the app. Speaking of the app, here's the connection process we followed.
Connecting Edge 2 to your phone
You can download the Lovense Remote App here.
To be honest, I was expecting the connection instructions to be vague and end up having to lean on the Reddit community.
I'm glad I was wrong.
Lovense's step-by-step process for connecting the Edge 2 to your phone is easy to follow.
The only issue I had was that my phone didn't initially find the Edge 2.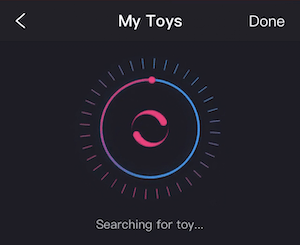 After a minute I closed/reopened the app and device. Then the connection was successful.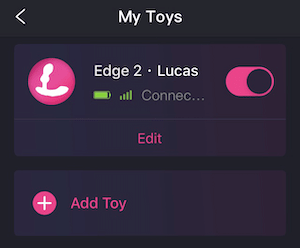 I'd say this was on my end and something that won't occur all the time.
How to let someone control your Lovense Edge 2
For those of us in long distance relationships who want their partner to control the fun, the process is different but just as easy to set up by following Lovense's guide.
I originally connected my device without creating an account but to use long distance control you will need to set one up and so will your partner.
With the account set up and Edge 2 paired I sent a 'friend request' to my partner's account. Once accepted I could then see their profile!
From there they sent a 'Live Control' request to remotely control the device. They can also use the included patterns, their voice, synced music and even preset alarms.
TIP: When it comes to partner control, it's important to be open about what you do and don't like. Especially for beginners, the best advice is to take it slow and start with low vibration modes and simple patterns. Giving your partner free rein might put you off altogether!
If you are having issues connecting, Lovense has a troubleshooting guide, or you can contact their support team directly.
Now that we're connected it's time for the fun to begin.
How to insert Lovense Edge 2 properly
For those new to prostate massagers it's important to relax or the fun is going to stop right there. Massaging can help, which will also make it easier to find your P-spot.
When it comes to applying water-based lubricant, don't be shy! Use a generous amount on yourself and the device. Over time you'll figure out the necessary amount.
Following Lovense's instructions I held the base and neck with my left hand while slowly guiding it in with my other thumb and index finger on the insertable arm.
There were some feelings of pressure but no pain so I was relaxed and used the right amount of lubrication.
Once inserted I quickly realised it wasn't hitting the right spot and that's where the adjustable neck just makes sense. It was a much easier process than expected and only took a couple of tweaks before we got there.
Finding the prostate is going to differ from person to person, ForHims.com has a general guide to help.
Lovense Edge 2 vibration patterns
Before selecting any patterns or vibration levels check out the GIF below, that shows just how powerful the Edge 2 is.
Personally, the highest vibration setting was too much. I quickly went back to the low and mid range settings. I'd suggest starting here and if you want to 'dance with the devil' go for it, but you've been warned!

When it comes to the Edge 2's vibration patterns you effectively have an unlimited amount of options, there are:
Three levels of intensity (low, medium and high)
Four preset patterns (pulse, wave, fireworks and earthquake)
Sound activated patterns (voice via phone)
Create your own vibration patterns, and
Upload/save vibration patterns from the Lovense community
I really enjoyed the preset pattern, pulse, and syncing to music. Unfortunately, you can only sync music from Spotify if you have Premium, which is a bummer. If you don't, you'll need to load songs onto the app via your phone.
Rather than recommend something for you to try, you should go through each and find what vibration patterns suit your tastes.
Another option that extends past vibration patterns is to search through Reddit. There you'll find hints and tips to getting the most out of the Lovense Edge and Edge 2. Take a look at:
TIP: I did find the Edge 2 to be quite loud on certain settings and it was likely being caused by the second vibrating motor in the base. You can turn the intensity level down or completely off, which reduced noise levels significantly.
The end result
To be completely honest, it was daunting at the beginning but turned out to be an amazing experience. I hadn't felt anything life it before.
We plan to use it for special occasions and will update this Lovense Edge 2 review with any tips and tricks that come up.
But we're not finished here, how you clean and store your device is super important.
Cleaning & Storage
How to clean your Lovense Edge 2
It was super easy to clean for two reasons:
The silicon casing is non-porous so bacteria and other things can't be absorbed and only stay on the surface.
It's also waterproof, which felt like it made it easier to clean when it was completely under water.
Lovense recommends using warm water and mild soap or an adult toy cleaner.
To be honest, I don't think a specific toy cleaner is necessary, especially when everyone should have mild soap at home.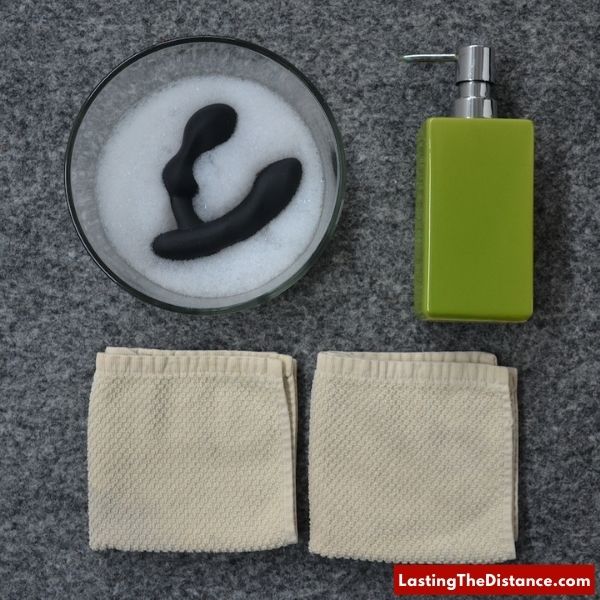 I put a couple of drops of antibacterial dish soap into a bucket and then filled it with enough warm water to just submerge the Edge 2. There's no problem with starting to clean right away, but I decided to let it sit for a minute to warm up and allow the soap to get to work.
I then submerged a cloth and cleaned the Edge 2 thoroughly, I repeat, THOROUGHLY, until I was happy it was clean.
The next step was to rinse it off, check to make sure there were no issues, pat it down with a separate clean cloth and then let it rest for a moment to air dry.
TIP: Once it's dry, charge it. Let's be honest, you don't want to be in a position where it runs out of juice half way through your next session!
Storing safely & properly
Once the Lovense Edge 2 has fully recharged place it into the included pouch to keep it from coming into direct contact with other objects.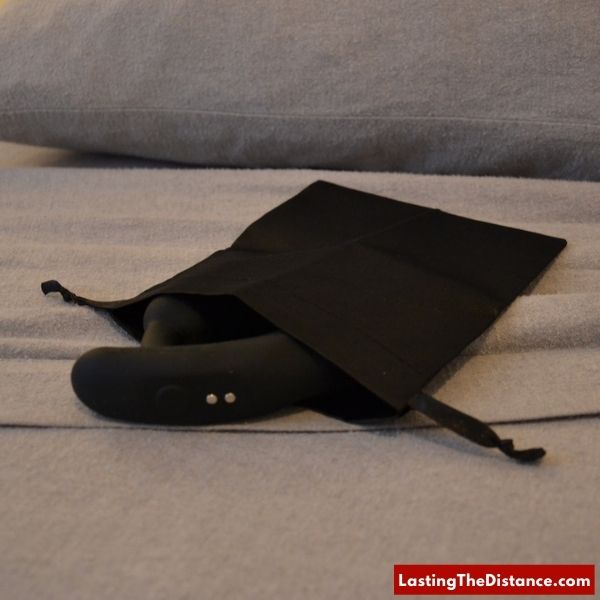 When storing, make sure it's in a cool and dry place that wont have large fluctuations in temperature. This is really just a precaution to keep the motor and battery in good working order.
Our choice, the sock draw! It also doubles as a secure (and boring) place away from prying eyes.
Long-term use updates
As this Lovense Edge 2 review has been live for some time. This section is to give you an idea of how the device stacks up over the long-term.
Three months
No signs of wear and tear.
Becoming easier to insert with each session.
Connection dropout happened a couple of times.
Six months
Now comfortable using the external vibrating motor.
No connection dropouts with having phone close by.
Charging and battery life is still great with no noticeable change.
One year
Continue to prefer the Edge 2 over the Vector+ by We-Vibe.
Slight battery life decrease. But may be due to using stronger vibration modes.
Partner still enjoys taking control in long distance mode. Especially voice-activated vibrations!
Two years
Device smell has changed slightly. Even after thorough (before an after) cleaning.
Tested against three other prostate massagers. Still the best option IMO.
Have used the device less but an amazing toy and lifespan for the price.
Considering to buy after our Lovense Edge 2 review? (final thoughts)
Our one word recommendation?
Yes
Whether you're interested in trying a remote control prostate massager or an experienced user looking for a high-tech option, the Lovense Edge 2 is a great option.
Being a second generation model, it has much needed feature upgrades that improve its usability for a wider range of users.
For long distance couples, how the Lovense Remote App allows both of you to interact with ALL of their devices in so many unique ways, makes it a stand out in the industry.
But there are a couple of caveats.
If you don't necessarily need long distance control, there are cheaper, low tech devices available.
We don't think the size should be daunting for beginners. But if it is, there are similar devices worth looking at with a smaller max width and long distance control in our vibrating prostate massagers comparison guide.
Ready to dive in?
Frequently Asked Questions About Lovense Edge 2
How long does Lovense Edge 2 last?
The Lovense Edge 2 lasts up to 100 minutes off a full charge when using the level 1 vibration intensity. For level 2 it will last up to 80 minutes and for level 3, 60 minutes. On standby (when not in use) the battery will last for up to 150 hours. 
Can you sync Edge 2 to a Max / Max 2?
Unfortunately no, you can not sync the Edge 2 to a Max / Max 2. At this time only a Max or Max 2 can sync with Lovense's Nora (rabbit vibrator) or another Max / Max 2.
Can a female use the Lovense Edge 2?
While it has been made with a male's prostate and perineum in mind. Yes, females can use the Edge 2. Women have mentioned that it performs like a rabbit vibrator, where the arm can be used for vaginal stimulation and the base for clitoral stimulation.
Can you use rubbing alcohol to clean your Lovense Edge 2?
Yes you can use rubbing alcohol to clean your Lovense Edge 2 as an occasional method for deep or extreme cleaning. Use warm water and mild antibacterial soap or manufacturer recommended sex toy cleaner before and after each use.
Our

FREE

7 day LDR challenge is BACK!
Unlock better date nights, deeper communication plus a stronger intimate & emotional connection.
SECURE YOUR SPOT!
---
Hailing from Amsterdam, Lucas is a Long Distance Intimacy Contributor at Lasting The Distance, focusing on male sexual health. His goal is to help remove the stigma around men (in long distance relationships or not) using adult devices in the bedroom while improving their confidence to explore their sexual needs AND wants.