Do you want to add vibrating prostate massagers to your intimate moments but can't get past the checkout?
I was too afraid of choosing the wrong option for over six months!
Once I took the time to research what was right for my body I was ready to hit the buy button.
The result? The Lovense Edge 2 is one of my best purchases ever!
Hesitating meant missing out on half a year of the most intense pleasure I've ever experienced.
So, let's explore the best options available to help you make the right decision.
In a rush? Here's a TL;DR breakdown of my favorite options:
Our Top Pick
Edge 2 by Lovense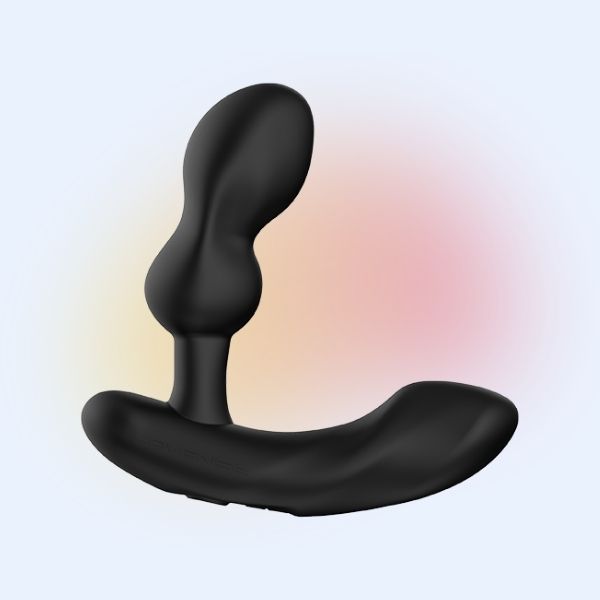 My personal device & the most popular app controlled prostate massager for long distance couples in 2023.
Orgasmic: 4.5/5
Ease of use: 5/5
Battery: 4/5
Cleaning: 4/5
Price: 5/5
Beginner Friendly
Vector by We-Vibe
A slim and comfortable design making it a great introductory prostate massager for beginners.
Orgasmic: 3.5/5
Ease of use: 4/5
Battery: 4.5/5
Cleaning: 4/5
Price: 4/5
QUICK NAVIGATION
A NOTE ON OUR SELECTION CRITERIA: Each device must…
Use body safe materials like 100% non-porous silicone.
Be completely waterproof for use in the wet or dry.
Require super simple cleaning techniques (warm water & mild soap).
Have app functionality giving my long distance partner, remote control.
Use plain discreet packaging for peace of mind at delivery time!
The Best Remote Control Prostate Massagers in 2023
Edge 2 by Lovense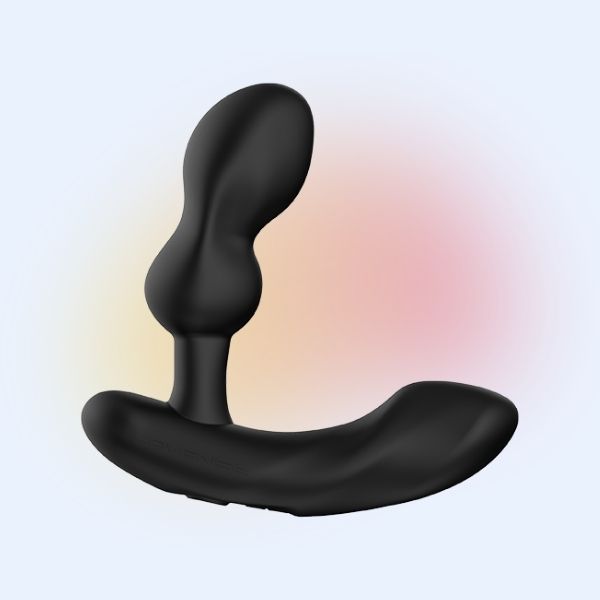 One of the most popular vibrating prostate massagers is now even better.
The original Edge hit the spot and continues to do so to this day. But that didn't stop the team at Lovense from making the second generation Edge 2 even better.
Lovense listened to customer feedback and focused on improving two key areas:
Design: Integrating a 'bulb' above the neck creates a more secure placement so you don't have to worry about it moving or getting stuck. Combined with the flexible neck, this allows you to find and hit the 'p-spot' with ease.
Connection: A new antenna location has improved bluetooth connectivity strength and speed making interruptions during sessions, seen in the original Edge, a thing of the past.
Whether you're a beginner to prostate play or experienced, these improvements are sure to give you peace of mind.
But the most important adjustment Lovense made was in regards to the maximum insertable width (smaller) and length (longer).
| | | | |
| --- | --- | --- | --- |
| | Edge 2 | Edge | Difference |
| Max Width | 1.38in / 3.50cm | 1.41in / 3.58cm | 0.03in / 0.08cm |
| Max Length | 3.59in / 9.11cm | 3.13in / 7.95cm | 0.46in / 1.16cm |
Along with the updated design, a slightly smaller max width creates peace of mind when it comes to insertion and a comfortable feel (especially for beginners).
The longer max length may look and sound questionable. But this change allows for better location and contact of the prostate (for a wider range of users), which is vital in getting the most out of the device.
Performance & Functionality
In terms of vibration options, Lovense offers seven refined speeds across all of their devices:
Speeds: low, medium and high.
Patterns: pulse, wave, fireworks, and earthquake.
Here's a visual demonstration showing the Edge 2's vibration speeds (using water) and a visual representation of the different patterns.
Being a remote control prostate massager, there are two ways to control the Edge 2. On the device, manually or with the Lovense Remote app.
Playing by yourself? You can rotate through the vibration options manually by using the on/off button on the base (next to the magnetic charging connections).
Recommendation: Use the app whenever possible because it gives you so much more in terms of pleasure control. Using the device manually means you can't adjust the intensity of the vibration patterns OR control the two vibrating motors separately.
For remote control, whether for close or long distance play (partner control), using the app allows you to:
Control the intensity of EACH vibrating motor.
Create unlimited customized vibration patterns.
Save (up to) ten of custom patterns for future use.
Incorporate your favorite music and sync the beat to vibrations.
Use your voice to control the vibrations (similar to music sync and not voice control).
Battery Life
The Edge 2's updated design means that battery size and placement had to be adjusted. When compared to the original Edge, a full charge will take longer and total run-time is slightly shorter.
| | | | |
| --- | --- | --- | --- |
| | Edge 2 | Edge | Difference |
| Charging | 100 min | 70 min | +30 min |
| Usage | 100 min | 120 min | -20 min |
In reality, it's more about the total usage time rather than the difference. 1 hour and 40 minutes is quite a considerable length of time for any intimate session.
It's also important to remember that this is the maximum amount of usage from company testing. In reality, when you continually adjust speeds and patterns, I found that actual usage time is around an hour. Which is more than enough time.
If you don't want to look at any other options, I wouldn't hesitate to recommend the Edge 2.
Why?
It is by far the most versatile option. Plus being a second generation model should give you peace of mind in terms of build quality, performance and long distance control.
But also because it's my 'weapon of choice' and neither myself or my partner have any regrets on the purchase.
Want a deep dive into the Edge 2? Check out my full-scale review of the Edge 2 and see why I feel it's the best remote control prostate massager on the market.
Original Edge by Lovense
While the Edge 2 is now Lovense's flagship remote control vibrating prostate massager. The OG (original) Edge still has its place as one of the best options on the market.
That's right! They are still available (although limited) and now heavily discounted.
BUT two things to note:
There is no longer a live product page to find out more about the device, which means
The original Hush is only accessible for purchase via the Lovense Store.
We'll help you navigate both of these!
As mentioned earlier when comparing the original Edge to the Edge 2, it has a max diameter of 1.41in / 3.58cm which is 0.03in / 0.08cm larger. In reality, this equates to less than 1mm meaning there isn't much difference at all.
Making it an optimal device for both beginners and those experienced with prostate play.
Performance & Functionality
The original Edge offers the same performance and functionality of its successor when it comes to vibration speeds and patterns as well as manual or remote (short/long distance) control options.
(Re-read our Edge 2 breakdown for these details)
Users have reported intermittent bluetooth connection issues, due to the antenna placement, which isn't ideal when using the Lovense Remote app yourself.
But if you are more likely to use the Edge for long distance control with your partner (like myself), keeping your phone in direct visual range of the device helps in this situation.
Battery Life
The Edge does have a leg up in terms of needing less time for a full charge (70 minutes instead of 100 minutes) and longer usage times (120 minutes instead of 100 minutes). But the difference isn't large enough to play a major role in your purchasing decision.
How to Purchase Edge
If you're more interested in using a remote control prostate massager long distance play with your partner, I can't fault you for going with the original Edge.
Especially at a discounted price and if you're trying a prostate massager for the first time.
As we mentioned earlier, you can only purchase the original Edge through the Lovense Store. Here's the process to follow:
Visit the Lovense Store here.
Under 'Most Popular', click Edge, which is the final option.
You should then see only one product to choose from.
Click 'Buy Now' to add it to your cart.
Vector by We-Vibe
When it comes to beginners, although they may be excited to try a vibrating prostate massager. There can be some apprehension regarding size and insertion.
I believe the Edge 2 is a great option for peace of mind in both of these cases, but the Vector by We-Vibe is even more so when it comes to users with no experience.
| | | | |
| --- | --- | --- | --- |
| | Edge 2 | Vector | Difference |
| Max Width | 1.38in / 3.50cm | 1.18in / 2.99cm | 0.2in / 0.51cm |
| Max Length | 3.59in / 9.11cm | 4in / 10.16cm | 0.41in / 1.05cm |
Having a smaller max diameter (1.18in / 2.99cm) makes the device look and feel much more approachable. In addition, We-Vibe have integrated a narrow tip into the design making insertion less daunting.
Speaking of design, Vector is the only option with a flexible neck and base. This gives users twice the precision for making contact with the prostate and perineum.
Performance & Functionality
We-Vibe has integrated a similar range of pre-set vibration speeds and patterns that we see in other models into Vector.
Speeds: low, medium, and high.
Patterns: pulse, wave, and ultra.
View a visual representation of Vector's vibration modes here.
Rotating through each speed and pattern can be done using the control button on the bottom of the device. I found two issues with this:
The control button (not just on Vector bull all vibrating prostate massagers) can be awkward to use while in the middle of the action.
Putting pressure on the control button can move the device meaning you may need to make slight position adjustments, taking your mind off what you should be focusing on!
To solve this, We-Vibe is the only app controlled prostate massager that includes a physical remote. This is a great option for solo or local control with your partner.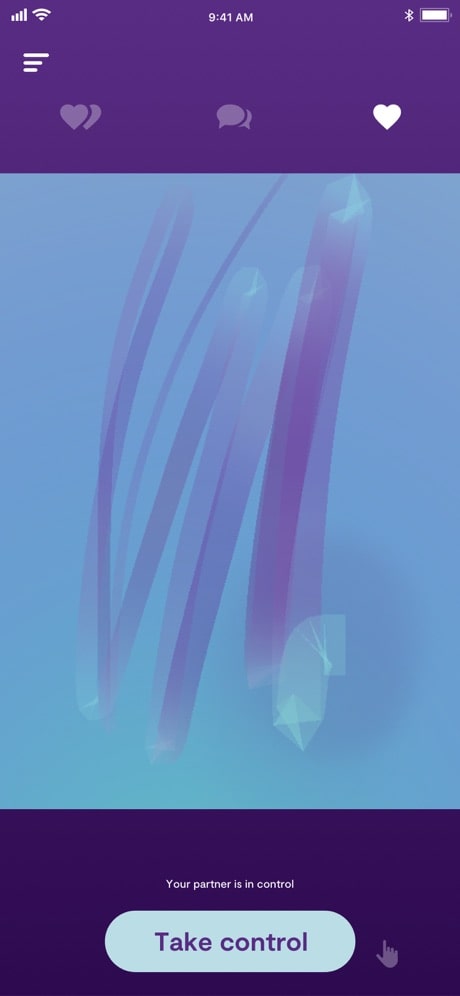 But the best option for taking full advantage of what the Vector can do, is using the We-Vibe app (previously known as the We-Connect app).
For long distance couples the We-Vibe app gives you complete control over much more than the standard six standard vibration speeds and patterns.
You can:
Switch between vibration patterns and adjust their level of intensity.
Create your own unique vibration patterns and adjust their level of intensity.
Build vibration sequences just like a playlist of patterns (standard and custom).
Battery Life
With a 90-minute charge, you get up to 2 hours of continuous usage.
'Up to' is important.
If you're to use Vector on the lowest settings you will likely reach or even exceed two hours from a full charge. But you or your partner are more likely to use the We-Vibe app to cycle through vibration patterns and their intensity, which will impact the actual usage time.
At the end of the day it will be more than enough time for long distance play.
While 'range anxiety' exists for electric cars, funnily enough I found that it also occurs with other electronic devices. At one stage all I could think about was IF the Vector had enough charge to last the session, taking my mind away from what I should be concentrating on!
To help, the team at We-Vibe integrated a low power alert so there should be no surprises.
If this beginner friendly option has piqued your interest, you'll also enjoy their industry leading two-year warranty (all other devices listed currently have a one-year warranty). For more details, visit their official website.
Vick Neo by Svakom
Vick Neo by Svakom is one of the newest prostate massagers with app control to hit the market.
It's similar in many ways to both the Edge/Edge2 and Vector. But there are two features that make it an interesting option for long distance couples.
An illuminating LED on the bottom of the device synchronizes its brightness with the vibration patterns and intensities. Creating an enhanced visual experience when controlling each other's pleasure over video calls.
With a max diameter of 1.11in / 2.82cm it is the narrowest option currently available.
See the illuminating LED in action here.
Performance & Functionality
When it comes to vibration patterns and intensities, the team at Svakom has given them no flashy names. I have to admit it's a little bit boring! But they've given Vick Neo the most standard options (12) of any vibrating prostate massager.
It's best to check out our app screenshot of the available vibration patterns below.
Using the local device controls for manual play usually means you can only cycle through the patterns OR intensities. So to get the full experience you'd need to use the dedicated app.
Not with Vick Neo!
Svakom have designed the controls to combine patterns and intensities, giving you 35 different combinations.
Recommendation: I will admit that cycling through 35 combinations using a single button is annoying and the Svakom app is a much better option.
Similar to the other available devices you or your partner (long distance) can:
Create your own vibration patterns with the swipe of your finger.
Sync the sensations you or your partner feels with Music.
Use your voice or the ambient sound around you to control the vibrations.
It's worth noting that you can connect Vick Neo to interactive content via the FeelConnect app.
Battery Life
With so many vibration patterns, speeds and their combinations along with the visual LED experience. You'd think usage time would take a hit!
Vick Neo actually leads the pack as far as battery life, with a 60 minute charge providing up to 2.5 hours of play time.
For more information on this novice friendly option, visit LoveHoney.com.
Nuo by Je Joue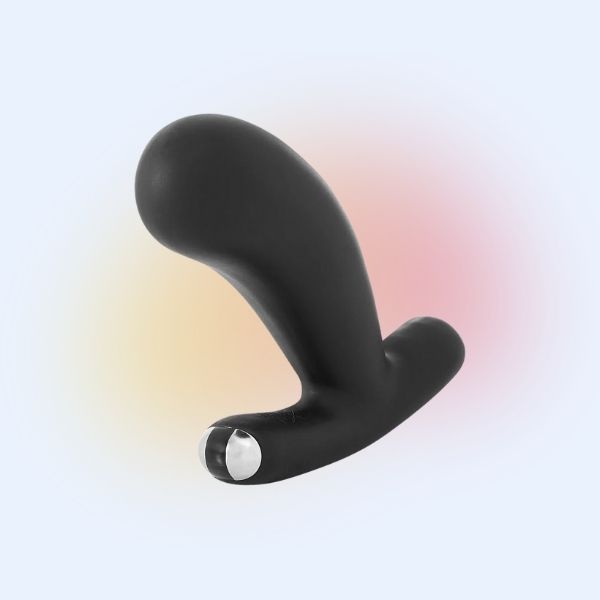 Je Joue has crowned Nuo… The world's first dual-motor butt plug.
While it could be considered a butt plug, in reality, incorporating two motors in the shaft and base that focus on the prostate and perineum should technically make it a vibrating prostate massager.
Interested in butt plug options? See our post on the best remote control butt plugs for intense pleasure from afar.
If we're to classify it as such, it wouldn't be the world's first. BUT that shouldn't automatically discount Nuo as a viable option.
This remote control prostate massager/butt plug hybrid has mind-blowing capabilities when it comes to internal and external stimulation.
Nuo's 1.25in / 3.17cm max diameter and 4in / 10.16cm insertable length puts it in the middle in terms of sizing. But the only issue I have with recommending it to beginners is where the max diameter is positioned on the shaft.
It is very close to the start of insertion. Where other devices have a much smaller and 'pointed' tip, which makes the process much more comfortable (and less daunting).
Performance & Functionality
Just like Vick Neo, Nuo has five speeds and seven patterns (12 total) that give you a wider range of standard vibration options than the other options we've reviewed.
Where Je Joue sets Nuo apart from the competition is how their patterns use the dual motors.
Internal & external motors: Rhythm, cascade and energize.
External motor only: Purr and glow.
Internal motor only: Intense and mood.
To help access each pattern and adjust their intensity, the team at Je Joue integrated Nuo with three separate tactile buttons.
Although the buttons are a step up on other devices, we recommend using the Je Joue App to control the vibration patterns and speeds for local and long distance play.
A unique feature of the app is that it automatically records the combinations you create, which you can replay and adjust their timing for future use.
But when we compare it to the control offerings from Lovense, We-Vibe and Svakom, Je Joue's app falls short.
To note: The iOS app was last updated in January, 2021 (this was also the first update since 2014). Their Android app was last updated in March, 2019.
Battery Life
We found that it took just over two hours for a complete charge instead of the stated 1 hour and 45 minutes. In reality this amount of extra time is a non-issue.
Nuo's battery setup allows for up to two hours of run time but if you're using multiple patterns where both motors are active, run time will be much shorter.
My Vibrating Prostate Massager of Choice
If I had to pick one remote control prostate massager for you to try it would be the one I have no regrets purchasing, the Edge 2 by Lovense.
Being a second generation model, they've improved any shortcomings making the build quality, selection of vibrations and a robust smartphone app hard to beat.
For complete beginners there are benefits to the smaller max diameter devices like We-Vibe's Vector when it comes to peace of mind. But there isn't much of a difference between the two sizes.
As you explore prostate play further, you will likely be looking to upgrade, which will mean having to outlay even more money.
If you need more detailed insights: Check out my full-scale review of the Edge 2 and see why I feel it's the best vibrating prostate massager on the market for long distance fun.
But if you're ready to dive in, visit Lovense's official website to find out more about how to include Edge 2 in your intimate moments.
Which Vibrating Prostate Massager Will You Choose?
Whether it's my 'weapon of choice' the Edge 2, novice friendly Vector or another option that has caught your eye…
Make sure any decision to buy a vibrating prostate massager is made for the right reasons.
While the thought of prostate play can be fun and exciting, don't forget the many health benefits. Studies have shown that prostate massagers can:
Combat symptoms of erectile disfunction.
Help prevent (or be a treatment for) prostatitis, prostate inflammation. Plus,
Relieve symptoms of BPH, benign prostatic hyperplasia.
If you're still on the fence at this point, it's totally ok! Join our LDR Support Group (where you can post anonymously if preferred) and get the right help from an amazingly supportive and inclusive community!
Our

FREE

7 day LDR challenge is BACK!
Unlock better date nights, deeper communication plus a stronger intimate & emotional connection.
SECURE YOUR SPOT!
---
Hailing from Amsterdam, Lucas is a Long Distance Intimacy Contributor at Lasting The Distance, focusing on male sexual health. His goal is to help remove the stigma around men (in long distance relationships or not) using adult devices in the bedroom while improving their confidence to explore their sexual needs AND wants.