This in-depth Lovense Lush 3 Review is by Claire Stewart, our Female Sexual Health & Long Distance Intimacy Contributor.
Now in its third generation, the Lush 3 promises more intense vibrations, a quieter motor and better remote connection.
But is this true and is it right for you?
We're giving you a complete 'before, during and after' breakdown.
From purchase and unboxing through to what has worked, and what hasn't over 6 months of testing. Plus our final verdict.
If you're in a rush, here's our TL;DR review.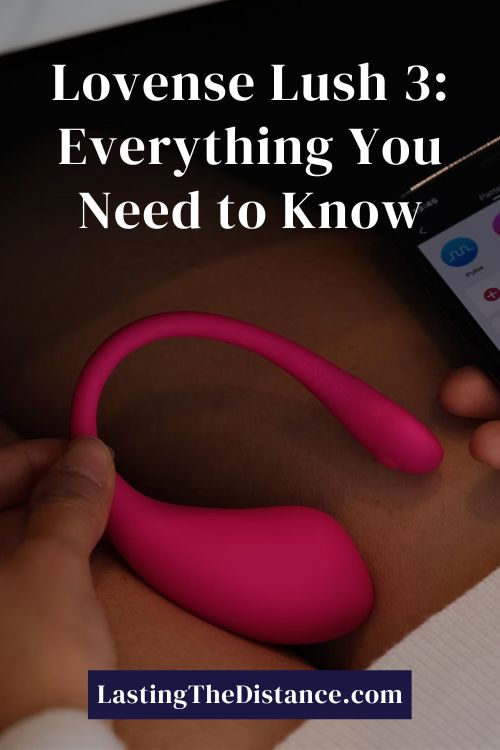 Our TL;DR Lovense Lush 3 Customer Review
4.4 out of 5 stars. At $119, the Lovense Lush 3 has greatly improved compared to previous models. While longer battery life, standby time & magnetic charging are standard upgrades. New users will love the updated tail design giving you a more secure fit & better antenna placement for uninterrupted connection with the Lovense Remote App.
Lush 3 pros & cons
Pros:
Lush 3's shape makes it easy to insert and stay in place.
When used internally you can't hear it. Perfect out in public.
Subtle vibrations through the tail can produce some clitoral stimulation.
Cons:
You can use the Lush 3 as a handheld device. But it is awkward.
Music Sync feature only works with Spotify Premium, not free.
It doesn't come with a single-use packet of lubricant.
QUICK NAVIGATION
Lovense Lush 3 purchasing, delivery & setup
Most of you already have some understanding of what the Lush 3 is, that's why you're here! But before jumping in we want to quickly touch on how it works for those who may have stumbled across our review.
How the Lovense Lush 3 works
The Lush 3 is a wearable remote control egg vibrator, specifically designed to be inserted and sit securely to focus pleasure on your G-spot. Along with having one of the most powerful vibrating motors for its size. This third generation device incorporates a 'fixed tail' to help it stay comfortably in place while also putting extra (hands free) pressure on your G-spot. Producing more intense sensations and deeper vibrations.
You or your long distance partner can control vibration intensity and patterns (plus access other remote control features) via the Lovense Remote App.
Purchase process
From previous purchases, I KNOW that the payment process on Lovense.com doesn't just look and feel safe. It is safe. There were no hesitations on my end when it came time to enter my card details.
To note: They take all the major cards plus other options like PayPal and even Bitcoin.
I received all the successful purchase and invoice emails within minutes. But the most important email you'll receive contains the package tracking number.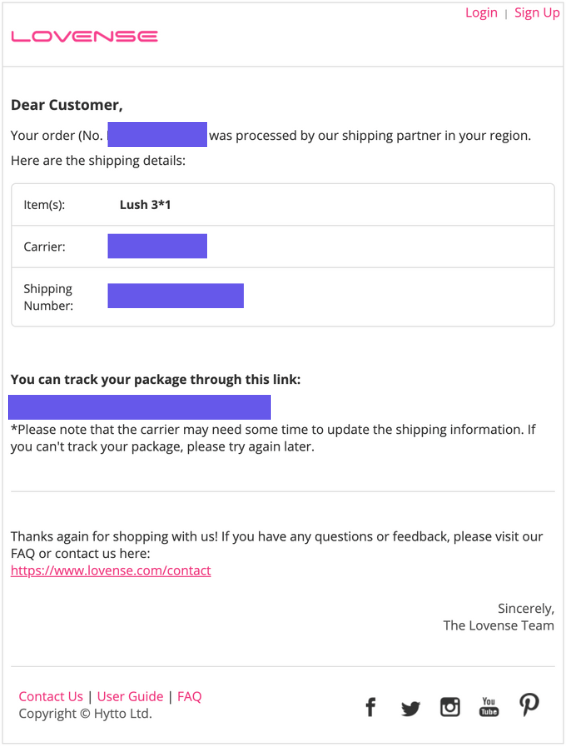 You can also track it through your Lovense account dashboard, which is under the tab 'My Orders'.
Having multiple options makes it super easy to keep tabs on the delivery.
The best part…
Within just a few days it was at my door!
Unboxing & First Impressions
To be completely honest my first thought when looking down at the package on my welcome mat was that it looked plain and boring.
This of course was PERFECT!
Discreet packaging is a must for peace of mind.
Once the cardboard box was removed it revealed the sleek, sealed plastic Lush 3 product packaging. When opening it up you'll see the Lush 3 presented nicely with a compartment below housing the accessories.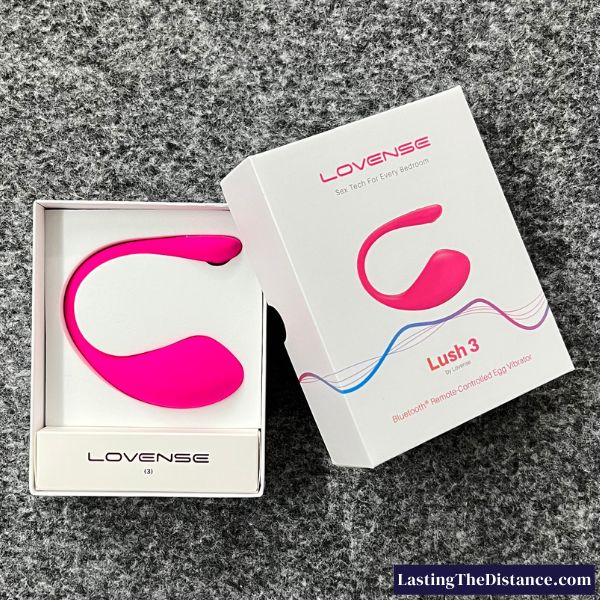 Included in the box along with your Lush 3 is:
Magnetic charging cable (USB)
Storage pouch
User manual
Quick setup guide (apologies, we forgot to add this when taking photos!)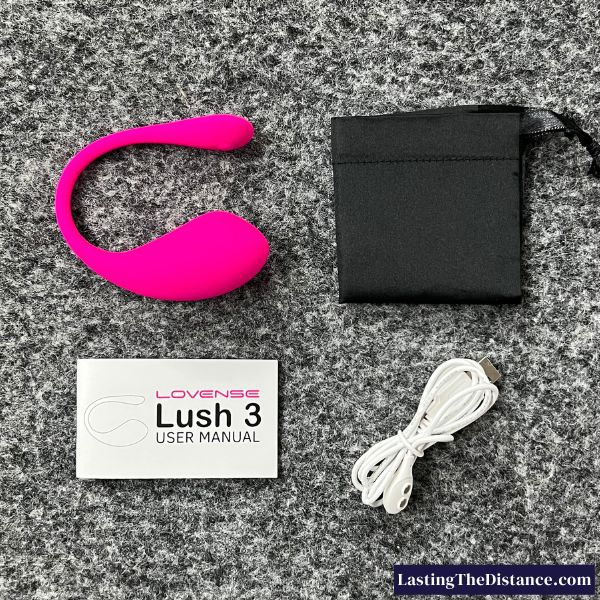 First Impressions
Straight out of the box the Lush 3 is silky smooth and soft to the touch. There is also a level of rigidity that gives you the feeling it has been made with high quality materials.
It isn't bulky and can easily be held and controlled with one hand. Couple this with the fun feminine pink color and you've got yourself a device that looks super exciting and not intimidating at all.
The silk-like storage pouch is a useful accessory. But one item I feel they should include is a single use packet of water-based lubricant. I think it would be well received, especially by beginners.
To note: Even if Lovense were to include a single use packet. I'd still recommend buying their water-based lubricant as it has been made with their devices specifically in mind. You'll also receive 50% OFF when combining with the purchase of the Lush 3.
Differences between Lush 2 & Lush 3
The main difference between the Lovense Lush 2 and Lush 3 are the upgraded internals. While the size hasn't really changed, the Lush 3 has a longer lasting battery (five hours compared to three) and a more powerful vibrating motor that is 2dB quieter at max intensity (43dB compared to 45db). Making it even more discreet.
Lush 2 Dimensions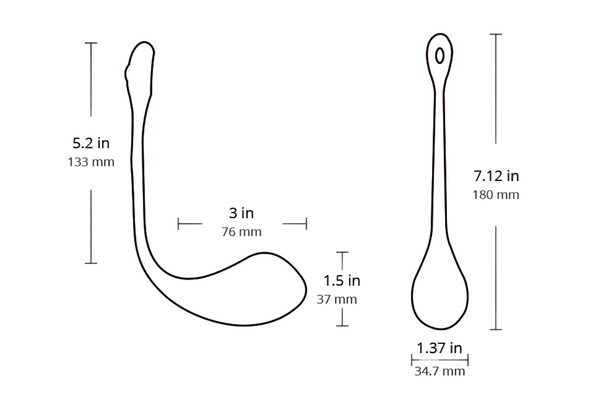 Lush 3 Dimensions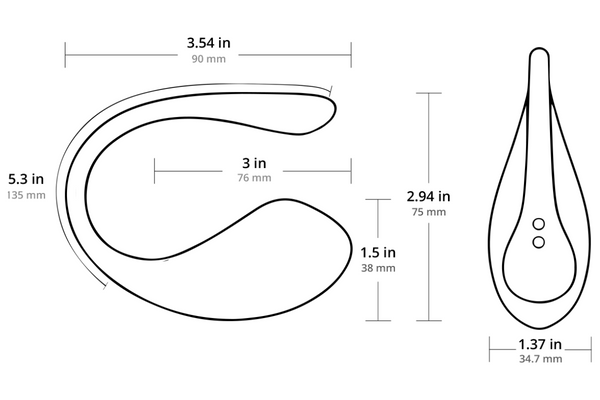 Other updates include:
Magnetic charging: Welcome to the 21st century Lush 3! While it doesn't necessarily improve waterproofing it did for my peace of mind.
Fixed tail: This flexible yet rigid adjustment improved how the Lush 3 hugged my body. It helped keep it in place, which meant it continually hit the right spot!
Antenna position: Lush and Lush 2 users highlighted that the bluetooth signal would drop out. The updated antenna and its placement meant I never had to reconnect as the connection was always stable.
To note: Lush 2 is still available and a good option. It has the same features and remote control capabilities of the Lush 3. Also more affordable, being $50 cheaper. BUT you can only access it through the Lovense Store.
How to Use Your Lovense Lush 3
Beforehand, I did two things. Which I recommend you do the same.
Wipe down your Lush 3: While the box is sealed there was a some residue on the device, likely from the manufacturing or packing process. Wiping it down will also highlight any tears in the silicon or other issues.
Try turning it on: There should be some battery life when it's tested by the manufacturer. If not, don't stress. Charge it fully then test it again.
As per the user guide, it should take around an hour and a half for the Lush 3 to charge fully. But because the battery wasn't completely flat it only took around an hour.
To note: You'll know it's ready to go when the red charging light shuts off. Or you can use the battery indicator within the Lovense Remote App.
Speaking of the app, here's the step by step connection process we followed. Before completely charging the device.
How to connect Lush 3 to your phone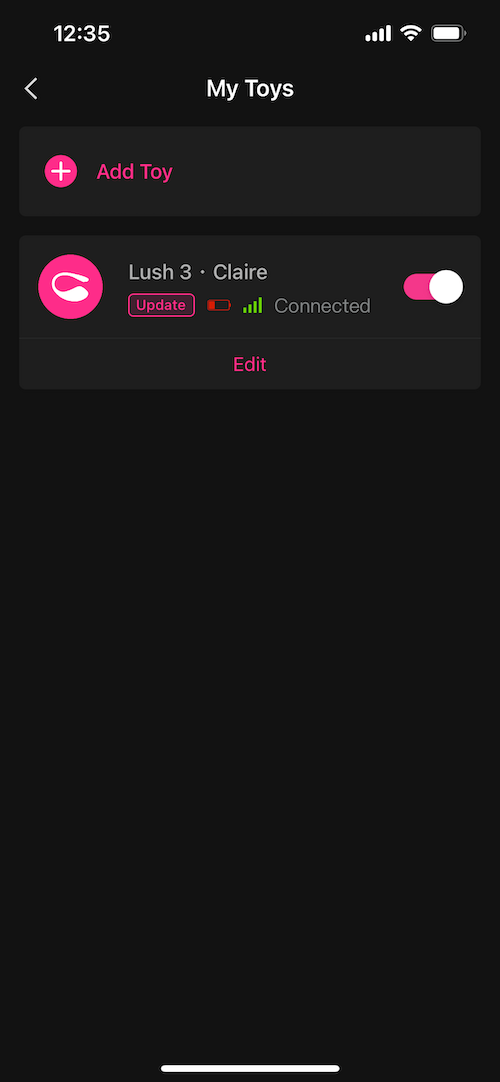 To connect the Lush 3 to your phone, download the Lovense Remote App. I have an iPhone but it's also available for Android phones, plus Apple and Windows computers.
The app is well designed making it easy to navigate. Add in the simple pairing process and I was ready to (eye)roll within 30 seconds. Just:
Hold down the on/off button on the Lush 3 until the light flashes.
In the app, tap the 'link' icon in the top righthand corner to start the pairing process.
Then, tap the large + 'plus' icon in the middle of the screen to search for your device.
When your Lush 3 is visible it will appear on the screen. Tap done and you're ready to go!
To note: You will need to signup for an account first. It's straightforward and something you will have to do if you want to take advantage of the long distance/partner control features.
How to set up long distance control on your Lush 3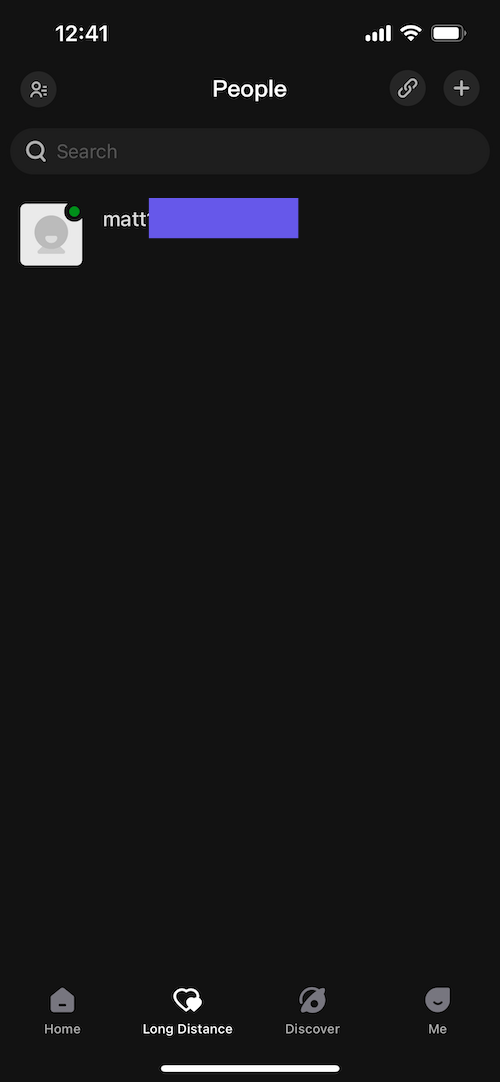 The long distance/partner control setup process was just as easy connect.
Firstly, make sure your partner has created an account. You'll need their username!
Tap the 'Long Distance' icon in the menu at the bottom of the app.
Then, tap the + 'plus' icon in the middle of the screen to add a contact.
Enter your partner's username, the tap 'Add'.
Once your partner accepts their profile will be visible in the Long Distance tab. Just like my screenshot.
You can also send text, audio and videos to each other plus make video calls. But they play second fiddle to…
Handing over control!
I absolutely loved this feature for two reasons.
Obviously the long distance control aspect was an amazing way for us to be intimate while apart. But when together it allowed us to explore discreet remote control in public.
There is something daunting yet exciting about giving over control. I enjoyed every bit of it! Even just sitting there in anticipation wondering "Will they do it now?" was exhilarating.
Answer: When I least expected it… every time.
But what if it's too loud?!
We'll go into a little more detail on that soon. What's more important, before doing anything, is understanding boundaries. I found the highest vibration settings to be extremely powerful. To the point where they were too intense for me to look like a normal functioning human when in public.
Make sure your partner knows where you draw the line!
How to insert your Lush 3 properly
Remember: All bodies are different. It's not about using the 'one correct way' to insert it, but figuring what feels best for you.
Beforehand, make sure you apply enough water-based lubricant to the Lush 3 and yourself.
I found that laying on my back was easiest, but you might prefer sitting, squatting or being on your hands and knees.
As you insert the Lush 3 make sure the tail is facing your clitoris. This will provide the best contact with your G-spot.
To note: Turning it the other way can cause the connection to drop out because the antenna is in the tail.
It took me a couple of adjustments to get the feeling that it was in the right position. Start off slow and experiment with what works. It should feel comfortable enough to walk, sit and change positions.
If it doesn't keep adjusting or add more lubricant.
Lovense Lush 3 vibration patterns
To get you started the Lush 3 has seven pre-programmed vibration patterns.
Consistent vibrations: Low, medium & high intensity.
Rhythmic vibrations: Pulse, wave, fireworks & earthquake.
Here's a visual example:
My verdict
The low and medium consistent vibration modes were great for getting into the mood. High was a little too intense for my liking when there is no variation.
When it came to the rythmic vibrations I preferred wave over pulse and earthquake over fireworks. They gradually increased or decreased in intensity rather than hitting their 'peek' immediately.
To note: The arrow on the diagram above indicates how you cycle through low to earthquake on the device (using the on/off button on the tail). We suggest using the Lovense Remote App as you can select each vibration mode individually.
Lush 3 experience with the Lovense Remote App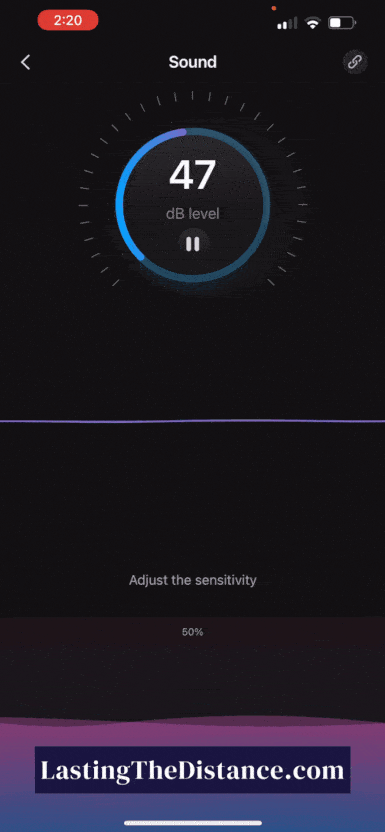 While the standard vibrations are easier to control via the app. What makes it a 'must use' is the additional functionality. You and your long distance partner can:
If you're a fan of 'phone sex' or ASMR you'll love the audio control feature! I couldn't get enough of hearing my partner's voice and when it came to what they said and how they said it changing the vibrations of my Lush 3.
Unfortunately, you need Spotify Premium to use the Music Sync feature.
You can transfer music from your computer to your phone, but it's an annoying task. I hope there is Apple Music or even YouTube (copy/paste a video URL or playlist) support in the near future.
Usage scenarios
As a wearable device
When I first turned my Lush 3 on and started playing around with the settings, some of the more intense vibration modes felt quite loud. However, once inserted you really can't hear much at all, whether you're sitting down or standing up.
In a restaurant, bar, or anywhere that's got a lot of ambient noise, you and your partner should be completely fine using it in public. If you're planning on being in quieter public places, I'd suggest sticking to lower intensity vibrations for peace of mind.
While the Lush 3 tail doesn't contain a vibrating motor. I was able to feel vibrations from the inner portion travel along the rigid stem, which was a nice surprise providing additional stimulation in the clit area.
Tip: Wear tighter underwear. This will help the tail to hug your body creating more pressure against your clitoris.
As a handheld device
Being designed specifically for G-spot stimulation doesn't mean you can't use the Lush 3 for clitoral stimulation.
You just need to get a bit crafty!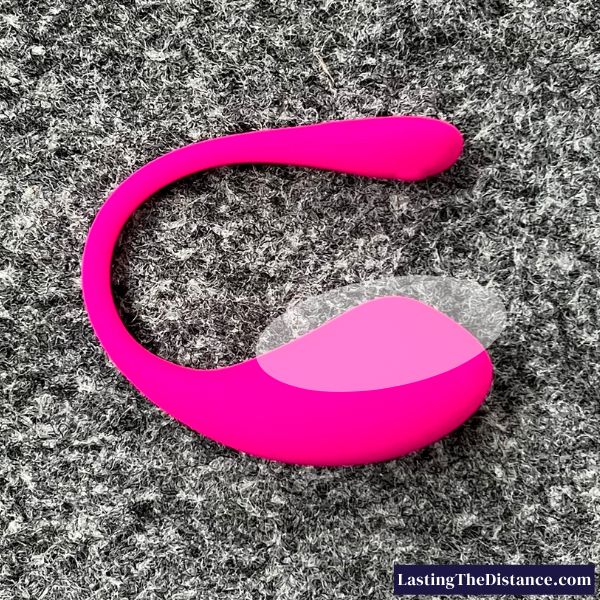 Vibrations are the strongest on the inside of the device, where the vibrating motor is situated, to focus on the G-spot. I found that if you use this side on your clitoris the fixed tail gets in the way. This makes the whole experience less enjoyable as you're unable to focus on the task at hand.
Using the outside of the Lush 3 feels just as good and you don't have to worry about the tail.
The design does make it a bit awkward to handle while putting pressure on your clitoris. But it wasn't a major issue or made me want to stop.
Overall it was great for use in small bursts. If you want something that's designed to focus on the clitoris and G-spot. I'd recommend taking a look at something like Lovense's Flexer instead.
The end result
As someone who doesn't orgasm from G-spot stimulation I didn't know if I'd be a fan of the Lush 3. Or wouldn't use it very often.
I was (happily) wrong.
While I still haven't orgasmed from G-spot stimulation the almost euphoric sensations and overall feelings of pleasure it creates have been amazing.
Being able to adjust the speed and intensity of vibrations means that no two sessions are ever the same. Unless you want them to be of course!
Playing discreetly in public was extremely fun but it's not something I see us doing frequently. When we're long distance or together. But it has definitely become a part of our long distance intimacy routine at home!
Cleaning & storage
How to clean your Lovense Lush 3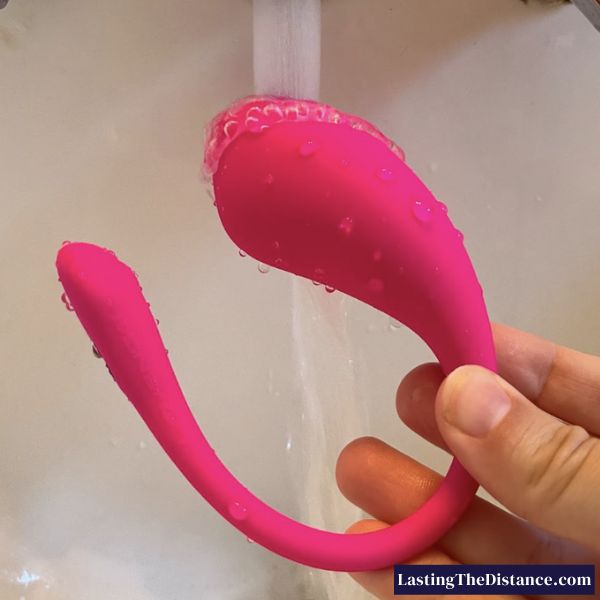 Lovense designing the Lush 3 to be completely waterproof not only makes it a great option for play in the bath or shower but also when it comes to cleaning.
I had no issues with completely submerging the device in water to clean it thoroughly because I knew it could handle it.
If you have sex toy cleaner on hand use that. If not, no problem! All you really need is mild soap (antibacterial if possible) and warm water. Give your Lush 3 a gentle scrub with a cloth, which should remove excess lubricant and any other residue.
To note: Use warm water ONLY. Never place it in boiling water, as this can rapture the silicone and the heat could cause the battery to explode.
Storing safely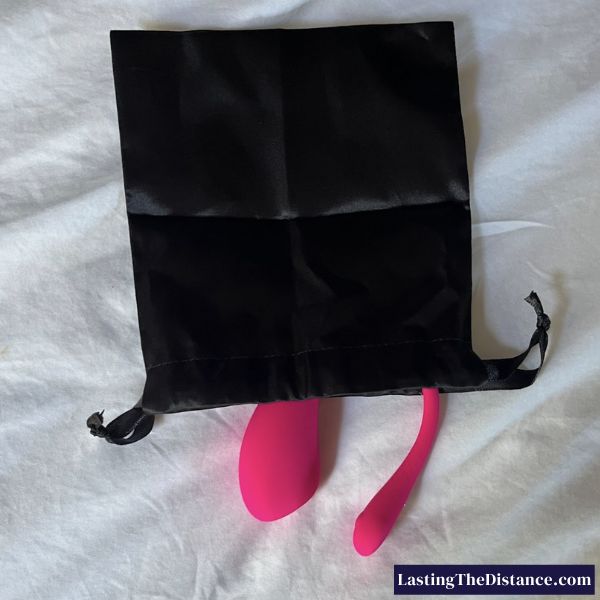 After making sure your Lush 3 is completely dry, place it in the silk pouch Lovense provides. You could store it in any sort of clean bag, but the silky black pouch it comes with is absolutely perfect for it.
When storing away, place it somewhere away from anywhere temperatures can fluctuate (like a window). I prefer the back of my underwear draw that's against an internal wall of my room.
Long-term use updates
As this Lovense Lush 3 review has been live for some time. This section is to give you an idea of how the device stacks up over the long-term and will be continually updated.
Three months
Can confidently and comfortably wear for long periods (hours).
Not feeling much vibrations through the fixed-tail anymore.
No connection drop outs but making sure my phone is always close by.
Six months
Used it anally and it worked well! (note: Not recommended by Lovense)
There is no noticeable change to the amount of battery life.
No signs of wear or silicon tears even with rigorous before and after cleaning.
Considering to buy after our Lovense Lush 3 Review? (final thoughts)
If you…
Enjoy or want to experiment with G-spot stimulation
Would like to spice up your public outings, or
Want to take your long distance intamacy to the next level
The Lovense Lush 3 is a choice we're more than happy to recommend.
While the form-fitting design of the 'fixed tail' and updated vibrating motor that produces lower sound levels makes it a great choice on it's own. It's the Lovense Remote App that really levels up the Lush 3 experience.
Whether you or your partner takes control. Features like manual control and voice sync means no two intimate sessions will be the same. This is an amazing way to level up your intimacy whether near or far.
It's time to jump in and secure discounted pricing before it expires!
Frequently Asked Questions about Lovense Lush 3
Our

FREE

7 day LDR challenge is BACK!
Unlock better date nights, deeper communication plus a stronger intimate & emotional connection.
SECURE YOUR SPOT!
---
Claire is a Long Distance Intimacy Contributor at Lasting The Distance, focusing on couples & general female sexual health. She (along with her partner, Matt) has been living the 'LDR life' for over two years and wants to help other long distance couples level up their intimate moments to build a strong connection from afar.