In a hurry? Go straight to our top four remote controlled butt plugs.
The rear entrance…
What was once a topic rarely spoken about sexually is starting to lose its taboo status.
Which is great!
People are becoming more comfortable within their own bodies and understanding what they like and are willing to try.
Now, there are app controlled devices that long distance couples can take advantage of to control each others pleasure from afar.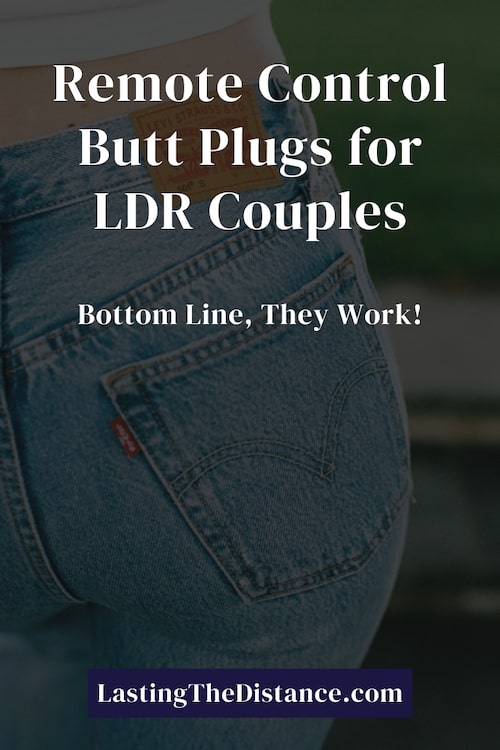 How Do Remote Control Butt Plugs Work?
Remote control butt plugs connect to an external device or remote that allows you or your partner to control the movements, vibrations and their intensity.
An external remote could be a simple controller that sends signals via radio frequency. Or they could be a more powerful app on your smartphone that allows you to control the device from anywhere in the world.
Reasons To Try A Butt Plug With Your Long Distance Partner
You might be intrigued but still on the fence (pun intended). Here are four reasons to give them a try.
Add a spark: You're always looking for something new and exciting to add to a relationship. This is a great way to expand your horizons.
Untapped zone: It's a key erogenous zone. Once you get past the shyness, you open up a whole new world of pleasure.
Discreet: You could head out to work or a bar and no-one would have a clue you were wearing one, which definitely adds a level of excitement to any situation.
To note: The four devices detailed below have been selected because of their long distance control capabilities. They also have solo and local control capabilities, making them great options for anyone.
QUICK NAVIGATION
The Best Remote Controlled Butt Plugs For LDR Couples
Ditto by We-Vibe
We-Vibe has been producing some of the worlds best adult products for over ten years and has won countless awards in the process. Their remote controlled butt plug, Ditto, is no different.
Made from 'Body Safe' silicone gives the device a very smooth and comfortable surface. They have also included a flexible neck allowing you to position the Ditto exactly where you want it.
Long Distance Control
Using We-Vibe's We-Connect app you or your partner can take control of the Ditto with 10 different vibration modes or create your own, choose from:
Low, Medium, High & Ultra
Pulse, Wave, Massage, Tease, Tempo & Ramp
The app also gives you the ability to save and store your sessions so you can use them again and again.
Ditto Features We Like
Secure video and text chat capabilities so you don't need multiple apps.
Personal remote for solo/local sessions and if you don't want to use the app.
Low power alert so you don't get a surprise half way through!
Important Ditto Specs:
​Materials: ​Body-safe silicone (BPA, phthalates & latex free)
Colors: Midnight Blue, Purple
Charge Time: 90 mins
Usage Time: 2 hours
Waterproof: Yes
Warranty: 2 Years
Take a look at the video above or click here to be taken to the official We-Vibe website to learn more about the Ditto and if it's the right device for you.
Hush by Lovense
Lovense is another company with a great reputation when it comes to adult products, especially for the long distance community.
Branded as the ​​first teledildonic (control from anywhere) butt plug, the Hush is great device that's made from 100% 'Body Safe' silicone. It's perfect for complete beginners and intermediate users as it comes in two sizes.
Long Distance Control
Lovense als​​o have an app (Lovense Remote) which lets you or your partner control Hush in many ways. Rather than list them, check out the video below to see it in action!
The app is available for iOS and Android devices, plus Macs and PCs (PCs will need the Lovense bluetooth adaptor).
Hush Features We Like
Secure video and text chat capabilities within Lovense Remote.
Spiral design on the neck to hold lubricant for easy removal.
One of the largest vibrating motors on the market.
Discreet sizing allows for you to use it anywhere.
Important Hush Specs:
Materials: Body-safe silicone
Colors: Black
Charge Time: 70 minutess
Usage Time: 90-120 minutes
Waterproof: Yes
Warranty: 2 Years
To find out more about Hush and other details on what size would better suit you or your partner's needs, visit Lovense.com by click here.
To note: The next two remote controlled adult toys are known as prostate massagers. They deliver a similar experience for the user, but are made for men.
Vector by We-Vibe
Vector is We-Vibe's flagship device that focuses on prostate and perineum stimulation.
Because every body is different the head is completely adjustable and the base can flex also, giving you the ability to better target both zones for maximum pleasure.
Just like We-Vibe's remote controlled butt plug, Vector is made of 'Body Safe' silicone to provide a smooth and comfortable fit.
The video below with Dr. Chris Donaghue will give you a good idea on what to expect from the Vector.
Long Distance Control
You or your partner can take full control of the Vector through the We-Connect app. But there are some different vibration modes specifically designed for this device:
Low, Medium, High & Ultra
Pulse, Wave, Echo, Tide, Crest & Surf
Vector Features We Like
It has two 'whisper quiet' motors rather than just one.
Designed in collaboration with leading prostate experts.
Includes a personal wireless remote for solo/local play.
Important Vector Specs:
Materials: Body-safe silicone (BPA, phthalates & latex free)
Colors: Slate
Charge Time: 90 minutes
Usage Time: ​120 minutes
Waterproof: Yes
Warranty: 2 Years
Think the Vector is what you're after? Head on over to the We-Vibe official website for more details.
Edge 2 by Lovense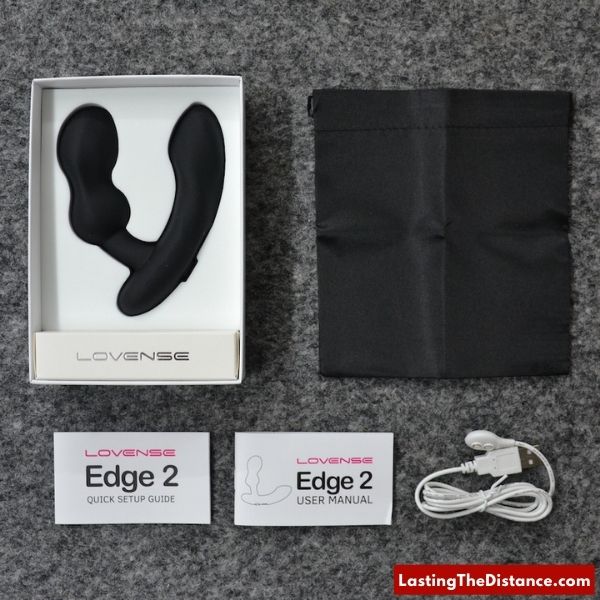 Many men don't know much about prostate and perineum pleasure, or don't feel comfortable talking about it. The Edge 2 from Lovense could be a good introductory option.
Similar to the Vector, the Edge 2 is also adjustable to make sure you get a fit that touches exactly where you want it to. The video below gives you a good indication as to how flexible, yet stable, it is.
Long Distance Control
Lovense's Remote app works perfectly with this device and has all of the same features that can be used on the Hush.
Edge 2 Remote Features We Like
Traditional Control: Five levels of adjustable intensity on each vibrating motor.
Tap & Slide: Allowing you to manually control the intensity.
Sync to Music: Lets the beat and rhythm of a song control the intensity.
Sound Activation: Using your voice or the sounds around you.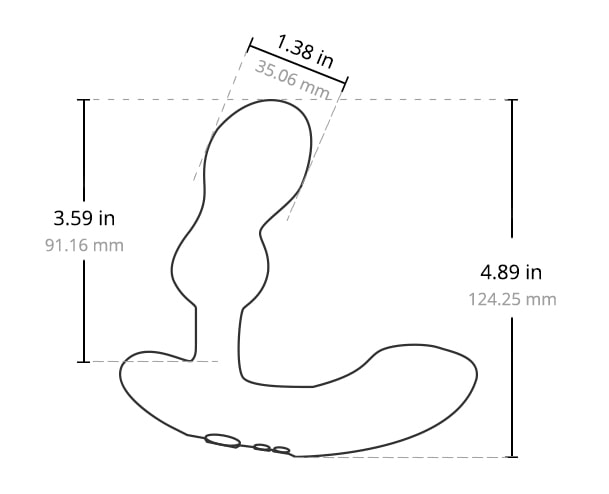 Important Edge 2 Specs:
Materials: Body-safe silicone
Colors: Black
Charge Time: 100 minutes
Usage Time: 100-180 minutes
Waterproof: Yes
Warranty: 1 Year
To make sure the Edge 2 is the device you're after, check out the Lovense official website for more details.
To note: Lovense do run online promotions from time to time and are usually visible on the store and checkout pages.
Interested in the Edge 2? Check out our review and user guide to help make an informed decision.
Before Buying A Remote Controlled Butt Plug
Talking Consent
Consent plays a huge role in any happy and healthy relationship, new or established and for long distance couples it should be no different.
Being intimate online isn't for everyone. You would not want your partner to pressure you to do things you are not comfortable doing.
So before moving forward, it's important to talk about and respect each others boundaries to make sure you're both on the same page.
Think About Sizing
If you are a novice, think about what your body can and can not handle. The whole 'crawl before you can walk' scenario!
It's recommended to start off with a smaller size and only increasing overtime if you are comfortable doing so (and want to).
Knowing the right information and asking the important questions before jumping in will create a much more relaxed and pleasurable experience.
Making Sure It's 'Body Safe'
It's probably the most important term you should look for when reviewing any sex toy's description. But what does it mean?
A product being 'Body Safe' means that it is:
Non-toxic: It isn't made from materials that can leach into your body.
Non-porous: The materials aren't penetrable and won't 'store' bacteria.
If you can't find this statement or only see wording around the product being 'Skin Safe' it's best to stay away.
To note: All four remote control butt plugs we've mentioned use Body Safe materials like medical grade silicone and DO NOT include materials such as latex, jelly, PVC and vinyl.
Cleaning Tips
Cleaning your toys might not be the sexiest job but it MUST be done and is a vital part of staying safe while you are having fun.
Reputable companies like We-Vibe and Lovense will include cleaning guides with their products and online. But here are some basics to follow:
Clean your toy before and after use.
Use a small amount of mild, fragrance free soap.
Dry thoroughly with a clean towel.
Keep away from temperature extremes.
Other Points To Remember
There are some key pointers that you want to remember about using a butt plug that should be followed at all times to ensure the maximum safety and pleasure.
Always use lubricant.
Use a water-based lubricant on silicone.
It should never be painful.
The models above won't get stuck inside.
Nope, you wont poop! (The sensation or feeling only is common for novices)
Our Recommended Remote Controlled Butt Plug
If we had to pick one remote controlled butt plug for you to try it would be the Ditto by We-Vibe. We've already mentioned that size is important and their device has the smallest insertable diameter, which makes it a great introductory device.
They also have a regular remote for local use, which is not available with Lovense's Hush.
Another benefit with We-Vibe is that they include a single use lubricant packet and a silk pouch (some devices) for convenient storage and protection.
To take advantage of this package, head on over to the official We-Vibe.com website.
Now It's Your Turn!
Which option has caught your eye? Let us know the remote control butt plug that appeals to you the most.
Have questions but unsure where to go next? Join our LDR Support Group and get the right help from an amazingly supportive and inclusive community!
Learn the

secrets

to strengthening your LDR with our FREE 7 Day Challenge.
"We just want to tell you how amazing this all is & we can't thank you enough!"

Becca (USA) & James (AUS), Challenge Participants
JOIN FOR FREE TODAY!
---
Hi, we are Lolo (Canada) & Nate (Australia) a couple that had to go through all that a long distance relationship has to offer, just like you. With our experience and lessons learned we want to help you keep your long distance relationship as strong as ever and ultimately last the distance!