We think it's great that anal play and remote control butt plugs have lost their taboo status. 
We're becoming comfortable within our bodies to explore what we like and want to try.
Long distance couples had to wait until they were together for this type of intimacy.
Now, there are app-controlled options to help pleasure each other from afar!
The question is: which option is right for you?
Whether you're a complete novice or a seasoned expert. We've compared the latest options to help choose the best-sized and shaped vibrating butt plug for you!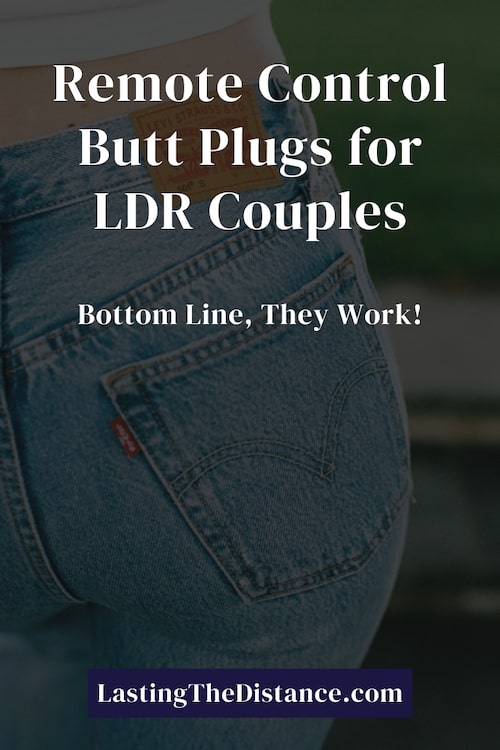 In a rush? Here are our picks for the best remote-controlled butt plugs for long distance fun:
Our Top Pick
Hush 2 (1.5 inch) by Lovense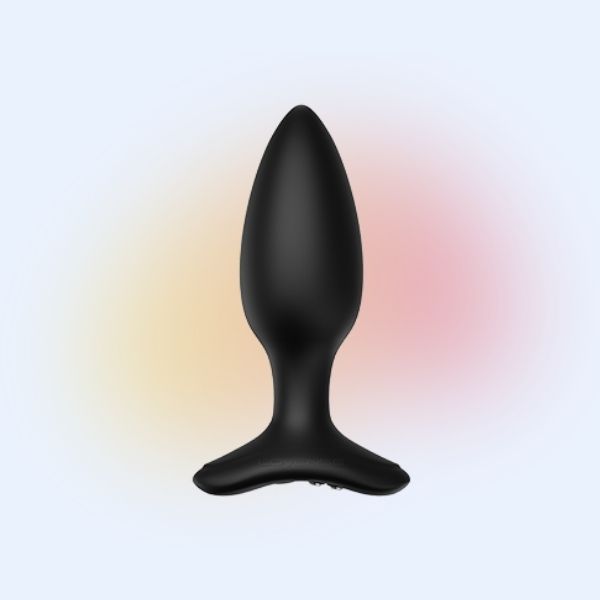 Most popular sized Hush 2 for beginner & intermediate users.
Orgasmic: 5/5
Ease of use: 4/5
Battery: 4/5
Cleaning: 4/5
Price: 4.5/5
Happy Medium
Ditto (1.28 inch) by We-Vibe
Ergonomic & powerful option that comes with close-range remote.
Orgasmic: 4/5
Ease of use: 4/5
Battery: 3.5/5
Cleaning: 4/5
Price: 4/5
Beginner's Choice
Hush 2 (1 inch) by Lovense
The best butt plug for anyone experimenting for the first time.
Orgasmic: 4/5
Ease of use: 5/5
Battery: 3.5/5
Cleaning: 4/5
Price: 5/5
QUICK NAVIGATION
A NOTE ON OUR SELECTION PROCESS. Each device must:
Use 100% body safe materials like non-porous silicone.
Be completely waterproof for use absolutely anywhere.
Require simple stress free cleaning (warm water & mild soap).
Have app functionality with robust control options for long distance couples.
Be packaged and shipped discretely for peace of mind.
The Best App Controlled Bluetooth Butt Plugs in 2023
1. Hush 2 by Lovense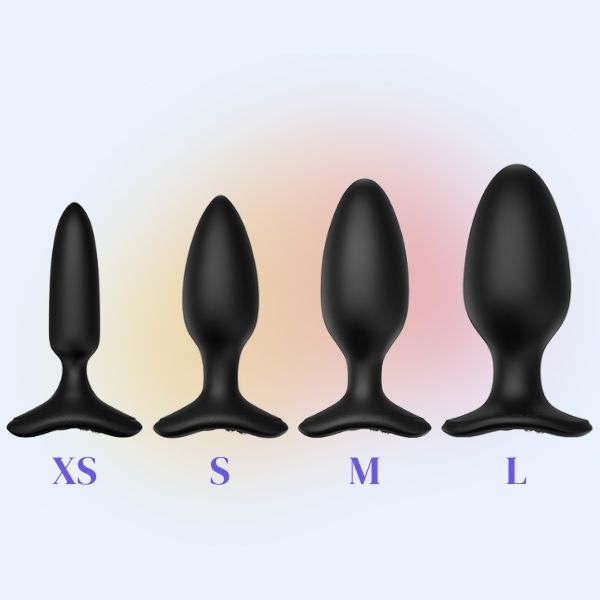 The world's first app remote control butt plug
Just got an upgrade!
The original Hush was a game changer in the world of bluetooth butt plugs. Now, Lovense has taken user experience to a whole new level with the second generation Hush 2.
It doesn't matter whether you're a complete beginner or consider yourself a pro. The Hush 2 has a size for everyone with four different diameters (previously only two):
| | | |
| --- | --- | --- |
| Hush 2 Size | Diameter | Best For |
| Extra Small | 1in / 2.54cm | Complete Beginner |
| Small | 1.5in / 3.81cm | Beginner |
| Medium | 1.75in / 4.44cm | Intermediate |
| Large | 2.25in / 5.71cm | Advanced |
See actual sizing against the scale of the average adult hand here.
Tip: If you or your partner are interested but hesitant, we recommend starting with the extra small (1in) Hush 2. But it is worth noting that the small (1.5in) is very much a beginner size.
As with most device upgrades, Hush's industry leading tech received the same treatment.
Quieter vibrating motor:

Check!

Longer battery life:

Check!

Faster charging: Check!
Flared base for safety:

Check!

More secure fit:

Check!
We really like the improvements made to the flared base and overall design changes, especially for beginners. You'll never have to worry about it going too far in or getting stuck.
Performance & Functionality
In terms of vibration options Hush 2 offers seven speeds and patterns that will suit a variety of preferences:
Speeds: low, medium, and high.
Patterns: pulse, wave, fireworks, and earthquake.
View a visual representation of Hush 2 vibration modes here.
Being a remote control butt plug, there are two ways to control the Hush 2. Manually on the device or with the Lovense Remote app.
If you're playing by yourself you can rotate through the vibration options manually by using the on/off button on the base (next to the magnetic charging connections).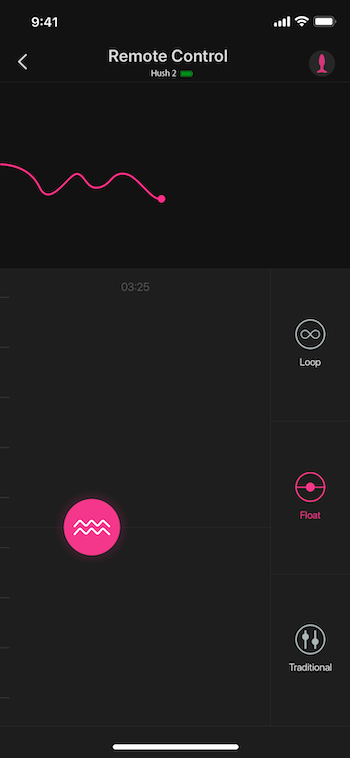 For remote control, whether in close proximity or long distance play (partner control), you can use the Lovense Remote app. We recommend using the app whenever possible because it gives you so much more in terms of pleasure control.
You can:
Create unlimited customized vibration patterns.
Save up to ten of those patterns for future use.
Sync vibrations to your favorite music.
Control vibrations levels with your voice (similar to music).
Tip: We love the music sync feature, we recommend picking bass heavy songs that have a consistent beat!
Battery Life
Lovense could have used the same battery in each model to save money. Thankfully they utilized the extra space within the larger diameter models to give them bigger batteries.
This will impact charging times BUT the real benefit is the extended usage times!
It's unlikely that your sessions will last that long but what it does mean is that you don't have to charge it after every use (although we would recommend it so you're not caught out in the middle of the action).
2. Hush by Lovense
While Hush 2 is a standout the OG (original) Hush still has its place as one of the best remote control vibrating butt plugs on the market.
That's right, they're still available and now heavily discounted.
BUT there are two things to note:
There is no longer a live product page to find out more about the device, which means
The original Hush is only accessible for purchase via the Lovense Store.
We'll help you navigate both of these so you can make an informed decision!
The original Hush comes in two sizes that cater to those who consider themselves beginners or those that have some experience and want to take the next step up.
If you were considering the Small Hush 2 (1.5in / 3.81cm) then the current discount of the original Hush might make it a more enticing option.
One feature that wasn't integrated into the Hush 2 was the spirals on the neck. This design feature helps to 'trap' lubricant around the base, which will give beginners users peace of mind when it comes to being able to remove the device comfortably and safely.
Speaking of lubricant! If you do purchase from Lovense, don't forget to pick up a bottle of their water-based lubricant.
Performance & Functionality
Hush offers the same performance and functionality of its successor when it comes to vibration modes as well as manual and remote (short/long distance) control options.
(Re-read our Hush 2 breakdown for these details)
One thing to note is that some Hush customers had issues with the connection between the device and the Lovense Remote app dropping out from time to time. The new design of the Hush 2 base has improved the bluetooth receiver's position and connection strength.
Battery Life
Both the 1.5in / 3.81cm and 1.75in / 4.44cm models use the same internals, which provides 3.8 hours of use from a 70 minute charge. As you'd guess, the updated Hush 2 of the same size provides slightly better charge and usage times (but not significantly different).
How to Purchase Hush
If you're interested in swapping the 'latest and greatest' for the 'tried and true' we couldn't blame you.
Especially for the discounted price and those venturing into the world of remote control butt plugs for the first time.
As we mentioned earlier, you can only purchase the original Hush through the Lovense Store. This is the process to follow:
Visit the Lovense Store here.
Under 'Most Popular', click Hush, which is the third option.
You should then see the two options to purchase.
Click 'Buy Now' on your preferred option to add it to your cart.
3. Ditto by We-Vibe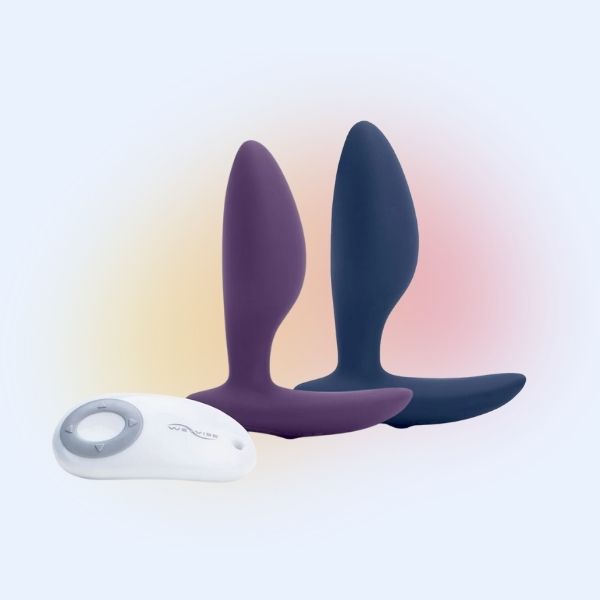 We-Vibe has been producing some of the world's best adult products for over a decade, winning countless awards in the process.
Ditto, is one of the reasons why.
Available in midnight blue and purple, this device sits in what we like to call the 'goldilocks zone' of remote control butt plugs for beginners.
It's not too small and not too big. It's, just right!
With a max insertable diameter of 1.28in / 3.25cm, this sizing places it in between the extra small and small Hush 2 models. Giving beginners another choice if they feel 1in may be too small, while 1.5in could be too intimidating.
Pair that with an ergonomic shape designed for comfort along with a flexible neck for accurate positioning and you've got yourself a great introductory option.
Performance & Functionality
We-Vibe has integrated ten diverse vibration speeds and patterns into Ditto. Some are similar to what we've seen in other devices while others are quite unique.
Speeds: low, medium and high
Patterns: pulse, wave, tease, ultra, massage, tempo and ramp
View a visual representation of Ditto vibration modes here.
When it comes to controlling these vibration settings manually, Ditto has a trick up its sleeve.
You can rotate through vibration modes using the control button on the bottom of the device, just like the other devices. But when inserted this can be an awkward and challenging task.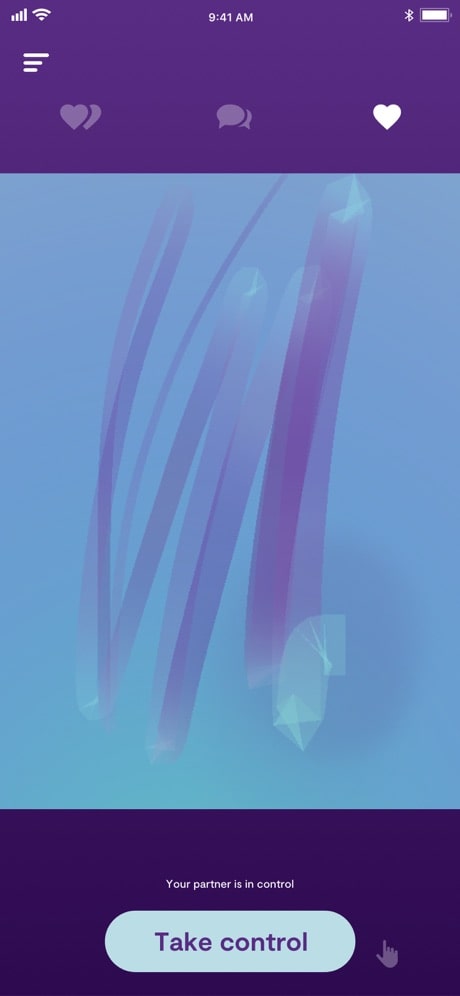 To make things easier the team at We-Vibe have also included a short-range remote control. It's worth noting that Ditto is the only app controlled butt plug that comes with a separate remote.
For long distance couples the We-Vibe app (previously known as the We-Connect app) gives you complete control over much more than the standard ten vibration modes.
You can:
Swipe to switch between vibration modes AND control their intensity.
Create an infinite amount of unique vibration patterns AND control their intensity.
Build playlists of vibration patterns (standard and custom) to 'play' in sequence.
One feature we hope the We-Vibe app has in the future is the ability to sync to music for vibration control.
Battery Life
Up to two hours of fun.
'Up to' is important here.
If you're to use Ditto on the lowest intensity setting you will likely reach that mark from a full charge (which takes 90 minutes). But you're more likely to cycle through modes and speeds and do so via the app, which will all impact the actual usage time.
Rest assured it will be more than enough time for your intimate sessions. What's cool is that Ditto has a low power alert so there will be no sudden surprises before the end of the action.
If this 'goldilocks zoned' option has piqued your interest, you'll also enjoy their industry leading two-year warranty (the standard is currently one-year). For more details, visit their official website.
4. Lumen by OhMiBod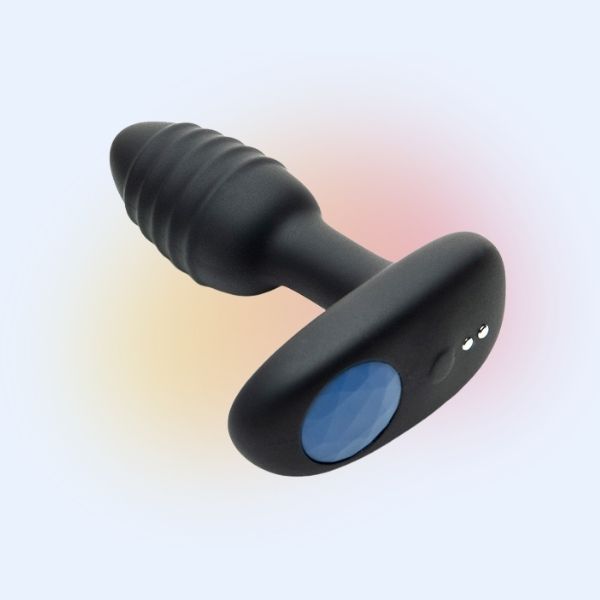 Lumen by OhMiBod is the company's first venture into the world of remote control butt plugs.
This may deter some people but it definitely deserves consideration. OhMiBod has a long standing relationship with Kiiroo, a well established app controlled sex toy manufacturer, who's trusted technology powers the device.
Similar to the We-Vibe Ditto, the Lumen's 1.3in / 3.3cm diameter also sits in the 'goldilocks range' for those new to anal play.
Another win for beginners is the cushioned ribbed silicone, which OhMiBod has coined:
Velvet Wave technology
While it may be a fluffy name it does have its benefits over the other models we've reviewed.
We found that this makes the Lumen noticeably softer, making insertion a much more comfortable experience while the ribs are sturdy enough to keep the device in place.
Performance & Functionality
We initially thought that the Lumen fell short of the mark with only having four standard vibration patterns. This is unfortunately going to be the case if you use the device manually and control the patterns via the on/off button.
But being a remote control butt plug, the OhMiBod Remote app saved the day.
Connecting Lumen to the app gives you complete control of the speed and intensity of those patterns by using the +/- sound buttons on the side of your smartphone.
The OhMiBod Remote app also gives you and your partner a lot of other options for fun from afar:
Customize your own vibration patterns and save favorites for future use.
Sync vibrations to your favorite music for an endless supply of sensations.
Use the ambient sounds around you or voice to control vibrations.
Connected Toys
Remember that we mentioned Kiiroo technology powers Lumen? Well, the partnership has been taken a step further with Lumen being able to connect with other Kiiroo sex toys for dual stimulation!
Level up your long distance intimacy through the FeelConnect app and pairing Lumen to another Lumen or Kiiroo devices such as:
Want more options? Check out our post on the best connected sex toys for long distance couples to level up their intimacy from afar!
Battery Life
Although the tech in Kiiroo powered devices is highly regarded they generally do take longer to charge, the Lumen is no different. 2.5 hours is needed to fully charge the device, which will provide up to an hour of operating time.
The LED light incorporated on the bottom will impact operating time but it is well worth it for the amazing visual enhancement for long distance couples playing online!
You have two options if the Lumen is your remote control butt plug of choice:
If you're not looking to connect the Lumen to other partner devices, we recommend purchasing directly from OhMiBod's official store.
If you are likely to venture into connected sex toys from Kiiroo that pair with Lumen, we recommend purchasing directly from Kiiroo.
5. Nuo Vibrating Butt Plug by Je Joue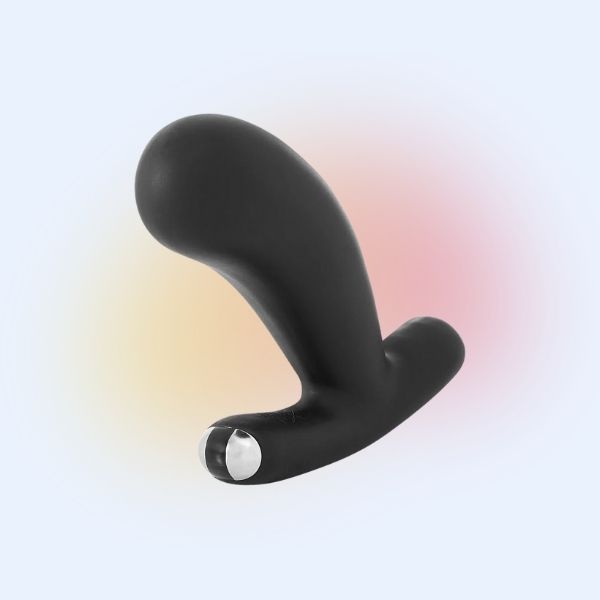 World's first dual-motor butt plug.
While Nuo is the first vibrating butt plug to have two motors, one in the shaft and another in the base. There are many vibrating prostate massagers with the same configuration that have been available for a considerably longer period of time.
Interested in prostate massager options? See our post on the most potent vibrating prostate massagers available for long distance fun.
Having a curved and flexible shaft further aligns Nuo with other prostate massagers as it allows you to adjust the position for precise p-spot stimulation.
In any case, this vibrating butt plug/prostate massager hybrid's dual-motor setup has mind-blowing capabilities when it comes to internal and external stimulation.
With a 1.25in / 3.17cm max diameter and an insertable length of 4in / 10.16cm, Nuo is another device in the 'goldilocks zone' for beginners.
To note: The only issue we see with the design is that the max diameter is very close to the start of insertion. Where other devices have a much smaller, with a 'pointed' tip, making the process much more comfortable (and less daunting).
But is Nuo the option for you?
Performance & Functionality
From a gentle purr to a deep rumble, Nuo's five speeds and seven patterns give you a wider range of standard vibration options than any other remote control butt plug we've reviewed.
But due to the fact that Nuo has an internal and external motor, the patterns also work in different ways. In the bulleted list below, patterns with IE use both internal and external motors, while patterns with I or E use either internal or external motors.
Speeds: creatively named 1, 2, 3, 4 and 5!
Patterns: rhythm (IE), purr (E), intense (I), cascade (IE), energize (IE), glow (E) and mood (I).
Rather than only having the ability to manually access either vibration speeds or patterns separately. The team at Je Joue integrated Nuo with three separate tactile buttons, allowing you to adjust the intensity of each pattern.
Alternatively and for long distance play, you can use the Je Joue App to control the vibration patterns and speeds.
Recording the combinations you create happens automatically, which allows you to replay combinations for future use. Je Joue has also given users the ability to edit these combinations and for how long the run.
Unfortunately, this is where the app experience stops.

When compared to offerings from Lovense, We-Vibe and OhMiBod, Je Joue's app features fall short of what could be considered the industry standard.
It's also worth noting that the iOS app was last updated in January, 2021 (this was also the first update since 2014). Their Android app was last updated in March, 2019.
Battery Life
While Je Joue says you need to charge Nuo for:
At least 1 hour 45 minutes
We found that it needs around two hours for a complete charge. It's widely known that you can get up to two hours of run time but if you're using multiple patterns where both motors are active, run time will be much shorter.
Our Recommended Remote Control Butt Plug
If we had to pick one remote control butt plug for you to try it would be the Hush 2.
Overall build quality, selection of vibrations and a robust smartphone app are hard to beat.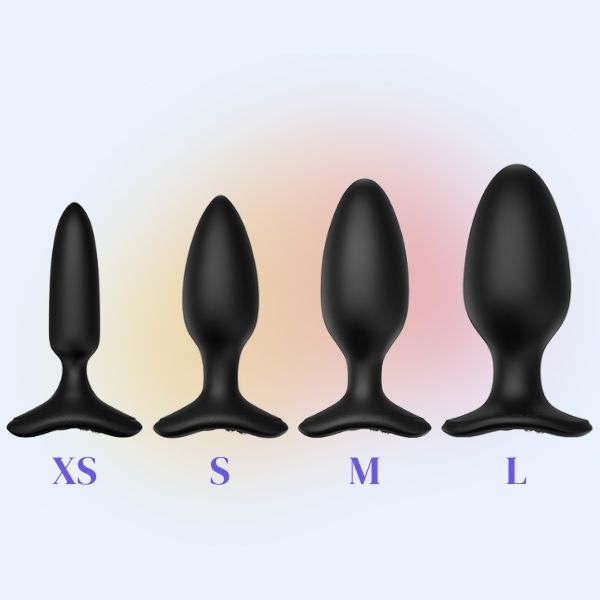 We've already mentioned that size is important and their devices range from:
The smallest insertable diameter (1in / 2.54cm), which makes it a great introductory device.
The largest insertable diameter (2.25in / 5.71cm) for the most experienced and adventurous.
When it comes to the sizing option we recommend, it is the small (1.5in / cm) Hush 2.
For complete beginners there are benefits to the extra small's 1in / 2.54cm diameter. But as you explore anal play further, you will likely be looking to upgrade, having to outlay even more money.
Ready to dive in? Visit Lovense's official website to find out which Hush 2 model is right for you.
Before Buying A Remote Controlled Butt Plug
How do Remote Control Butt Plugs Work?
Remote control butt plugs connect to an external remote that allows you or your partner to control the movements, vibrations and intensity.
An external remote could be a simple controller that sends signals via radio frequency. Or they could be an app on your smartphone that allows you to control the device from anywhere in the world.
Talking Consent
Consent plays a huge role in any happy and healthy relationship, new or established and for long distance couples it should be no different.
Being intimate online isn't for everyone. You would not want your partner to pressure you to do things you are not comfortable doing.
So before moving forward, it's important to talk about and respect each others boundaries to make sure you're both on the same page.
Think About Sizing
If you are a novice, think about what your body can and can not handle. The whole 'crawl before you can walk' scenario!
It's recommended to start off with a smaller size and only increasing overtime if you are comfortable doing so (and want to).
Knowing the right information and asking the important questions before jumping in will create a much more relaxed and pleasurable experience.
Making Sure It's 'Body Safe'
It's probably the most important term you should look for when reviewing any sex toy's description. But what does it mean?
A product being 'Body Safe' means that it is:
Non-toxic: It isn't made from materials that can leach into your body.
Non-porous: The materials aren't penetrable and won't 'store' bacteria.
If you can't find this statement or only see wording around the product being 'Skin Safe' it's best to stay away.
To note: All four remote control butt plugs we've mentioned use Body Safe materials like medical grade silicone and DO NOT include materials such as latex, jelly, PVC and vinyl.
Cleaning Tips
Cleaning your toys might not be the sexiest job but it MUST be done and is a vital part of staying safe while you are having fun.
Reputable companies like We-Vibe and Lovense will include cleaning guides with their products and online. But here are some basics to follow:
Clean your toy before and after use.
Use a small amount of mild, fragrance free soap.
Dry thoroughly with a clean towel.
Keep away from temperature extremes.
Other Points To Remember
There are some key pointers that you want to remember about using a butt plug that should be followed at all times to ensure the maximum safety and pleasure.
Always use lubricant.
Use a water-based lubricant on silicone.
It should never be painful.
The models above won't get stuck inside.
Nope, you wont poop! (The sensation or feeling only is common for novices)
Which Remote Control Butt Plug Will You Choose?
Whether it's the dependable Hush 2, 'goldilocks zone' worthy Ditto or another option that has caught your eye…
Make sure any purchase decisions are made for the right reasons.
You might be intrigued but still on the fence (pun intended). Here are three reasons to give them a try.
Add a spark: You're always looking for something new and exciting to add to a relationship. This is a great way to expand your horizons.
Untapped zone: It's a key erogenous zone. Once you get past the shyness, you open up a whole new world of pleasure.
Discreet: You could head out to work or a bar and no-one would have a clue you were wearing one, which definitely adds a level of excitement to any situation.
Have questions but are unsure where to go next? Join our LDR Support Group (where you can post anonymously if preferred) and get the right help from an amazingly supportive and inclusive community!
Our

FREE

7 day LDR challenge is BACK!
Unlock better date nights, deeper communication plus a stronger intimate & emotional connection.
SECURE YOUR SPOT!
---
Hailing from Amsterdam, Lucas is a Long Distance Intimacy Contributor at Lasting The Distance, focusing on male sexual health. His goal is to help remove the stigma around men (in long distance relationships or not) using adult devices in the bedroom while improving their confidence to explore their sexual needs AND wants.