In a rush? Here's our TL;DR top recommendations for the best long distance relationship gifts to spoil your partner with:
Our Top Choice
LuvLink Friendship Lamps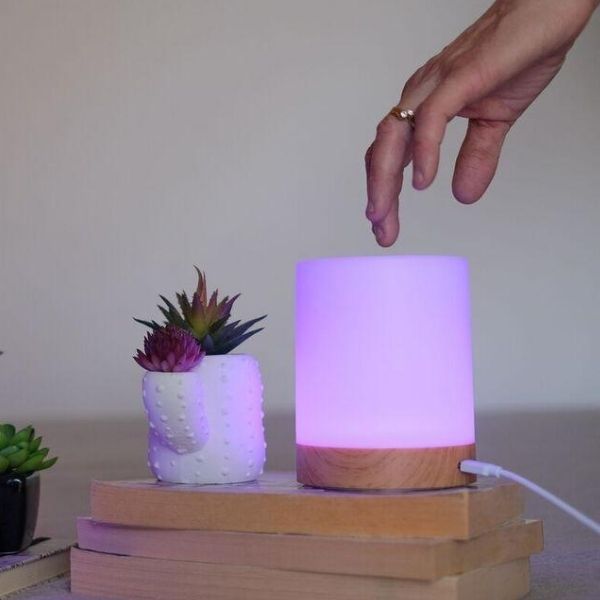 One of the most popular long distance gifts in 2023 & their 40% OFF sale is LIVE!
Popular Option
Heart Map by Journey Print Shop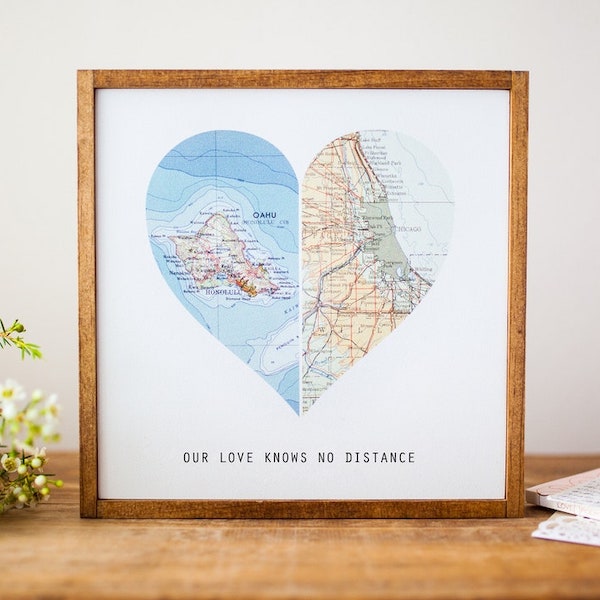 An amazing & unique symbol of the love between long distance couples (knowing no distance!).
Cool Tech!
Totwoo Touch Bracelets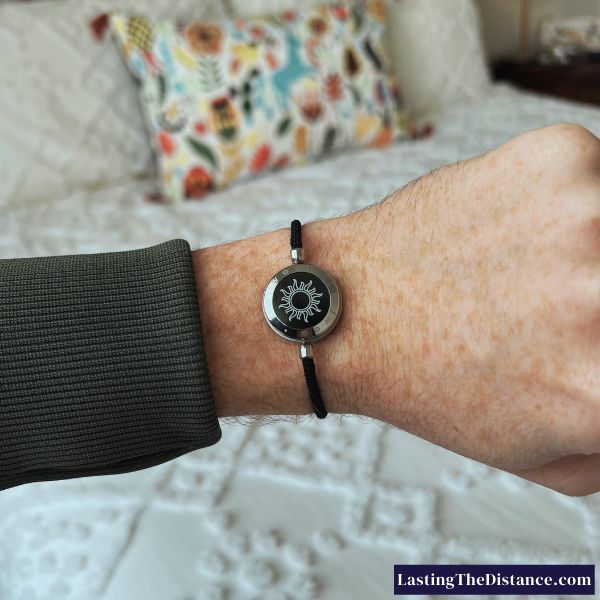 Distance melts away when tapping one bracelet, making the other light up! Up to 60% OFF select items.
Let's guess… A relationship milestone is just around the corner.
Birthday, anniversary, whatever it is, it's creeping up FAST, and you're in the same position.
​I have no freaking idea what to get!?
​We know just how tough it can be to find the perfect gift for that special someone.
To help, we've created a comprehensive list of affordable long distance gifts that they will love and bring you closer together!
Ok, let's get cracking before the next milestone passes by. You've got to stay in their good books!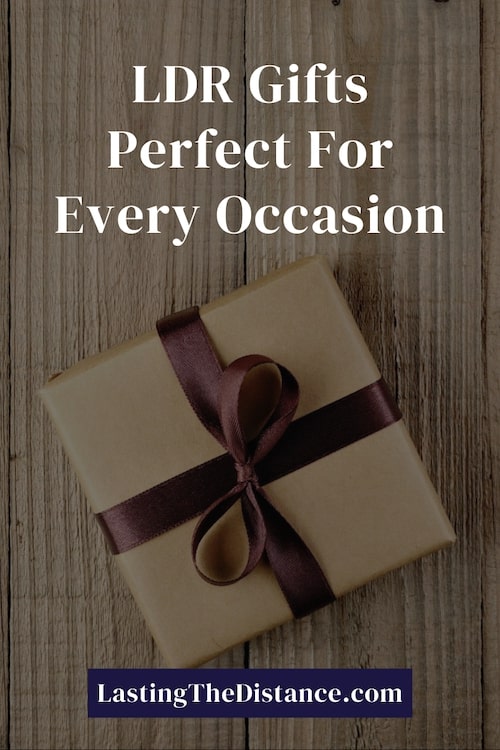 QUICK NAVIGATION
The Best Gifts for Long Distance Relationships in 2023
1. Long Distance Relationship Lamps By LuvLink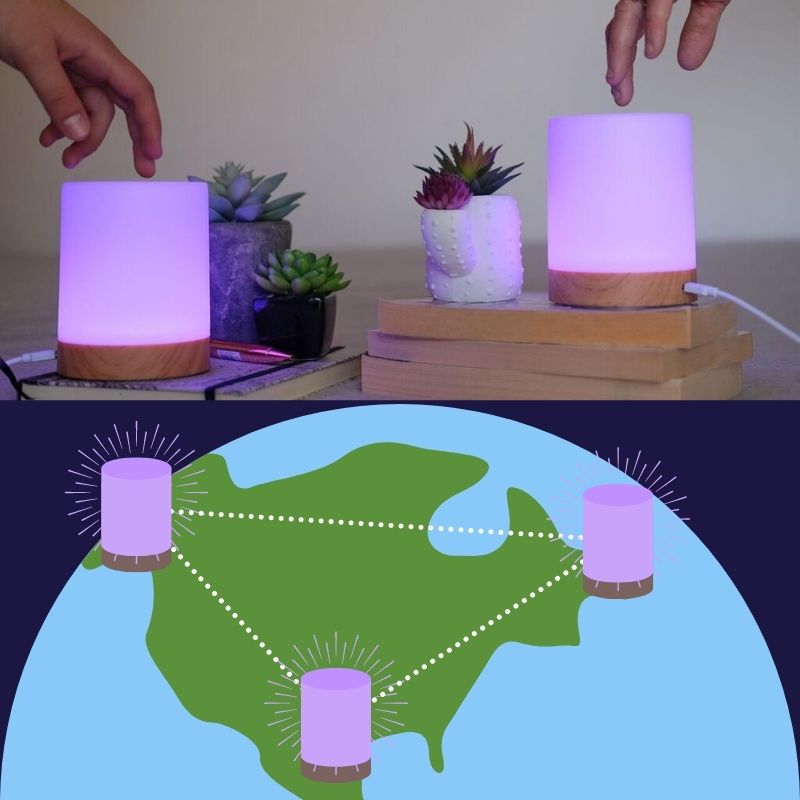 You light up my life.
Hearing your partner say this has to be one of the most heartwarming sentiments you can receive.
Now, you can light up their life from anywhere in the world with these friendship lamps by LuvLink.
The lamps sync together via wifi, and when one of the lamps is activated (touching the top of the lamp), the other will light up.
To choose one of the 17 available colors all you have to do is hold your finger on the top of the lamp and it will cycle through each option. When you reach a color you like, simply lift your finger, and you're good to go!
Tip: Want an infinite amount of colors? You can also make your partner's lamp light up using the LuvLink app.
You may be thinking different colors aren't that special, but for long distance couples, they can have a positive impact on your relationship.
Having multiple colors gives you the opportunity to assign meanings to them. For example:
Blue: "Goodnight"
Red: "I love you!"
Green: "Are you free?"
Yellow: "Let's video chat"
Purple: "It's date night time!"
While these lamps have become super popular, the team at LuvLink haven't stopped improving them. Now they're available in four new designs.
But we think the best part is…
Each design can be paired together, which means you don't need to purchase two of the same lamps. So you can choose whichever best suits your personal style or home decor.
Now, adding more product options can complicate the setup process. To combat this, the LuvLink smartphone app makes it as seamless as possible.
If you're in an international LDR, these lamps are a great choice because they use USB charging cables. Meaning you can use them anywhere in the world without needing a power adaptor.
LuvLink is currently running a 40% off promotion, so head over to their official website, FriendLamps.com to take advantage!
Last checked 9th December 2023.
2. Connected Bracelets & Necklaces by Totwoo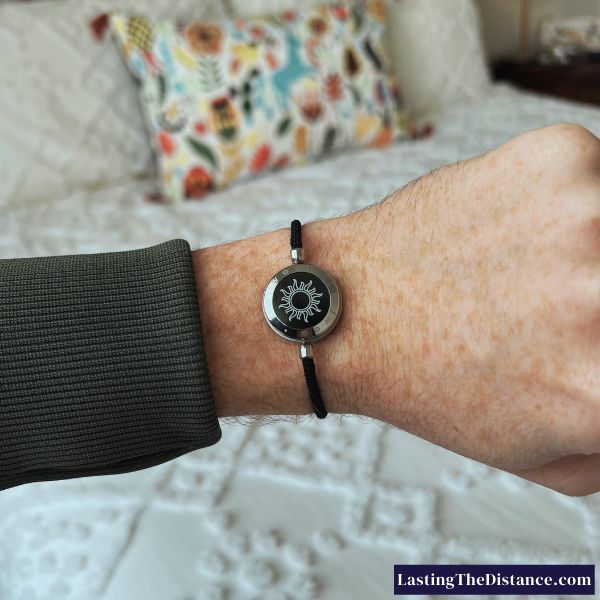 Totwoo Smart Bracelets are a heartwarming way to let your partner know whenever they are in your thoughts.
Designed to be gorgeous and an amazing piece of tech. The Moon option of the Sun & Moon couples set pictured above, incorporates beautiful AAA Grade Cubic Zirconias surrounding the charm.
That charm lights up when the other connected charm is tapped, or you receive a message through the Totwoo app.
We like to call this the visual 'touch' notification! See it in action here.
Imagine the look on your partner's face as the charm lights up…
We think their face will light up just as much!
The added functionality of the app also gives you and your partner a private place for your relationship. Similar to the Bond Touch app, you can send encrypted messages and pictures, but it has a few unique features up its sleeve:
Send surprise text, picture, video and audio messages that can only be read by tapping your bracelet.
It allows you to store your partner's number and the charm will light up when they call.
Create special countdown timers and assign a specific color for the charm to light up on that day.
Another reason we like Totwoo's smart jewelry is that there are many customization options including:
But to go one step further, you also have the option to purchase necklace-length charm housings. We think this makes it one of the most versatile options available.
It's no secret that we love technology that helps LDR couples. See our full list of the most weird to wonderful long distance relationship gadgets.
3. Long Distance Messages In A Bottle
Have you ever left handwritten messages in your partners home or room for them to find after a visit?
We did and we think it is one of the most amazing ways to show your partner how much you care for them.
These Long Distance Messages In A Bottle are a great way to create the same feelings without having to run a covert operation! (which is perfect for 'never-mets')
The bottle includes 50 pre-written messages in separate capsules. The creators 'prescribed' one a day, which gives you more than a month of messages. You could binge read them all at once but we think the best idea is to open one every time the distance is getting you down and you need a pick-me-up!
4. Heart Messenger by LoveBox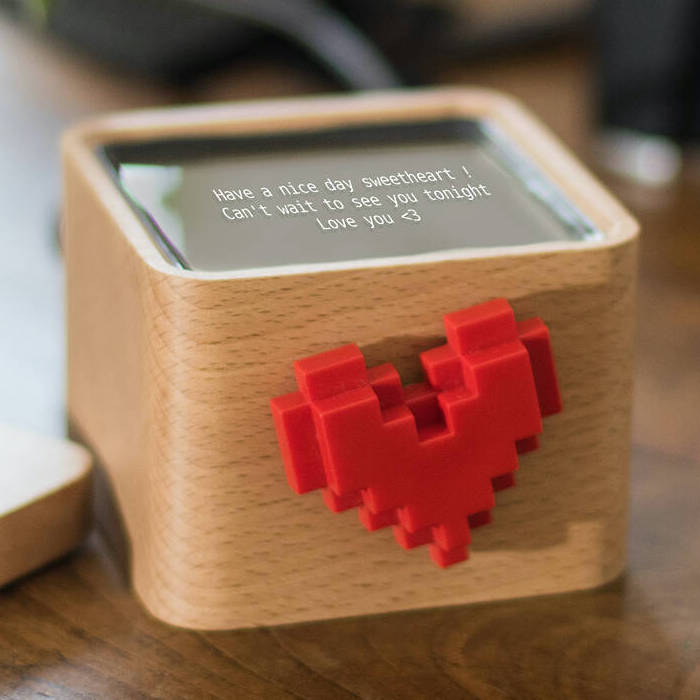 How do you combine a text message with a physical gift? With the Heart Messenger by LoveBox.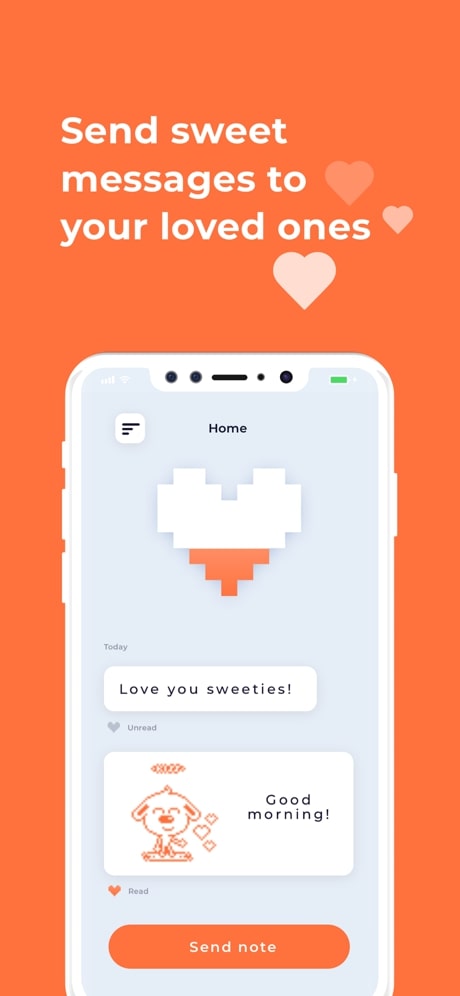 When you send a message through the LoveBox mobile app, the heart on the front spins until the lid is lifted.
It literally acts as a physical notification!
Just imagine the look on your partner's face when they catch the heart spinning in the corner of their eye.
See a demonstration of the spinning heart here.
The story behind LoveBox is inspiring. Jean Gregoire came up with the idea when he moved away from his fiancée, Melodie, in France to study at MIT in Boston.
He wanted a unique way to send her loving messages. Now, your long distance relationship gets to benefit from theirs!
To note: There is a new option available with a color screen, allowing you to send high-quality images and more expressive messages.
5. LuvLink Connected Photo Frames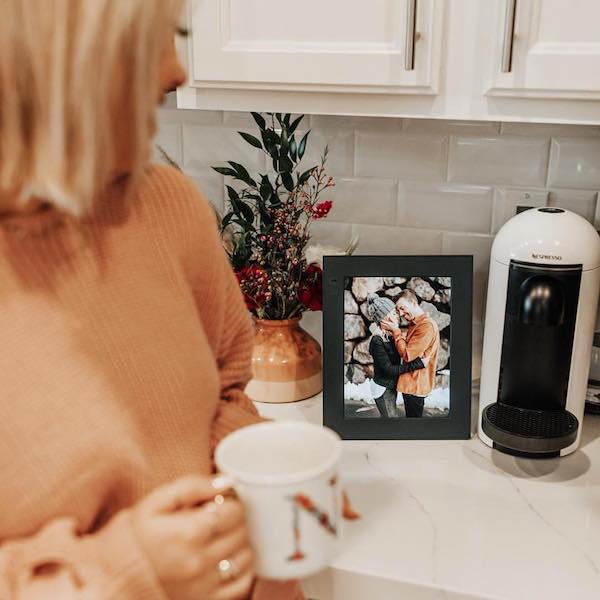 Digital photo frames have been around for over a decade, but it's only in the last couple of years that they've become an amazing LDR gift.
Previously they were super slow and you needed to upload photos to them via USB.
Now that wifi technology has become much smaller and cheaper, options like the LuvLink Connected Photo Frame make uploading photos not only anytime but ANYWHERE an absolute breeze.
LuvLink has created a super simple way to upload photos to their frames. We think it should appropriately be called:
From Phone to Frame
Genius, right?! 🙂
Joking aside, LuvLink's dedicated smartphone app makes the uploading process really easy. They've also included cool features like 'instant reactions' that allow whoever you gift the connected frame to the ability to 'like' photos.
6. Heart Map by Journey Print Shop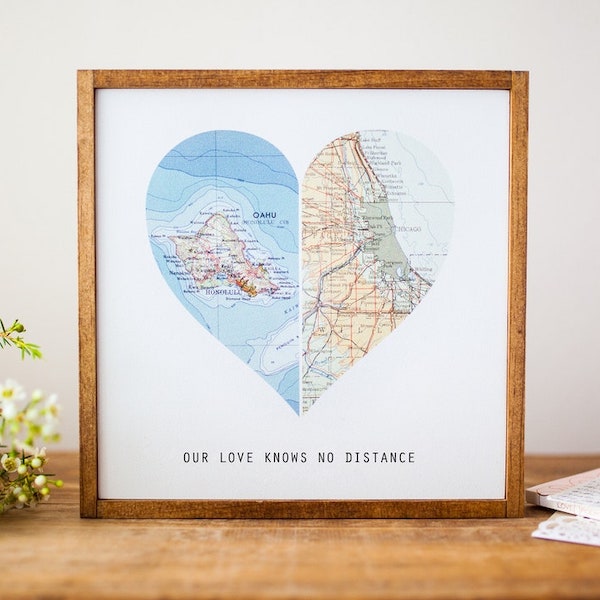 The Heart Map by Journey Print Shop is an amazing way to symbolize the love between two people separated by distance.
Journey Prints has also included the option to add three or four map locations, making them great for long distance friends and families. But the multiple maps are also great for couples to tell more of their story!
Three map locations are the perfect option for us to include where we met (at college in California) and where we lived while long distance (Lolo in Canada and Nate in Australia).
We really like the print options available. You can choose from three different sizes and whether you'd like it framed or just the print.
Our tip: Unframed will make it much easier and cheaper to ship!
7. Adventure Fund Money Box by Wander Collective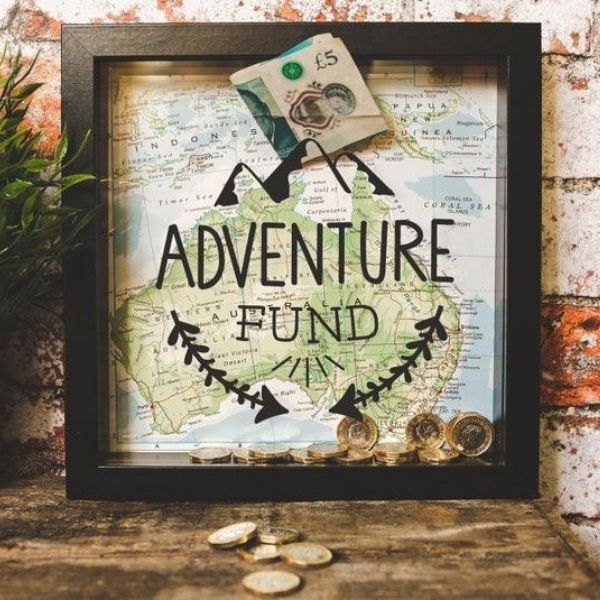 Whether you're wanting to save money for the next visit or to finally close the distance, the Adventure Fund Money Box by Wander Collective helps make it an exciting experience.
Wander Collective allows you to pick between black or white for the box color and text while also being able to choose the map inside it.
Our tip: Choose the map where you'll be closing the distance! The location of the next visit also works but if you're likely to visit more than one place, where you close the distance will have a deeper meaning.
While the map is super cool, the clear front makes it easy to see the savings progress you're making toward your goal.
When your next adventure arrives, simply unscrew the back of the box to access your money, then look forward to the good times you will get to have together thanks to your hard work of saving up!
Gifts For Long Distance Couples
8. Bond Touch Couples Bracelets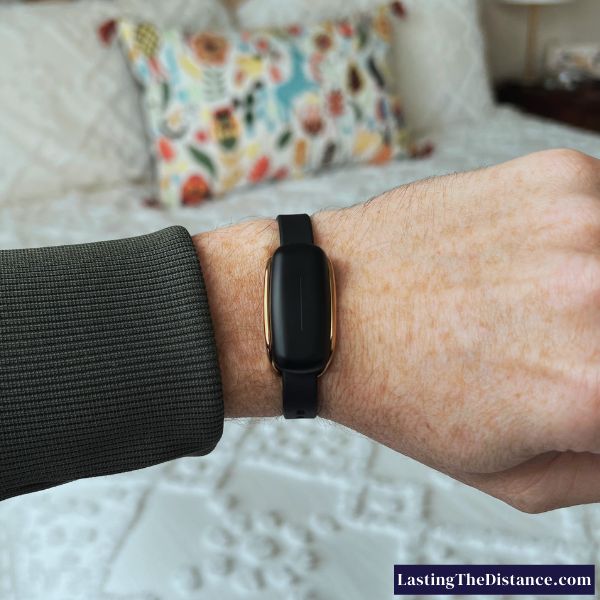 Want a sentimental way to let your partner know you're thinking of them, no matter where you both are in the world? Brighten their day by sending a "touch" with Bond Touch Bracelets.
Tapping the bracelet will signal the other, making it light up and vibrate. What we really like is the vibration will be unique to how you touch your bracelet.
You can tap the bracelets up to ten times, which is cool for creating codes and custom messages. Some examples include:
One tap: "I'm home"
Three taps: "I miss you", and
Ten taps: "I freaken miss you like crazy!"
These bracelets pair together via the Bond Touch App, which gives you other cool details like the city your partner is in, and the battery level of your bracelet. But the feature we like the most is their encrypted chat functionality making it a private and secure space for your relationship!
Check out their customer reviews to see what other long distance couples think about these bracelets and how they are using them.
Touch bracelets are an amazing way to stay connected from afar. Check out our in depth comparison of the best long distance touch bracelets available in 2023. Or read our in-depth review of the original Bond Touch bracelets.
9. Max 2 & Nora By Lovense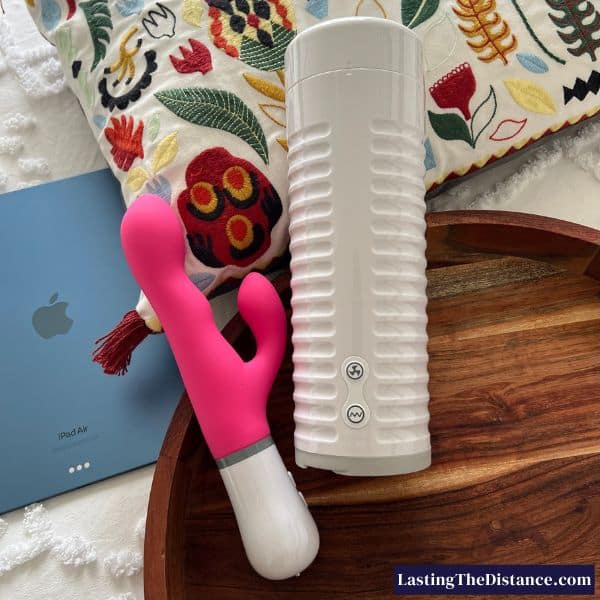 While nothing beats being physically intimate together, the distance between you has other ideas.
That's where Max 2 & Nora By Lovense can help you maintain your sex life together no matter how far apart you are.
Max 2, a male stroker, and Nora, a rabbit vibrator, use Bluetooth to connect to each other through the Lovense Remote App. You can choose to use the app to control each device separately but where the real magic happens is when the devices control each other!
But how!?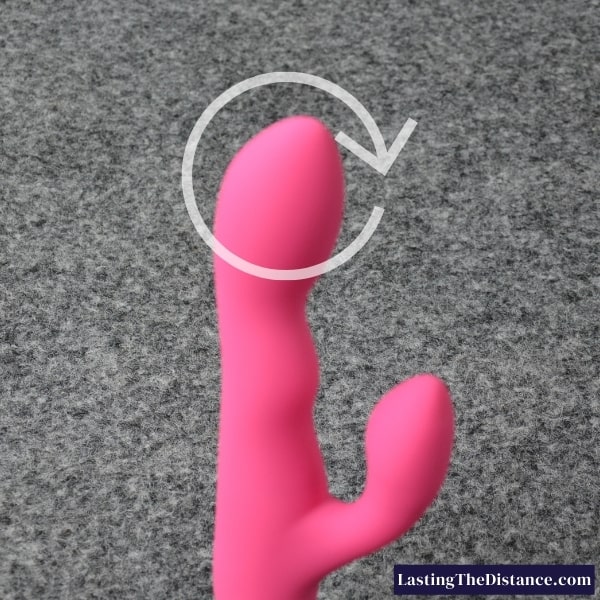 As you move the Max 2 up and down, the head of the Nora will rotate while the vibrating motor in the arm will activate.
What's really cool is that as you increase the speed of movements on one device it will cause the other to intensify too!
To note: LGBTQ+ and same sex long distance couples can also use these devices. Lovense has made it possible for two Max 2 or two Nora devices to connect and control each other. Visit the official Lovense website for more details.
10. Onyx+ & Pearl 3 By Kiiroo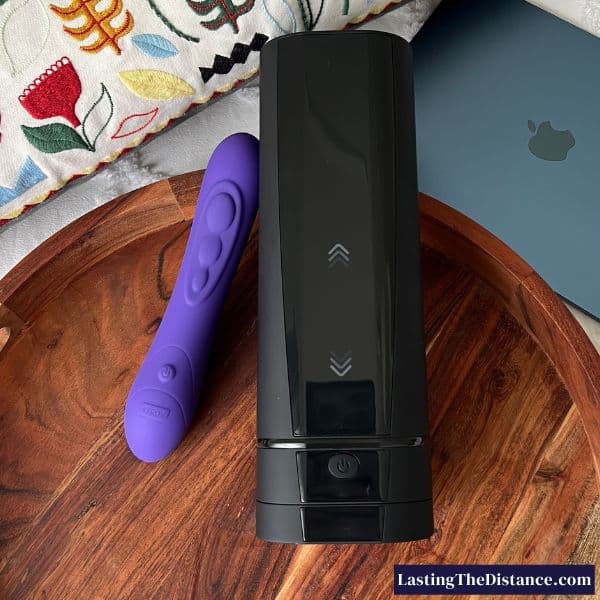 Kiiroo is another company helping to keep intimacy alive between long distance couples. Their flagship couples set, Onyx+ & Pearl 3, provides one of the most realistic sexual experiences you can have while apart.
Rather than using suction to produce contractions. The Onyx+ has ten rings that contract to simulate the up-and-down motion of fellatio and intercourse. Each ring contracts separately, which is what produces its unique and precise sensations.
This is only possible because of the Pearl 3's integrated touch-sensitive technology and Kiiroo's FeelConnect app.
As you insert and remove the Pearl 3 it will signal for specific rings within the Onyx+ to contract and expand, mimicking the exact same movements. This allows you and your partner to create the most accurate intimate moments from afar.
Have these couples devices caught your eye? For more details, see our post on the most orgasmic sex toys for long distance couples.
11. Adventure Challenge Couples Edition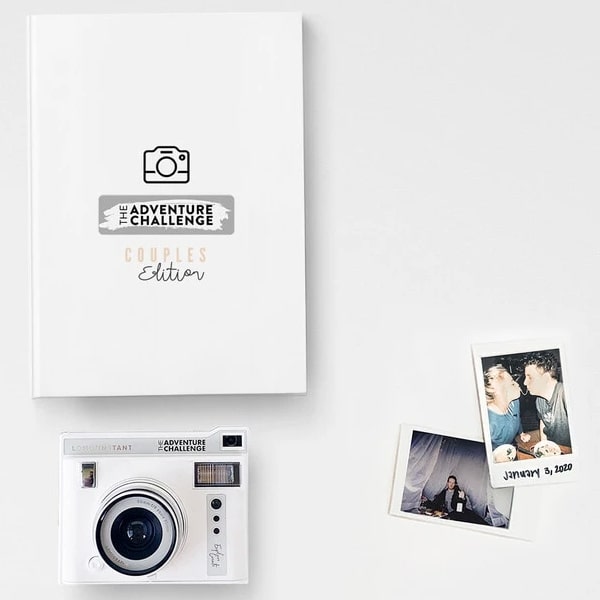 When you get the chance to see each other in person, The Adventure Challenge Couples Edition will help you make absolutely every minute count.
Visits can start off being fairly spontaneous but you can easily get stuck into regular routines, even if you haven't seen each other for a while. We like what The Adventure Challenge has to offer because it gets you out of your comfort zone, doing many things you never would've attempted previously!
The couples edition contains 50 activities, but you won't know what you'll be doing until you scratch off the adventure.
Don't back out! Commit to doing whatever you uncover and document your fun in the book with words and pictures.
To note: There are both family and friend editions available specifically for those relationships, too.
12. 'The Story of Us' Couples Journal
"The Story of Us" Couples Journal is a great way to keep track of all the special moments you and your partner create as a couple.
One of the unique reasons we love this journal for long distance couples is because we create amazing moments together, even while apart. But we are likely to push them to the side and forget them for the moments we create when physically together!
There are 88 pages with 72 photo corners, so you can include the perfect mix of words and pictures to tell YOUR story.
You can either fill out the journal together or fill it out yourself and surprise your partner. Either way, it's sure to be a treasured keepsake for years to come.
13. The LDR Watch By Kitman Keung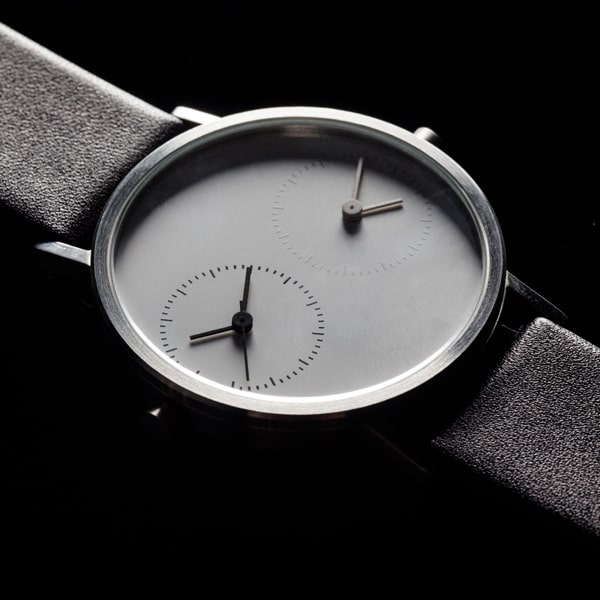 If you're tired of always doing the mental math to figure out what time it is where your partner lives then we have the perfect gift of all long distance relationship gifts.
This absoluately stunning watch by Kitman Keung has been crowned The LDR Watch as it allows you to set two timezones.
One for you and the other for your partner!
We love how elegant it looks and the attention to detail, especially the different finishes for each timezone. The left is dark and incorporates a third hand for seconds, while the right has a light finish with just the hour and minute hands.
With two leather band colors to choose from (black or brown) and three case finishes (PVD Black, IP Gold, and stainless steel), you're sure to find a look that will suit you and your partner's styles.
Long Distance Relationship Gifts For Him
14. Mashtape USB Mixtape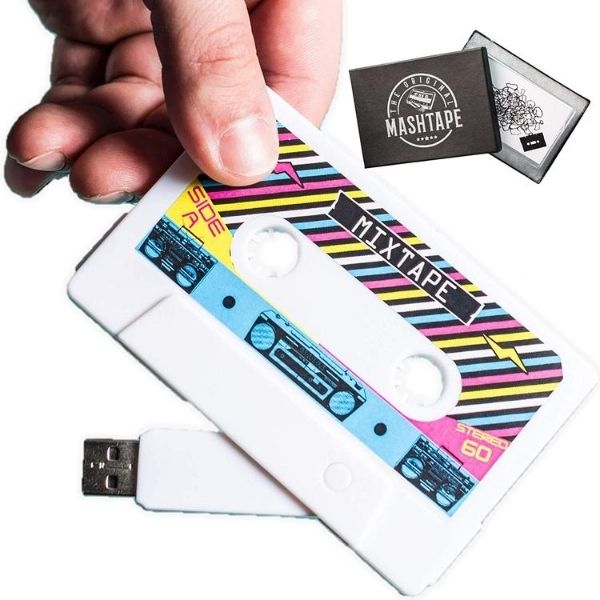 There is something beautiful about making a mixtape for a loved one. It could be a window into your youth or way to show them the sounds that make you happy.
Unfortunately it is slowly dying out because of the dominance of online music, but that doesn't mean you can't preserve the mixtape with newer technology!
The Mashtape incorporates a USB stick and a cassette tape, which mergers new and old technology perfectly.
What's really cool is that you aren't just limited to music, you can also send photos, videos and other files.
15. Edge 2 By Lovense
If you or your partner is wanting to explore the 'P-spot', the Edge 2 by Lovense is a great place to start.
This device utilizes two vibrating motors, one in the head and one in the base, which stimulate the prostate and perineum.
The result?
Enhanced overall pleasure, and
Powerful orgasms.
The Edge 2 includes a flexible neck, which makes it a great device for beginners, allowing them to adjust the angle helping create the best contact possible.
But what makes this an amazing gift for long distance couples is the Lovense Remote App's partner control feature, allowing you to control the Edge 2 from anywhere in the world. You can cycle through several vibration modes and even create your own!
Want to know more? Check out the in-depth Edge 2 review & user guide or vibrating prostate massager comparison guide by our Long Distance Intimacy Contributor, Lucas Knight.
16. Hand Stamped Coordinates Wallet Card
This wallet insert lets your partner take the coordinates of a special location and a sweet message from you wherever they go.
Engraved on an aluminum insert, this placard fits in all standard wallets.
You can either just specify the coordinates or add a message to be engraved beneath. The message can be the location or just a reminder that you love them no matter where in the world they wander.
17. Custom Map Cufflinks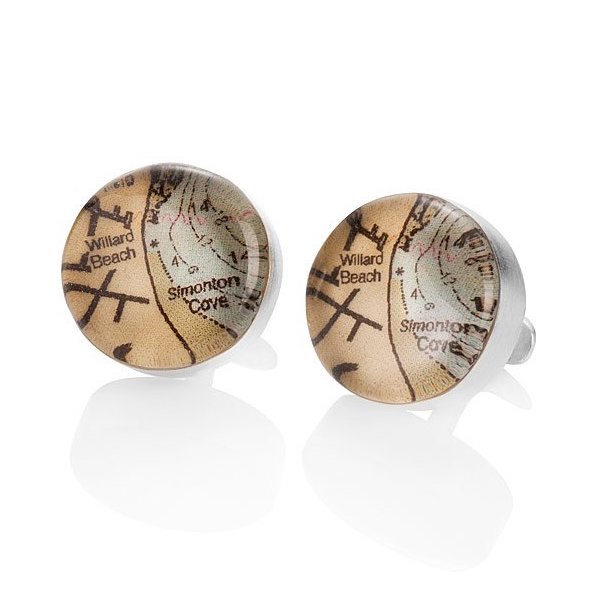 Keep your love close at hand with these Custom Map Cufflinks, handmade by designer, Janice Sears.
We think these make a great long distance relationship gift for men that frequently wear formal attire for work or events.
The map location you choose doesn't have to be tied to where you are it could be a great way to remember the place you met or where you plan to close the distance! What's really cool is that Janice will include any location in the world.
Our tip: Go for the optional engraving and add up to 8 characters to the back of the cufflinks. Some ideas include:
The date you met: 12/09/23 (8 characters)
Your initials: NH & LD (7 characters with spaces)
Acronym: LYTTMAB (7 characters "Love You To The Moon And Back")
Brief message: I <3 You (8 characters with spaces)
18. The OMG Buttress Pillow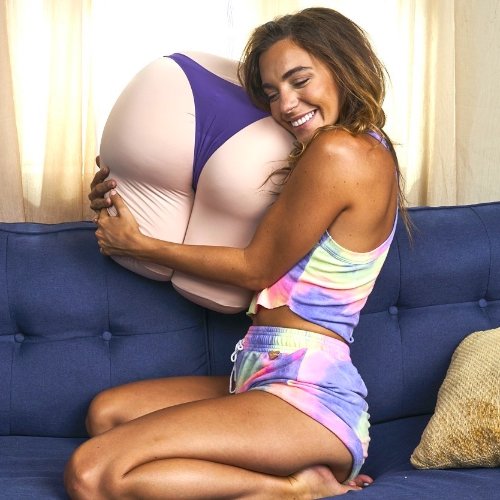 Is your partner a butt person? The OMG Buttress Pillow won't replace yours, "butt" it can help keep them happy while apart!
From the customer reviews it's actually a damn good pillow! A lot of them say:
At first I bought this as a joke, but…
It's clear to see that the creators set out to make something that was fun and functional.
Made from natural latex, the pillow is flexible and has separate thighs to cradle the head while also allowing airflow.
While it comes with a washable yoga-pant cover available in your choice of aqua, black, charcoal, beige or purple. You could also include a pair of your own yoga pants to make it unique to you!
Long Distance Relationship Gifts For Her
19. Lush 3 By Lovense
The Lush 3 by Lovense is perfect for long distance couples wanting to take their intimate moments to the next level.
Known as a 'wearable vibrator' the Lush 3 has been specifically designed to be used inside and outside of the bedroom. That's right, now you can take the fun with you, wherever you go.
Just like Lovense's other long distance toys, your partner to control the many vibration modes and even create their own via the Lovense Remote App.
Just imagine being on video chat and your partner seeing the surprising reaction made once they activate an intense vibration mode.
It's important to note that despite being one of the most powerful Bluetooth vibrators available, the Lush 3 is extremely quiet. Making it the perfect for thin-walled apartments and those of us that like to have fun outside.
Want to learn more? Read our in-depth Lovense Lush 3 Review to see if it's the right option for you. Or alternatively check out our post on the best app-controlled bluetooth vibrators for long distance fun.
20. Long Distance Gift Boxes By HuneyBox
Sending your partner a care package is easier than ever with HuneyBox.
HuneyBox offers multiple themed long distance care packages, which we think are perfect for LDR couples, including:
Nothing suits your fancy? No problem!
Gene and Marina Huneycutt, the founders of HuneyBox, have included an option to create your own care package using items from the available boxes! You also have the ability to add a photo and a sweet message on the back, making it unique to your relationship.
21. Custom Latitude Longitude & Charm Necklace
Made of sterling silver, this necklace commemorates not just love for eachother, but a love of travel.
Included are two beautiful pendants:
Combining these symbols makes this something long distance relationships can relate all too well with!
Cute Long Distance Relationship Gifts
22. Homesick Candles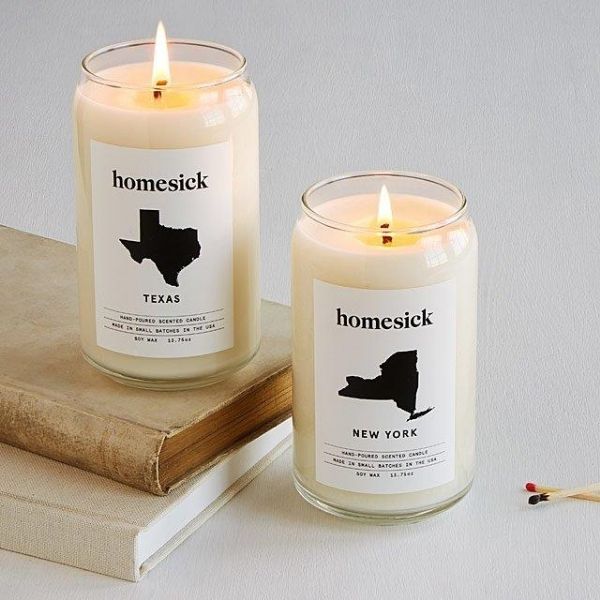 What does home smell like to you? If you live in Texas, it might smell like dark leather, fresh pine, and lemon; if you're from Colorado, it may smell like spruce, cedar, sandalwood, amber, and cinnamon; and if you're from New York it may smell like apple, cinnamon, nutmeg, and pumpkin.
These Homesick Candles were originally made for people who have moved away and are missing home.
It's in the name!
But we think there are a couple of scenarios where they also make an amazing gift for long distance couples:
You can give your partner a sense of where you come from.
Gift them the scent of where you plan to close the distance.
Hand-poured using soy wax candles, each option has been made with special input from locals in each state for thoughtfully authentic aromas. Find yours here!
23. FILIMIN Long Distance Friendship Frame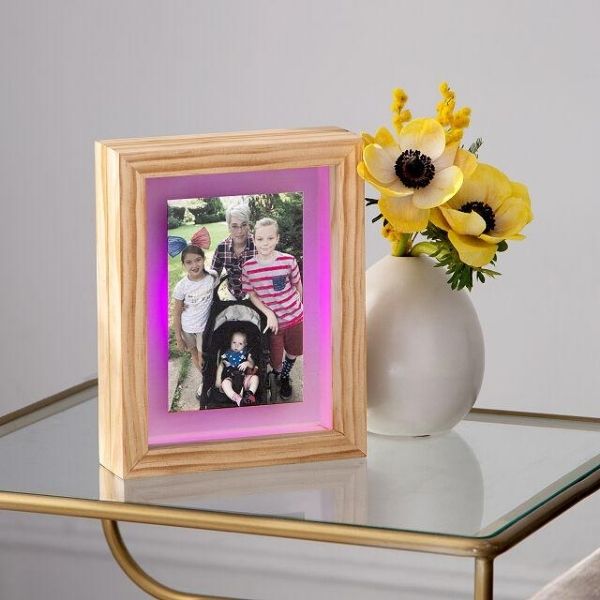 We've already shown you how amazing the long distance relationship lamps from FriendLamps are. Now, the team at FILIMIN have taken them once step further and incorporated the touch technology (which they helped create) into an elegant photo frame!
We love the extra dimension the frame creates and the versatility of being able to hang it on a wall or sit on any flat surface (both vertically or horizontally).
While most long distance couples will buy two frames (one each), FILIMIN has a range of lamps and have made it possible for them to connect to each other. Our favorites are their Mid-Century Modern and Classic (Original) lamps.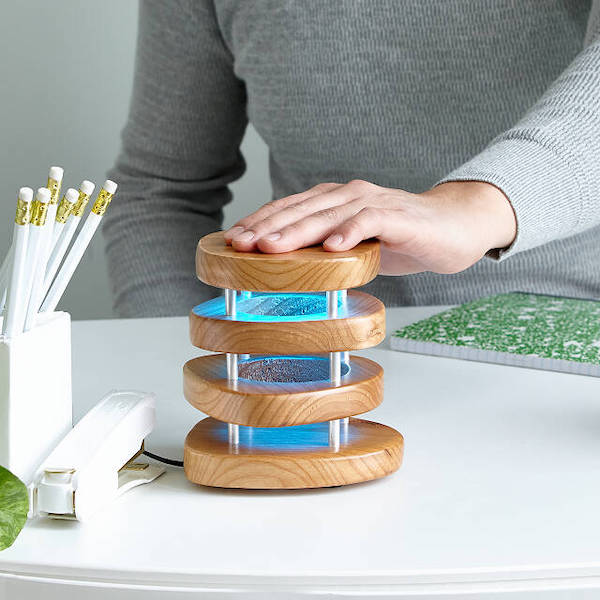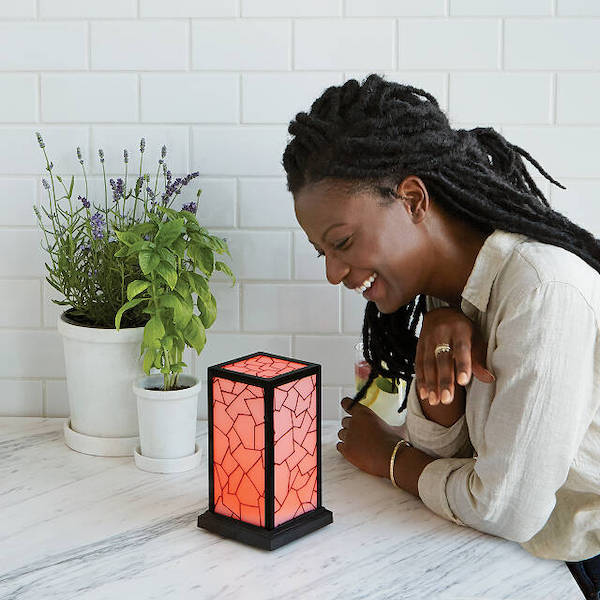 To note: All FILIMIN products are made with North American plugs, so you will need an adaptor if you or your partner lives overseas. FriendLamps uses USB to power their lamps, which may make them a better option for international long distance couples.
Have these lamps caught your eye? See our review and comparison of the best long distance touch lamps available in 2023.
24. International Snacks by Universal Yums
When you can't afford to travel the world together, International Snacks by Universal Yums make for the perfect monthly date night.
Each month, you'll get a box of snacks from another country along with a booklet describing the snacks and containing recipes, trivia, and more.
Just make sure to get a second subscription so you can each get a box when you're apart!
There are three different box sizes to choose from:
It's worth checking out their previous boxes to get a feel for what is provided. Past boxes include snacks from Taiwan, Greece, South Korea, Turkey, Spain, and Germany.
25. Kind Notes
Known as the 'perfect pick-me-up', Kind Notes are a collection of unique messages you can send to your long distance partner, which can be read each day or whenever they want a reminder of you.
There are many options available and they are completely customizable so you can put something together that is truly unique and suits your partner!
They even have a section dedicated to couples in long distance relationships!
Long Distance Anniversary Gifts
26. Wishbeads Intention Couples Bracelets
Do you like setting your intentions for how you want the future to look? If so, you'll love these Wishbeads Intention Couples Bracelets for women and men.
You can either put your intentions in your own bracelet or, when you're together, you can write your intentions to put in each other's bracelets. Perhaps that intention is about when you'll close the distance?
Made from beautiful natural stones, you can choose from black lava stone or brown tiger's eye for men or one of these stunning options for women:
27. Couple's Kissing Mugs
Is coffee life for you and your partner? If you answered yes, you will both adore these Kissing Mugs.
Apart, each mug is adorable, but when you get to be together, the mugs fit into the perfect kiss with handles that form a heart.
A hand-applied glaze ensures that each mug is unique, just like your love for each other.
To note: While hand-washing will help them last longer, these mugs can go on the top rack of the dishwasher.
28. The Personalized Anniversary Journal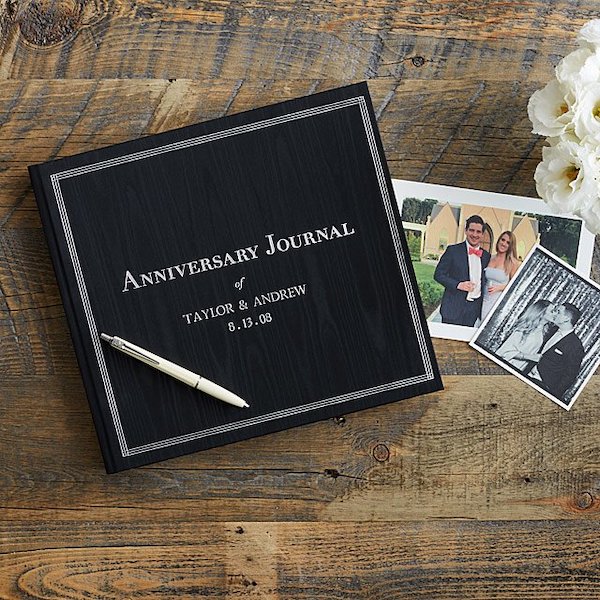 Every year you spend together is precious, even if it's from a distance.
We think it's worth recording and remembering each milestone and The Personalized Anniversary Journal is a great way to do it.
Made with vellum paper and a silk moire cover, this high quality journal is made for 60 anniversaries and comes with a matching box, which will keep it safe for decades.
Each year includes four pages:
Two pages with journal prompts
One page for notes, and
Another page to attach photos.
There are also seven envelopes included to store extra memories from each decade together.
29. Connected Heartbeat Rings By The Touch X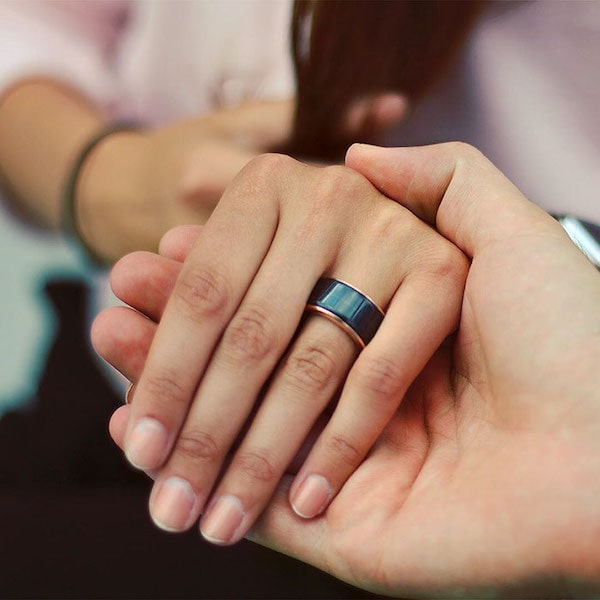 If there is a perfect promise ring for long distance couples, it's the Connected Heartbeat Rings by The Touch X.
These rings work in a similar way to the bond touch bracelets but rather than just sending through a regular vibration, these rings will create a vibration that mimics your heartbeat in real-time!
Once connected via their dedicated HB Ring app, all you need to do is tap your ring twice to send your heartbeat. It's worth noting that you also have the option to send a heartbeat that was recorded as a previous message.
A super cool feature we like is called "surprise me" that sends your partner's heartbeat at random times of the day!
Just like more conventional rings, you also receive high quality storage boxes that also act as charging stations. They only come in black but you have the option to choose from purple, yellow, dark blue, light blue, orange, or red lining.
Available in striking rose gold, 18k rose gold, and jet black finishes, we think this is a much more personal way of letting your partner know they're in your thoughts.
30. Go Oldschool: Telegram them
Email is seriously awesome, but once it a while it's fun to do things the old-fashioned way. When it comes to communication you can't get much more old-fashioned than sending them a telegram.
iTelegram charges a flat fee and per word rate to send a personal telegram anywhere in the world.
31. You Can't Go Wrong With Flowers!
We think flowers make great gifts because they are versatile. There are different types for different occasions and are readily available if needed in short amount of time.
It has never been easier to order flowers from the other side of the world. With a couple of taps on your phone or clicks of a mouse you can have your partner's favorite bouquet sent to their door within a couple of hours!
We recommend Flowers Fast because they work with local florists around the world and offer same day delivery at no additional cost.
They also have a huge range of options so you're sure to find something your partner will love.
It's vital to celebrate important milestones. Check out our post on the long distance anniversary ideas and milestone's you should recognize and celebrate!
Long Distance Relationship Birthday Gifts
32. Uncommon Goods Online Experiences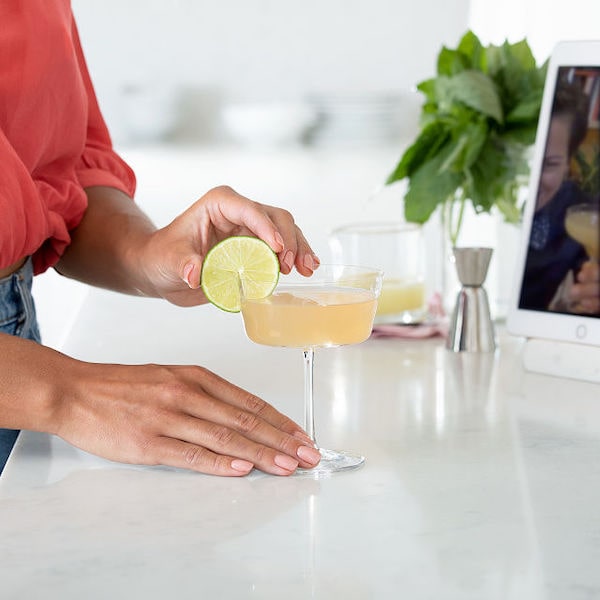 Even when you're apart, date night doesn't need to be relegated to "Netflix and chill." Instead, why not enjoy an Uncommon Goods Online Experience together.
These experiences include a live class with an expert instructor plus the materials you need for the class (you may need to purchase some of your own ingredients or other materials).
What's really cool is that UncommonGoods factors in delivery times when picking dates and will only let you pick dates where items will arrive beforehand.
Some of the best options for long distance birthday gifts are:
But our favorite has to be the Home Bar Hero: Mixology Class & Simple Syrups. It includes a 90-minute live virtual experience, a flavored simple syrup set shipped to you before the date of your experience, and an email sent at least 24 hours ahead of time with all the details you'll need for the class.
Want more date ideas? Check out our post on fun long distance relationship ideas, activities and things to do online together.
33. Oculus Quest 2 VR Sets
Looking for a way to go on dates together, even when you're miles apart?
While it can be tough to recreate date nights that look and feel like you're physically together, the Oculus Quest 2 VR Sets are the next best thing.
You may be thinking that Oculus is just for seasoned gamers, but there are many different options for everyone to enjoy! Including:
One benefit to the Oculus Quest 2 over other VR sets is that you don't need to connect it to a computer to play. All you need is your smartphone!
34. Tellinga Storytelling Mail Art
Some of the most heartwarming conversations we've had about our relationship were when we reminisced about how we met and how we've grown as a couple.
Tellinga Storytelling Mail Art is an amazing way to tell your story and turn it into a unique gift.
How does it work?
All you have to do is upload a picture of the two of you along with the story you want to tell. The team at Tellinga will then go to work to recreate your story.
What's really cool are the packages. You have the option to choose a one to twelve part story, with each part mailed to your partner every week.
For example, you could choose a one-part story to describe the day you met, a three-part story to show your first date, a six-part story showing some of your favorite moments together, or a twelve-part story that runs from the time you first met until you use the final story to propose across the distance!
35. Have Their Favorite Food Delivered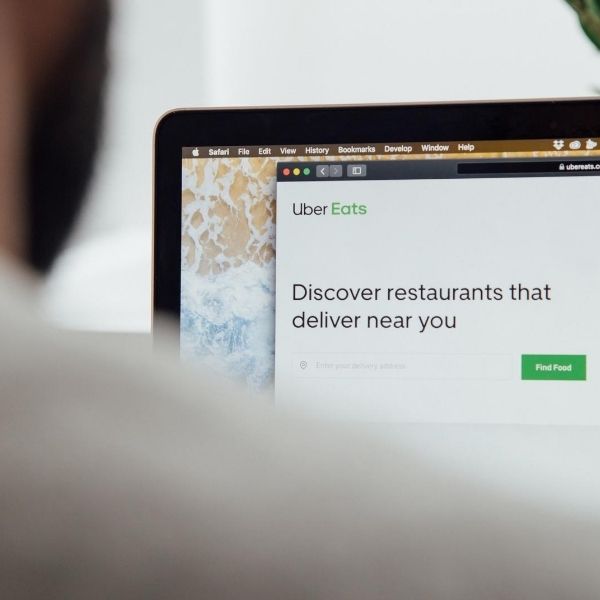 Food delivery has completely changed our lives and while you may not think it relates to long distance couples, it sure does.
Apps like Uber Eats allow you to order food without physically being at the address you want it sent to. Meaning you can send super delicious food to your partner!
Whether they're sick or super busy, you could send them their favorite takeout for a nice pick-me-up.
If you want to step your date nights up a notch, you could order the same style of food and eat together!
If you've never used Uber Eats, now is the time! To get a nice discount on your order, use the code 'eats-vhva4' at checkout.
36. TableTopics Couples Edition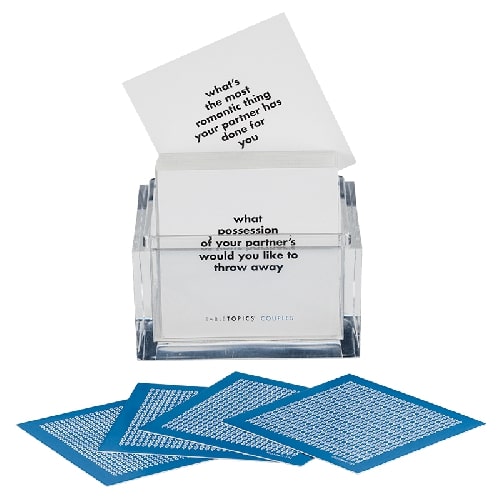 Whether your relationship is new or you feel like you've already discussed everything under the sun, you'll appreciate the couples edition of TableTopics.
Each cube contains 135 questions, which is sure to provide hours of discussion. Use them during your nightly video chat sessions or save them for the next time you get to spend time together in person.
Some questions include:
What's the most romantic thing your partner has done for you?
What advice would we give a younger long distance couple?
If we could quit our jobs what would we like to do?
37. Gift Cards (When All Else Fails!)
If you're struggling to find something for your partner, a gift card might be a good last minute solution.
While many might think this is a lazy option, it's definitely not!
Depending on the gift card, it gives your partner the opportunity to pick something that they may have had their eye on for a while, but couldn't afford.
We like EJGiftCards.com because you can buy gift cards at a discount and it's not uncommon to save 25% on some cards!
Want more gifts and ideas to celebrate another lap around the sun? Check out our post on long distance birthday ideas & gifts to help celebrate from afar.
Long Distance Matching Gifts
38. Custom Soundwave Couples Necklaces
The sound of your partner's voice is precious. Now, you can carry a visual representation of that sound with these Custom Soundwave Couples Necklaces.
All you have to do is email a 10 to 15 second sound clip and the creator, Gergin Martinov Siderov, will use the sound wave pattern from the recording to create two necklaces! One of you gets the sound wave, and the other gets the plate the wave was cut from.
To note: It's important to plan what you want to say. On average, 10 to 15 seconds of audio translates to 23 to 35 spoken words, which gives you a lot to work with!
Gergin has also made the necklaces available in chain lengths from 14 to 20 inches and in three beautiful finishes:
White gold
Rose gold, and
Yellow gold
39. Matching Long Distance Relationship Shirts By BoldLoft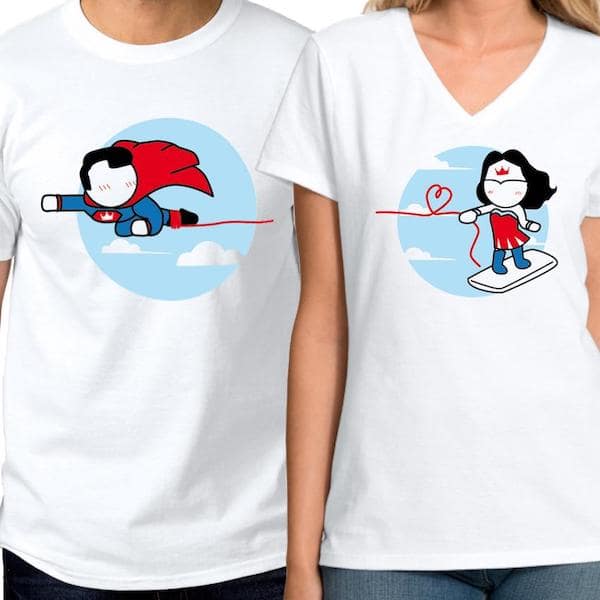 If you and your partner make a "Super Team" you'll adore these Matching Long Distance Relationship Shirts By BoldLoft.
The man's shirt has a character resembling a certain Man of Metal flying with a red string connected to one ankle. The woman's shirt has a character resembling a certain Fantastic Female holding onto a red string while she's standing on a board.
These white shirts are available in 3 men's sizes and 4 women's sizes, and you must choose one of each (unfortunately you can't get two men's shirts).
40. Date & Initials Matching Crew Neck Sweaters
If you love matching your outfit to your partner's, you'll love these Date & Initials Matching Crew Neck Sweaters from Both By AK.
Plan ahead and wear your sweaters the same day to feel like you're together while apart, or surprise your partner with a selfie of yourself wearing the sweater.
Choose from one of four sizes (S, M, L, and XL) and 7 colors (black, white, dark gray, sand, brown, olive green, light blue). Then, choose an important date to be stitched in Roman numerals on the front and your initials on the right sleeve.
Don't like crew neck sweaters? Both By AK has several other clothing styles available to customize.
41. Couples 'You Complete Me' Avocado Phone Cases By Alpha Cases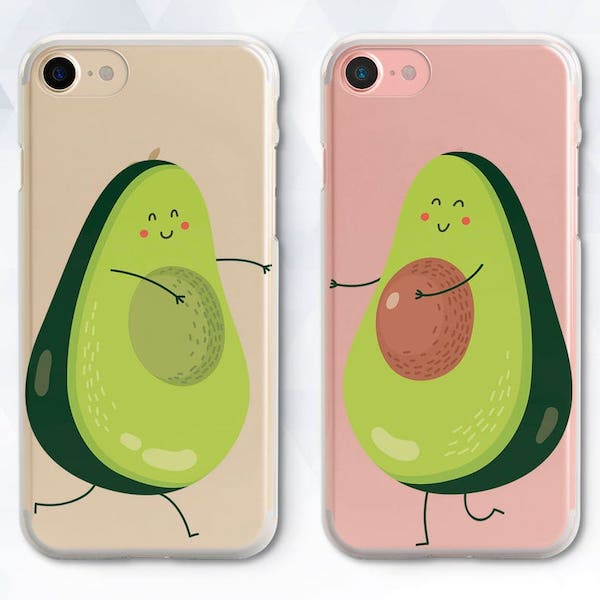 What's cute by itself and even more adorable when you get to see each other in person again? These Couples "You Complete Me" Avocado Phone Cases By Alpha Cases!
Each phone case has half a cartoon avocado on the back – when you place the phone cases next to each other, the avocados look like they're reaching out to each other.
If you and your partner have different phones we won't hold it against you and neither will Alpha Cases. They have made these cases available for several different popular brands and models (from the last 6-7 years).
42. Leather Coordinates Bracelets By Orange Bridge Supply
If your partner loves the look of leather, surprise them with these Leather Coordinates Bracelets By Orange Bridge Supply.
You can have the coordinates of where you first met (or any other special place) laser engraved on the outside of the bracelet and a short message engraved on the inside.
We're big fans of leather as it pairs well with almost any fashion style and because of how durable it is. While you probably don't know much about Horween Chromexcel leather, all you need to know is that it's super high quality, ensuring your partner will treasure and enjoy them for a long time.
Orange Bridge Supply has included multiple customization option to make them unique to your relationship. You can choose from five sizes, four fonts, and three colors including English tan, black and driftwood.
Personalized Long Distance Gifts
43. Couples Mixed Tape Pillows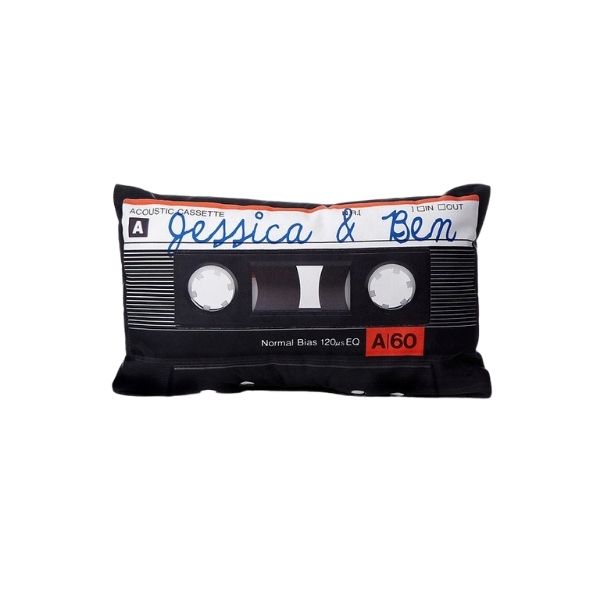 Do you remember the days of creating mixtapes? Relive that nostalgia with these Couples Mixed Tape Pillows.
Both sides are customizable, so you can add just the right message for your partner. For example, you could put your names on the front and a special message on the back, like:
I'll always love you
Together since 2023, or
Happy Anniversary!
These pillows are made from polyester, which makes them machine washable, and perfect for either indoor or outdoor use.
44. Personalized Coordinates Bangles by Charm Bear
This stylish coordinates bangle shows off an important location in you and your partner's romantic history. Whether it is the place you met, your first kiss, where you proposed, or your first home, this bracelet is a romantic way to remember that moment.
Made of stainless steel, coordinates of your choice are etched into the bracelet. The finishes come in silver, gold, and rose gold allowing you to match the bangle to your partner's jewelry style.
We think this is the perfect coordinates gift for a partner who is chic and prefers understated accessories.
45. Long Distance Couples State Keychains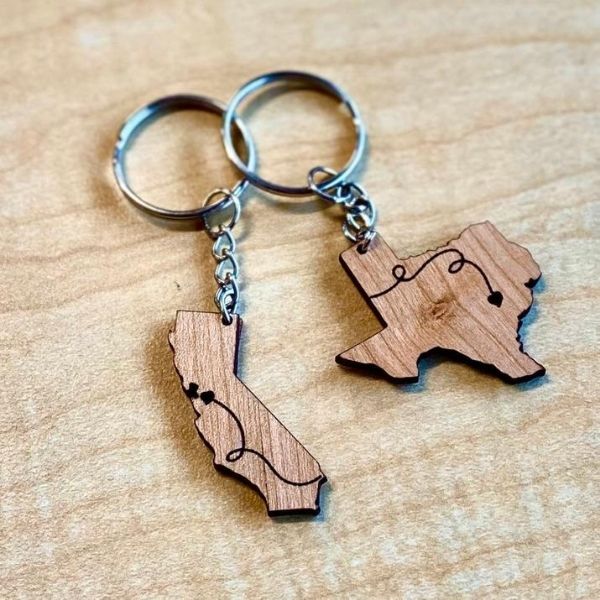 These Long Distance Couples State Keychains are a subtle yet amazing way to show your heart belongs to someone in another state.
Each keychain has a wooden cutout of the state where you or your partner lives. But what makes these keychains super special is the included hearts close to your city or town and the dotted line that connects the two states when they're next to each other.
Tim Osbourn, the creator, has included multiple wood options:
Maple
Basswood
Walnut, and
Cherry
46. Two Location Night Sky Star Maps
Two Location Night Sky Star Maps make an amazing long distance gift because you can personalize them based on a special date related to your relationship.
The company uses astronomy software to recreate exactly what the night sky looked like at a certain location and precise moment in time.
Choose your current locations or two other places and times, like where you met and the last time you saw each other in person.
Personalization options include:
Four sizes
Three material styles
Three sky colors, and
Four fonts
47. LoveBook Personalized Couple's Story Books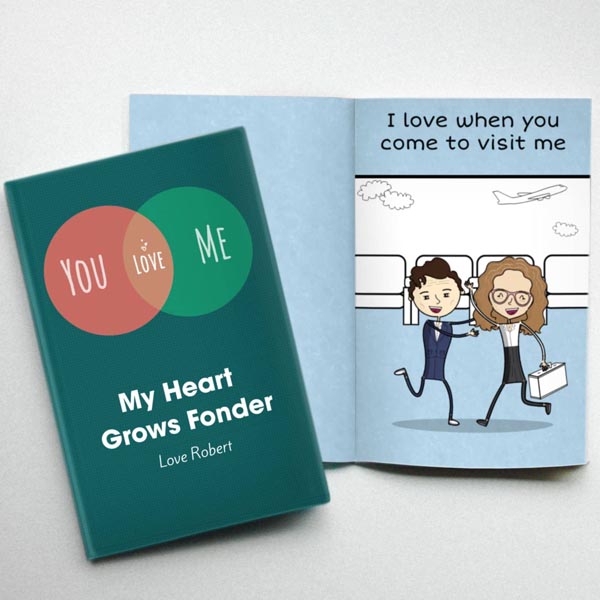 The LoveBook is a personalized gift that allows you to create a story of your relationship in book form.
This isn't just some flakey site that inserts your names into the storyline. You get to craft something that is truly unique to you and your partner.
You get to:
Design the characters to look like you and your partner.
Select the front cover of the book, and
Personalize each page to fit your story.
They also have a section dedicated to long distance relationships, which will help give you ideas to craft your book!
48. LoveCoups Personalized Love Coupons
The creators of the LoveBook have another great gift in LoveCoups personalized love coupons.
Creating the coupon booklet is a similar process where you design your characters, select the front cover, and choose your coupons.
The main difference is that the pages will include your hand-picked coupons, including options like:
Virtual movie dates
Intimate internet dates, and
Care package creation
There are many options to choose from including others dedicated to long distance couples.
49. Personalized Songs by Songlorious
If you've thought about writing a song or poem for your partner but doubted your abilities, Personalized Songs by Songlorious are the perfect way to show how much you care.
The platform partners you with a professional recording artist to create a custom song in seven days.
And for less than you might expect!
You choose the genre (folk, country, R&B, singer-songwriter, acoustic pop, or rap/hip-hop) and mood (heartfelt, happy, uplifting, comical, or reflective), then Songlorious pairs you with the perfect artist.
As you work together and share stories and memories of your relationship, they will create the perfect personalized song.
50. Acrylic Map & Location Print
When you have guests asking questions like:
So where did you meet?
You'll love pointing them towards this unique print by Artswave, showing the exact location of your first date, wedding venue, or proposal with this acrylic map and wood stand display.
Simply customize with a location, coordinates, and memory, and you will receive a print of the map, coordinates, and memory on a clear piece of acrylic.
It's worth noting that this print is customizable by size as well as map style, round or rectangle.
51. Personalized Fingerprint Rings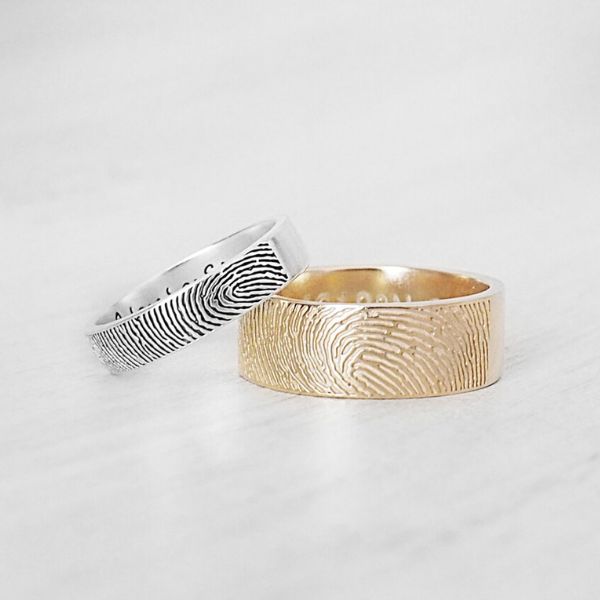 We love the notion and the look of jewelry engraved with fingerprints.
It's intimate, personal, and subtle.
Wearing something engraved with their personal fingerprint can make you feel like someone is almost close enough to touch.
Check out this set of rings that can be personalized with your unique fingerprints.
52. Personalized Countdown Timer
You can set this clock to countdown to any specific date (i.e., your next visit!!). It comes with different face plates to match specific occasions and seasons. But most importantly there's a blank face plate too!
Think twice with this one.
Some people will love it and others will find it pure torture.
As far as long distance relationship gifts go, you've got to know your audience on this one!
53. Name A Star
Cheesy? Maybe, but when you're far away you start to feel disconnected.
You're likely in environments that are vastly different and the only thing that is consistent between the two of you is the sky.
Keep in mind that naming a star is sort of controversial.
The name of your star isn't really recognized by anyone except the company you purchased the star from, so don't spend a fortune on it.
But it's a unique idea to look up and know that both of you can see the star you named after the two of you.
Our Favorite Long Distance Gifts
There are many practical long distance relationship gifts available that will help strengthen the bond between you and your partner.
If we're to pick just one, it would have to be the touch bracelets from the innovative team at Bond Touch.
And for a few reasons…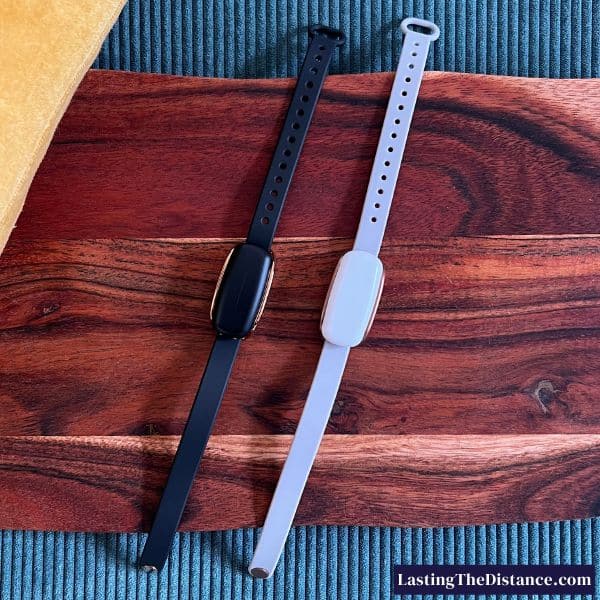 Perfect For Couples
Many gifts we give each other are one-sided. With Bond Touch bracelets you're connected to one another no matter where you are in the world. This is super powerful when it comes to strengthening your bond from afar.
Purposeful Technology
The Bond Touch design team has done an amazing job marrying style and technology.
We really like how they've incorporated the ability to send multiple touches (received as vibrations) at a time giving couples the opportunity to create their own unique messages.
Affordability
Compared to other gifts for long distance couples with similar technology, Bond Touch bracelets are by far the most affordable.
Which Long Distance Relationship Gifts Will You Choose
Woohoo, you made it!
Of course, we're a little bit biased but we think this is a pretty thorough list of gifts perfect for your long distance relationship.
The question is…
Which will you choose?
Join our LDR Support Group and let us know what gifts you've purchased for your partner. We'd love to know how it made you feel to give it to them and how it helped to melt the miles between you!
---
Hi, we are Lolo (Canada) & Nate (Australia) a couple that had to go through all that a long distance relationship has to offer, just like you. With our experience and lessons learned we want to help you keep your long distance relationship as strong as ever and ultimately last the distance!
Our

FREE

7 day LDR challenge is BACK!
Unlock better date nights, deeper communication plus a stronger intimate & emotional connection.
SECURE YOUR SPOT!