Need the TL;DR? Here are our top three long distance sex tips to try:
Our Top Choice
Max 2 & Nora by Lovense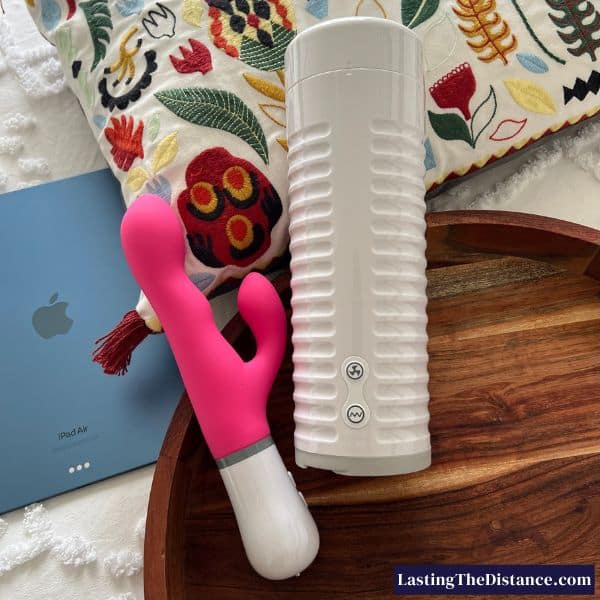 The most popular long distance sex toys in 2023 to level up your intimate moments.
Boost the Mood!
Sex Talk Conversation Games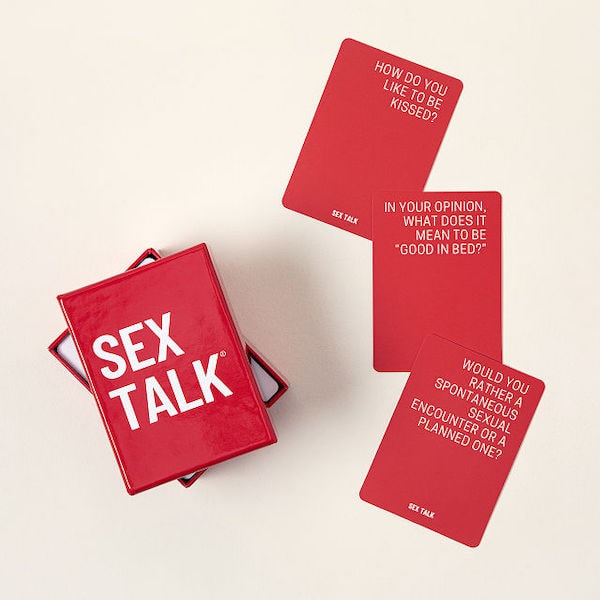 Helping long distance couples to talk about their sexual needs/wants in a fun way.
For the Next Visit
Adventure Challenge… In Bed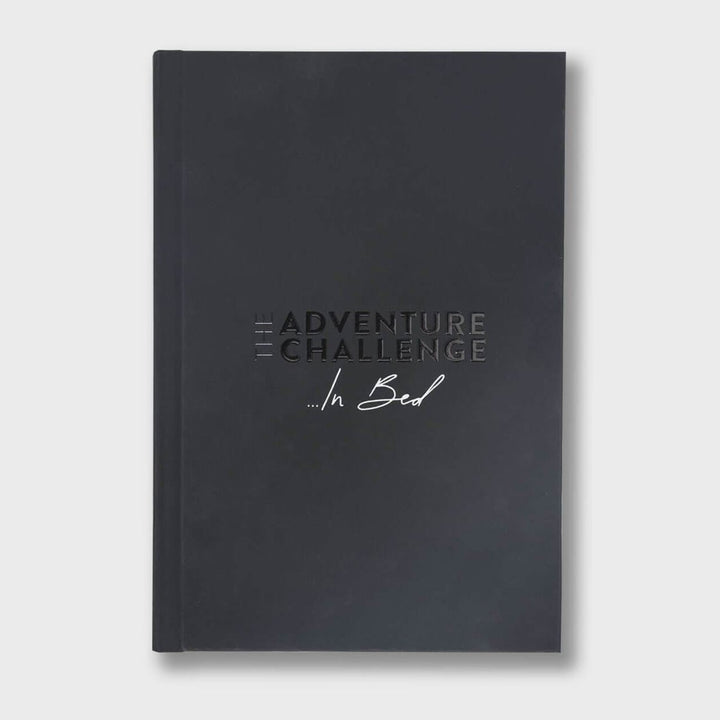 An amazing way to build suspense and excitement in anticipation for your next visit!
🎵 Let's talk about long distance sex, baby 🎵
Physical intimacy is one of the most important parts of a relationship. For long distance couples, it's a major obstacle.
No matter how far apart you are, maintaining a sense of intimacy is still necessary to nurture a healthy and connected relationship [source].
While the distance between you may make intimacy feel daunting or difficult. It is possible to sustain a sexual connection from afar!
To help, we've put together a variety of mild to WILD activities. So you and your partner can find solutions that feel both exciting and comfortable. But first…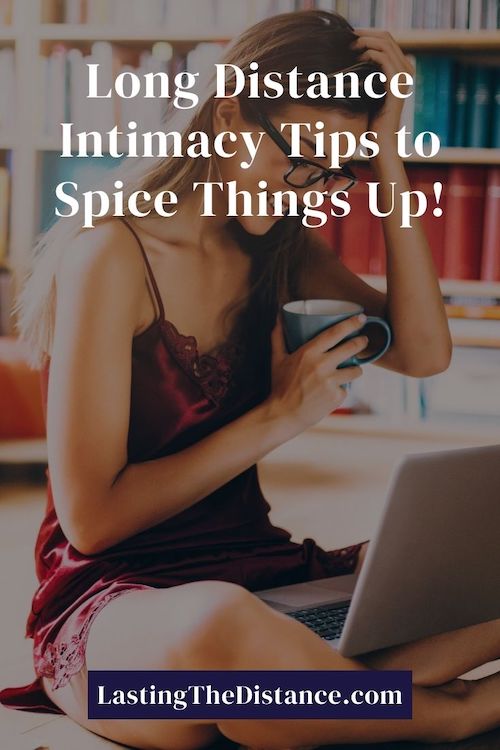 Long Distance Sex is More Intimate Than You May Imagine
Many believe that any sort of attempt at long distance sex lacks the intimacy of a true romantic encounter. After all, it's just words and images, right? You're not actually touching each other.
Well, yes and no.
Yes, you're not actually touching your partner's body. However, words and images touch something just as powerful, maybe even more powerful.
Your imagination and emotions.
Any sort of sexual activity, whether in person or long distance, builds intimacy. In addition, long distance intimacy will make it much more tempting to have sex when you meet in person.
How to Spice Up a Long Distance Relationship Sexually in 2023
1. The Importance of Consent
Even if you've been dating for years and feel like you already know your partner's boundaries, likes, and dislikes like the back of your hand, it is still very important to have a conversation about consent.
Moving into a long distance relationship is moving into an entirely new experience. What they may feel comfortable with sexually when you're in person, they may not enjoy over FaceTime.
While they might have let you take intimate photos of them while you were in bed together, they might not feel comfortable sending them.
While you might feel like it's the perfect time to send that spicy sext or sexy picture, there are few things worse than having an x-rated photo pop up on your phone in the middle of a crowded subway.
Always ask first.
Having conversations about what you're both comfortable with will help you feel confident and comfortable exploring this new type of intimacy together.
Questions To Ask:
What do you enjoy more: FaceTime, phone sex, or sexting?
Do you still feel comfortable with XYZ while we're long distance?
What's a word we can use to signal one of us feels uncomfortable?
What kind of words/photos/texts excite you when we're apart?
I really want to XYZ right now, is that okay with you?
2. Try Long Distance Sex Toys
No matter how steamy your FaceTime sessions get, no matter how hot the pictures your partner sends you are, there is always a tiny bit of disconnect from your partner in the sense that you're both still pleasuring yourselves.
Long distance sex toys open up an entirely new world, allowing you and your partner to please each other, even if you're oceans apart.
Our top recommendation is the Max 2 & Nora Couples Set by Lovense.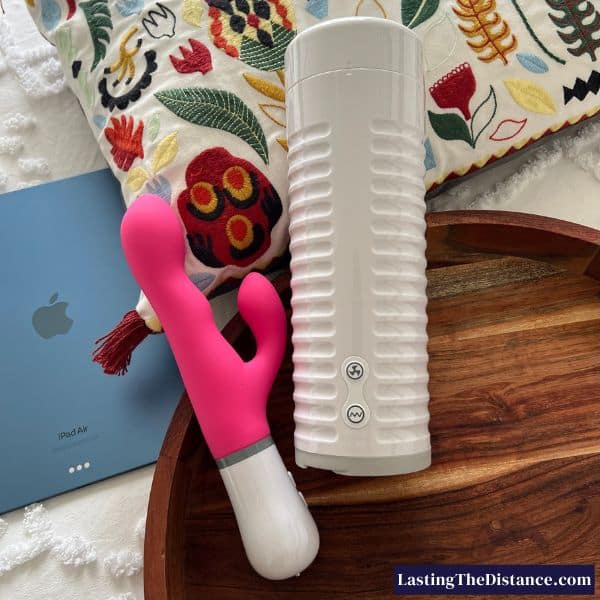 These his (stroker) and hers (rabbit vibrator) long distance sex toys connect seamlessly via Bluetooth and the Lovense Remote App. But what really sets them apart from other options is how they interact!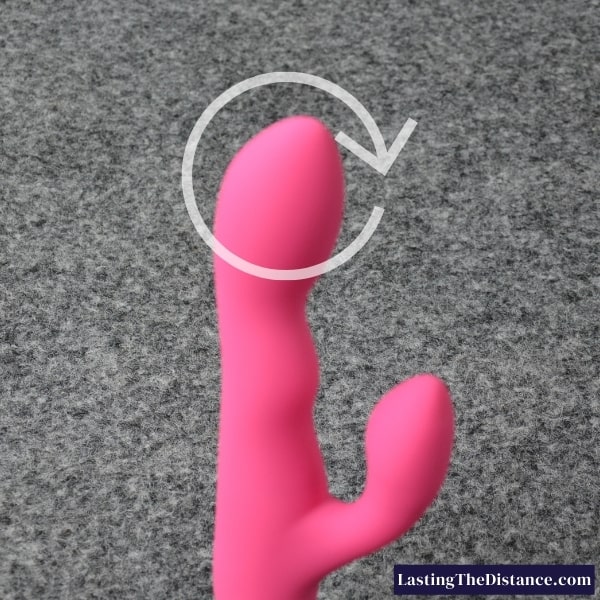 Increasing the speed Max 2 is stroked will enhance Nora's vibration intensity and speed of the rotating arm.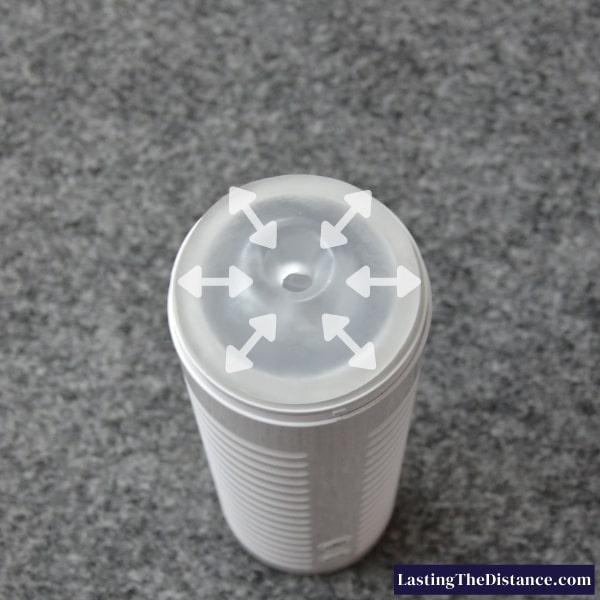 Also, inserting and removing Nora at increasing speeds will intensify the Max 2 vibrations and contractions.
While we are big fans of companies producing products that truly help long distance relationships, Lovense takes this further than most. Both Max 2 and Nora can connect to and be controlled by another (two Max 2's or two Nora's), giving long distance LGBTQ+ couples the ability to be intimate from afar.
Keen to learn more about connected devices? We compared the best sex toys for long distance couples to help you make an informed decision.
3. Sexting
Sexting is a great way to spice things up and let your partner know that they're on your mind at various times throughout the day, no matter how different your time zones or schedules are.
It also can add a layer of excitement and spontaneity knowing that you or your partner are out with friends or at work while you're telling them in explicit detail what you wish you were doing to them.
Sexting Tips:
Timing is everything: Find out what they're doing before you jump into it.
Start slow: Sexting is all about the build-up – just like regular sex.
Be descriptive: Don't hold back and Include ALL the details.
Reminisce: Refer to previous intimate experiences you've shared together.
Lighthearted games can be fun place to start. Here are some creative sexting ideas to get you going!
4. Phone Sex
Today, being intimate on video calls is the most popular option for long distance couples. But that doesn't mean you should forget about good old reliable phone sex!
Phone sex can actually increase intimacy because, without visuals, you are completely reliant on the tone of voice and word choices to really set the mood and turn each other on.
Speaking over the phone not only alleviates any potential self-consciousness that being on camera can trigger. It also creates an opportunity to feel comfortable speaking about sexually explicit things that otherwise may not be brought up.
Phone Sex Tips:
Plan ahead: Unlike sexting, phone sex requires more planning. Make sure you are in a comfortable space where you won't be interrupted or overheard.
Give your partner details: Over FaceTime, your partner can see exactly what you're doing or how you're reacting to what they're saying. Over the phone, they cannot. If you're touching yourself, tell them how. If you liked something they said, let them know.
5. Skype & FaceTime Sex
Sexual FaceTime sessions bring a different layer of intimacy by providing you and your partner with exciting visuals.
Whether you haven't had sex IRL before or have been for years, exploring being intimate over video chat with your partner can help you learn about their sexual preferences in a new way.
You'll get to see exactly how they like to touch themselves, which is a great way to better understand how to please them when you are together.
Sexual FaceTime Tips:
Plan a night around it: Start off by having a drink together. Slowly move into dirty talk, and instruct each other on what articles of clothing to take off. It helps set the mood and makes it feel more natural.
Laugh it off: No matter how much you set the mood, the first couple of times you have FaceTime sex will probably feel a bit awkward. That's normal! Don't take yourselves too seriously.
Be hands-free: One thing that can help avoid awkwardness is not having to hold a phone in your hand the entire time. Get a tripod, use a laptop, or prop your phone up on some pillows. This will free up your hands for more important things.
Not sure how to begin? Here are some exciting intimacy building games you can play over video chat.
6. Intimate Emails
Go beyond sexting and write out a steamy email for your partner to see when they wake up or get home from work.
Writing an email allows you to get a little creative, try writing a story about what you want to do to them, or an imaginary erotica for your partner.
While sexting, you or your partner may be hesitant to say something in the moment or struggle to come up with a way to express yourselves on the spot.
Sitting down to write an email will not only help you get over those blocks but show your partner the effort you are willing to put in.
7. Sexy Photos & Videos
The idea of exchanging sexy photos or videos can seem really daunting to some couples. But remember, sending something sexy doesn't mean it needs to be something nude!
It can be even sexier to send a photo that teases your partner, gets their imagination running wild, and leaves them wanting more.
Of course, if you and your partner enjoy bearing it all, more power to you! But if that's not within your comfort zone or you want to switch it up, here are some equally hot alternatives:
Send a photo in dim lighting that leaves them wondering "are they…naked?".
Partially take off an article of clothing.
Send a naked photo of you covering yourself with your hands or another object.
Film yourself masturbating, but only show your facial reactions.
8. Use Encrypted Platforms
The mood is set, you're wearing something that makes you feel sexy, your partner is doing all the right things, and suddenly, your mother's voice pops into your head:
"Don't do anything you wouldn't want to end up on the internet!"

Mom, The Buzz Kill
Not much could kill a mood quicker.
It's hard to get in the right mindset when you're worried about privacy. So if you're feeling nervous, check out these encrypted options for peace of mind and maximum enjoyment.
9. Games That Build Anticipation
If you've been long distance for a while you may be feeling like your sex life is becoming routine.
Don't worry, you're not alone!
A fun way to spice things up is by playing a sexy game together. These ideas can be used as foreplay or can stand alone for an intimate date night:
Truth or Dare
Strip Poker
Never Have I Ever
Sexy Would You Rather
Want other exciting options to play? Check out our article on some of the best long distance sex games for your intimate moments.
10. Intimate Conversations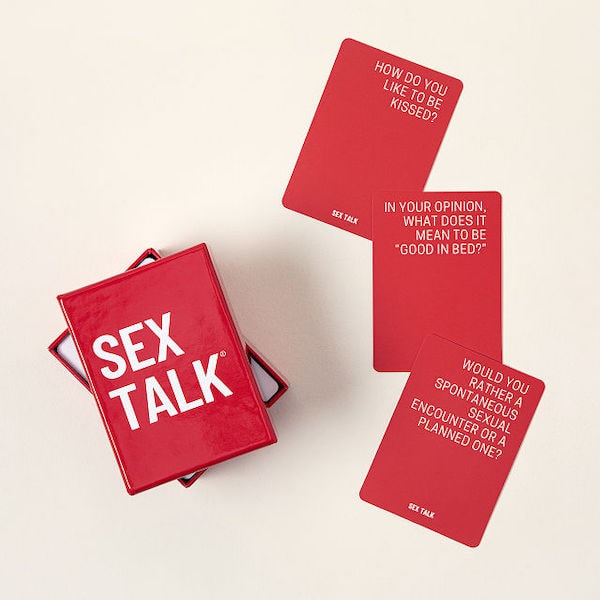 Not physically being with your partner probably requires you to actually talk about physical intimacy more than you ever have before.
This is a good thing! Studies have shown that communication surrounding sex positively impacts couples' overall sexual satisfaction.
If you or your partner struggles to discuss intimacy organically, prompts can be a wonderful option to get the ball rolling!
The Sex Talk Conversation Deck pictured above can help you both open up in an intimate yet relaxing way.
Here's a free option! Check out the intimacy section of our post on deep and meaningful long distance relationship questions.
11. Make Yourself Comfortable
We've all seen the rom-com where a couple is making out in the freezing rain, pinned up against a wall in an alleyway, or in the stall of a dirty public bathroom.
As hot as it may look from watching it on our screens, in reality, it's pretty uncomfortable.
While you will (hopefully) not be having FaceTime sex in a public restroom. It will be far easier to feel comfortable with your partner when you feel physically comfortable.
Get some silky sheets, prop yourself up on some pillows, slide under a cozy blanket, and don't forget to lock your door!
12. Setting the Mood
It's hard to feel hot under bright fluorescent lights that make you feel like you're in an office or a dressing room.
So, turn off that harsh bedroom light! Instead, switch on a bedside table or floor lamp, and buy bulbs with warmer hues.
Lighting some candles or hanging string lights around your bed can also help to create a more romantic atmosphere.
Not only will it help create an intimate environment for you and your partner. This kind of lighting is more flattering and will help you feel more sensual and sexy.
13. Finding Your Angle
Speaking of flattering, practicing finding positions you like before you get on video with your partner can help you avoid that moment of…
wait…is THAT how I really look!?
There are certain angles that aren't a good look for anyone! Sometimes those angles are unavoidable when you're having fun (worth it). But don't be afraid to set up your camera and practice to figure out what makes you feel good about yourself, and what doesn't.
Tip: a universally flattering angle is setting up your laptop on a couple of pillows to have a downward view that shows all your good parts.
14. Lingerie & Role Play
Another way to change things up and enhance the visual experience is by bringing lingerie or costumes into the mix.
Wearing something silky, lacy, slinky, revealing, or tight can transform your confidence and make you feel like an entirely different person.
Or, if you actually want to pretend to be an entirely different person. Costumes make role play even more exciting!
Remember, costumes and lingerie aren't just for women. Check out LoveHoney for a great selection of lingerie, role play outfits, robes, and more.
15. Pillow Talk
No matter how mindblowing the sex was. If you immediately hang up the phone or shut the laptop afterward. You're missing out on an important opportunity to fully bond with your partner.
Studies have proven that couples who spend longer amounts of time engaging in post-sex activities like cuddling and talking reported higher levels of relationship and sexual satisfaction.
While you might not be able to physically cuddle, placing your phone or laptop on the pillow next to you and whispering with your partner as you doze can maintain an intimate connection after sex.
Want some other post-deed ideas? Check out our post on some fun activities and things for long distance couples to do online together.
16. Let Them Know You're Thinking of Them
Something as simple as letting your partner know that they are on your mind can feel just as intimate, if not more so, as a sext or photo.
These non-sexual gadgets provide a special way to connect with your partner without even saying anything!
Touch one bracelet, and the other lights up to let them know you're thinking of them.
Create a special "code" between the two of you where a specific color signals you're thinking intimately about each other.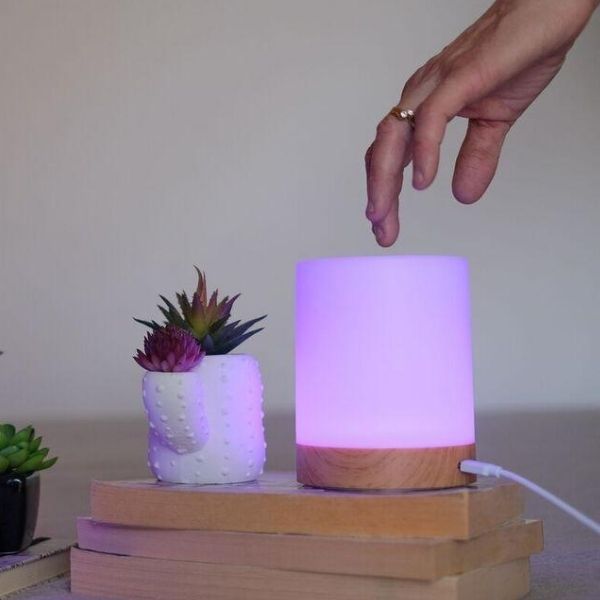 Tap one lamp, and the other lights up in the color you selected.
Scroll through different colors by holding your finger on top of the lamp. Idea: Use RED to let them know you're getting hot and bothered!
17. Send Physical Love Letters
There's something undeniably romantic and personal about receiving a handwritten letter.
In today's digital age, you can fire off a text or send a Snapchat in seconds. While the convenience makes communication more manageable and consistent for long distance couples, sprinkling in handwritten letters has specific benefits.
Apart from making your partner feel special knowing you took the time and effort to sit down and write to them, studies have shown that writing by hand increases your brain's motor skills.
This allows you to express yourself more effectively and possibly even uncover new thoughts or ideas you weren't previously aware of!
Not sure what to write? Why not try open when letters! We've put together a guide on ideas and tips for writing heartwarming open when letters. Including a section for intimate options.
18. Share Your Favorite Adult Films
Exchanging links to your favorite dirty movies is an easy and fun way to show your partner what you're into, and vice versa!
Do you tend to get uncomfortable when describing any fantasies you have?
Then simply send over a link to a clip that turns you on and your partner can gain insight into your preferences without you having to say a single word.
For added fun, choose a video to reenact the next time you're physically together!
19. Use Apps to Build Intimacy
Check out KINDU, an app dedicated to helping couples explore their deepest desires, discover new things about one another, and boost their intimacy in a safe yet exciting way!
Features we like include:
Countless prompts and ideas of activities to try delivered to you daily.
Options for you or your partner to personalize prompts for each other.
Tailored product endorsements to help your fantasies come to life.
Download on:
20. Take Advantage of the Time You Have Together
While we're on the subject of being physically together – plan ahead to ensure you make the most of every second you have with your partner.
Trips and reunions can be jam-packed with places to see, restaurants to try, and people to visit. So don't forget to set aside time for just you and your partner.
Create a bucket list and aim to check off at least one item every visit.
Book a sensual experience like a couples massage or a night in a hotel.
Buy a new outfit or toy to surprise your partner with.
Remember, try not to put too much pressure on yourselves! You may not have seen each other in months, and it's completely normal to get nervous or overexcited.
21. Make a Provocative Playlist
Research has shown that music has the ability to trigger pleasurable feelings by releasing dopamine.
When paired with acts of intimacy, it actually has the ability to increase overall satisfaction.
Different types of music set the mood for different people, so get to know your partner's taste by each creating a 'provocative playlist' for the other!
22. Take Control, Remotely
Elevate any date night by relinquishing control to, or taking control of, your partner with remote controlled sex toys. These devices use Bluetooth and smartphone apps to connect and work from anywhere in the world.
Slip it in your bag or pocket, find yourself a seat in a dark corner of the bar, order yourself a drink, text your partner, and let the games begin!
The devices we recommend are:
For her: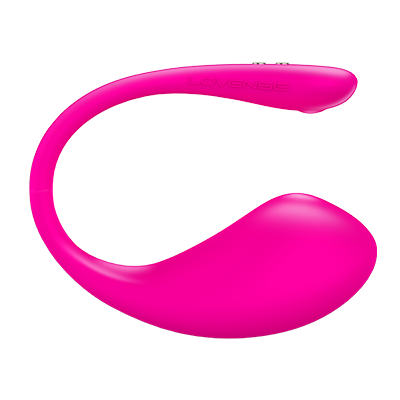 Want more? Check out our post on the best remote control vibrators or our separate Lush 3 Review & see why it's perfect for long distance couples.
For him: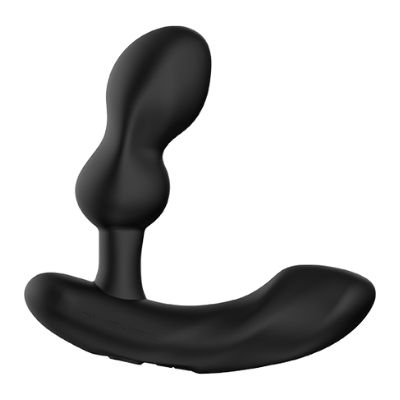 Ready to hit the P-spot? We've put together the best vibrating prostate massagers available with app connectivity for long distance control.
Tip: Make sure to test out the intensity of the different settings and set boundaries as needed before going out in public. It's all fun and games until you fall off your bar stool.
23. Go Back To School
While this whole post could be considered long distance sex education, don't be afraid to continue your search if there is an area you want to explore further.
There are an endless amount of resources online but here are some recommendations to get you started:
Now It's Your Turn To Spice Things Up!
Which tips and ideas piqued your interest the most? Share this with your partner, and pick one to get you started on a path toward a more intimate LDR.
Remember, there is no right or wrong way to get intimate with your partner. Everyone's boundaries and preferences are different, all that matters is that you both are comfortable and communicate!
Want to know how other couples are approaching long distance sex?
If you have questions or need advice, don't hesitate to join our LDR support group and become a part of an inclusive community that knows exactly what you're going through.
---
Having navigated a long distance relationship from Hawaii to Paris. Maggie knows what it takes to maintain a relationship from afar and close the distance! Now living with her partner in NYC, she joins Lasting The Distance as a contributing author. Using her experience to help readers learn from both her successes and mistakes.
Our

FREE

7 day LDR challenge is BACK!
Unlock better date nights, deeper communication plus a stronger intimate & emotional connection.
SECURE YOUR SPOT!