In a world where we are often disconnected by distance, yet connected by media, gaming helps long distance friends strengthen their relationships from afar. 
Research has shown that online games make for a great bonding experience. Even if you are just talking about the game while playing, your relationship with your long distance friends is growing stronger with each coin collected, battle won, and achievement unlocked.
Don't know what to play? Well, we've got you covered.
Our list of games to play with long distance friends will have you scrambling for your phones and controllers!
The Best Online Games to Play with Friends in 2023
Plato
The Plato app was designed for social gaming. With 45 different multiplayer games, Plato is ready to take on your entire friend group's gaming adventures.
The app features games such as:
Pool
Bowling
Mini-Golf
Texas Hold'em, and
Chess
These classics, plus some Plato original games, are perfect for long distance friends. You can play in real time with a large group or play each other one on one.
The in-app chat system lets users message each other in individual messages or a group chat. Because Plato was founded on the principle that gaming helps strengthen social relationships, their private messaging and group chat functionality reflects that, making it easier than ever to game and talk.
Psych!
Psych! Is a fun game to test your friend's trivia knowledge as well as how well you know each other!
How Psych! works is each person makes up a pretend answer to a trivia question. Then, whoever is on the hot seat has to choose the real answer from the fakes. The trivia questions are absolutely outrageous and make guessing the true answer even harder!
What if your friend group hates trivia? Well, you can play the "And The Truth Comes Out" version, where you play the same way, but with real-life questions about your friends.
This game is perfect for long distance friend groups as it is full of laughs and may even make you spill a secret or two they don't already know about.
Want more apps to help you connect with your friends from afar? Check out our post on the best apps for long distance friends to stay connected.
Among Us
Are your friends a little sus? See if you have any imposters in your friend group with a friendly game of Among Us.
The goal of this collaborative game is for all members to survive on their spaceship while completing different tasks.
The catch?
Some "teammates" are actually imposters who want to take out the members of your team! To win, you and your friends need to figure out who the imposter is as you complete each task.
Joining games and setting up sessions is super easy so your friend group can drop into the games at their convenience!
Uno Online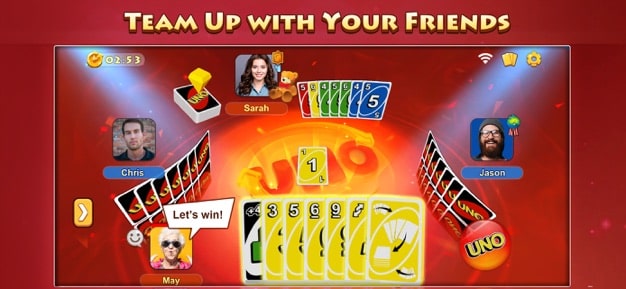 For friend groups that prefer classic card games, this is the perfect virtual substitute.
Uno Online can be played either in-app or on your desktop. Players can compete in "rooms" so friend groups can play against each other no matter where you are in the world.
The best part? There will be no fighting about which rules to play!
Uno's online platform makes it super easy for players to decide which rules will be in play for their game. For example, if you and your friends always play by stacking "Draw 2" cards, you can do that.
If you are looking to change it up, you can add new rules that are popular with other groups.
Speak Out Board Game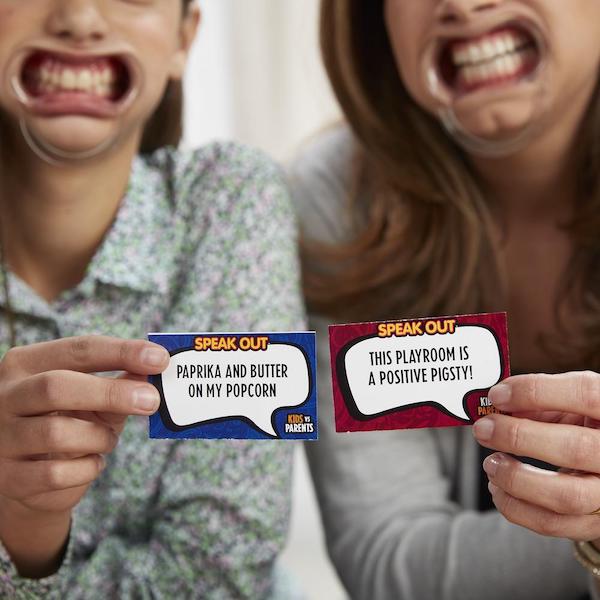 Speak Out is a hilarious game that friends can play together over video chat. Each player wears a mouthpiece that makes it difficult to speak let alone repeat the crazy tongue twister prompts.
He's my stealthy pet ferret named Garrett
The sentence above is just one of the ridiculous phrases. Check out the video below to see just how funny it can be:
Playing this game requires some coordination, making sure everyone has a mouthpiece or a copy of the game, the effort pays off. After just a few rounds, your group will be doubled over in laughter.
We think Speak Out makes a great gift. Speaking of! Check out our posts on the best long distance friendship gifts your bestie will absolutely love.
Heads Up!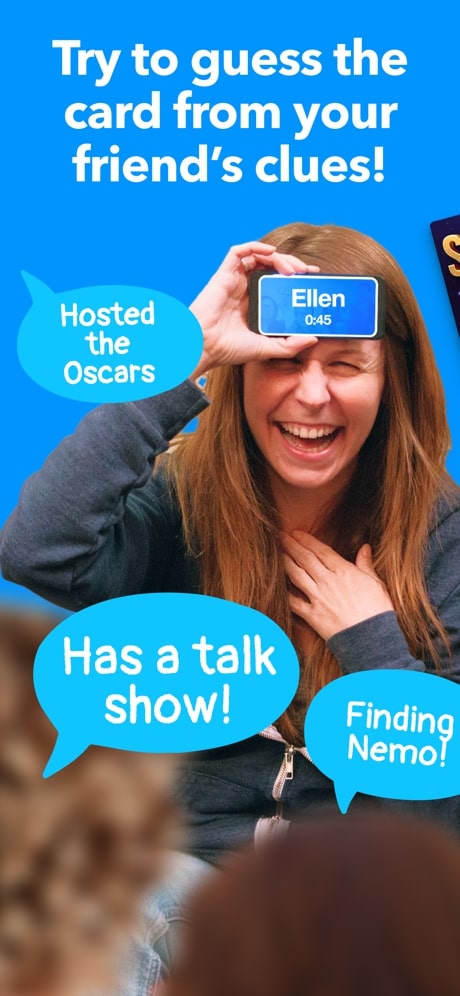 Heads Up! is another great game to play over video chat, but requires even less coordination than Speak Out. The only thing each player needs is a phone with the Heads Up! app.
Using the app, one person holds the phone to their forehead. A phrase shows up and the rest of the group must give hints about the phrase on the phone. The person holding the phone has to guess the phrase before time runs out.
The app has prompts with varying themes, so every group can find their niche!
Download on:
Virtual Escape Rooms
Virtual escape rooms are popular hang outs for friend groups "irl", however, now your group can also attempt to crack the code online.
VirtualEscape.com offers challenges for groups of different sizes and in a variety of settings. Your group can travel to the North Pole, a tropical island, or a detention center to solve puzzles and other mysteries. Here's a look at their Detention escape room;
Rocket League
A mash up of soccer and Fast & Furious, Rocket League combines cars and sports for a super exciting, virtual match up.
You and your friends can trick out customized cars and then hit the field for a game of soccer. Check out the game play video below going through ten of the best goals ever scored:
This is a great game for competitive friend groups as you can compare league standings and play each other in virtual play offs.
We like that you can also play in your own time, and you don't always need the whole group to compete. This makes staying connected easy, especially when group schedules don't sync up!
Mario Kart Tour
Did your friend group grow up playing Mario Kart? Then, Mario Kart Tour may be the game for you!
Mario Kart Tour takes the Nintendo classic online and allows groups of up to seven friends to race against each other. The game includes all of your favorites, like Mario, Bowser and Princess Peach, and the most popular race tracks like Rainbow Road.
What's really cool is that Nintendo has added new tracks inspired by real world locations and vehicle upgrades that will impress any gamer.
Download on:
Kahoot! Play & Create Quizzes
Kahoot! is a great game for groups to play in real-time or when you're available.
You can create unique trivia quizzes about anything from fun facts to questions about your friend's lives, and send them out to your friend group. 
The feature we like the most is the 'live sessions' option where groups can create and play quizzes together, creating their own private trivia night.
We think it's a great way to catch up (create quizzes about your life updates) or discuss your favorite hobbies (have niche trivia quizzes). Either way, if your group chooses to play Kahoot!, you're bound to all learn something new!
Draw Something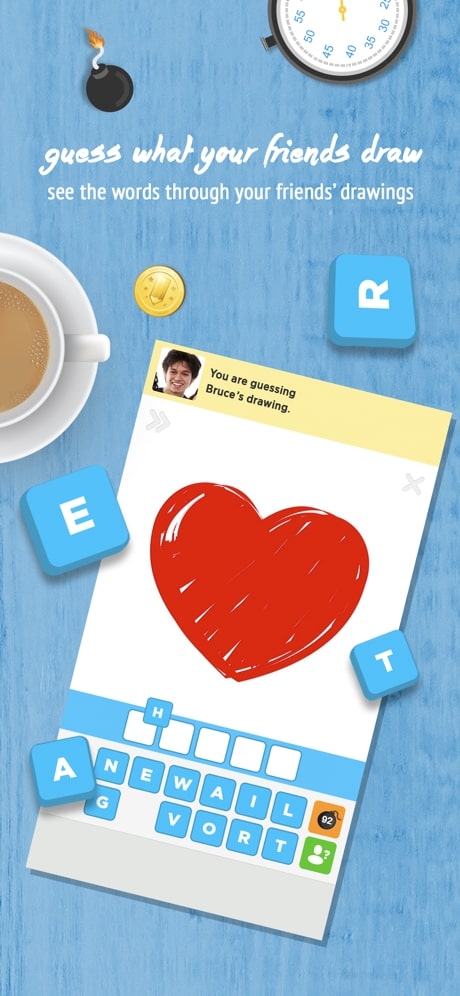 Draw Something is the perfect game for artsy friend groups.
The premise of the game is simple: you have to draw something and your friends guess the meaning. The one who is right, wins!
This game is great for busy friend groups because you can draw and guess in your own time. Regardless of time differences or busy schedules, Draw Something is sure to keep you connected throughout the day.
Download on:
Now It's Your Turn
Which game stood out to you? Drop this article in your group chat and see which games to play with long distance friends you all want to tackle next!
If your group loves the idea of virtual game nights, plan a time to try out all the games on this list to see which you enjoy the most!
Looking for more options? Check out our post on long distance relationship games for couples to play from afar.
---
Hi, we are Lolo (Canada) & Nate (Australia) a couple that had to go through all that a long distance relationship has to offer, just like you. With our experience and lessons learned we want to help you keep your long distance relationship as strong as ever and ultimately last the distance!