Our Friendship Bracelets Gift Guide
Our Top Choice
Bond Touch Bracelets
Let your best friend know they're in your thoughts with a single touch of these popular bracelets.
Fun Tech
Totwoo Smart Bracelets
Simple, elegant & affordable option for you and your BFF to symbolize your special bond.
When life happens and you or your bestie move away, a heartfelt gift is the perfect way to show that a few miles won't stand in the way of your friendship.
We think long distance friendship bracelets make an amazing gift because they help you to celebrate and hold on to what is special about your bond.
Whether you want to remember a specific location, reminisce about something you did together, or just want them to know you'll always be thinking about them, there's an option to help honor your connection.
Let's get stuck in!
The Best Long Distance Friendship Bracelets in 2023
1. Best Friend Touch Bracelets by Totwoo
If you and your friend like the look of high-end jewelry and want a unique way to stay in touch, check out the Totwoo Smart Bracelets.
Every time you want to let them know they are in your thoughts, all you have to do is tap the charm.
Then the magic happens!
Your friend's Totwoo friendship bracelet will then light up, acting like a visual notification.
There is also a dedicated Totwoo app, where you and your BFF get a dedicated space to send each other messages. You can even send secret (text, audio, picture and video) messages that can only be opened by tapping Totwoo charm.
We really love the Mother of Pearl with silver design pictured above, but there are some other awesome options to choose from. Including:
2. Vibrating Friendship Bracelets by Bond Touch
Wouldn't it be nice if you could let your friend know you're thinking about them without having to send a text? With the Bond Touch Bracelets, all you have to do is touch your bracelet. Your friend's bracelet will light up and vibrate, letting them know you care.
Even though we have our cell phones with us constantly, there are times texting isn't convenient. Trying to fall asleep and want to let your friend know that you miss them? Don't pick up your brightly lit phone, just tap your friendship bracelet!
The bracelets come with black bands, but you can purchase other colors to match you and your BFF's personalities: pink sand, twilight blue, ruby red, Pacific green, emerald green, grey stone, or ghost white.
3. Compass Charm Friendship Bracelets by Design By Symphony
Whether it's work, college, or just life that has separated you and your BFF, make the distance feel shorter with Compass Charm Friendship Bracelets.
These satin double cord bracelets include a compass charm and come wrapped around cardstock with the phrase:
Friendship doesn't know what distance means.
You have a choice of 23 colors for the satin cord, and can order up to four matching bracelets. The cord is nearly 12 inches long, so it should fit any wrist.
Design By Symphony has many different types of charms and bracelet materials, and all the charms are available in any cord combination.
4. Beaded Long Distance Friendship Bracelet Set by Galaxy Accessories
When you and your best friend are apart, they can take a piece of you with them with the Beaded Long Distance Friendship Bracelet Set.
One bracelet has pink beads with a single black bead, while the other uses black beads with one pink bead.
The beads are on elastic, so one size fits all. However, if you prefer adjustable bands, Galaxy Accessories has that as an option too.
You can buy the bracelets as a set and have them both shipped to the same place, or you can purchase them individually and have them shipped separately. That's perfect if you or your friend has already moved away.
5. Charging Cord Bracelet
There's nothing worse than leaving home for the day and realizing you forgot to grab your phone charger. Gift this bracelet to your BFF, and they won't have to worry about it anymore!
With the stylish yet practical Charging Cord Bracelet, you always have an Apple product compatible charging cord with you.
When it's on your wrist, the faux leather bracelet looks like a fashion accessory rather than a phone charger. It's available in two sizes and several colors including black and ivory, and you can even purchase a small battery pack that fits in a pocket.
6. Hair Tie Bracelets by Shireen & Arni Thor
Which is more frustrating: never having a hair tie when you need one, or the discomfort caused by wearing one on your wrist? You and your friend can solve both problems with these clever Hair Tie Bracelets!
The silver or gold-toned bangle looks stylish on its own, but the best part is that it has a groove designed to hold a hair tie.
We love the story behind the creation of these bracelets. Design engineer Arni Thor noticed that his wife, Shireen, was constantly searching for hair ties or dealing with the irritation of wearing them on her wrist. So, he invented something to solve her problem. How sweet!
7. Infinity Hair Tie Bracelets by Maria Shireen
If you like the idea behind the hair tie bracelets, check out their Infinity Hair Tie Bracelets.
It's available in gold or silver tones and the infinity design holds two hair ties instead of one. It's the perfect combination of style and function.
8. MLB Game Used Baseball Friendship Bracelets by Ward Wallau
Friendship bracelets are already a fun way to celebrate your bond. One that celebrates a favorite hobby is even better.
Are you and your BFF baseball fanatics? You'll adore these MLB Game Used Baseball Friendship Bracelets!
Braided from wool unwound from the core of a game-used MLB baseball, they're available in every team's colors. Each bracelet also includes a silver-plated brass charm and an authentication card for looking up the exact game the ball was used in.
9. DIY Long Distance Friendship Bracelets by Alex Hillson
Do you remember making friendship bracelets at summer camp? Relive those childhood memories with your best friend and these DIY Long Distance Friendship Bracelets.
This DIY kit includes two bands, alphabet letters, heart beads, emoji characters, and tie-on pompoms to create bracelets that best represent your friendship.
Since these bracelets are technically made for kids, you might need to have a small wrist to wear them after you make them. Still, even if they don't fit, you and your friend get fun keepsakes to remember each other.
10. Past, Present & Future Friendship Bracelets by Beth Lawrence
BFF stands for best friends forever, and that's represented beautifully with these Past, Present & Future Friendship Bracelets.
The past is represented by an oxidized ring, the present is captured by a sterling silver ring wrapped with wire, and the future is symbolized by a gold-filled ring. All three rings are connected to a delicate silver chain.
Handmade in Tennessee, these bracelets come with a card explaining the significance of each ring.
If you love the symbolism and design but are looking for another option, Beth has recreated the same style as necklaces and earrings.
Speaking of necklaces: Check out our recent post on the best long distance friendship necklaces of 2023.
11. Forget Me Knot Bracelets by Trang Dai Nguyen
Knots represent a bond that can never be broken, and circles represent eternity. What better way to celebrate your friendship than with these Forget Me Knot Bracelets?
These stunning bracelets are handmade by Canadian, Trang Dai Nguyen, using recycled sterling silver. The minimalist design means these bangles can be dressed up or down with any fashion sense.
12. I Will Always Support You Friendship Bracelets by Holly Daniels Christensen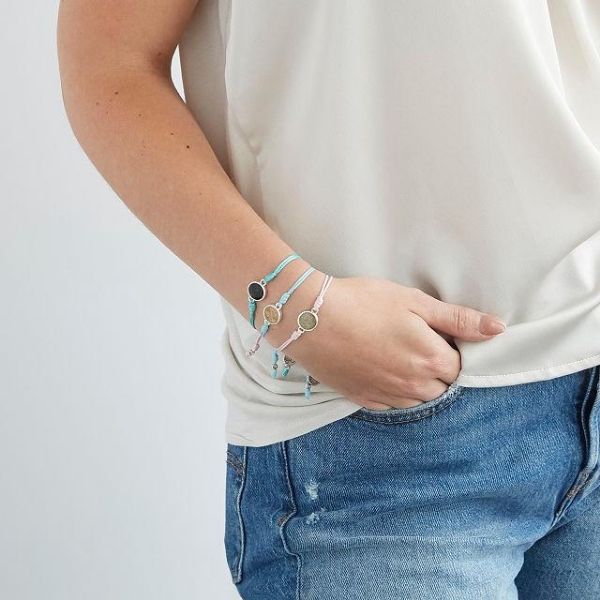 Sand from your favorite beach? Check
Money donated to a cause that's important to you or your friend? Check
Friendship bracelets that come in fun colors? Check
I Will Always Support You Friendship Bracelets literally have it all!
The pendant is filled with sand from your favorite beach from Christensen's Sand Bank. What's crazy is that they have sand from more than 1500 beaches and desert. If your favorite beach isn't represented, you can also send in your own sand.
Additionally, you get to choose a charity to receive a portion of your purchase! Causes include climate change prevention, autism awareness, mental health awareness, and animal welfare.
13. Connected Friendship Bracelets by HEY
Recently, we've all come to better appreciate the power of touch.
With HEY Friendship Bracelets, you can feel your friend's touch in the form of a gentle squeeze any time they touch their bracelet.
Here's how it works: once you both set up your bracelets through the HEY App, touching one bracelet activates a small motor in the other, which pulls in part of the bracelet strap. Users have said it feels like your friend is gently holding your wrist with their thumb and forefinger.
The bracelets come in white or black and are weatherproof, so there's no need to worry if you get caught in the rain.
Want to know more about long distance touch bracelets? Check out our in-depth comparison of the Bond Touch, Totwoo and Hey Bracelets above.
14. Surfer Style Friendship Bracelet Set by Alexander Flak
For a beautiful Boho look, check out the Surfer Style Friendship Bracelet Set. It includes one brightly colored cotton bracelet and one bracelet with brown swirly beads.
If your friend has moved away from the beach you both grew up on, this surfer style bracelet will be a touching reminder of home. It's also perfect for somebody who's moving to the coast for the first time.
Gift wrapping is also available if you want to surprise your friend.
15. Partners In Crime Bracelets by Dream Willow Studio
Do you consider your best friend to be your ride or die PIC? If so, you'll love these Partners In Crime Bracelets!
A silver alloy handcuff charm is attached to a 10" cotton cord that you tie in a knot. You can purchase two or three to come on a piece of cardstock that includes a cute poem:
Partners in Crime
Here are two bracelets
One for YOU and one for ME!
To remember that you have me and I have you
Always as a partner in crime.
Iva of Dream Willow Studio, has more than 250 items on Etsy, many of which can be personalized to suit you and your BFF.
16. "I Carry Your Heart With Me" Friendship Quote Bracelets by Laurel Denise
If you and your friend like the look of leather, you'll appreciate the "I Carry Your Heart With Me" Friendship Quote Bracelets. They're made of leather in your choice of color and are laser engraved with:
I carry your heart (i carry it in my heart). e.e. cummings
The 0.25" thick leather can get wet and will darken with time. Choose from natural colors like brown or sand, or something more fun like turquoise and purple.
If you like leather bracelets but would prefer a different quote or text, Laurel also offers customized bracelets.
17. Coordinates Bar Bracelet by Jewelry Blues
Is there a place in the world that has special meaning for you and your friend? It could be your favorite bar, the playground where you met, or the soccer field where you spent your weekends.
Commemorate that location with this Coordinates Bar Bracelet.
You can choose to have just the coordinates engraved on one side, or you can also add an engraving on the back. With 17 fonts, three colors (silver, gold, or rose gold) and many sizes to choose from (including adjustable lengths), this bracelet is the ultimate customizable gift for your BFF.
If you want to add some sparkle, you can also add a gemstone or cubic zirconia charm to the bracelet.
18. Custom Cuff Bracelets by Brielle Belle
Do you like the idea of customizing a bracelet for your BFF, but you prefer cuff bracelets over chain or cord styles? You need to check out these Custom Cuff Bracelets.
They're 6" long with a 3" diameter and slightly adjustable, so they'll fit most wrists.
Brielle Belle has made these Cuff Bracelets available in black, silver, gold and rose gold. You can also choose from four different fonts for what you want engraved on each cuff.
In addition to having any message you want inscribed on the outside of the bracelet, you can create a "secret" message to be engraved on the inside!
These bracelets look great stacked, and you can combine colors or messages for a unique look.
19. Tiny Heart Adjustable Friendship Bracelets by Queen Handmades
For a simple and minimalistic design, you can't beat these Tiny Heart Adjustable Friendship Bracelets.
There are 14 cord colors to choose from, including blush, sunlight, and pastel mint. Next, you get to choose the charm. While the most popular option is a gold or silver heart, you can also choose a star or add a small pearl.
Since the bracelets are adjustable, they'll fit just about any wrist, and the minimalistic design will match most wardrobes.
20. Leather Cord Best Friend Bracelets by Jennifer Jade
There's something striking about a simple leather cord. If you agree, you'll love the Leather Cord Best Friend Bracelets.
These adjustable cord bracelets are available in ten colors, including black, navy blue, and mahogany. There are several different adjustable sizes, from small or adult-sized bracelets and anklets all the way up to a 28" necklace length.
You and your friend could each get the same color, or you can each get your favorite color and just have a matching style. Better yet, get several and stack them for a truly unique look!
21. Friendship Bracelets w/ Interlocking Rings by KEDRIAN
The interlocking rings on these Friendship Bracelets by Kedrian are a great representation of the strong bond you and your BFF share.
This delicate chain bracelet can be adjusted from 6" to 10" and is made of sterling silver and coated in white gold.
A beautiful box is included to house the bracelet with a card that says:
Because of you, I laugh a little harder, cry a little less, and smile a lot more.
Each purchase from Kedrian also helps support girls' education through Children of Promise.
Our Favorite Long Distance Friendship Bracelets
Without a doubt, our favorite long distance friendship bracelets are those by Bond Touch.
While there isn't much better than being able to tell your friend that you miss them with just a touch, there are a few other reasons why we think you'll enjoy these bracelets too: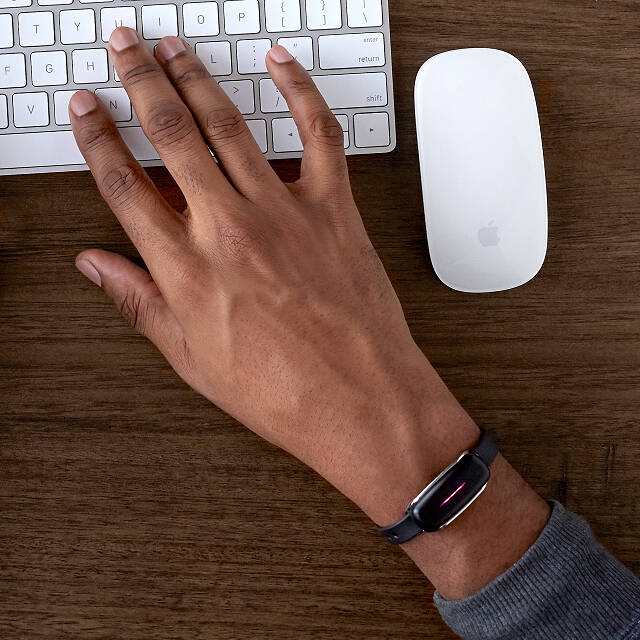 They are more affordable than you might have expected. Similar technology from other companies can cost double or triple that amount per unit.
In addition to the bracelets, the all-in-one smartphone app keeps track of who sent touches and when, lets you change the color that lights up your friend's bracelet, and gives you a special place to chat that's separate from your other messaging services.
For a small fee, you can purchase bands of other colors. Pick one to wear all the time, or buy several colors to match with your outfit every day.
---
Hi, we are Lolo (Canada) & Nate (Australia) a couple that had to go through all that a long distance relationship has to offer, just like you. With our experience and lessons learned we want to help you keep your long distance relationship as strong as ever and ultimately last the distance!