Long distance friendship jewelry is truly special.
Why?
We think it has an amazing ability to transport you to the heartwarming memories that you share with one another.
Regardless of its price, what it's made out of, or the type, it's the symbolism that really matters.
As long as there's meaning behind it, even something labeled cheap by some will be priceless to others.
Whether you're looking for necklaces, bracelets, or rings, we've picked the most meaningful pieces to honor and celebrate your friendship.
QUICK NAVIGATION
The Best Jewelry For Long Distance Friends In 2023
Long Distance Friendship Necklaces
Totwoo Smart Necklaces
Want a unique piece of long distance friendship jewelry that also lets your bestie know when they're on your mind?
Totwoo Smart Necklaces will vibrate and light up any time a paired necklace is touched.
It's like receiving your own personal and physical notification!
Made with high end materials, these necklaces are stunning and the three different styles will suit almost any outfit or occasion:
To note: Totwoo also has smart bracelets if your friend is more into bracelets than necklaces, read on for our favorites!
Evermee Digital Lockets
Lockets have finally joined the 21st century!
With Evermee Digital Lockets, you can gift your friend a beautiful pendant necklace that "holds" up to 5 photographs.
How does it work?
The pendant holds the same type of chip that's in your credit card. When your friend scans the necklace with their phone, the photos you uploaded before sending them the necklace will pop up.
Once your friend has the necklace, they can change the pictures any time they want. Now, they can hold their best memories with you close to their heart.
What's really cool about this technology is that these lockets don't require charging and are not just waterproof, but life proof!
The necklaces are made from 925 sterling silver and 24k gold vermeil with your choice of gemstone, including:
Custom State & Province Friendship Necklaces by Anavia Jewelry
Close the distance between your two states with these Custom State & Province Friendship Necklaces.
Both of your states are engraved on the front of the round pendant with a heart in the middle. On the back, you can include a short message, up to 17 characters. Some examples:
BFFs Forever! (12 characters)
To the moon & back. (15 characters)
With an 18" chain and available in silver, gold, or rose gold, it's the perfect customizable item to represent your friendship.
We really like that Anavia Jewelry includes a gift box with every purchase! So you can have it sent directly to your friend and save on shipping costs.
I'll Be There Friendship Quote Necklaces by Kathy Bransfield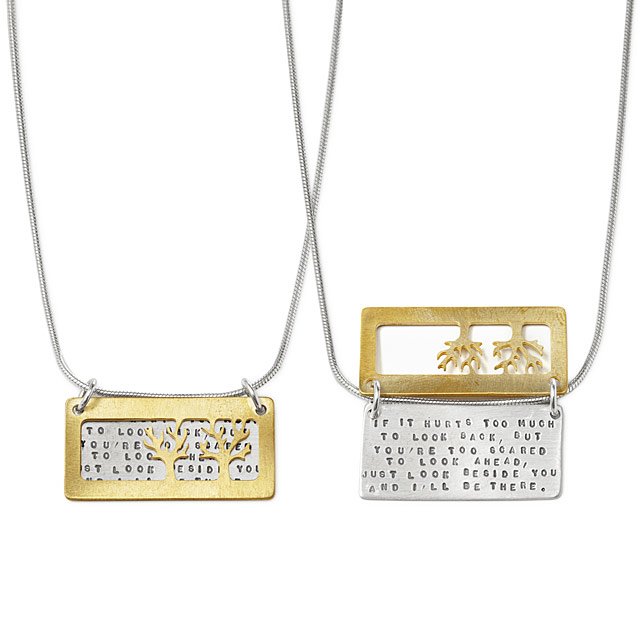 Are you looking for a way to remind your friend you'll be by their side regardless of the distance between you?
Kathy Bransfield's I'll Be There Friendship Quote Necklaces allow you to do just that.
Covered by a gold-plated brass cutout of two trees standing side by side, a sterling silver pendant reads:
If it hurts too much to look back, but you're too scared to look ahead, just look beside you and I'll be there.
An 18.25" long sterling silver chain finishes off this beautiful reminder of the power of your friendship.
For more details check out Kathy's listing on UncommonGoods.com
Want more necklace options? Check out our post on friendship necklaces your bestie will absolutely love.
Bracelets For Long Distance Friends
Bond Touch Bracelets
Which option do you think is a more heartwarming option?
Taking out your phone and texting your friend to let them know you're thinking about them.
Tapping your bracelet which not only makes your friend's bracelet light up and vibrate, but also their face 🙂
We think number two also!
These bluetooth and app connected bracelets by Bond Touch allow you to have a 1-1 connection with your bestie, no matter where they are in the world.
Just tap your bracelet and as there's vibrates it will give them that subtle yet heartwarming feeling knowing you're thinking about them at that very moment.
Usage tip: You can tap up to ten times in a row, even combining short and long taps to create a custom codes. For example, one long tap could mean "I miss you," while three short taps mean "I got home safe."
Each bracelet comes with a standard black band, but you can also purchase other colors to match your styles:
MLB Game Used Baseball Friendship Bracelets by Ward Wallau
If one of the favorite things to do with your bestie was to see a ballgame, send them a reminder of those good times with these MLB Game Used Baseball Friendship Bracelets.
Under the leather, baseballs are made mostly from wool. These bracelets use wool from game-used baseballs to form a bracelet and are made adjustable from 6" to 9".
All 30 major league teams are available but what's really cool is that each bracelet comes with an authentication card and a hologram to find the details of which game the ball was used in!
Not into baseball? No worries!
Ward Wallau also has unique game-used items from other sports, including:
Custom Birthstone Friendship Bracelets by Vivo Minimalist
Looking for something simple and elegant? These Custom Friendship Bracelets include a birthstone and a small disk you can customize with the initial or symbol of your choosing.
Vivo Minimalist has made these delicate bracelets available in a number of sizes and finishes to match your friend's style, they include:
Suitable for any occasion, your friend will always be able to look down at their wrist and have an amazing reminder of you and your bond.
Hey Bracelets
You can't hug your friend through a video call, but with HEY Bracelets you can embrace them from anywhere in the world.
Embrace!?
That's right! Rather than using vibration, HEY Bracelets have a unique piece of technology built in that will tighten the strap of the bracelet giving your friend's wrist a gently squeeze.
There is a dedicated smartphone app to connect the bracelets, allowing you to send and receive 'touches' from one another. You can also keep track of when and where you've sent and received touches for a trip down memory lane.
Usage tip: Want to send a touch but your HEY Bracelet is out of battery? No worries! You can also send touches directly through the app.
We really like the overall design which is available in black or white and incorporates a chic looking "H" pattern on the front of the charm.
Want more friendship bracelet options? Here's our post on the best friendship bracelets for true BFFs.
Long Distance Friendship Rings
Long Distance Friendship Knot Rings by Kat Studio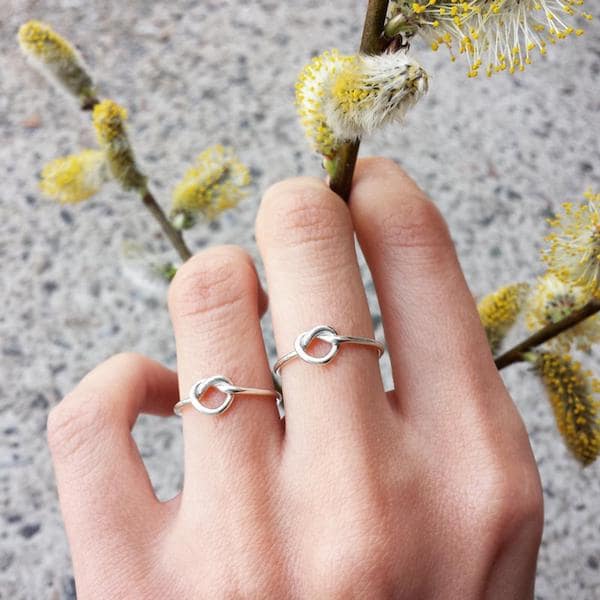 Show your friend that you won't let the distance break your friendship with these Long Distance Friendship Knot Rings.
Knots are an amazing representation a bond that can't be broken, making these knot rings the perfect way to show that your friendship will endure despite the distance between you.
These rings are sold in pairs, so you can keep one and give one to your friend. Then, you'll both have a constant reminder of what you mean to one another.
Made from 16 gauge recycled sterling silver wire, these rings have a minimalist look that will match almost any style.
Cityscape Friendship Rings by Caitlyn Minimalist
Whether you want to remind your friend of your hometown or an amazing trip you took together, these Cityscape Friendship Rings are a beautiful way to bring those memories to life.
Made from 925 sterling silver with gold or rose gold finishing options, you can select from a long list of popular cities around the world or ask for any custom city.
You can also have the inside of the ring engraved for a small additional fee, making this an amazing personalized piece of long distance friendship jewelry.
Zodiac Sign Friendship Rings by Choice By Choi Inc
For those passionate about astrology, these Zodiac Sign Friendship Rings are a great option.
Made from brass and plated with silver or 14k gold and available in ring sizes 6, 7, and 8, these minimalist rings feature cubic zirconias in settings that match the constellation of the chosen zodiac sign.
If you love minimalistic jewelry, Choice By Choi offers a wide variety of personalized options to choose from.
Our Favorite Long Distance Best Friend Jewelry
If we have to pick just one, our favorite long distance best friend jewelry is Evermee Digital Lockets.
Uncomplicated and stunning, they are the perfect blend of tech and jewelry and are a genius way to bring lockets into the 21st century.
The pendant isn't big and clunky, there's no charging necessary, and the life-proof design can be worn all day without worries.
You can load up your favorite photos of the two of you together before you send it, and your friend can change the pictures when you're together again.
Now It's Your Turn
Which piece of jewelry do you absolutely love?
If it's a surprise, think about what your bestie would enjoy. If you're picking something together, share this article with them to find the perfect symbol of your friendship!
---
Hi, we are Lolo (Canada) & Nate (Australia) a couple that had to go through all that a long distance relationship has to offer, just like you. With our experience and lessons learned we want to help you keep your long distance relationship as strong as ever and ultimately last the distance!