In a rush? Here's our TL;DR highlights of the best gifts for long distance friends to stay connected:
Our Top Choice
LuvLink Friendship Lamps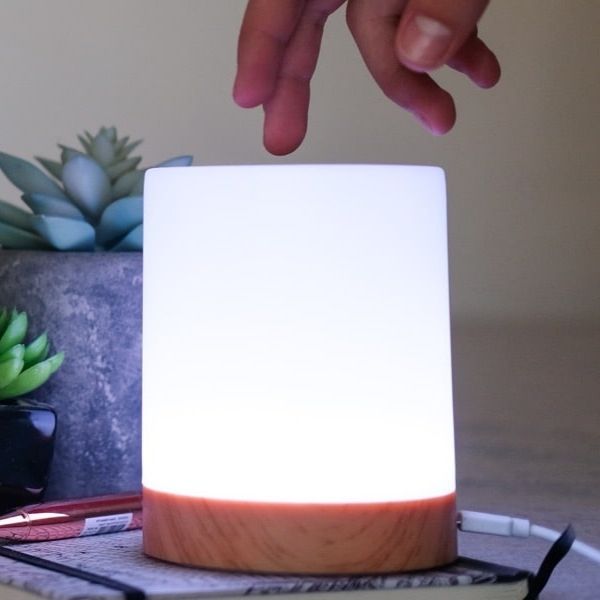 One of the most popular and unique ways to connect with your best friend from afar.
Super Cool Tech
Totwoo Light Up Bracelets
Light up your besties life, literally, with a single touch from anywhere in the world.
Popular Alternative
The Adventure Challenge
Create lasting memories the next time you get to see each another in person.
Long distance friendships worth fighting for don't come along very often.
When they do, they NEED to be celebrated.
Long distance friendship gifts that keep you connected, like friendship lamps, are the perfect way to do it.
But, there are many other cool options available.
Which is why you're here!
To help you find something special, we've collected the best gifts that will strengthen your friendship. No matter the distance that separates you.
Let's get stuck in!
The Best Gifts for Long Distance Friends
Long Distance Friendship Lamps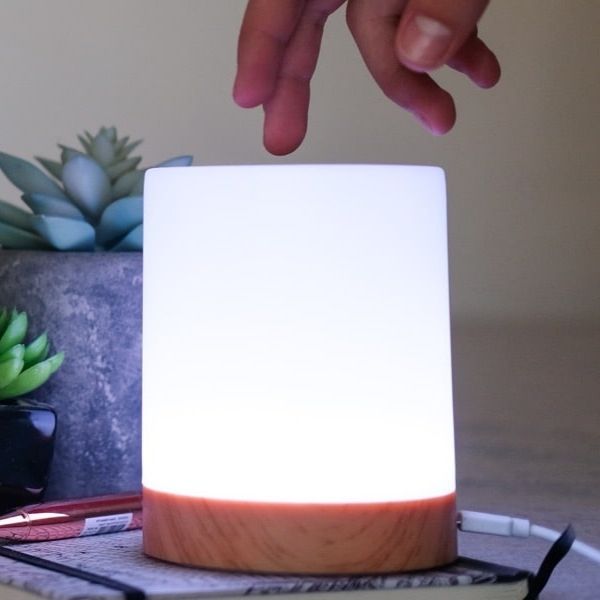 There is something beautifully symbolic about light and how it can truly brighten someones day!
Friendship lamps from FriendLamps.com are really neat in the way they connect long distance friends.
When one lamp is touched it will signal the other lamp to turn on, no matter where it is in the world.
"What the… How?!"
All you need for the lamps to connect is the internet and WiFi.
It's amazing how simply touching a lamp, whenever you are in each other's thoughts, can not only bring comfort but also show how much you mean to each other.
See a visual demonstration here!
LuvLink are currently running a 40% off promotion, so head over to FriendLamps.com to take advantage!
Last checked 22nd September 2023.
For more information on the lamps pictured above and some other great options, check out our review of the top friendship lamps for long distance friends.
Totwoo Friendship Bracelets That Light Up
These bracelets from Totwoo work in a similar way to friendship lamps.
They connect to one another using bluetooth and an app on your smartphone, which means you don't have to be at home to use them.
Whenever you want to let your friend know that you're thinking about them, all you need to do is touch your bracelet and it will make their friendship bracelet light up!
You can even customize the colors and give them special meanings to make it that much more special.
Totwoo features we like:
They are very durable and waterproof (making them easy to wear all day)
Their app is easy to use and has some cool features like 'surprise messages'
There are different finishes available (silver, gold and black) to suit your style.
Check them out on the official Totwoo website and don't forget to look through their customer reviews to make sure it's the right option for you!
Like the look of touch bracelets? Check out our recent post where we compared the best options for long distance friends.
The Adventure Challenge – Friends Edition
When you get the chance to see each other in person, make every minute count with the friends edition of The Adventure Challenge!
Sure, you'll want to visit some of your favorite usual spots, but why not add some new options into the mix?
The best part is you won't initially know what the adventures are! Here's how it works.
There are 50 adventures in the book that you'll discover once you've scratched them off. Pick one of the titles that sounds interesting and then commit to doing whatever you scratch off.
Make sure you take plenty of pics when you're together and fill in the journal entry with that adventure. They've even have an option that includes a cute polaroid camera so you can add your snaps to the book as you go.
Now, you have fun new memories to get you through the long times apart.
Head on over to their official website to find out more and don't forget to check out the polaroid camera option!
Long Distance Friendship Bracelets
Design by Symphony's matching bracelets are a great way to symbolize a strong friendship.
The compass bracelets above act as an important reminder of how the distance between you won't affect your friendship.
We think that's pretty powerful!
These friendship bracelets are available in a variety of cord colors and you can even purchase more than two if you have a group of friends that have been separated.
Check out their listing on Etsy for more details on pricing and available cord colors (there are over 20!).
Long Distance Friendship Necklaces
If you like the compass theme but prefer matching friendship necklaces, this may be the perfect option.
Along with the necklaces, you'll also receive this beautiful quote on the packaging.
"No matter what direction we travel in, we will always be close at heart"

Simple Reminders, Etsy
If you purchase from Simple Reminders through Etsy, you will also have the choice to add a more personal message if you prefer.
They are handmade using high quality materials and are available in either gold, rose gold or silver.
For more details, visit Simple Reminders on Etsy.com.
Long Distance Friendship Earrings
Earrings make a beautiful gift for any occasion and these interlinked circular earrings from Dear Ava are no exception! The design symbolizes eternal friendship, which is perfect for celebrating a long distance friendship.
Dear Ava has also included a heartwarming message that your BFF is going to love.
Available in gold, rose gold and silver, the finish is a simple and elegant design that will complement most fashion styles.
Visit Dear Ava's official store on Etsy.com to find out more about the message and details on the cute gift wrapping options available.
Long Distance Friendship Rings
To be completely honest, it will be hard to find a better piece of jewelry that symbolizes friendship.
Joelle from LeCubicle, an online jeweller from Montreal, has created a beautiful and delicate piece with two elements, that we believe, makes it perfect for long distance besties.
In Chinese culture, the knot symbolizes binding or to be connected.
The two strands of metal become one, just like two people coming together to form a friendship.
Another awesome aspect of the two strands of metal is that you can select two different finishes.
For more details on pricing, shipping and the available finishes, head on over to LeCubicle on Etsy.com.
Long Distance Friendship Keychains
If you live in different states of America then these keychains by Veeaien Designs would make a cute and subtle long distance friendship gift.
The design incorporates a cute suede leather tassel, with 16 color options, and your personalised states hand-stamped into an aluminum tag.
We really like keychains as a gift because everyone uses their keys daily, which means you'll have a heartwarming reminder of your friendship, wherever you go.
Head on over to Etsy for more details and don't forget to take a look at the awesome tassel colors available.
Best Friends Mugs
If you and your bestie love coffee or tea as much as we do, then these mugs are sure to be a hit. These friends-inspired mugs from Megan Klassen, the owner of Glass Knobs & Glue Sticks, make a great practical gift.
Megan's artistic style gives the mugs a cute and heartwarming feel, just like the coffee or tea you'll be drinking out of them! But what sets these mugs apart from others is the customization options.
Along with adding your names, you can make them truly unique to your friendship by selecting:
hair styles
skin tones
drinks in each hand, and
a personal message
AKA 'Building Your Bestie' 🙂
For those of us who can't get enough coffee in the morning, Megan has made the designs available in 11 and 15 fluid ounces.
Check them out on Etsy.com, where you will also find Megan's designs on other options like water bottles, travel mugs and tumblers.
Personalized Friendship Songs by Songlorious
If you and your long distance bestie have a connection through music, you'll definitely appreciate what Songlorious can do!
This cool new platform helps you work directly with a professional recording artist to create a song in only 7 days and for less than you might expect!
You get to choose the genre (R&B, folk, country, acoustic pop, singer songwriter, or rap/hip-hop) and mood (happy, heartfelt, comical, uplifting, or reflective), then Songlorious will pair you with the right artist.
As you work together and share stories and memories of your friendship it will help them craft the perfect personalized song.
There are lots of song examples on their official website, and if you love one of the singers, you can request them. They'll collaborate with you if they're available, or Songlorious will choose the singer that best fits your preferences.
Check out the heartwarming video below showing some live reactions of people who used Songlorious to surprise their loved ones.
For more details on the whole process, head on over to Songlorious.com.
Wine Glasses
Tell us one reason why you wouldn't want to be reminded of your long distance friend whenever you have a wine?
We'll wait… 🙂
Never Too Far To Wine Together

After Hours Decals, Etsy
Incorporating the cheeky quote above, along with your states and a heart for your locations makes these wine glasses the perfect option for friends who love a good laugh.
They are also available in either a stemmed or stemless glass depending on your preference.
If you want a different color for the text and states, it's worth checking them out on Etsy, as the customer reviews show some awesome combinations, like gold and white!
Long Distance Friendship Pillows
Megan from Glass Knobs & Glue Sticks is back again with her sequin pillows, which are really popular right now.
Imagine cuddling up to one while watching your favorite Netflix show 'together'.
Just like her mugs, you can also customize the hair color, skin tone, drinks and names. There is also an option to add two, three or four friends.
For more details, check out their official listing on Etsy.com.
Long Distance Themed Photo Frame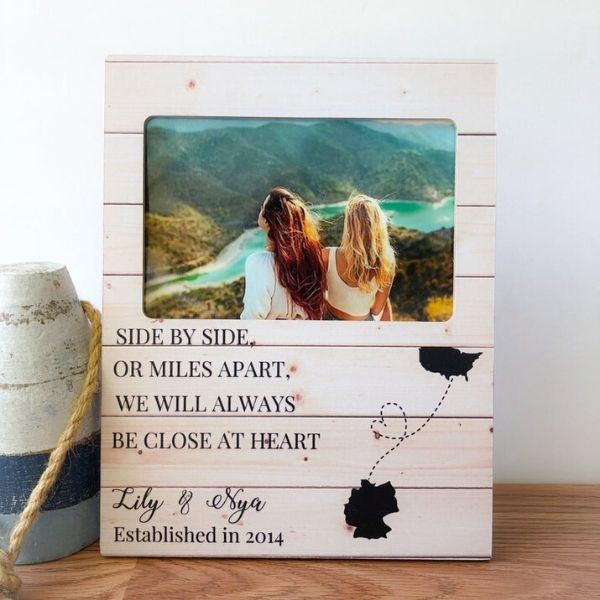 Nothing can truly capture the feelings of a friendship quite like a memorable photograph. Pairing it with this unique frame by The Next Chapter makes it one of the cutest long distance friendship gifts out there.
Side by side or miles apart, we will always be close at heart.

The Next Chapter, Etsy
Along with the quote above, we love the options to include your names, a date and your state or country.
If you have the perfect photo in mind, but it's vertical (portrait) and not horizontal (landscape), don't worry. The Next Chapter have made both options available!
Visit their Etsy listing for details on pricing and to check out which photo option you prefer.
Custom Best Friends Map
A heart is the universal symbol of love and let's be honest, you're not going to buy this for a friend you like, you're going to buy it for a friend you love!
We love how John & Rachel Stewart of Journey Print have incorporated two maps to symbolize the distance between friends. Shaping them into a heart makes it even more special, showing two halves coming together to make a whole.
John & Rachel have included three sizing options, to help fit within any budget. You can also choose other designs that can include up to four different maps.
Check them out on Etsy for pricing and don't forget to look through their customer review photos to see the different designs and sizes in the wild.
Friendship Candles
Many people love candles for the aroma and ambience they create.
These long distance themed friendship candles make a great gift for anyone wanting to give their bestie something that will be a daily reminder that you're in each others thoughts.
The creators, Define Design, have included a few customization options:
City & State for your two locations.
Message for the candle lid.
50+ scents to choose from.
Check out Define Design's listing on Etsy.com for the full list of amazing scents available and to find out more about the gift box option.
Night Sky & Constellation Posters
The night sky print by Ashlee of Our Love Was Born is a great option for anyone that's looking for a sentimental gift. Plus, we think the quote that's included really pulls on the heart strings!
Best friends are like stars. You don't always see them, but you know they are always there.

Our Love Was Born, Etsy
With the amount of customization options available you can truly create a one of a kind gift for you and your friend.
To give you an idea, you can choose from multiple designs, colors, fonts, sizes and frames.
You really need to visit Our Love Was Born on Etsy to truly understand the how many customization options are available.
Subscription Boxes
Subscription boxes are the gift that keeps on giving.
Weekly, monthly or quarterly!
We think they make a great gift for long distance friends for a couple of reasons.
You can both receive them and try them together.
They are the perfect excuse to video chat regularly.
Universal Yums is a great option because you can try candy and snacks from different parts of the world. Some you will love, others maybe not as much, but seeing your friend's reaction on video will be priceless!
They have also made it a great option for any budget with different sized boxes available and one off purchases if you don't want to have a subscription.
Visit the official site at UniversalYums.com for more details and to see which region of the world will be next!
Personalized Memory Box
Whether your friendship became long distance or started that way, a memory box can make a great gift.
They work well as a 'going away' gift or to send as a part of a care package.
If you've always been long distance friends, you can use a memory box for things like:
A place to keep physical snippets of important chats you've had.
Use it as a 'vision box' to include things you want to do/see together.
Keep things in it from when you visit each other.
Dust & Things hand-make these beautiful boxes from solid wood and have made them available in three different sizes. Laser engraving is available to personalize the top of the box and the inside.
For more details on engraving and box sizing, head on over to their listing on Etsy.
Travel Fund Box
You've probably asked yourself this question a hundred times…
Are we ever going to see each other again?
But don't worry, every long distance friendship has been there.
A cute travel fund 'piggy bank' could be the perfect starting point to answering that question. Whether it's visiting each other or going somewhere new, the most important part is that you'll be working and saving towards this goal together!
These handmade wooden adventure fund boxes from Wonder Collective are a great option.
Check out the customer review photos on Etsy to see how they look with different customization options.
Long Distance Friendship Cards
Not many people will put up with our annoyingness like our friends do!
These cards from Aiden of The Krafty Card Shop help celebrate it with the funny quote:
There's no one I'd rather annoy the f*ck out of for the rest of my life.

The Krafty Card Shop, Etsy
Aiden uses high quality brown kraft 300gsm cardstock to make these cards and to make sure it arrives in perfect condition, the envelope has a hardback so it doesn't get damaged during delivery.
The inside is completely blank, leaving you as much room as possible to write a heartwarming message.
For more details and to see other card options, check out The Krafty Card Shop listings on Etsy.com.
Best Friend Gift Box
If your bestie likes to be pampered this spa themed best friend gift box from Dear Ava Gifts just might be the answer.
The box includes:
Lavender candle
Lavender hand & body soap
Mint & lime lip balm
Two bath bombs (rose & outmeal, lavender)
Greeting card
Engraved wooden heart
While all of these products make a great gift box, what we really love is that Dear Ava Gifts creates all of these products themselves!
If you want to go one step further, they also have the option to add a beautiful connected rings friendship necklace.
For more details on the necklace and the overall ordering process, visit Etsy.com.
TableTopics – Girls Night Out Edition
If you've ever felt like you've run out of things to talk about, don't worry.
We've all been there!
The Girls Night Out edition of TableTopics will take your video calls to the next level.
You'll be asking each other a mix of cheeky, funny and thought provoking questions and creating memorable conversations along the way.
We really like the fact that there are 135 questions, so you're not going to run out of anything to talk about anytime soon!
While the Girls Night Out edition is designed for adults (18 and over), there is a teens edition that would be suitable for younger long distance friends.
Why You're My Bestie Book
With the rise of adult coloring books, it's easy to see why these adult 'fill in the blank' books are becoming popular.
Knock Knock creates many different option and thankfully, Why You're My Bestie is one of them!
We think this is a great way to rekindle memories that are sure to put a big cheesy grin on your friend's face.
Just think how it's going to make you feel when filling it out too 🙂
Visit Amazon for more details and don't forget to take a look at the other types of 'fill in the blank' books they have created.
Best Friends T-Shirts
Was your best friend always getting you into trouble? Or perhaps it was you always making the trouble?
Either way, these stylish shirts are perfect to wear when you're apart and together.
With a nice selection of colors and sizes available, you'll be sure to find an option to suit your style.
Visit K & J Designs on Etsy for more information.
evermée Long Distance Friendship Lockets
These unique necklaces from evermée have been coined 'jewelry of the future'.
While they might look similar to other high end accessories, these digital lockets hold a special piece of tech, which allows these lockets to store photo memories.
This is actually the same 'NFC' (near field communication) tech many of us use on a daily basis through credit cards with contactless payments.
Which of course is super secure and emits zero radiation.
What's really cool is that using NFC technology means there is no need for batteries or charging. They're also waterproof so you don't ever have to worry about taking it off.
Now It's Your Turn!
All of the long distance friendship gifts we've gone through are special and sentimental in their own ways.
Which were your favorites?
We suggest shortlisting those you think your bestie will enjoy wearing or using most and make sure you give yourself enough time if it's for a special occasion!
---
Hi, we are Lolo (Canada) & Nate (Australia) a couple that had to go through all that a long distance relationship has to offer, just like you. With our experience and lessons learned we want to help you keep your long distance relationship as strong as ever and ultimately last the distance!