This in-depth Esca 2 Review is by Claire Stewart, our Female Sexual Health & Long Distance Intimacy Contributor.
OhMiBod I missed you guys!
I'm back to give you a full rundown of my time with the Esca 2, an interesting wearable vibrator.
With double the battery life, new long distance play features, and larger motor. OhMiBod promises to bring more pleasure, intensity, and remote control fun to your bedroom or in public.
But does it?
Read on to find out what I discovered.
Our TL;DR Esca 2 Customer Review
4.2 out of 5 stars. For $109, the Esca 2 is a great choice for beginners. My tests found it to be comfortable, versatile, and with more intense rumbly vibrations than the original. Long distance couples will enjoy the app control features but you need to keep the device and phone close to stop any connection dropouts.
Esca 2 pros & cons
Pros:
The small max diameter makes it a great beginner's option.
You can't hear it in use when out in public with ambient sounds.
The LED light in the tail adds a level of visual stimulation.
Cons:
Flexible tail makes it hard to keep the device in place.
Connection can dropout if your phone is not closeby.
It doesn't come with a single-use packet of lubricant.
You can purchase the Esca 2 from many online retailers, including those below. But we recommend buying directly from OhMiBod to secure the best price and discounts. Plus you are going to deal directly with the manufacturer for any warranty issues and customer service.
QUICK NAVIGATION
Esca 2 Purchase, Delivery, and Set up
You likely have some idea of how the Esca 2 works. But just in case, we want to quickly touch on how it works for those who want a better understanding.
How the Esca 2 Works
Just like the previously tried and tested Lush 3 from Lovense, the Esca 2 is a wearable app-controlled egg vibrator. It has been specifically designed to sit securely, focus pleasure on your G-spot and be worn for long periods of time. Unlike the Lush 3, this second-generation device has a 'flexi-tail' giving you complete control of where it sits outside your body.
You or your long distance partner can control vibration patterns and intensity (plus other remote control features) via the OhMiBod Remote app.
Differences between Esca & Esca 2
The main difference between Esca and Esca 2 is the internals. No changes have been made to the exterior design but it now houses a more powerful vibrating motor, a battery that holds twice the charge, and Bluetooth 4.1. So you should experience stronger vibrations for longer and with a better connection.
Both models have an LED light on the end of the tail, which syncs to the vibrations. But with the original Esca there was no way to turn the light off. This isn't great if you want to use it in public. Luckily, OhMiBod took customer feedback onboard, giving the Esca 2 an option to turn it off.
Purchase process
What will likely surprise you is that OhMiBod has two websites. One is for general company information while the other is their official store. LoveLifeToys.com is where you'll make your purchase if you go with the Esca 2.
To note: Your successful order and shipping emails will be OhMiBod branded so you can rest assured that everything is safe and secure.
It arrived within a week of purchase, which was great. But the best part was the discreet packaging. I was home when it was delivered and of course, the postal worker decided to hand deliver it! Luckily they had no clue what it was, the plain cardboard box is a must and great for customer peace of mind.
I couldn't wait to get it open!
Unboxing Experience
Upon opening, you're met with everything nicely presented and easily accessible.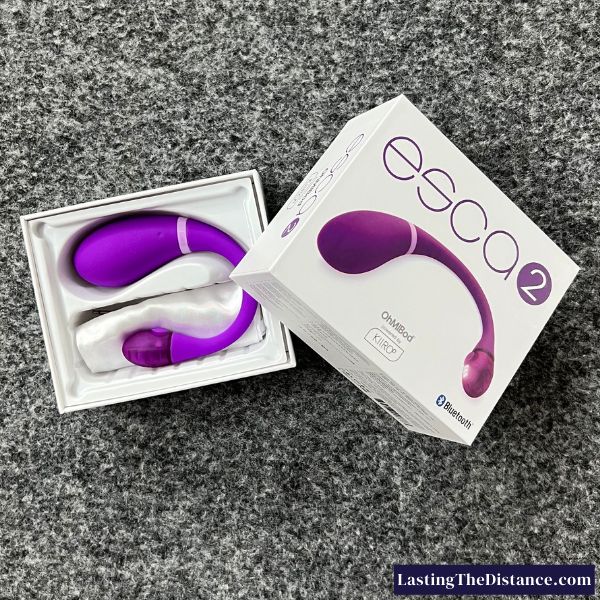 There was no surprise in terms of the accessories that were included. I did hope for something special but everything was as expected, as with most sex toy manufacturers.
Included in the box is:
The Esca 2
User manual
USB charging cable, and
Silky storage pouch
First Impressions
When compared to the Lush 3, Esca 2 has a similar sleek finish. But in the hand it definitely feels more flexible and the size is more approachable. I think this makes it a desirable choice for beginners that are looking to get their toes wet.
To note: If this is your first device (or you're run out), you will need to purchase lubricant. I suggest OhMiBod's Lovelife Natural Intimate Lubricant just to be safe that you're using the right option for the device.
While I was unsure how I'd feel about the light because it does make the tail quite large. It does look like a fun addition and made me excited to see how it works.
OhMiBod does get brownie points for the always-appreciated addition of a privacy pouch. But if any of the manufacturers see my reviews – please include a wall adaptor for the USB chords!
A chord with no wall adaptor is just about as useful as a vibrator with no charge.
How to Use The Esca 2
Beforehand getting started, I did two things:
Cleaned the device: There was a little residue on the device, likely from the manufacturing or packing process.
Turned it on: The battery will likely have some level of charge from manufacturer quality control testing. If not, don't stress. Charge it fully then test it again.
As per the user guide, it should take around an hour and a half for the Lush 3 to charge fully. But because the battery wasn't completely flat it only took around an hour.
To note: If you want a battery indicator that shows the percentage of charge, use the OhMiBod Remote app.
Regarding the app, here's the step-by-step process I followed to connect the Esca 2.
Connecting to your phone
The connection process was super straightfprward.
I download the OhMiBod Remote app. Available via:
The user experience has been well thought out, which makes it very easy to create a profile. You don't even need an email address to sign up! 
Once you've got the app up and running, hold down the power button on the Esca 2 for a few seconds to turn it on, and it automatically connects.
Partner control
OhMiBod offers two options when it comes to playing with your partner depending on whether or not you're enjoying the toy while you're together or apart.
If you're together, they can also use the app on their phone to connect to your toy via bluetooth. This option is great if you're incorporating public play into date nights, or simply want to bring something new into the bedroom.
When you're craving some intimacy between visits, the distance doesn't need to get in the way! You and your partner can add each other as 'connections', and grant access to each other's toys.
This feature allows your partner to control the intensity and speed of the vibration patterns, or even create patterns of their own, no matter where in the world they are. 
How to insert the Esca 2 properly
Before inserting, make sure to apply enough lube to yourself and the device to make the process as comfortable as possible.
It might take some experimentation to find what feels most comfortable for you, but I find that laying on my back is the easiest way to insert toys like these.
While the new flexible build it is undoubtedly more adaptable for all different body types. I actually found that the tail was a little TOO flexible. It made it hard for me to get the toy in a spot I liked, and the tail didn't end up hugging my body in a way that felt comfortable.
Once I used the Esca 2 with underwear on, that fixed the issue, but it would be nice to have both options work just as well. 
Esca 2 vibration patterns
If you're using the Esca 2 in manual mode, you can cycle through four different vibration patterns using the buttons on the tail. 
But using Esca 2 via the app is where it really gets fun!
There are 5 different vibration categories (Music, Rhythm, Tap, Touch, Club Vibe, and Pulse). Within each category you'll discover even more ways to enjoy this toy.
After numerous sessions I gravitated toward two categories:
Music: Syncing to Spotify was easy and not just listening to but FEELING my favorite bass-heavy music was always a fun experience.
Touch: I loved my long distance partner taking control and deciding the vibration speeds and intensity that I'd feel.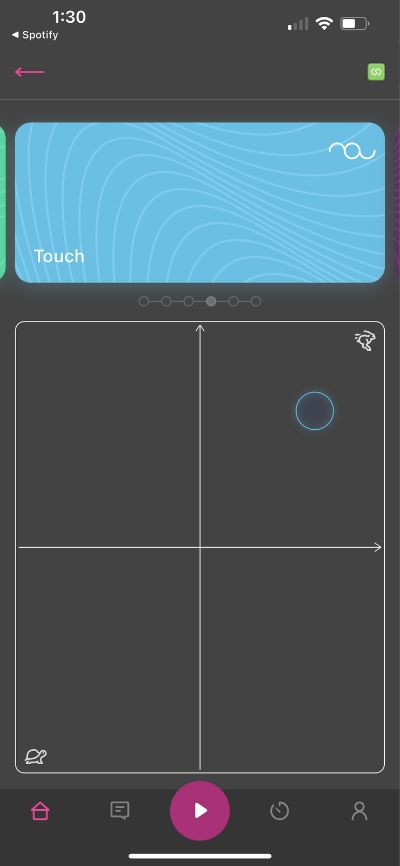 Usage Scenarios
As a wearable device
The Esca 2 is comfortable and secure, and barely noticeable while you're walking and moving around.
Even at the highest setting, the vibrations are almost completely muffled by your body and clothing. I felt very comfortable when wearing it in a public place with a normal level of ambiance.
Wearing tight clothes definitely helped the flexi-tail stay in place. But it tends to move a little when you walk around or sit and stand up. It was annoying to feel like I needed to keep adjusting it. 
To note: Unfortunately Esca 2 isn't waterproof, only splashproof, so I wasn't able to test it in the bath. If this is a feature you're after, we'd recommend the Lush 3 from Lovense.
As a handheld device
If you, like myself, prefer clitoral attention, the good news is that the Esca 2 works *very* well as a handheld device if you'd prefer to use it that way.
It is a bit bulky since it's technically not what it's designed for, but definitely gets the job done if you want a toy that allows you to have both options available. 
Other Features
The LED light at the end of the tail adds a unique visual element that my partner enjoyed seeing.
He said it gave him visual cues about what the vibration patterns are doing, and created further excitement around how I was responding to them. This was especially true when we were intimate on video calls together.  
Cleaning & Storage
How to clean the Esca 2
All that's required to keep the Esca 2 clean is a mild soap and warm water. So there's no need to buy a sex toy cleaner.
However, I had to remind myself that this toy is only splashproof. Never let it soak or completely submerge it in water and make sure to dry it off completely after each wash.
Storing safely
The silky soft privacy pouch is a great place to store the Esca 2. However, while I love the look of the white bag, since the toy is bright purple you can see it pretty clearly through the silk bag.
The bag is still an appreciated touch, but it would be nice if it came in a darker color so you wouldn't panic if you realized you accidentally left it out on your nightstand…
Considering to purchase after my Esca 2 review? (final thoughts)
If you're a beginner or new to long distance play…
Yes, the Esca 2 is going to be a popular choice.
It's perfect for long distance couples who want a versatile toy. Whether it's public play or long distance FaceTime sex, the G-spot stimulation it provides is intoxicating.
It's at a cheaper price point than similar toys, like the Lush 3, with just as many vibration patterns and fun remote app features.
Our

FREE

7 day LDR challenge is BACK!
Unlock better date nights, deeper communication plus a stronger intimate & emotional connection.
SECURE YOUR SPOT!
---
Claire is a Long Distance Intimacy Contributor at Lasting The Distance, focusing on couples & general female sexual health. She (along with her partner, Matt) has been living the 'LDR life' for over two years and wants to help other long distance couples level up their intimate moments to build a strong connection from afar.