Our Friendship Necklaces Gift Guide
Our Top Choice
evermée Digital Lockets
Unique smart necklaces with a 4.97/5 star rating from 900+ reviews!
Cool Tech
Totowoo Smart Necklaces
Tap one necklace, the other will vibrate & light up no matter how far apart!
Great Value
I'll Be There Necklaces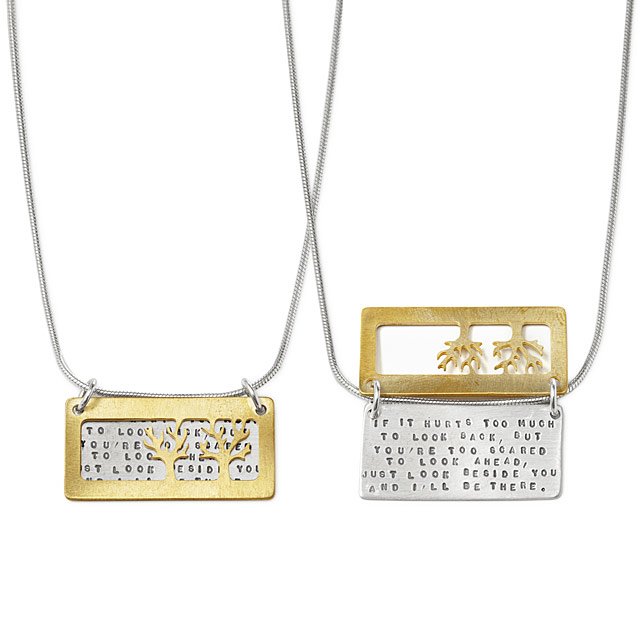 A hugely popular & affordable option with an inspiring quote for true BFFs.
Imagine this…
Your BFF is getting ready to go out. Before heading out the door, they look at themselves in the mirror. What do they see? The beautiful long distance friendship necklace you bought them.
What happens next?
They smile.
Friendship necklaces are a great way to show how much you mean to one another and that the distance between you won't get you down.
There are a ton of styles to choose from, so to save you from becoming overwhelmed, we've put together a list of amazing options you and your best friend are sure to love.
The Best Long Distance Friendship Necklaces in 2023
1. Totwoo Smart Necklaces
Want a unique way to let your friend know you're thinking about them?
Your bestie's Totwoo Smart Necklace vibrate and light up when you touch yours or message them through the dedicated Totwoo app.
Speaking of the app, it creates the perfect place for private messaging between you and your bestie. You can send secret (text, audio, picture and video) messages that can only be opened by tapping Totwoo charm.
The charms are available in three amazing finishes, which include:
2. We Stand Together Friendship Necklaces by Nina Berenato
Made from recycled brass, the We Stand Together Friendship Necklaces fit together like two puzzle pieces and act as the perfect reminder that you are stronger together.
To represent the fact that you're powerful women, the pendants are in the shape of the female symbol and inscribed with the phrase "We stand together".
We're proud to support Nina, the creator, who is on a mission to make female-run companies and women-made designs the norm.
3. Close to Your Heart Long Distance Friendship Necklaces by Satya Scainetti
If you're looking for a handcrafted artisanal piece, check out these Close to Your Heart Long Distance Friendship Necklaces.
The design incorporates a framed heart set on a sterling silver pendant, which is the perfect way to symbolize the love you have for your friend.
Satya's one-of-a-kind designs are made for modern, fearless women and centered around the chakras and mindfulness of ancient Eastern philosophy.
4. I'll Be There Best Friend Necklaces by Kathy Bransfield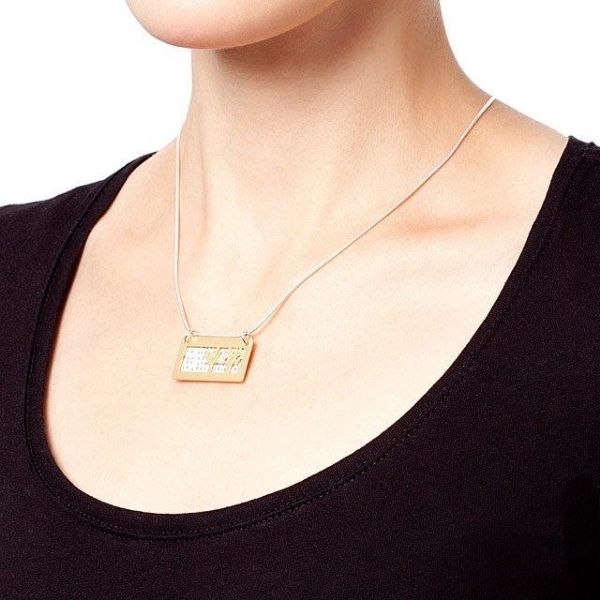 If you want to show your friend that you'll always stand by their side, you'll love these I'll Be There Best Friend Necklaces.
A 22K gold-plated brass cut-out of two trees pairs perfectly with a sterling silver tag inscribed with the sentence:
If it hurts too much to look back, but you're too scared to look ahead, just look beside you and I'll be there.
Both the words and imagery will show your friend just how dedicated to being there for them, no matter what.
5. Good Friends Are Like Stars Necklaces by Mary Steratore
The three charms on these Good Friends Are Like Stars Necklaces represent the fact that each friendship is as unique as a star in the sky.
Hanging on a delicate silver chain, Mary has combined a rock crystal, 22k gold vermeil disc stamped with stars and a sterling silver tag with the quote:
Good friends are like stars, you don't always see them but you know they are always there.
6. Stars Align Zodiac Necklaces
Is your bestie passionate about astrology? They will adore these Stars Align Zodiac Necklaces.
Multicolored cubic zirconium stones are set into brass shaped like the zodiac sign of your choice. They represent the complexity inherent in each zodiac sign.
The brass chain is adjustable from 14" to 18" to help your bestie find the most comfortable position.
7. Custom Photo Favorite Memories Necklaces by Morgan Lane Tanner
Honor your friend with your favorite picture of the two of you or a place you've been together with these Custom Photo Favorite Memories Necklaces.
Morgan will take a photo of your choosing and turn it into a teardrop-shaped pendant. Her goal is "to bring blissful moments to busy lives through meaningful, wearable art", and we think she's crushing it!
It's worth noting that Morgan also makes the same design with earrings.
8. Sun & Moon Long Distance Friendship Necklaces by Lotus Fairy
If you're looking for a design that is complementary rather than matching, you will love these Sun & Moon Long Distance Friendship Necklaces!
The set includes a rhodium-plated pewter moon and a gold-plated pewter sun pendant on 18" silver-plated and gold-finished brass necklaces. For an extra special touch, you can also choose to upgrade to a sterling silver and 14k gold-filled chain.
These necklaces are a nice reminder that no matter how far apart you are, you're always standing under the same sun and sleeping under the same moon.
9. Interlinked Rings Best Friend Necklace Set by Dear Ava Gifts
The connected hoops of the Interlinked Rings Best Friend Necklace Set are the perfect representation of a bond that can never be broken.
Available in silver, gold, and rose gold, this necklace set comes in an elegant gold foil stamped jewelry box. Inside, you'll find the necklaces wrapped around a card with the following poem:
To my best friend. How can I express how important you are to me? You are a loving friend, confidante, a guiding light in the darkness. I appreciate so much how you are always there for me. My heart swells with gratitude whenever I think of you. You make me laugh, heal me when I cry, and listen when I need to talk. I am so blessed to have you in my life.
10. US State to State Bar Friendship Necklaces from Ivy By Design
When you or your friend move away, it's nice to have a reminder that distance won't keep you apart. Represent that sentiment with these US State to State Bar Friendship Necklaces.
On the 1" long bar, you can have each of your states cut out. You also have the option to add a third state, a heart, or an engraving in between.
Also having the option to choose the metal (silver, gold-filled, or rose gold-filled) and necklace length (16", 18", or 20") makes this an awesome customizable gift for your bestie.
11. US State to State Pendant Necklaces by The Singing Koala
Show that a cross-country move won't affect your friendship with these US State to State Pendant Necklaces.
On a pendant roughly the size of a quarter, each of your states and a heart will be engraved on one side. To personalize this necklace even further, you can choose from silver, gold-plated, or rose gold-plated finishes and even add engraving on the back.
Our Favorite Long Distance Friendship Necklace
When it comes to picking the long distance friendship necklace that will have the biggest positive impact on your relationship, we can't go past the smart necklaces from Totwoo.
They're our favorite for a few reasons:
---
Hi, we are Lolo (Canada) & Nate (Australia) a couple that had to go through all that a long distance relationship has to offer, just like you. With our experience and lessons learned we want to help you keep your long distance relationship as strong as ever and ultimately last the distance!