In a hurry? Here's our TL;DR of what we think are the best gifts for a friend that's moving away:
Our Top Choice
Totwoo Smart Bracelets
Let them know they are in your thoughts with a single touch. Up to 60% OFF select bracelets!
Unique & Stylish
Custom City Map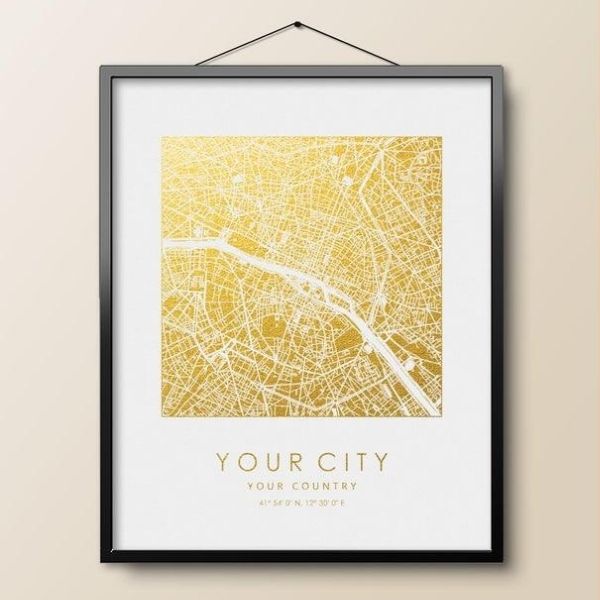 An amazing & stylish gift that reminds us we're never far from 'home'.
We all know celebrating friendship is important.
If you have a friend that's moving away, there is even more reason to celebrate your bond.
Giving them an amazing going away gift shows just how much they mean to you and that your friendship will last the distance.
They will likely be full of anxiety, not knowing what the future holds. Gifts that connect you, like our favorite Totwoo touch bracelets, might be what they need to get them through!
Finding the perfect option can be stressful.
So to help make the process a little easier, we've gathered together our top picks!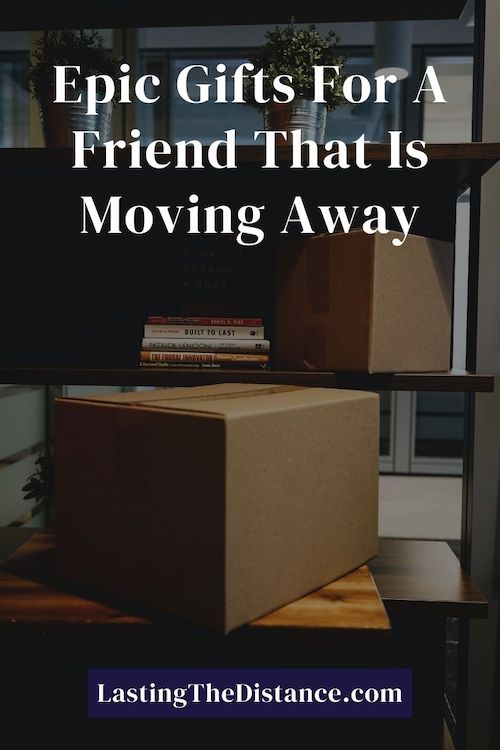 Heartwarming Going Away Gifts For Your Bestie
1. Totwoo Smart Bracelets (& Necklaces)
Looking for a stylish way to stay connected with your bestie?
Totwoo Smart Bracelets are beautiful pieces of high end smart jewelry that act like a physical notification!
When you touch your bracelet or send a message to your friend through the Totwoo app, the gorgeous charm will light up. Letting them know they're on your mind.
We absolutely love the Silver and Mother of Pearl option pictured above. But there are many design options available that combine different metal finishes, bracelet styles and charm faceplates.
If you or your friend prefers necklaces, you're in luck!
Totwoo have made it super easy to remove the charm from the secure bracelet housing and insert it into their DIY Necklaces.
Just FYI there is an additional cost for the necklace and housing but it's definitely worth it for the versatility.
2. Homesick Candles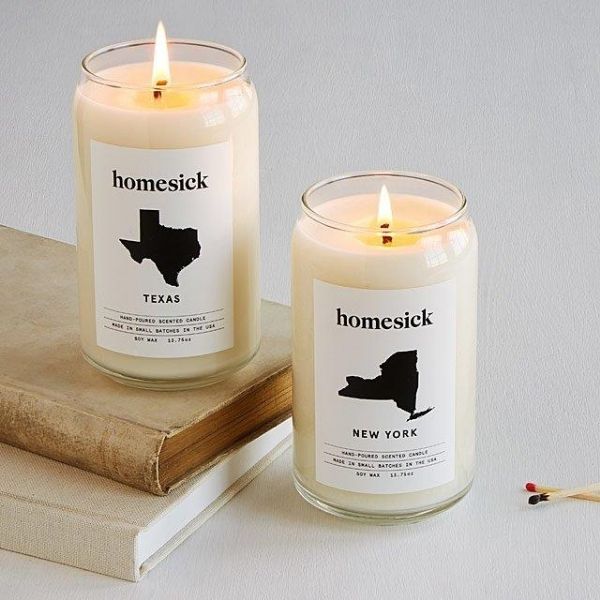 There are certain scents that will always remind you of home. Send your friend away with that scent by Homesick Candles.
The candles themselves are made from soy wax and use cotton wicks to produce a consistent flame.
Here are some examples of the scent profiles from each state:
Texas: Dark leather, fresh pine, and lemon.
Illinois: Honeysuckle, lavender, white flower, and violets.
Colorado: Spruce, cedar, sandalwood, amber, and cinnamon.
NorCal: Pears, apples, cloves, cinnamon, and vanilla.
New York: Apple, cinnamon, nutmeg, and pumpkin.
3. Custom Gold City Map Poster by Golden Graphy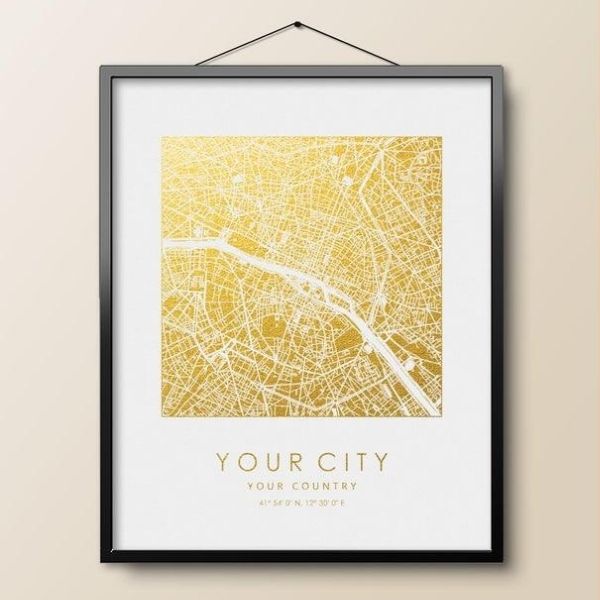 Send your friend on their way with a stunning reminder of home with a Custom Gold City Map Poster from Golden Graphy.
A map of any city is engraved in gold or silver foil overlaid on the paper color and size of your choice. You also get to choose the inscription that's written underneath.
We'd suggest ordering a frame to go along with it to make sure this is the first thing they hang in their new place!
While the option above uses a square design, Golden Graphy also offers maps in the shape of circles or hearts.
4. Long Distance Lamps by LuvLink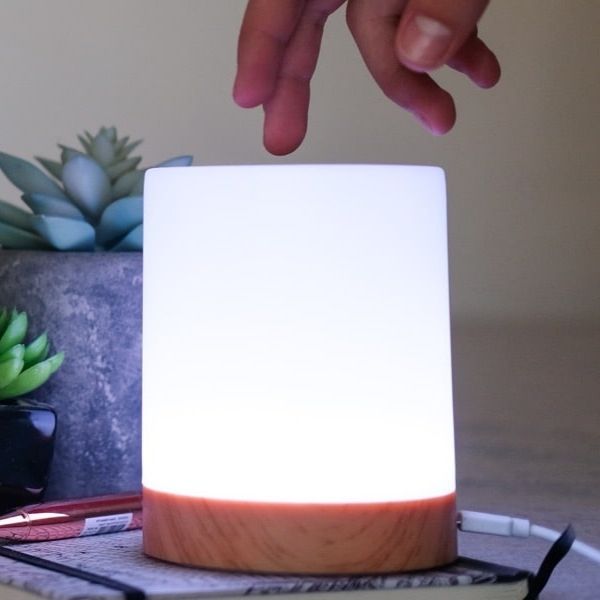 Let your friend know they're in your thoughts with Long Distance Lamps from the LuvLink team at FriendLamps.com.
They connect together using wifi receivers and touch sensors, so when you tap your lamp, your friend's lamp will light up, no matter where they are in the world!.
What's really cool is that you have 17 choices when it comes to what color you want your lamp to light up with. You also have the option to make your friend's lamp light up in any color you choose, which can be an awesome way to create meanings for each color.
Green could mean "I miss you"
Blue "I got home safely", and
Yellow "Free to chat?!"
After you tap your lamp, your friend's lamp will remain lit until they tap it again to change it and send you a color.
Rather than having a region specific power plug, these lamps are powered via USB so there's no need to purchase any adaptors!
5. Bond Touch Long Distance Friendship Bracelets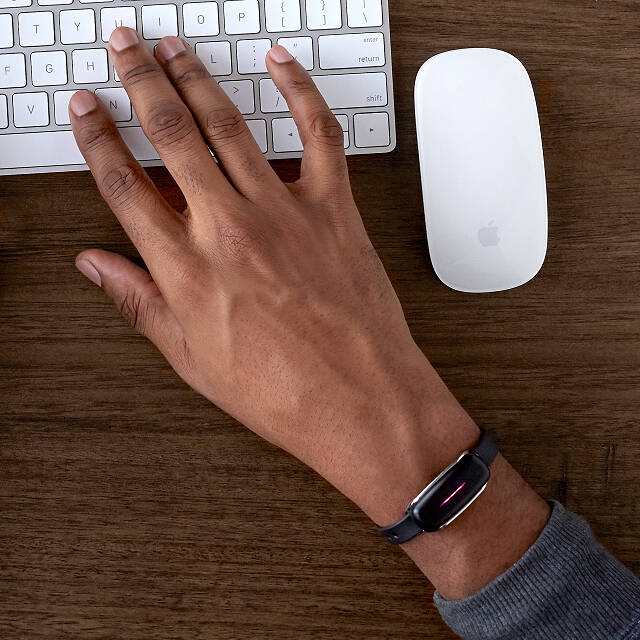 Wouldn't it be nice to let your friend know you're thinking of them without sending a text? With the Vibrating Bracelets by Bond Touch, you can do just that!
Whether you're in class, in a meeting, or just in a hurry, touching your bracelet will cause your friend's bracelet to vibrate and light up.
In case you or your friend miss a notification, the mobile application keeps track of all the touches sent and received. You can also communicate through the app, keeping your messages separate from all the other texts you receive.
Interested? Check out our Bond Touch bracelets review and why we think they're (almost) perfect for long distance besties.
6. Very Big Hug Throw Blanket by Kerry Stokes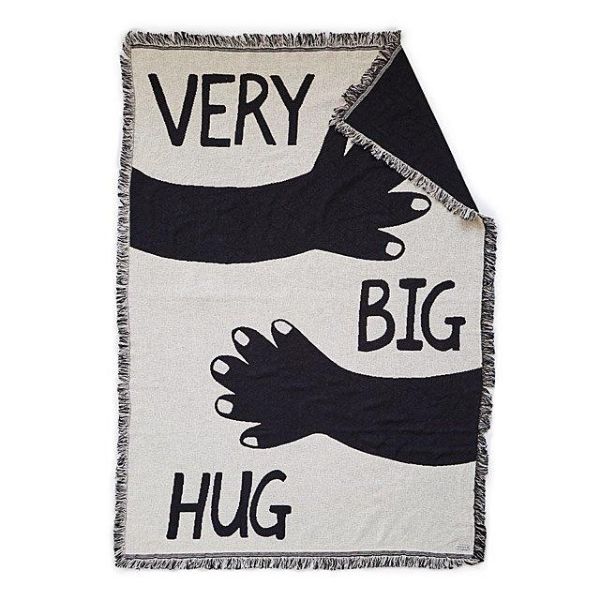 Since you might have to wait a while before the next time you give your friend a hug in person, give them this Very Big Hug Throw Blanket as a nice substitute in the meantime.
This 50″ x 68″ cotton throw is black and white with an arm design and the words "Very big hug".
The creator of this blanket, Kerry Stokes, produces each blanket with a touch of her personality: fun-loving and eclectic with a touch of peacefulness.
7. Friendship Knows No Distance Spa Box by Peace Organics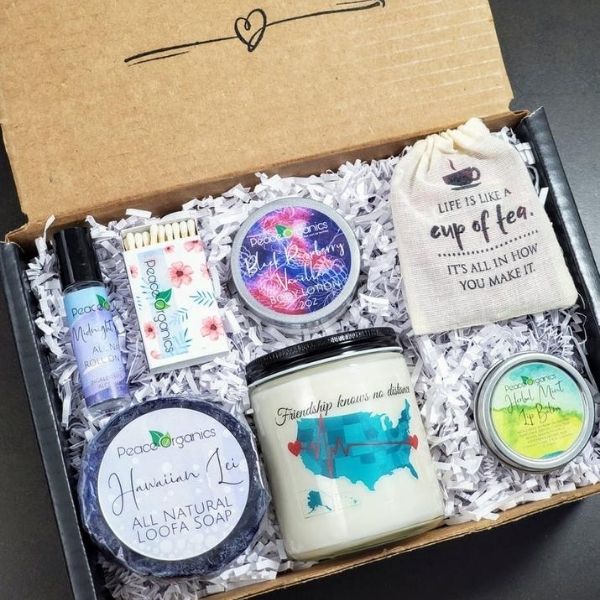 Do you and your friend love going for spa days? Give your friend a spa day to take on their new journey with the Friendship Knows No Distance Spa Box.
Some of the best parts of a trip to the spa are included, like tea, body butter, lip balm, perfume, and a soy candle.
The Peace Organics Spa Box has several personalization options to create the perfect gift for your bestie. You get to choose between a natural scented bath bomb or loofah soap, you pick the candle scent, and a personal message that's printed on a card.
8. State to State Keychains by Veeaien Designs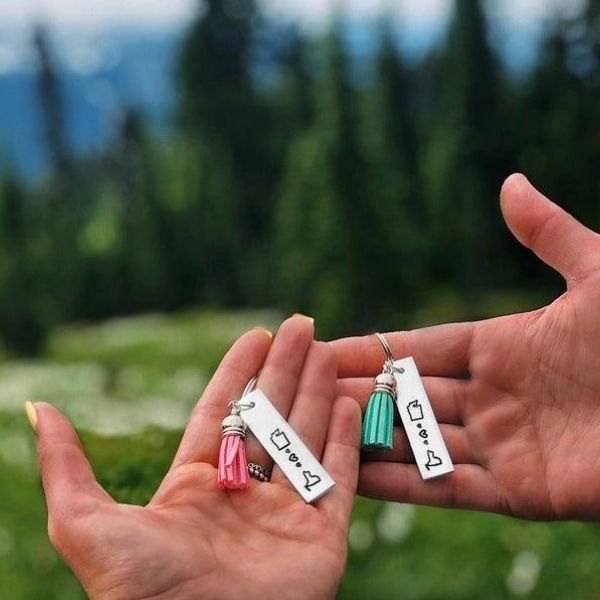 For those who aren't into jewelry, these State to State Keychains are a subtle way for your friend to carry a reminder of you wherever they go.
Both of your states are inscribed on a 2" long aluminum tag with a heart in between. For a softer touch, the tag is on a key ring that also includes a 1" long suede leather tassel in the color of your choice.
The tassels are available in 16 colors and we really like the peach, gray, sea green, and light blue options.
9. Wooden States of America Magnetic Key Holder by Ben & Christen Aroh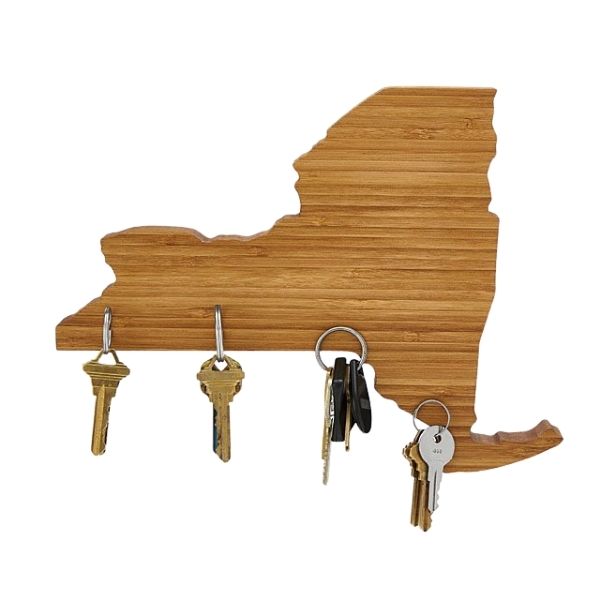 Surprise your friend with a reminder of the state they're leaving behind or a proud display of the new adventure in front of them with this Wooden States of America Magnetic Key Holder.
Made of bamboo and four hidden magnets, this keepsake will hold your friend's keys or other metal objects while adding a homey touch to their new place.
Your friend can hang this item with screws or, what's really cool is if they're renting, an adhesive strip. Ben and Christen Aroh, the creators, have included both with this thoughtful gift.
10. "Neighborwoods" Map Coasters by Mary Dawson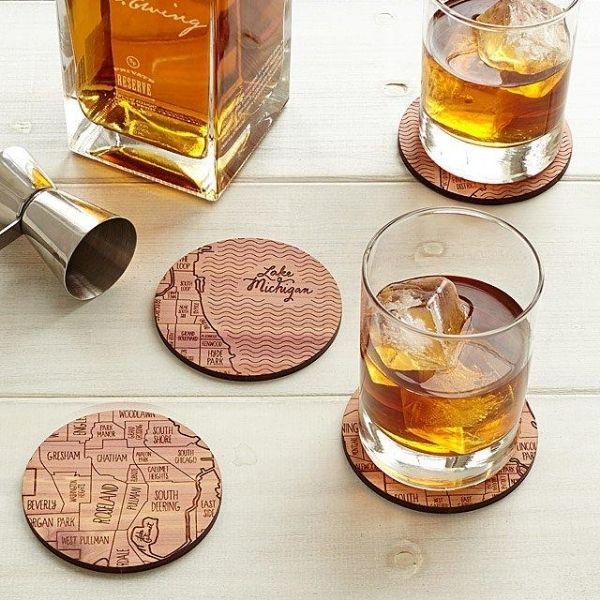 Your friend will need something to put those wine glasses on. Why not include these "Neighborwoods" Map Coasters?
Each set comes with three different neighborhoods from your favorite city and one coaster with the city's name and established date engraved on American Birch wood.
11. "I'll Be There" Best Friend Necklaces by Kathy Bransfield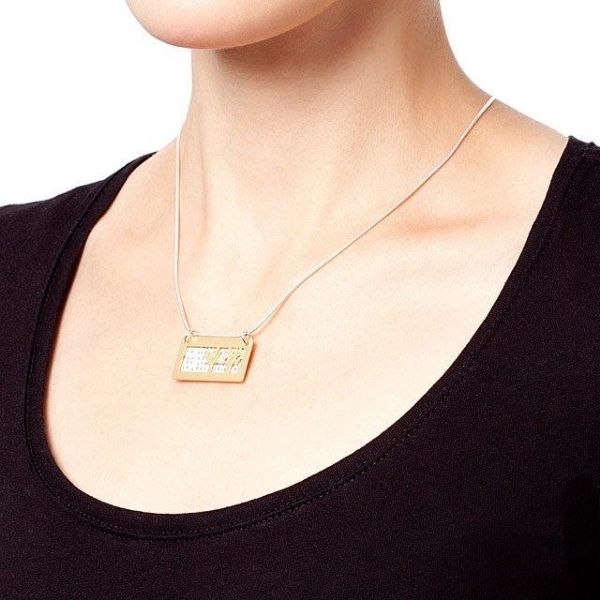 Moving somewhere new can be a lonely experience. Shower your friend with love and support with Kathy Bransfield's "I'll Be There" Best Friend Necklaces.
The pendant consists of two pieces, the first is a 22kt gold-plated brass cutout of two trees next to each other, which overlays a sterling silver tag with the quote:
If it hurts too much to look back, but you're too scared to look ahead, just look beside you and I'll be there.
We think this acts as a great reminder that you will always be there for your friend, no matter the distance.
12. Vibrating Bracelets by HEY
Let your friend know every time they're on your mind with the HEY Long Distance Friendship Bracelets.
Rather than vibrating, when you touch your bracelet, theirs will gently squeeze their wrist no matter where you both are in the world!
They're available in black or white, which means they'll look chic, matching almost any outfit. We also really like the cool 'H' pattern on the charm.
Usage tip: If one of you forgets to put your bracelet on or the battery runs out, you can still send 'touches' through the HEY Bracelet app. It will also keep track of when and where each one was sent!
Want more? Check out our recent article on long distance touch bracelets where we compare Bond Touch, Totwoo, and Hey Bracelets.
13. Adventure Fund Money Box by Wander Collective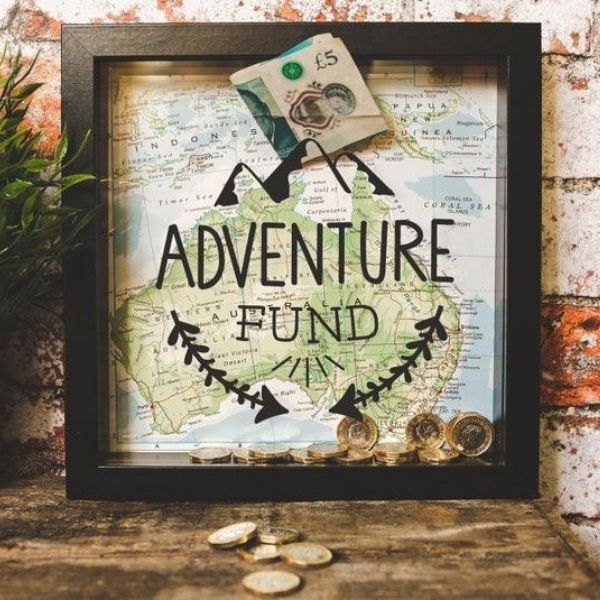 Help your friend save for your next trip together or their next trip back home with the Adventure Fund Money Box.
Let's be honest, it's much more exciting than your typical piggy bank!
The shadow box frame is available in black or white and has a vintage-style or atlas-style map in the background. "Adventure Fund" is written on the front glass in black or white, depending on the frame color that's chosen.
Slots in the front glass allow you to drop in bills or coins to save for your next get together, whether it's at home or away.
14. Universal Yums Subscription Box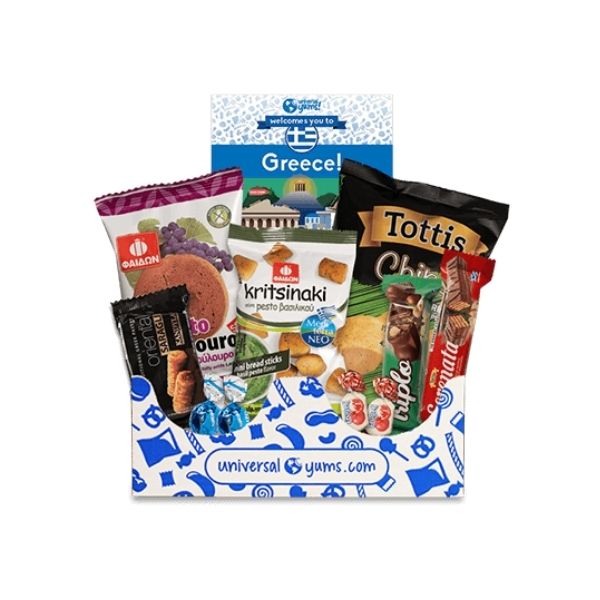 Traveling the world together is expensive. Trying snacks together from around the world with Universal Yums Subscription Box definitely isn't!
If you both get a subscription, you'll be able to talk about which snacks you loved, which you hated, and which you thought were just plain weird.
Each month, you'll receive snacks from a different country along with a booklet describing the snacks and containing trivia, recipes, and more.
The cheapest box includes at least six snacks, while the most expensive option includes around 20.
15. Personalised Moving Away Poster by Puddle Ink Prints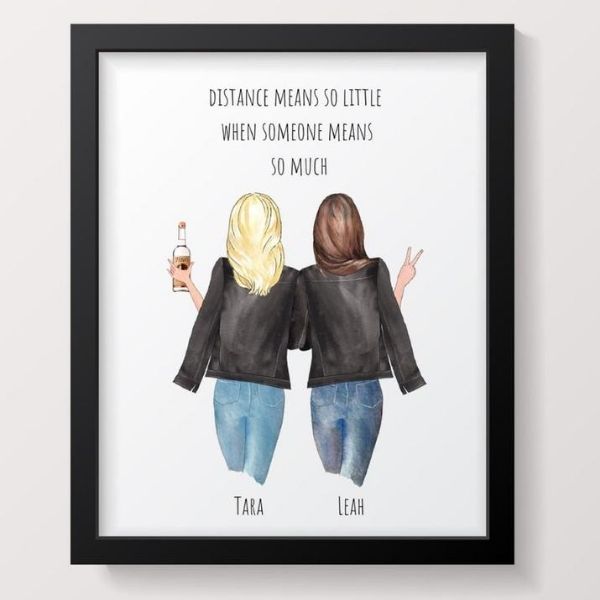 We think your bestie will want to hang this Personalised Moving Away Poster in their new place as soon as they arrive.
There are a ton of personalization options to help you create a picture that looks just like the two of you. You can choose from a variety of outfits, hairstyles, and accessories to match both of your styles.
The poster also includes your names and a custom message. If you can't think of anything, Puddle Ink Prints can add the quote:
Distance means so little when someone means so much.
16. Long Distance Friendship Frame by FILIMIN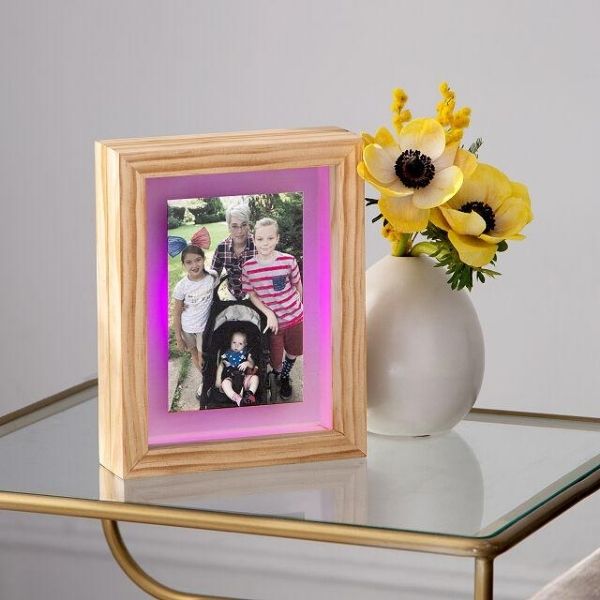 What could be sweeter than sending your friend on a new adventure with a framed photo of the two of you?
With the Long Distance Friendship Frame by Filimin, you can do just that, and a whole lot more!
These frames work exactly like the friendship lamps we mentioned earlier, which use touch sensors and wifi receivers. So you can let your friend know you're thinking of them just by tapping your frame, which will make theirs light up.
You can change the time to fade the light off after half an hour, an hour and a half, eight hours, or 24 hours, so you can be sure they'll see your "message" that they're in your thoughts.
See it in action on Filimin's official website: FriendshipLamps.com.
17. Hand Embroided State Pillows by Carmel & Terrell Swan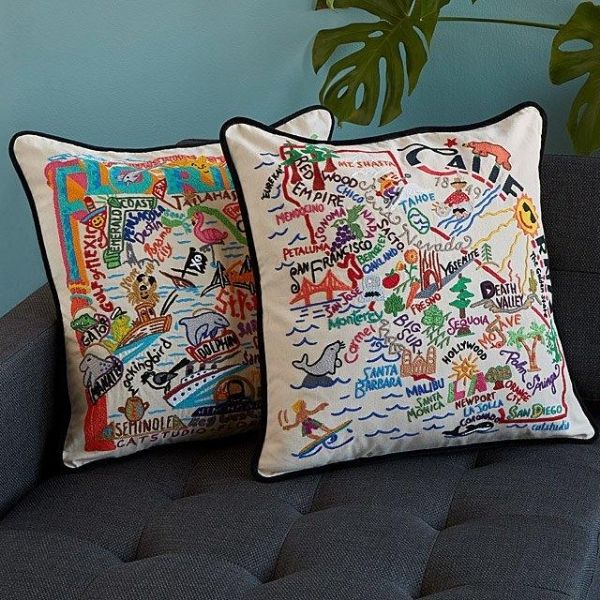 For a personalized throw pillow your friend will adore, check out these Hand Embroided State Pillows.
Words and images from across your home state are hand embroidered on a 19" by 19" cotton throw pillow with black velvet piping and soft polyfill.
Send your friend off with a statement piece that will both brighten up their new home and be a sentimental reminder of where they came from.
18. Hand Embroided City Pillows by Carmel & Terrell Swan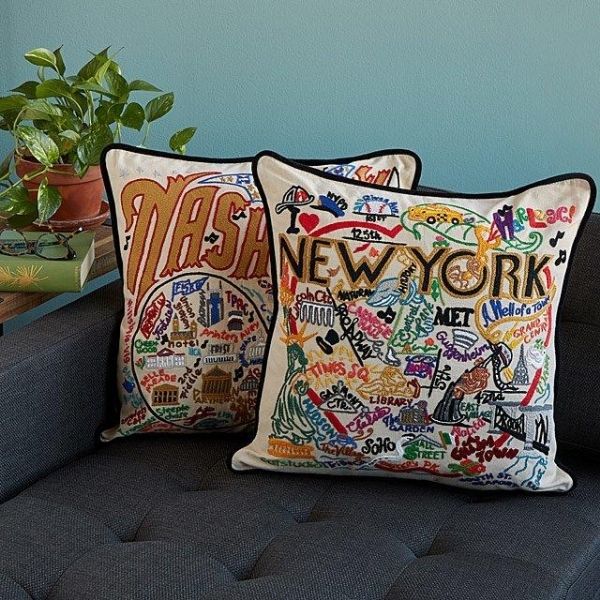 If you live in an iconic city, then a state pillow may not be representative of your home. Make your gift even more personal with these Hand Embroided City Pillows.
It's worth noting that not all major cities are available. Check now to see if your city is one of the lucky ones!
19. Hand Embroided College Pillows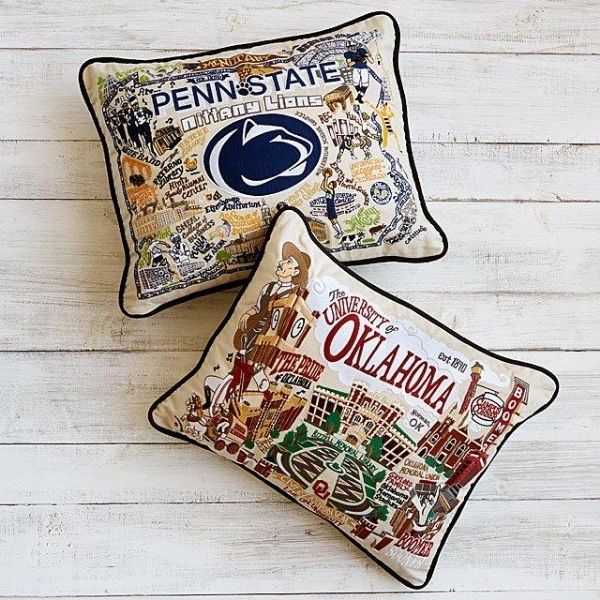 If you met in college or your friend is heading that way, you'll love these Hand Embroided College Pillows.
There are roughly 60 colleges to choose from, so take a look to see if they have this amazing gift for your university.
20. Amazon Prime Video Subscription
Do you and your bestie love going to the movies or crashing on your sofa and binge-watching your favorite series? Keep that tradition alive with an Amazon Prime Video Subscription.
A cool new feature called Watch Party allows you to watch the same program together, even if you're apart (as long as you both live in the United States). Note that you must have a desktop or laptop to use the Watch Party feature, as it isn't available on mobile devices or smart TVs.
21. Soul Sisters Travel Tumblers by Knotted Sage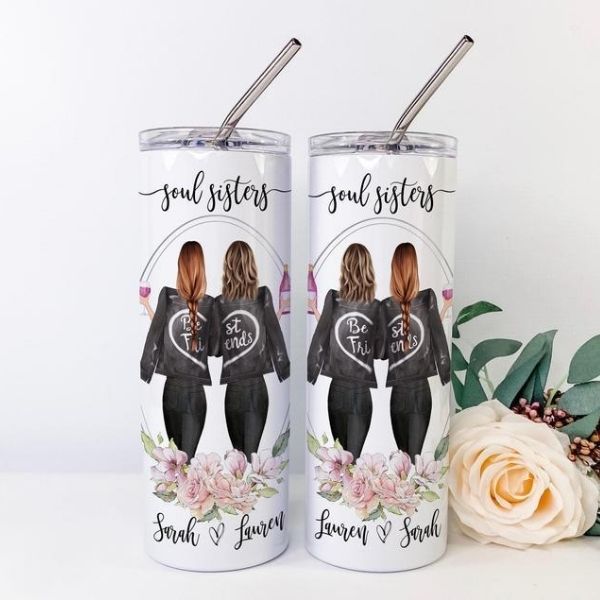 Who doesn't love receiving an awesome gift that's also practical? For the friend who takes her coffee everywhere, Soul Sisters Travel Tumblers are a great way to show your BFF how much you support them with something they'll actually use.
You get to choose the character's skin tone, type of drinks, hair colors and styles on the. Your names and the phrase "soul sisters", or up to three words of your choice, will also be included on the tumblers.
22. Audible Subscription
Is your friend moving to a place that's a long flight or drive away? Or maybe they'll spend a lot of time commuting to work every day. Either way, they'll love the gift of an Audible Subscription.
With the subscription, your friend will get one new audiobook each month along with free access to Audible Originals and guided meditation and fitness.
You could even start an Audible book club just for the two of you. This would help create an amazing way to keep in contact and always have something new to talk about.
23. Wine Glasses by Bernstine Creations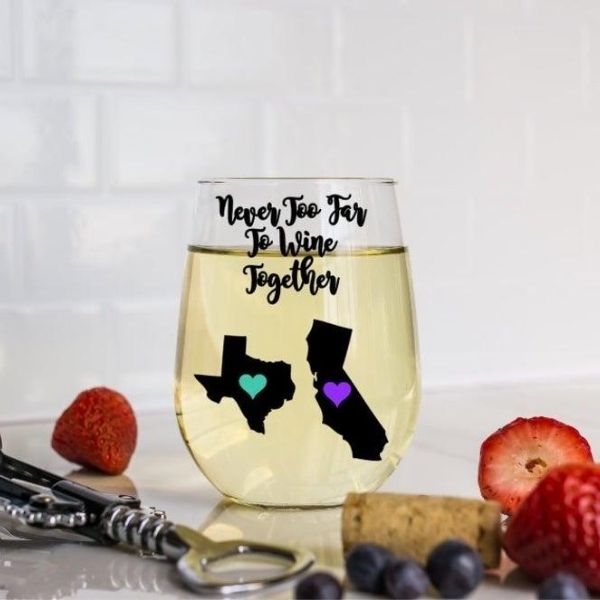 Are you the type of friends who enjoy a glass of wine every time you get together? Send your friend off with one of these Wine Glasses that include each of your states with a heart in the middle and the phrase:
Never too far to wine together.
Better yet, pair the glasses with a wine subscription box from VINEBOX. Each quarter, your friend will receive 9 glasses of premium wine from around the world. Don't forget a subscription for yourself so you can drink them together during your regular video chats!.
24. Mashtape: USB Mixtape by The Original Mashtape
Whether you and your friend are old enough to remember making mixtapes when you were younger or if you want to try it for the first time, Mashtape: USB Mixtape is a fun way to send your friend a curated playlist of your favorite songs, pictures, and other memories.
Mashtape brought mixtapes into the 21st century with an 8 GB flash drive that folds into a replica of a cassette tape with a fun 80s-themed design. 8 GB is enough to store 2,000 songs, four movies, or 10,000 photos, which is slightly better than a traditional cassette tape could hold!
25. Memory Bear by Funky Friends Factory
If you love crafting, you'll adore the chance to make a Memory Bear for your friend to carry into the next stage of their life.
Repurpose t-shirts from concerts you attended together or pick out fabrics in colors you know your friend will appreciate.
This reusable pattern allows you to create a totally unique gift from your heart. Who wouldn't enjoy a teddy bear made by their best friend?
26. Surprise UberEats (they can try a local restaurant as soon as they arrive)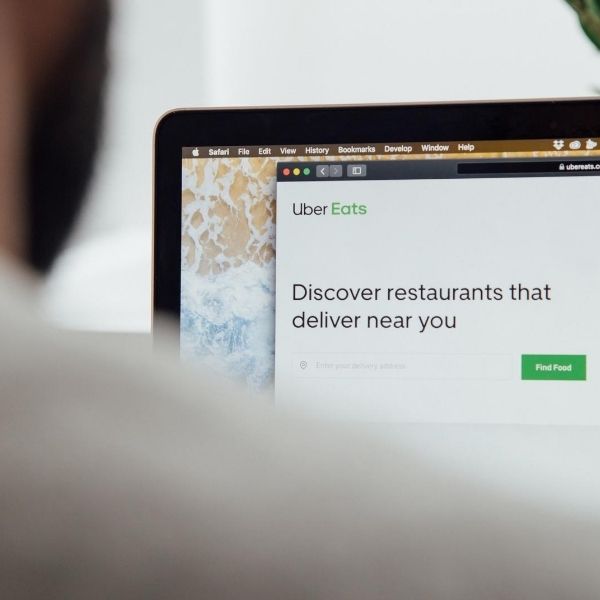 It can take time to organize your kitchen after you move, and trying new restaurants in an unfamiliar city can be daunting.
For one of their first nights in their new home, why not surprise them with UberEats? That will give them a low-stress way to try a new local restaurant.
If you're new to UberEats, use code eats-vhva4 for a discount on your first order. Just make sure your friend is home before surprising them with food delivery!
27. End of an Era Card by Cheri Arome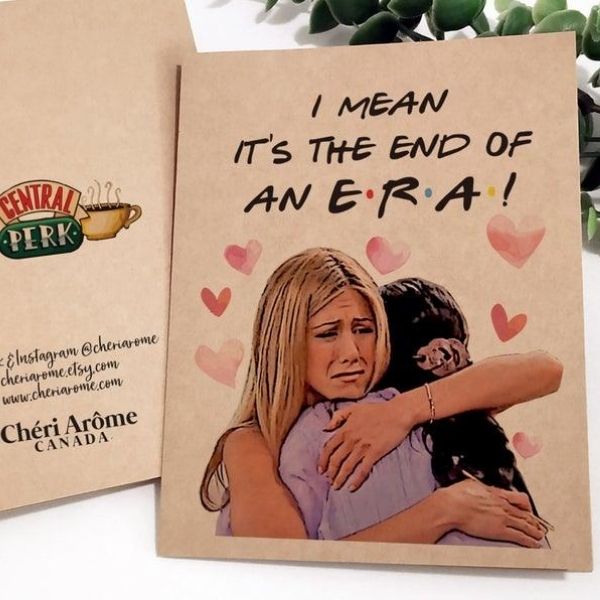 No gift for a friend that is moving away is complete without a card! With the End of an Era Card, you can select a "Friends" show themed card to share your parting thoughts.
Choose from one of five different styles with different characters and phrases on each.
You can have a personalized message with no word limit printed inside, and if your friend has already moved, Cheri will even mail it to them directly.
Our Favorite Going Away Gifts
If we have to select just one, our favorite gifts for a friend that is moving away are the Long Distance Lamps from FriendLamps.com.
Here are some of the reasons why we're big fans: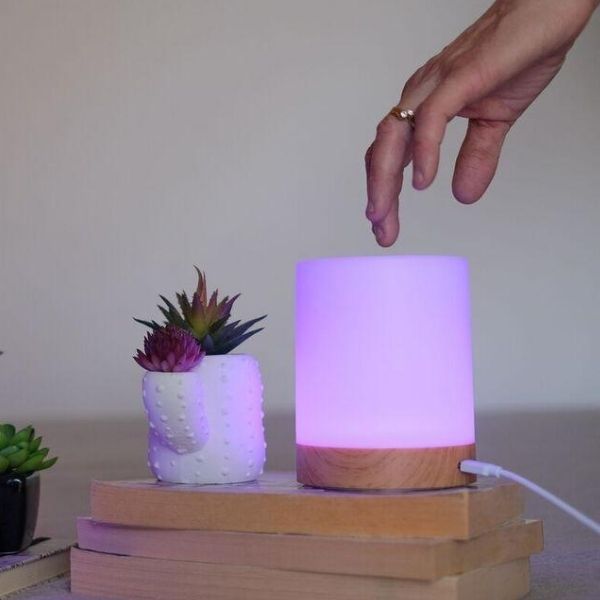 ---
Hi, we are Lolo (Canada) & Nate (Australia) a couple that had to go through all that a long distance relationship has to offer, just like you. With our experience and lessons learned we want to help you keep your long distance relationship as strong as ever and ultimately last the distance!