Long distance friendship lamps are an amazing way to literally light up loved ones lives.
Also known as touch lamps, these devices are a great solution for anyone separated by a large distance, including couples, best friends & family.
Being apart from someone you love can be torture. You want to feel as connected as possible, but the distance has other ideas.
What if you could 'flip the bird' to the distance with the touch of a lamp.
Would you do it?
Because we definitely would.
Our Long Distance Friendship Lamps Gift Guide
Our Top Choice
FriendLamps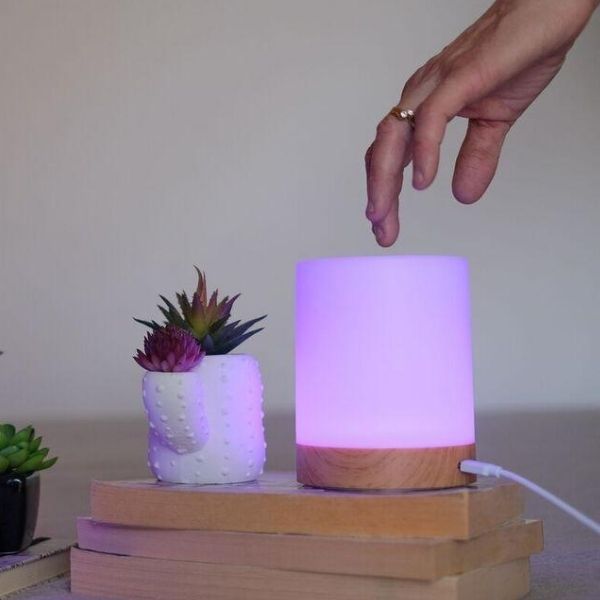 The most popular option in 2021, currently with a 40% off promotion!
Popular Alternative
FILIMIN Mid-Century
An amazing option from FILIMIN, the pioneers of long distance touch tech.
Eco-Friendly
Tactus Lamps
An eco-friendly & affordable option that's beautifully handmade in Ukraine.
How do friendship lamps work?
Friendship lamps are two or more lamps that can connect to each other over the internet. Once they are able to communicate together (usually with a unique identification number), tapping one of the lamps will light up the other!
This is an amazing yet subtle way to let your partner know that you're thinking about them.
NOTE FROM LOLO & NATE: Unfortunately, what we have found on other websites is misinformation when it comes to product selection.
A lot of these sites show lamps that don't actually have the capability of connecting to each other. They also don't mention this when writing about them.
It's important to make sure what you're getting will work the way you want them to.
In order to help you, we've found the top friendship lamps available today and put together a guide to making sure you get exactly what you're looking for.
QUICK NAVIGATION
Long Distance Friendship Lamps We Love
Friendship Lamps by FriendLamps.com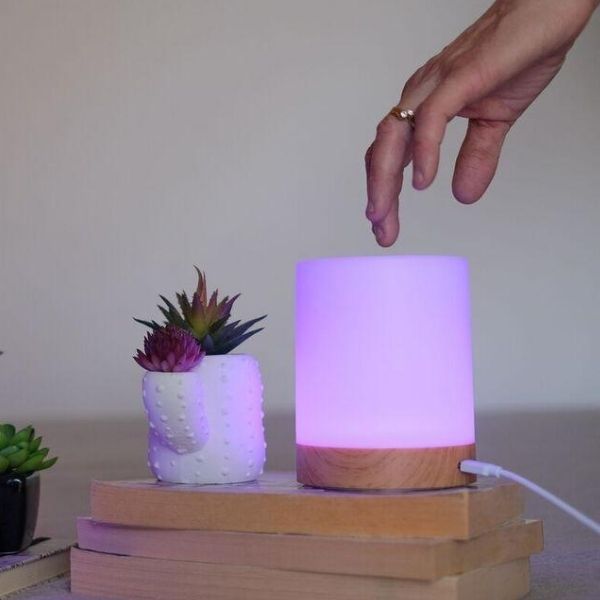 These touch lamps from FriendLamps.com are a beautiful way to stay connected. They are a very stylish design that incorporates a wooden base, which will suit almost any room in your house or apartment.
When activated, the lamps pulse the same colour for a few minutes, before slowly dimming over the next 30 minutes.
Talking about colors, one feature of these lamps we love is that you can choose almost any color imaginable because of the LED technology they have built in. If you and your partner have 'our color' just like 'our song', you can use it!
FriendLamps.com have included a handy guide, so they are very easy to set up.
To power them, all you need is a USB port. You'll never have to worry about travel adapters, which is a great benefit for those couples in international long distance relationships.
Visit their official site at FriendLamps.com to find out more.
Friendship Lamps Specs
Lamp: LED
Dimensions: 3.5″ L, 3.5″ W, 4.7″ H
Materials: Wood & Acrylic
Plug Type: USB
Warranty: 12 Months
The creators run promotions from time to time. Currently they're offering 40% off and FREE SHIPPING so head over to FriendLamps.com to take advantage!
Last checked 15th June 2021.
Mid-Century Design Friendship Lamps by Filimin
Filimin are the pioneers when it comes to long distance friendship and touch lamps.
They have continued to update and refine the technology in their products so you can be safe in the knowledge that they will work and they will last!
Their latest design named 'mid-century' adds a fashionable touch using high quality materials such as wood and aluminum. When the LED lamp lights up, the design gives off a unique pattern due to how the wood is spaced apart.
One feature we love is that you can choose the lamps to cycle through a wide range of colors or instead you can choose a specific color for your partner.
The setup process is very simple and will easily connect to your wifi.
If the mid-century design is what you're after, be sure to pick them up quickly because they are currently only available through UncommonGoods.com.
Mid-Century Friendship Lamps Specs
Lamp: LED
Dimensions: 5.5″ L, 5″ W, 5.25″ H
Materials: Wood & Aluminum
Plug Type: North America
Warranty: 12 months
Classic Design Friendship Lamps by Filimin
These long distance friendship lamps by Filimin are the original touch lamps.
They have continued to update and refine the technology in their products so you can be safe in the knowledge that they will work and they will last!
Just like their other models you have a huge array of colors to choose from, an easy setup process and the all important 12 month warranty.
To note, a 2.4GHz connection is needed, which is the most common wifi connection that people use.
We love the energy saver feature. Filimin have included a default setting that will fade the light after 1.5 hours. But you can also customize it to different time settings.
What's crazy is that these friendship lamps have over 900 verified reviews on UncommonGoods.com! Have a look through a few of them and you'll see just how much LDR couples love them and how they're helping to make the distance feel that much smaller.
Classic Design Friendship Lamp Specs
Lamp: LED
Dimensions: 4.75″ L, 4.75″ W, 8″ H
Materials: Acrylic
Plug Type: North America
Warranty: 12 months
Modern Design Friendship Lamps by Filimin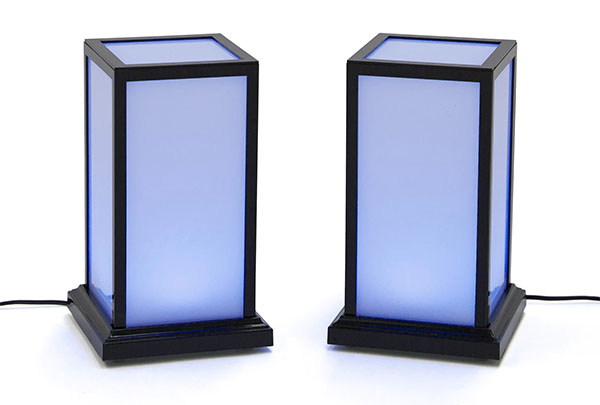 Yep, this is a third (and final, for now) friendship lamp design from the amazing team at Filimin.
Everything we've come to love about their friendship lamps have now been bundled together in a new minimalist design.
The simplistic design of these lamps helps them not only to stand out but to also suit the layout of anywhere you install them.
Like with their other products, connecting the lamps is a seamless experience and you'll have no problem putting them in any location with their strong signal.
There are hundreds of colors available, allowing you to have a unique level of personalization.
Being assembled by hand means there is a high level of build quality, which helps to ensure they'll last a long time. Even if you do have issues, which is very rare based on their reviews, they have a 12 month warranty to give you peace of mind.
If you like this sleek and modern design, they're exclusively available through Amazon.
Modern Design Friendship Lamps Specs
Lamp: LED
Dimensions: 4.75″ L, 4.75″ W, 8″ H
Materials: Acrylic
Plug Type: North America
Warranty: 12 months
A Special Shoutout To Filimin
One area where Filimin, as a company, stands out is the work they do within their local community.
Not only do they make an industry leading product, they are also great people.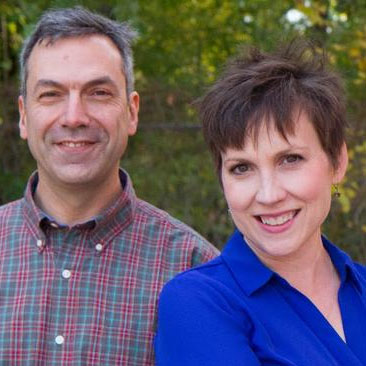 "We wanted Filimin to add beauty to the world not just as a product but in how it is created. With this in mind, we teamed up with Wichita Women's Initiative Network (WIN) to assemble Filimins."

John & Venessa, the founders of Filimin
Participants in WIN are women survivors of physical and/or emotional abuse. Filimin is doing an amazing job, helping these women to take control and get back on their feet.
Watch the video below to see how this initiative is changing the lives of many women!
Long Distance Touch Lamps by Tactus
Tactus are another group that have created stunning long distance friendship lamps. Like the others, two or more of them can connect to each other, making it perfect for LDR couples, and even families.
But, there are a few key areas where they differ from others:
Eco-friendly: Tactus uses sustainable plywood to make the housing of their friendship lamps.
Customizable: A laser cutter is used to make the housing. While the hearts look amazing, this means you can pick any design you like!
Remote control: These lamps use a remote to adjust colors, brightness and light modes like flash, strobe fade and smooth options.
As the company is based in the Ukraine, these friendship lamps use a European power plug, so you will need an adapter if you or your partner is in North America, Australia, Japan etc.
Something else Tactus offers is gift wrapping! To find out more, see their listing on Etsy.
Long Distance Touch Lamps Specs
Lamp: LED
Dimensions: 5.5″ L, 5.5″ W, 8.25″ H
Materials: Plywood & Acrylic
Plug Type: European
Warranty: 12 months
BONUS: DIY Friendship Lamps
If you like to build gifts rather than buy, then you're in luck! Patrick Blesi, a developer/engineer, has not only created his own friendship lamps, he has also posted the instructions online.
It is worth noting that because of Patrick's professional background he's well equiped with the right skills to be fiddling with these gadgets.
In terms of costs, for parts and tools, plus the time needed to put them together, you may be better off purchasing rather than building.
Not to mention it is a fairly technical process!
What To Think About Before Buying Friendship Lamps
It's important that you take everything into consideration when it comes to buying friendship lamps.
Here we highlight a few key points to think about, so you can choose the best lamp for you and your partner.
Power adapters
Long distance relationships can span continents. If this is the case then you want to make sure you're getting the right power adapters.
The friendship lamp might not have a power socket that matches one or either location. So you may need to purchase an adaptor.
Wifi connection
The lamps above will require a good internet connection.
Compatibility is also important. There are two wifi bands, 2.4Ghz or 5Ghz and not all lamps connect to both bands. It's important to check what band you and your partner are using to make sure they'll work!
Usage
If you're in two difficult time zones you might not be able to get a lot of use out of them.
There are also other circumstances to consider as well such as accommodation and job role. If your partner is in the army then a touch lamp might not be very suitable for them.
Budget
As with any purchase, you have to make sure you can afford it. These lamps contain plenty of technology with some high-quality materials.
They are also handmade and therefore aren't going to be the cheapest lamps that you can buy. They are still very affordable but you need to work out whether or not they are going to be right for you.
Style
Trying to pick friendship lamps that will look great in two different locations and rooms can be tough!
Pay attention to your partner's style and room on video chat. This will help you choose one that will best fit their situation.
Our Favorite Long Distance Friendship Lamps
While we really like all five options and don't think you can go wrong choosing any of the options above, there is one that stands out above the rest for LDR couples in all types of situations. They are, the touch lamps from FriendLamps.com.
While they are fairly new compared to some of the other products available, they've created a fantastic product that is being used by people all over the world.
So why do we recommend them so highly?
They're universal: It doesn't matter where you or your partner are in the world. There are no restrictions when it comes to power adapters because they use USB.
Customer service: The team at FriendLamps.com are readily available whether you have questions about the product, your order or need help setting it up.
They also offer promotions from time to time. If you're a bargain hunter like us, you may be able to pick up these lamps at a special price.
Now it's Your Turn!
Which of these friendship lamps do you like best? Thankfully there are some great options to stay connected.
If you have any questions or worries about which is the right lamp for you, join our LDR Support Group where we and our supportive and inclusive community can help!
Join our FREE LDR challenge & learn the
secrets
to strengthening your relationship in just 7 days.
"We just want to tell you how amazing this all is & we can't thank you enough!"

Becca (USA) & James (AUS), Challenge Participants
By entering your email address you agree to receive emails from Lasting The Distance. We'll respect your privacy and you can unsubscribe at any time.
---
Hi, we are Lolo (Canada) & Nate (Australia) a couple that had to go through all that a long distance relationship has to offer, just like you. With our experience and lessons learned we want to help you keep your long distance relationship as strong as ever and ultimately last the distance!