Les citations inspirantes sur les relations à distance transmettent un message puissant en quelques mots seulement.
Parfois, ce sont les manière parfaite pour exprimer ce que l'on ressent quand on ne trouve pas de moyen de le dire soi-même.
Une citation percutante pourrait être exactement ce dont vous ou votre partenaire avez besoin si vous êtes.. :
Vous vous sentez déprimé par la distance et avez besoin d'un remontant.
Manque d'inspiration pour une lettre ou un message.
J'ai du mal à mettre des mots sur mes émotions.
Vous avez du mal à faire passer votre message dans un texte ou un autre message court.
Il semble qu'il existe des millions de citations inspirantes qui peuvent vous aider.
Nous vous avons fait gagner du temps et avons rassemblé nos citations préférées spécifiques aux relations à distance.
NAVIGATION RAPIDE
Citations sur l'amour à distance
"L'amour ira aussi loin que tu le laisses aller. Il n'a pas de limites."

"Love will travel as far as you let it. It has no limits."

Dee King
"La distance signifie si peu, quand quelqu'un signifie tellement."

"Distance means so little, when someone means so much."

Tom McNeal
"Je porte ton coeur avec moi (je le porte dans mon coeur)."

"I carry your heart with me (I carry it in my heart)."

E.E. Cummings
"La douleur de se séparer n'est rien comparée à la joie de se retrouver."

"The pain of parting is nothing to the joy of meeting again."

Charles Dickens
"La distance unit les battements manquants de deux cœurs amoureux."

"Distance unites missing beats of two hearts in love."

Munia Khan
"Quelle chance j'ai d'avoir quelque chose qui rend si difficile de dire au revoir."

"How lucky I am to have something that makes saying goodbye so hard."

A.A. Milne, Winnie l'ourson
"L'amour est tout ce qu'il est censé être. Il vaut vraiment la peine de se battre, d'être courageux et de tout risquer."

"Love is everything it's cracked up to be. It really is worth fighting for, being brave for, risking everything for."

Erica Jong
"La distance entre deux personnes est sans importance quand leurs âmes sont unies."

"Distance between two people is inconsequential when their souls are united."

Matshona Dhliwayo
"Les meilleures et les plus belles choses du monde ne peuvent être vues ni même touchées. Elles doivent être ressenties avec le cœur."

"The best and most beautiful things in the world cannot be seen or even touched. They must be felt with the heart."

Helen Keller
"L'amour, ce n'est pas trouver quelqu'un avec qui vivre. C'est trouver quelqu'un sans qui on ne peut pas vivre."

"Love is not finding someone to live with. It's finding someone you can't live without."

Rafael Ortiz
"Je t'aime non seulement pour ce que tu es, mais pour ce que je suis quand je suis avec toi."

"I love you not only for what you are, but for what I am when I am with you."

Elizabeth Barrett Browning
Ces citations constituent d'excellents compléments aux lettres ouvertes. Consultez notre article sur les idées de lettres ouvertes qui peut aider à inspirer votre partenaire quand il en a le plus besoin !
Citations sur les relations à distance pour lui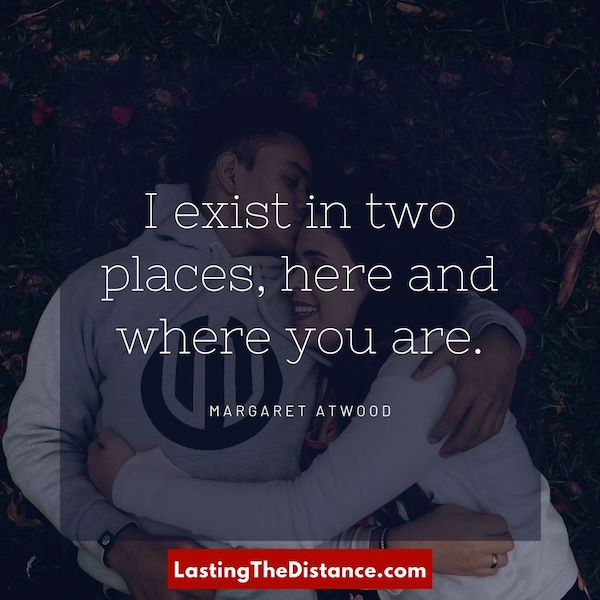 "Là où tu étais, il y a un trou dans le monde, que je me retrouve constamment à arpenter le jour, et à tomber dedans la nuit. Tu me manques terriblement."

"Where you used to be, there is a hole in the world, which I find myself constantly walking around in the daytime, and falling in at night. I miss you like hell."

Edna St. Vincent Millay
"Je ferme les yeux, en pensant qu'il n'y a rien de tel qu'une étreinte après une absence, rien de tel que d'ajuster mon visage dans la courbe de son épaule et de remplir mes poumons de son parfum."

"I close my eyes, thinking that there is nothing like an embrace after an absence, nothing like fitting my face into the curve of his shoulder and filling my lungs with the scent of him."

Jodi Picoult
"Ton absence ne m'a pas appris à être seul, elle m'a simplement montré que lorsqu'on est ensemble, on projette une seule ombre sur le mur."

"Your absence has not taught me how to be alone; it has merely shown me that when together we cast a single shadow on the wall."

Doug Fetherling
"J'ai découvert qu'il me manquait plus il était absent de ma vie, et plus il me manquait, plus je l'aimais".

"I found that I missed him the more he was absent from my life, and the more I missed him, the more I loved him."

Donna Lynn Hope
"J'existe à deux endroits, ici et là où vous êtes."

"I exist in two places, here and where you are."

Margaret Atwood
"L'amour compte les heures pour des mois, et les jours pour des années ; et chaque petite absence est un âge."

"Love reckons hours for months, and days for years; and every little absence is an age."

John Dryden
"Ça fait un an et trois mois qu'on ne s'est pas embrassés, et je préfère avoir le fantôme de sa bouche sur mes lèvres qu'embrasser quelqu'un d'autre."

"It's been a year and 3 months since we've kissed, and I rather have the ghost of his mouth on my lips than kiss anyone else."

Alishah Khan
"Quand votre absence se fait sentir, votre présence est l'essence et elle fait la différence."

"When your absence is felt, your presence is the essence and it makes a difference."

Michael Bassey Johnson
"Je n'ai jamais pu lui redire qu'il avait vraiment tort, que les kilomètres n'avaient pas d'importance, pas si on aimait quelqu'un. Que les frontières et les océans n'étaient pas des obstacles, pas pour l'esprit. J'aurais aimé pouvoir lui dire ces choses, parce que les dire à voix haute à quelqu'un de réel, au lieu d'un miroir ou d'une carte postale, les aurait rendues d'autant plus convaincantes."

"I never got to tell him again that he really was wrong, that miles didn't matter, not if you loved someone. That borders and oceans weren't obstacles, not for the mind. I wished I'd been able to tell him these things, because saying them out loud to someone real, instead of a mirror or a picture postcard, would have made them all the more convincing."

Emylia Hall
"Ma chère, je pense toujours à toi et le soir, je me construis un nid chaud de souvenirs et je flotte dans ta douceur jusqu'au matin."

"My dear, I think of you always and at night I build myself a warm nest of things I remember and float in your sweetness till morning."

Zelda Fitzgerald
"Tu sais que c'est le véritable amour quand, quelle que soit la distance, il peut toujours te faire sourire."

"You know It's true love when no matter how far the distance is he can still make you smile."

Anonyme
Citations de relations à distance pour elle
"Je suis tombé amoureux d'elle quand nous étions ensemble, puis je suis tombé encore plus amoureux d'elle pendant les années où nous étions séparés."

"I fell in love with her when we were together, then fell deeper in love with her in the years we were apart."

Nicholas Sparks
"Manquer à quelqu'un fait partie de l'amour qu'on lui porte. Si vous n'êtes jamais séparés, vous ne saurez jamais vraiment à quel point votre amour est fort."

"Missing someone is a part of loving them. If you're never apart, you'll never really know how strong your love is."

Anonyme
"Le simple fait qu'elle ne soit pas là me touche plus que la présence des autres."

"The simple lack of her is more to me than others' presence."

Edward Thomas
"Proches ou éloignés, vous êtes pour toujours dans mon coeur."

"Close together or far apart; you're forever in my heart."

Harry Styles
"Ce soir, je peux écrire les lignes les plus tristes. De penser que je ne l'ai pas. De sentir que je l'ai perdue. Pour entendre l'immense nuit, encore plus immense sans elle."

"Tonight I can write the saddest lines. To think that I do not have her. To feel that I have lost her. To hear the immense night, still more immense without her."

Pablo Neruda
"Et on sait que l'amour ne connaît pas sa propre profondeur jusqu'à l'heure de la séparation."

"And ever has it been known that love knows not its own depth until the hour of separation."

Khalil Gibran
"Peu importe où je suis, peu importe où je vais, ton cœur est ma lumière du nord, je trouverai toujours le chemin de la maison."

"No matter where I am, no matter where I go, your heart is my northern light, I will always find my way home."

Michael Kilby
"La distance ne sépare jamais deux cœurs qui se soucient vraiment, car nos souvenirs franchissent les kilomètres et en quelques secondes nous sommes là. Mais chaque fois que je commence à me sentir triste, parce que tu me manques, je me rappelle la chance que j'ai d'avoir quelqu'un de si spécial qui me manque."

"Distance never separates two hearts that really care, for our memories span the miles and in seconds we are there. But whenever I start feeling sad, because I miss you, I remind myself how lucky I am to have someone so special to miss."

Cheryl Ott
"Quand je dors, je rêve de toi, et quand je me réveille, j'ai envie de te tenir dans mes bras. Si quelque chose, notre temps séparé n'a fait que me rendre plus certain que je veux passer mes nuits à tes côtés, et mes jours avec ton coeur."

"While I sleep, I dream of you, and when I wake, I long to hold you in my arms. If anything, our time apart has only made me more certain that I want to spend my nights by your side, and my days with your heart."

Nicholas Sparks
"Je pense à toi constamment, que ce soit avec mon esprit ou mon coeur."

"I think about you constantly, whether it's with my mind or my heart."

Terri Guillemets
"Certaines choses attirent l'œil, mais ne poursuivez que celles qui capturent le cœur."

"Certain things catch your eye, but pursue only those that capture the heart."

Ancien proverbe indien
"Elle me touchait, même quand elle était absente."

"She affected me, even when she was absent."

Shannon A. Thompson
Citations amusantes sur les relations à distance
"Définition d'une relation à distance : 'Inconvénient, c'est le moyen le plus efficace de savoir si on s'aime vraiment'."

"Definition of a long distance relationship: 'Inconveniently the most effective way to find out if you really love each other."

Anonyme
"Vous voulez savoir comment quelqu'un gère vraiment la frustration ? Mettez-le dans une relation longue distance et donnez-lui une connexion internet lente."

"Want to learn how someone really handles frustration? Put them in a long distance relationship and give them a slow internet connection."

Lisa McKay
"Si quelqu'un me demande "Qu'est-ce que l'enfer ? Je répondrais 'La distance entre deux personnes qui s'aiment'".

"If anyone asks me 'What is Hell?' I would answer 'Distance between two people who love each other.'"

Anonyme
"On dit que les relations à distance vous apprennent à bien communiquer... Nous devrions être des lecteurs d'esprit maintenant."

"They say long distance relationships will teach you to communicate well… We should be mind-readers by now."

Lisa McKay
"Celui qui a inventé l'expression 'l'absence rend le coeur plus tendre' était un idiot. L'absence rend une chienne folle."

"Whoever coined the term 'absence makes the heart grow fonder,' was an idiot. Absence makes a bitch grow crazy."

Toni Aleo
"Je voulais t'envoyer un truc sexy, mais le facteur m'a dit de sortir de la boîte aux lettres."

"I wanted to send you something sexy, but the mailman told me to get out of the mailbox."

Anonyme
"Lui : 'Tu me manques tellement... Quand on sera enfin ensemble, je ne te quitterai plus jamais des yeux'. Elle : 'Aw, chérie. Je voudrais dire que c'est gentil... mais en fait c'est un peu effrayant.'"

"Him: 'I miss you so much… When we finally get to be together, I'm never going to let you out of my sight again.' Her: 'Aw, honey. I want to say that's sweet.. but it's actually sort of creepy.'"

Anonyme
"Je veux juste que tu sois heureux, c'est tout ce que je veux. Eh bien, ça et ici. Et nu."

"I just want you to be happy, that's all I want. Well, that and here. And naked."

Anonyme
"Je veux être avec toi. C'est aussi simple et aussi compliqué que ça."

"I want to be with you. It's as simple and as complicated as that."

Charles Bukowski
"Si besoin est, tu peux vivre dans mon coeur... sans loyer... toutes charges comprises."

"If need be, you can live in my heart…rent free…all utilities included."

Grace Nagar
"Parfois, tu me manques tellement que j'ai envie de t'arracher de mes rêves et de te serrer dans mes bras !"

"Sometimes I miss you so much, I just want to rip you out of my dreams and hug you!"

Anonyme
Citations mignonnes sur les relations à distance
"L'absence rend le coeur plus tendre, mais elle rend le reste de l'être humain bien seul."

"Absence makes the heart grow fonder, but it sure makes the rest of you lonely."

Charles M. Schulz
"Si tu penses que me manquer est difficile, tu devrais essayer de te manquer."

"If you think missing me is hard, you should try missing you."

Anonyme
"La meilleure chose à laquelle s'accrocher dans la vie, c'est l'autre."

"The best thing to hold onto in life is each other."

Audrey Hepburn
"Quand quelque chose manque dans votre vie, il s'agit souvent de quelqu'un."

"When something is missing in your life, it usually turns out to be someone."

Robert Brault
"Tu sais que tu as trouvé le grand amour quand tu te surprends à tomber amoureux de la même personne, encore et encore, même si elle est à des kilomètres de toi."

"You know you've found true love when you catch yourself falling in love with the same person over and over again despite them being miles away from you."
"Il faut s'engager à fond dans quelque chose pour obtenir ce qui en vaut la peine."

"You have to go wholeheartedly into anything in order to achieve anything worth having."

Frank Lloyd Wright
"Être dans une relation à distance, c'est comme être à l'école une fois de plus : La distance nous apprend à apprécier les jours que nous pouvons passer ensemble et à définir la patience. Elle nous rappelle que chaque moment passé ensemble est spécial, et que chaque seconde doit être chérie... Et comme quand j'étais à l'école, je préfère sécher les cours et t'embrasser dans la cage d'escalier."

"Being in a long distance relationship is like being in school all over again: Distance teaches us to appreciate the days that we get to spend together and how to define patience. It reminds us that every moment together is special, and every second together should be cherished… And just like when I was in school, I'd rather skip class and kiss you in the stairwell."

Lisa McKay
"Si le seul endroit où je pouvais te voir était dans mes rêves, je dormirais pour toujours."

"If the only place where I could see you was in my dreams, I'd sleep forever."

Anonyme
"L'amour est ce que vous avez vécu avec quelqu'un."

"Love is what you've been through with somebody."

James Thurber
"Que la lune t'embrasse pour t'endormir jusqu'à ce que je puisse."

"May the moon kiss you to sleep until I can."

Anonyme
Citations pour survivre à une relation longue distance
"Si l'amour ne résiste pas à l'épreuve du temps, alors il a échoué à l'épreuve de l'amour."

"If love cannot stand the test of time, then it has failed the test of love."

Bernard Byer
"Dans l'amour véritable, la plus petite distance est trop grande et la plus grande peut être comblée."

"In true love the smallest distance is too great and the greatest distance can be bridged."

Hans Nouwens
"Comme les contraires sont connus par les contraires, les délices de la présence sont mieux connus par les tourments de l'absence."

"As contraries are known by contraries, so is the delights of presence best known by the torments of absence."

Alcibiades
"L'absence est à l'amour, ce qu'est au feu le vent ; il éteint le petit, il allume le grand."

"Absence is to love what wind is to fire; it extinguishes the small, it inflames the great."

Roger de Bussy-Rabutin
"L'art de l'amour est en grande partie l'art de la persévérance."

"The art of love is largely the art of persistence."

Albert Ellis
"Mon cœur est ta maison, où que tu sois dans le monde - tu auras toujours un endroit où rester."

"My heart is your home, wherever in the world you are – you will always have a place to stay."

K.A. Hill
"L'amour est composé d'une seule âme qui habite deux corps."

"Love is composed of a single soul inhabiting two bodies."

Aristote
"Être profondément aimé par quelqu'un vous donne de la force, tandis qu'aimer quelqu'un profondément vous donne du courage."

"Being deeply loved by someone gives you strength, while loving someone deeply gives you courage."

Lao Tseu
"Il n'y a pas d'au revoir pour nous. Où que tu sois, tu seras toujours dans mon coeur."

"There are no goodbyes for us. Wherever you are, you will always be in my heart."

Mahatma Gandhi
"Une fois que la confiance est établie, la distance ne peut pas la tuer. Le temps et l'espace ne peuvent à eux seuls détruire une connexion authentique."

"Once trust is built, distance cannot kill it. Time and space alone cannot destroy authentic connection."

Vironika Tugaleva
"Si jamais demain nous ne sommes pas ensemble... il y a quelque chose que tu dois toujours te rappeler. Tu es plus courageux que tu ne le crois, plus fort que tu n'en as l'air, et plus intelligent que tu ne le penses. Mais le plus important, c'est que même si nous sommes séparés... je serai toujours avec toi."

"If ever there is tomorrow when we're not together… there is something you must always remember. You are braver than you believe, stronger than you seem, and smarter than you think. But the most important thing is, even if we're apart… I'll always be with you."

A.A. Milne
"Que tu sois à mes côtés ou à un vol d'avion, t'avoir dans ma vie a fait de moi une meilleure personne."

"Whether you're by my side or a plane ride away, having you in my life has made me a better person."

Anonyme
Citations pour les relations militaires à distance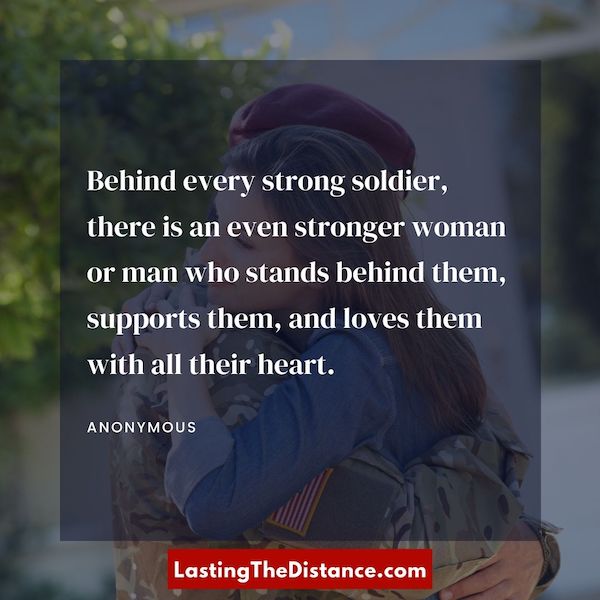 "Nos heures dans l'amour ont des ailes ; dans l'absence, des béquilles."

"Our hours in love have wings; in absence, crutches."

Miguel de Cervantes
"La distance n'est pas pour les peureux, elle est pour les audacieux. C'est pour ceux qui sont prêts à passer beaucoup de temps seuls en échange d'un peu de temps avec celui qu'ils aiment. C'est pour ceux qui savent reconnaître une bonne chose quand ils la voient, même s'ils ne la voient pas assez."

"Distance is not for the fearful, it's for the bold. It's for those who are willing to spend a lot of time alone in exchange for a little time with the one they love. It's for those who know a good thing when they see it, even if they don't see it nearly enough."

Meghan Daum
"Je ne pleure pas parce que nous sommes séparés par la distance, et pour quelques années. Pourquoi ? Parce que tant que nous partageons le même ciel et respirons le même air, nous sommes toujours ensemble."

"I don't cry because we've been separated by distance, and for a matter of years. Why? Because for as long as we share the same sky and breathe the same air, we're still together."

Donna Lynn Hope
"Si tu écoutes le vent très attentivement, tu pourras m'entendre murmurer mon amour pour toi."

"If you listen to the wind very carefully, you'll be able to hear me whisper my love for you."

Andrew Davidson
"Il semblait que nous nous aimions mieux lorsqu'il y avait de grandes étendues de deux continents entre nous. Le travail quotidien de l'amour était souvent difficile à accomplir à la maison."

"It seemed that we loved each other better when there were large swaths of two continents between us. The daily work of love was often hard to perform at home."

Aleksandar Hemon
"Derrière chaque soldat fort, il y a une femme encore plus forte qui se tient derrière lui, le soutient et l'aime de tout son cœur."

"Behind every strong soldier, there is an even stronger woman who stands behind him, supports him, and loves him with all her heart."

Anonyme
"Dieu merci pour les hommes qui parviennent à tenir de loin, à essuyer les larmes avec des mots tendres et à distribuer la force vitale qu'est l'espoir. Elle ne s'est jamais sentie aussi seule, mais là-bas, de l'autre côté de l'océan et dans un pays étranger, il y a un homme qui l'aime et qui donnerait sa vie juste pour qu'elle puisse sentir la lumière une fois de plus."

"Thank God for men who manage to hold from afar, wipe tears away with tender words and dish out the life force that is hope. She has never felt so alone but out there, across an ocean, and in a foreign land, there is a man who loves her and would lay down his life just so she could feel the light once again."

Donna Lynn Hope
"Si quelqu'un me demande "Qu'est-ce que l'enfer ? Je répondrais 'La distance entre deux personnes qui s'aiment'".

"If anyone asks me 'What is Hell?' I would answer 'Distance between two people who love each other.'"

Anonyme
"Je pense qu'on rêve pour ne pas avoir à être séparés pendant si longtemps. Si nous sommes dans les rêves de l'autre, nous pouvons être ensemble tout le temps."

"I think we dream so we don't have to be apart for so long. If we're in each other's dreams, we can be together all the time."

A.A. Milne
"Le plus gros problème que j'ai en ce moment est de ne pas m'endormir avec toi à mes côtés."

"The biggest issue I have right now is not falling asleep with you by my side."

Anonyme
"Le seul avantage d'être séparé, c'est que j'ai toujours quelque chose de beau à attendre."

"The only good thing about being apart is that I always have something beautiful to look forward to."

Anonyme
"Nous sommes le meilleur couple, nous ne sommes juste pas dans la meilleure situation."

"We're the best couple, we're just not in the best situation."

Anonyme
Citations motivantes pour les relations à distance
"L'absence aiguise l'amour, la présence le renforce."

"Absence sharpens love, presence strengthens it."

Thomas Fuller
"Nous étions ensemble même quand nous étions séparés"

"We were together even when we were apart"

Shannon A. Thompson
"L'amour ne connaît pas la distance, il n'a pas de continent, ses yeux sont pour les étoiles."

"Love knows not distance; it hath no continent; its eyes are for the stars."

Gilbert Parker
"Je crois au pouvoir incommensurable de l'amour ; que le véritable amour peut endurer n'importe quelle circonstance et franchir n'importe quelle distance."

"I believe in the immeasurable power of love; that true love can endure any circumstance and reach across any distance."

Steve Maraboli
"La valeur de l'amour se perd lentement lorsque nous en avons beaucoup trop. On n'a tout simplement pas le temps de l'apprécier. C'est dans les moments de séparation et de distance que l'on comprend vraiment le sens de l'amour."

"The value of love is slowly lost when we have way too much. There is just no time to appreciate it. It is in times of separation and distance that you truly understand the meaning of love."

Tiffany Health
"Être proche est le premier et le dernier désir des amoureux, mais être loin et s'aimer sans un pouce de différence est la caractéristique du véritable amour."

"Being close is the first and last desire of lovers, but being far and loving each other without an inch's difference is the characteristic of real love."

Senora Ray
"La vie nous a appris que l'amour ne consiste pas à se regarder l'un l'autre mais à regarder ensemble dans la même direction."

"Life has taught us that love does not consist in gazing at each other but in looking outward together in the same direction."

Saint-Exupéry
"Je peux supporter la distance mais je ne peux pas imaginer une vie sans toi. Pour toi, je supporterai la distance et les peines de cœur. Tu es ma seule et unique."

"I can bear the distance but cannot imagine a life without you. For you I will go through the distance and the heartaches. You are my one and only."

Montana Lee
"La distance a-t-elle vraiment de l'importance ? Vous aimez votre acteur préféré, vous bavez pour votre chanteur préféré et vous attendez patiemment la prochaine œuvre de votre artiste ou écrivain préféré. Pourquoi pas celui que vous aimez ?"

"Does distance really matter? You love your favorite actor, drool for your favorite singer and await patiently for the next art from your favorite artist or writer. Why not the one you love?"

Jane Morsel
"Je ne te dis pas que ça va être facile- je te dis que ça va en valoir la peine."

"I'm not telling you it is going to be easy- I am telling you it is going to be worth it."

Art Williams
"Si vous avez trouvé cette seule personne qui vaut vraiment les sacrifices, la douleur et les difficultés, alors vos efforts ne seront pas vains."

"If you found that one person who is really worth the sacrifices, pain, and hardships then your efforts will not go to waste."

Anna Agoncillo
"Si vous voulez vraiment être respecté par les gens que vous aimez, vous devez leur prouver que vous pouvez survivre sans eux."

"If you truly want to be respected by people you love, you must prove to them that you can survive without them."

Michael Bassey Johnson
Citations tristes sur les relations à distance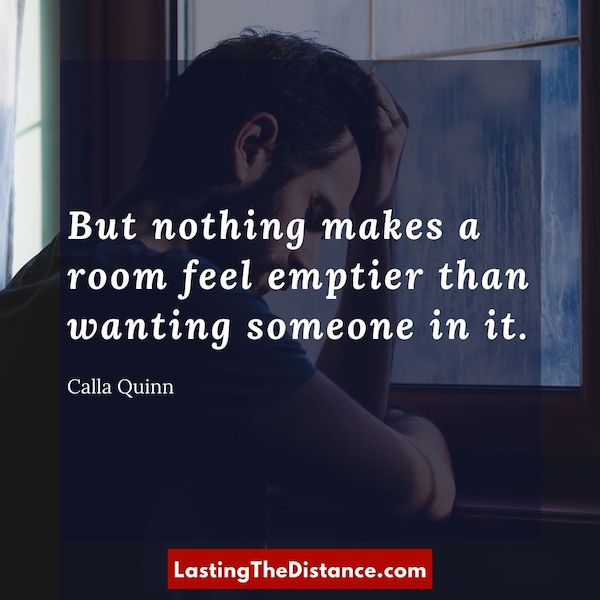 Si vous ou votre partenaire avez du mal à supporter la distance et vous sentez déprimé(e), consultez notre article sur les moyens scientifiques de faire face à la distance. dépression dans les relations à distance.
"Ce baiser d'adieu qui ressemble à un salut, ce dernier regard d'amour qui devient la plus vive douleur du chagrin."

"That farewell kiss which resembles greeting, that last glance of love which becomes the sharpest pang of sorrow."

George Eliot
"C'est là que le temps s'arrête - quand vous regardez celui que vous aimez, s'éloigner."

"That is when time stands still – when you watch the one you love, walk away."

Mallika Nawal
"Mais rien ne fait qu'une pièce soit plus vide que de vouloir quelqu'un dedans."

"But nothing makes a room feel emptier than wanting someone in it."

Calla Quinn
"Vous me manquez encore plus que je n'aurais pu le croire ; et j'étais prêt à vous manquer beaucoup."

"I miss you even more than I could have believed; and I was prepared to miss you a good deal."

Vita Sackville-West
"J'ai laissé tomber une larme dans l'océan. Le jour où tu la trouveras sera le jour où tu ne me manqueras plus."

"I dropped a tear in the ocean. The day you find it is the day I will stop missing you."

Anonyme
"Ce n'est pas la distance qui est l'ennemi, mais le temps interminable que je dois attendre avant de te tenir dans mes bras."

"It's not the distance that's the enemy, but the endless time I have to wait until I hold you in my arms."

Livius Besski
"Quand tu reviendras, tu ne seras pas toi. Et je ne serai peut-être pas moi."

"When you come back, you will not be you. And I may not be I."

E.M. Forster
"Mais je dois admettre que tu me manques terriblement. Le monde est trop calme sans toi à proximité."

"But I must admit, I miss you quite terribly. The world is too quiet without you nearby."

Lemony Snicket
"Ce que j'ai avec toi en vaut la peine. Cela vaut chaque nuit solitaire, chaque larme que je pleure parce que tu me manques, et la douleur que je ressens de ne pas t'avoir près de moi. Cela vaut la peine parce que tu es mon seul et unique. Quand je m'imagine dans plusieurs années, je ne vois que toi. Même si la distance peut être douloureuse, ne pas t'avoir dans ma vie serait pire."

"What I have with you is worth it. It is worth every lonely night, every tear I cry from missing you, and the pain I feel from not having you close. It is worth it because you are my one and only. When I picture myself years from now, I see only you. No matter how painful distance can be, not having you in my life would be worse."

Anonyme
"Ce n'est que pour toi que je traverserai ce chagrin d'amour. Je peux supporter la distance mais je ne peux pas imaginer ma vie sans toi."

"It is only for you that I will go through the heartache. I can bear the distance but can't imagine my life without you."

Anonyme
"Et comme les jours passent, les souvenirs restent. Je t'attends. Comme les jours passent, je jure que je vais essayer. Jusqu'à ce que je meure. N'importe quoi pour toi."

"And as days go by, the memories remain. I wait for you. As days go by, I swear I'll try. Until I die. Anything for you."

Anonyme
Maintenant, c'est votre tour
Laquelle de ces citations de longue distance est votre préférée ?
Vous en avez quelques unes en tête à envoyer à votre partenaire ?
Avons-nous manqué votre citation préférée sur les relations à distance ?
---
Bonjour, nous sommes Lolo (Canada) et Nate (Australie), un couple qui a dû passer par tout ce qu'une relation à distance a à offrir, tout comme vous. Grâce à notre expérience et aux leçons que nous avons apprises, nous voulons vous aider à garder votre relation à distance aussi forte que jamais et à tenir la distance !