In a hurry? Go straight to our list of gifts for long distance couples.
When you're apart, giving each other presents is one way to help feel connected. We know all too well how frustrating it is trying to find the right gift for your long distance partner.
To narrow down your search and help keep that frustration to a minimum, we've put together some of the best gifts for long distance couples.
But these aren't your average gifts…
They must meet our strict criteria to be "long distance" worthy; they should:
Help strengthen a long distance couple's connection.
Be something you can both use or interact with.
Use high quality materials but at an affordable price.
Oh and of course, they must be something you'll both freaking love!
The Best Gifts for Long Distance Couples in 2021
1. Wishbeads Intention Couples Bracelets
Do you like setting your intentions for how you want the future to look? If so, you'll love these Wishbeads Intention Couples Bracelets for women and men.
You can either put your intentions in your own bracelet or, when you're together, you can write your intentions to put in each other's bracelets. Perhaps that intention is about when you'll close the distance?
Made from beautiful natural stones, you can choose from black lava stone or brown tiger's eye for men or one of these stunning options for women:
2. FriendLamps.com Friendship Lamps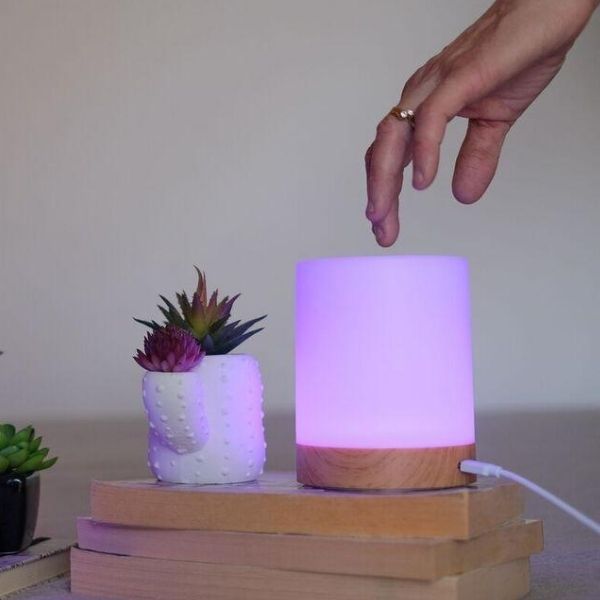 Light up your partner's home with your love thanks to these FriendLamps.com Friendship Lamps.
The lamps sync via your wifi and internet connections, so when one of you touches your lamp, the other will light up in the chosen color.
With up to 17 colors to choose from, you can assign meanings to various colors. For example, they could mean:
Blue: "Goodnight"
Red: "I love you!"
Green: "I got home safely"
Since the lamps use USB charging cables, you can use your Friendship Lamps anywhere in the world without needing a power adaptor.
3. Hey Bracelet Couples Set
Do you miss your partner's touch the most when you're apart? With the Hey Bracelet Couples Set, you and your partner can "touch" each other from a distance.
The bracelets connect via Bluetooth to the Hey App. When one of you touches your bracelet, a small motor on the other bracelet pulls in part of the band, gently squeezing the wrist of the wearer.
Available in white and black with a repeating "H" logo, these bracelets look and feel like a high-end fashion accessory.
4. Kissing Mugs
Is coffee life for you and your partner? If you answered yes, you will both adore these Kissing Mugs.
Apart, each mug is adorable, but when you get to be together, the mugs fit into the perfect kiss with handles that form a heart.
A hand-applied glaze ensures that each mug is unique, just like your love for each other.
While hand-washing ensures a longer lifespan, these mugs can also go on the top rack of the dishwasher.
5. Long Distance Friendship Lamps by FILIMIN
Let your partner know you're thinking of them with a single tap using FILIMIN's Long Distance Friendship Lamps.
If you like the look of Tiffany lamps or stained glass, you'll appreciate their original, Classic design, or for a rustic wood look, Mid-Century Modern is a stylish choice.
What's cool is that you and your partner can each get different FILIMIN models, and they'll still connect with each other!
Whichever style you choose, touching one lamp lights up the other, no matter how far apart you are. By default, the lamp will stay lit for an hour and a half, but you can change the settings to keep it lit for up to 24 hours.
6. Long Distance Friendship Frame by FILIMIN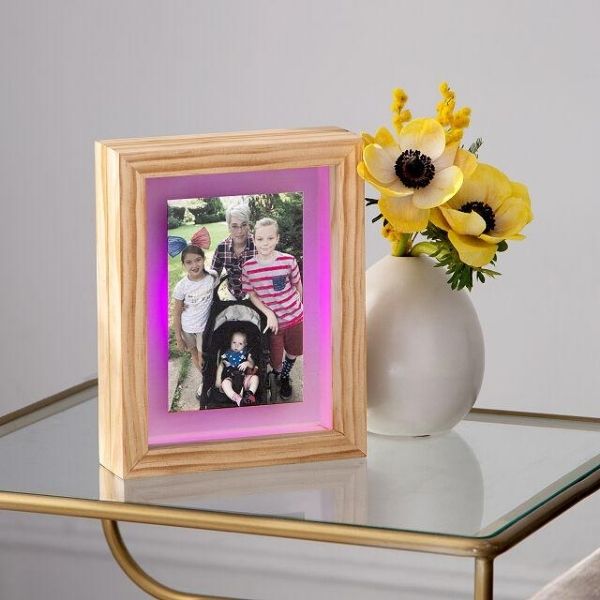 Now, you can combine the fun of a touch lamp and the function of a picture frame with the FILIMIN Long Distance Friendship Frame.
We love the versatility of the frame, because it can be hung on a wall or sat on a flat surface, it can be horizontal or vertical, and it can hold a 4" x 6" or 5" x 7" photo.
It's worth noting that all FILIMIN products are made with North American plugs, so you may need an adaptor if you or your partner lives overseas.
7. Couples Mixtape Pillows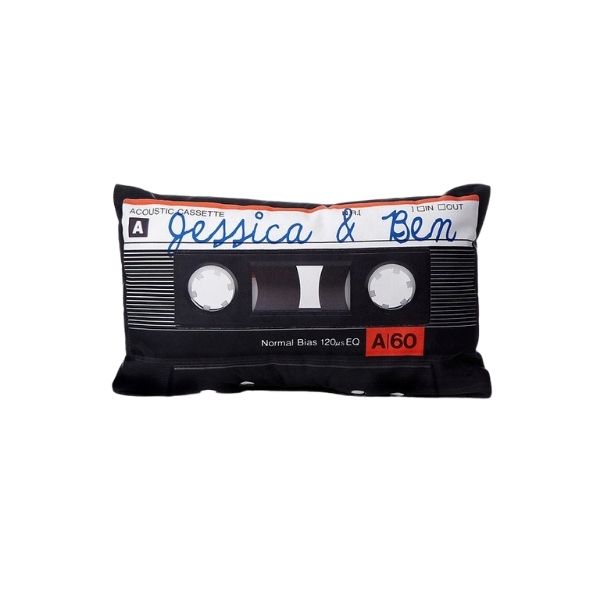 Do you remember the days of creating mixtapes? Relive that nostalgia with these Couples Mixed Tape Pillows.
Both sides are customizable, so you can add just the right message for your partner. Put your names on the front and a special message on the back, like "I'll always love you," or "Together since 20XX," or "Happy Anniversary."
These pillows are also made from polyester, which makes them machine washable, and perfect for either indoor or outdoor use.
8. Bond Touch Couples Bracelets
Want a sentimental way to let your partner know you're thinking of them? Brighten their day by sending a "touch" with Bond Touch Couples Bracelets.
When one of you touches your bracelet, the other will vibrate and light up in the color of your choice. Some might say it's even faster than texting an emoji!
You can tap the bracelets up to ten times, which is cool for creating codes and custom messages. Maybe one tap means "I'm home", three taps means "I miss you", and ten taps could mean "I miss you like crazy!".
The bracelets come with black bands, but there are other colors available like pink sand, twilight blue, emerald green, and gray stone.
9. Custom Soundwave Couples Necklaces by Jeweler Bazaar
The sound of your partner's voice is precious. Now, you can carry a visual of that sound with these Custom Soundwave Couples Necklaces.
After you email a 10 to 15 second sound clip, Gergin Martinov Siderov will use the sound wave pattern from the recording to create two necklaces. One of you gets the sound wave, and the other gets the bit the wave was cut from.
Gergin has also made the necklaces available in white, rose or yellow gold finishes and you can select chain lengths from 14" to 20".
10. Mountain Promise Rings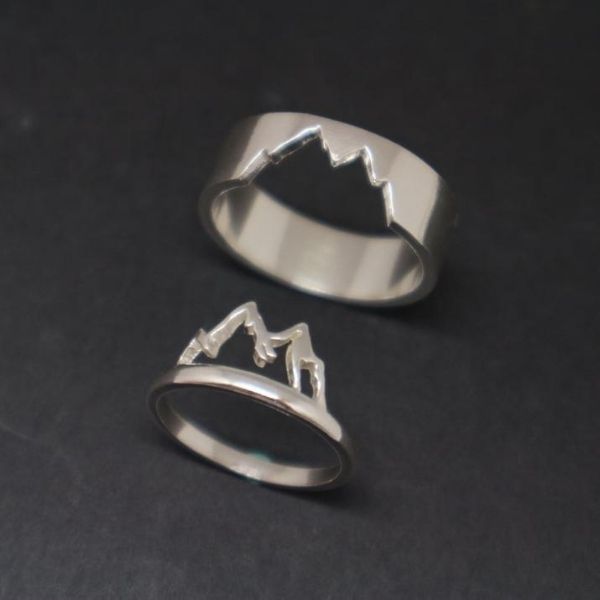 If there "Ain't no mountain high enough" to stand in the way of your love, you'll adore these Mountain Promise Rings.
What's cool is that these couple's rings feature a mountain cut out of one ring, which is mounted onto the other. We think they're the perfect reminder that the distance between you is only a small hurdle to overcome.
While they are made from silver, you can have them finished in gold or rose gold, and are available in ring sizes from 4 to 14.
11. LoveBox Heart Messenger by Marie Poulle and Jean Gregoire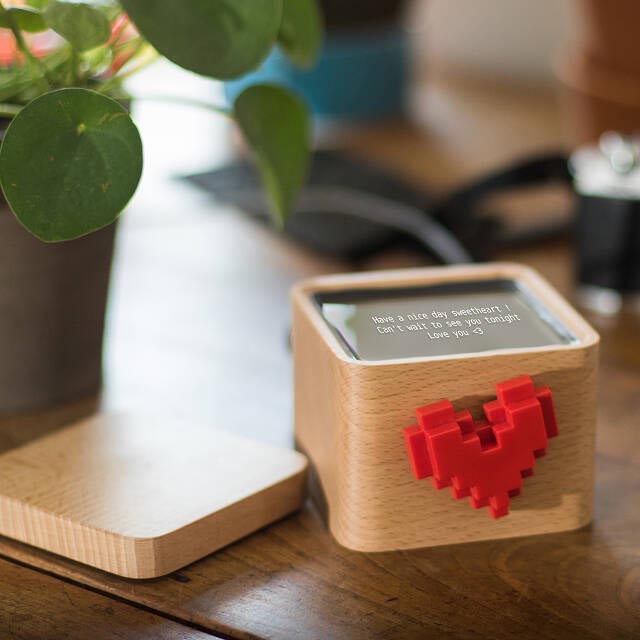 How do you combine a text message with a physical gift? With the Heart Messenger by LoveBox.
When you send a message through the LoveBox mobile app, the heart on the front of this adorable box spins until you lift the lid to read the message inside. The message only stays as long as the lid is open, making each message temporary and precious.
See a demonstration of the spinning heart here.
The story behind LoveBox is truly inspiring. Jean Gregoire came up with the idea when he left his fiancée, Melodie, in France while he studied at MIT in Boston. He wanted a unique way to send her messages. Now, your long distance relationship gets to benefit from his!
12. "The Story of Us" Couples Journal
"The Story of Us" Couples Journal is a great way to keep track of all the special moments you and your partner create together
This journal has 88 pages with 72 photo corners, so you can include the perfect mix of words and pictures to tell YOUR story.
You can either fill out the journal together or fill it out yourself and surprise your partner. Either way, it's sure to be a treasured keepsake for years to come.
13. TALSAM Smart Bracelets
Looking for a gorgeous way to let your partner know you've sent a special message?
With TALSAM Smart Bracelets, you not only get a gorgeous charm that incorporates semi-precious stones and Swarovski crystals. It is also an amazing piece of tech, which lights up and vibrates when the wearer receives a message through the TALSAM mobile app.
The application gives you and your partner a private place to send messages. You can send emojis that take shape from the stars, and even turn the charm into an SOS device.
You will receive both bracelet and necklace length chains, making TALSAM just as versatile as it is beautiful.
14. Long Distance Couples City/State Keychains by Game Face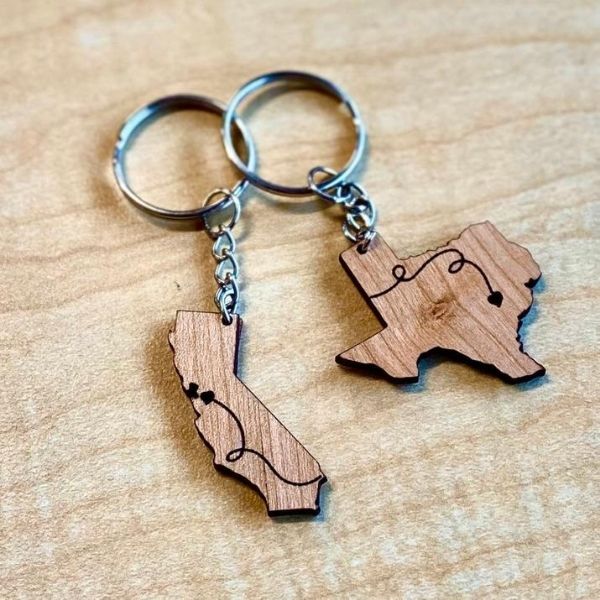 Does your partner have your heart in another state? Represent that with these Long Distance Couples City/State Keychains.
Each keychain has a wooden cutout of the state (or country) where you or your partner lives. What makes these keychains super special is the included hearts close to your city or town and the dotted line that connects the two states when they're next to each other.
It's worth noting that you can also choose the type/color of wood, they include maple, basswood, walnut, or cherry.
15. Hand Embroidered State Pillows by Carmel & Terrell Swan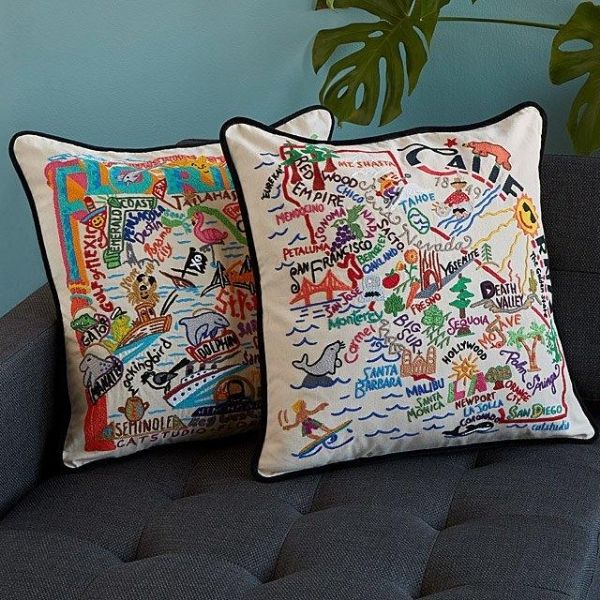 Celebrate where you and your come from with these Hand Embroidered State Pillows by Carmel & Terrel Swan.
Whether it's where you met, your favorite vacation spot, the place you hope to be together in the future, or where you both come from. These beautiful Hand Embroidered State Pillows by Carmel & Terrel Swan are the perfect physical reminder of that special place.
Each pillow is handmade with city names and drawings representing the most famous parts of the state.
With a white background, black piping, and colorful embroidery, these pillows will spruce up any living room.
16. Her King & His Queen Matching Couples Shirts by H Town Apparel
Just because you're apart, doesn't mean you can't flaunt your couple's love. Celebrate your "taken" status with these Her King & His Queen Matching Couples Shirts.
There are many different shirt sizes and styles are available, including tank tops, women's V-necks, and unisex. We love an inclusive product, and the unisex style has the widest selection of sizes, ranging from XS to 4XL.
Each shirt style is also available in different colors, including navy, purple, black, red, and banana. What's really cool is that you can even choose the color of the text on each shirt.
17. "How Do I Love Thee?" Fill in the Blanks Book
If you or your partner's love language is words of affirmation, you'll adore this "How Do I Love Thee?" Fill in the Blanks Book.
This 56-page book includes 26 prompts, one for each letter of the alphabet, allowing you to express all the ways your partner is important to you.
A few sample prompts include:
"Of course, the yummiest thing about you…"
"You make me laugh whenever…"
"My passion is ignited whenever…"
"You bring me joy every day by…"
"I can always depend on you to…"
"You are exceptional when it comes to…"
18. Max 2 & Nora: Couples Sex Toys by Lovense
One of the most difficult things about being apart is the lack of sexual intimacy. Bring some of that intimacy back with the help of Max 2 & Nora, the connected sex toys for couples by Lovense.
These aren't your average sex toys…
They communicate with and control each other, so when one partner changes their tempo, it affects the speed and intensity of the other.
Add in the ability to video chat through the Lovense Remote App while using the toys, and it's as close as you can get to the real thing, no matter the distance between you.
Max 2 is designed for men and Nora is designed for women. One thing we love about Lovense is that two Max 2s or two Noras can also connect to each other. Hooray for LGBTQ-friendly sex toys!
19. Onyx+ & Pearl 2: Connected Sex Toys by Kiiroo
A G-spot vibrator and a male stroker that communicate with each other from anywhere in the world? Yes, please!
With Onyx+ & Pearl 2 by Kiiroo, your time apart can feel closer than ever.
Similar to Max 2 and Nora, as you increase the speed of one toy, the other one increases in intensity. This doesn't feel like solo play anymore when your partner is controlling your device!
When time zones or busy schedules make it tough to connect with your partner, you can also connect Onyx+ and Pearl 2 with virtual content.
20. Lush 2 by Lovense
Are you into the idea of your partner controlling your pleasure when you're going about your day? You get just that with Lush 2 by Lovense.
While Lush 2 can't connect with other Lovense devices, your partner can control it with the Lovense Remote App from anywhere in the world. If things get a bit too intense you still maintain some control with an easy-to-access power button.
It's also worth noting that Lush 2 is completely waterproof, and the motor is whisper-quiet making it perfect for the bath or shower.
21. 100 Movies Scratch Off Poster
Now that there are ways to stream content together, choose your next movie night based on this 100 Movies Scratch Off Poster.
If your favorite date night is watching movies, making your way through these 100 iconic films will get you through quite a few evenings until you can watch movies in person together again.
You and your partner may have already seen "Jurassic Park" and "The Lord of the Rings" together, but what about "3 Idiots," "Amelie," or "Apocalypse Now"?
What's cool is that you'll find new favorites by scratching your way through.
Our Favorite Gifts For Long Distance Couples
We love being able to light up our partner's life. Our top choice is the Long Distance Lamps from FriendLamps.com because they literally allow you to do just that!
Here are some of the other reasons why we're big fans:
Join our FREE LDR challenge & learn the
secrets
to strengthening your relationship in just 7 days.
"We just want to tell you how amazing this all is & we can't thank you enough!"

Becca (USA) & James (AUS), Challenge Participants
By entering your email address you agree to receive emails from Lasting The Distance. We'll respect your privacy and you can unsubscribe at any time.
---
Hi, we are Lolo (Canada) & Nate (Australia) a couple that had to go through all that a long distance relationship has to offer, just like you. With our experience and lessons learned we want to help you keep your long distance relationship as strong as ever and ultimately last the distance!