Looking for long distance relationship activities, ideas and challenges usually means one thing.
You've settled into a routine.
This can lead to thoughts of 'the flame' fizzling out and can even be amplified when you see other couples just doing 'life' together.
Feeling a little envious? Let's change that!
Rather than focus the things you can't do. Let's help you explore all the things you can do.
From romantic ideas to fun challenges, we've compiled an extensive list of the best activities for long distance couples.
Let's get stuck in…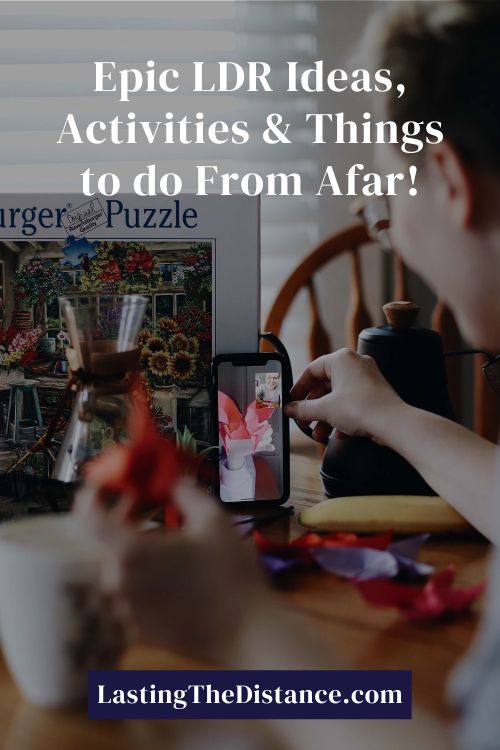 QUICK NAVIGATION
Romantic Long Distance Relationship Activities
1. Cook & Eat Together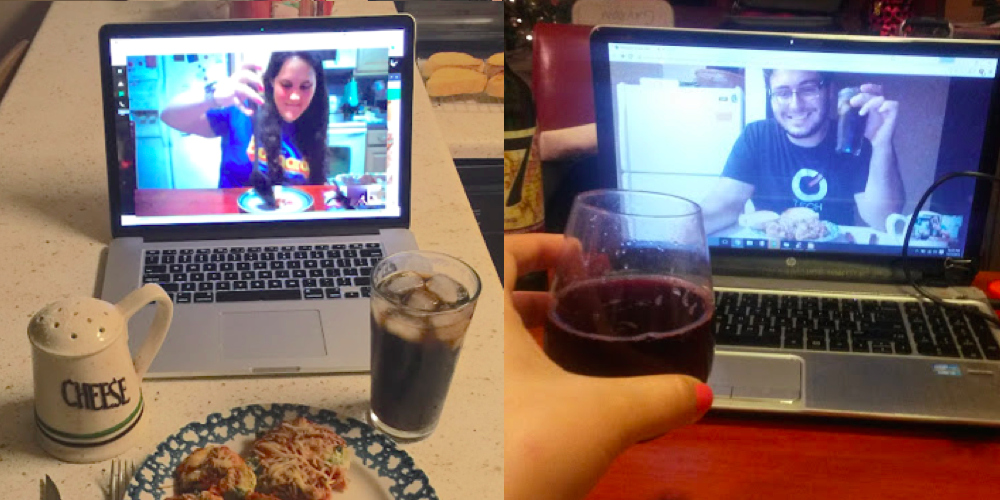 Just because you can't physically be together doesn't mean you can't share a meal. Pick a recipe you've both been wanting to try, put your laptop on the kitchen corner, pop open a bottle of wine, and cook together.
Swap cooking tips, chat about your days, and then set the laptop across the table from you so you can enjoy your meals together.
The photo above are of LDR love birds and Reddit users u/melodyamypond and u/eztofollow. They have perfected the art of "synchronised cooking", which you can read more about here.
2. Find Your Dream Home
Have a conversation about what each of your dream homes looks like.
Where would you live?
Would it be a house or an apartment?
Do you want to build a place or buy something with character and charm?
Look at home building and real estate sites to start mapping out how to turn your dreams into a reality.
3. Movie Night With a Twist
Don't just curl up next to your partner (or, more accurately, your partner's face on a video call) and watch any old movie.
Make it something special.
Whether it's a childhood classic, a cultural staple, or that movie that made you fall in love with film. Watching a movie that means something can help you bond and understand each other's backgrounds better.
Need a few ideas? Check out our post on the best long distance relationship inspired movies to watch. Then see how to watch them together online and in sync!
4. Create a Digital Scrapbook
Not only will making this create a priceless collection of your happy memories. It will also be a great resource when you need to show proof of your relationship for immigration or visa applications.
Include things like:
Favorite photos
Plane tickets
Hotel confirmations
Email & text screenshots
You could always make a real scrapbook! Check out our post on some other cool DIY projects that make great long distance relationship gifts.
5. Surprise Visit
Who doesn't want their own rom com moment?!
But, while showing up unannounced outside of their can definitely be romantic, remember that real life doesn't go as smoothly as the movies.
Surprise visits are a great way to show your partner you care, but can go much smoother if you're in contact with their friends and/or family to help you coordinate.
6. Watch the Sunrise/Sunset Together
In a completely different time zone from your partner?
This can be a unique opportunity to share a romantic moment together.
If you tend to go to bed while they're waking up, or vice versa, carve out some time to sit with a coffee or glass of wine and watch the sun travel from one of you towards the other.
To note: Use TimeandDate.com to find out exactly when the sun rises or sets where you both live.
7. Foreplay Games
Get in the mood in a flirty way by playing games like:
Strip poker
Never have I ever, or
Truth or dare
Not only do these games help bring out a more lighthearted connection, but can help overcome any awkwardness before being intimate online.
Want a few more exciting options? Check out our post on fun and exciting sex games for long distance couples to level-up their intimate moments.
8. Sexting
Get intimate with your partner anytime, anywhere.
There's something extra sexy about discreetly talking about all the things you want your partner to do to you while you're out with friends.
Just make sure to always ask for consent first!
9. Phone Sex

Instead of spending your nightly phone call talking about your day at work, switch things up and get a little steamy.
If you or your partner are uncomfortable with FaceTime sex, this can be a great way to experiment without the added element of seeing each other's faces.
10. Connected Sex Toys
Utilize the amazing technology of long distance sex toys and make your long distance intimacy feel more connected than ever before.
Lovense's Max 2 (vibrating masturbator) and Nora (rabbit vibrator) have the ability to connect via Bluetooth and respond to each other's movements in real time.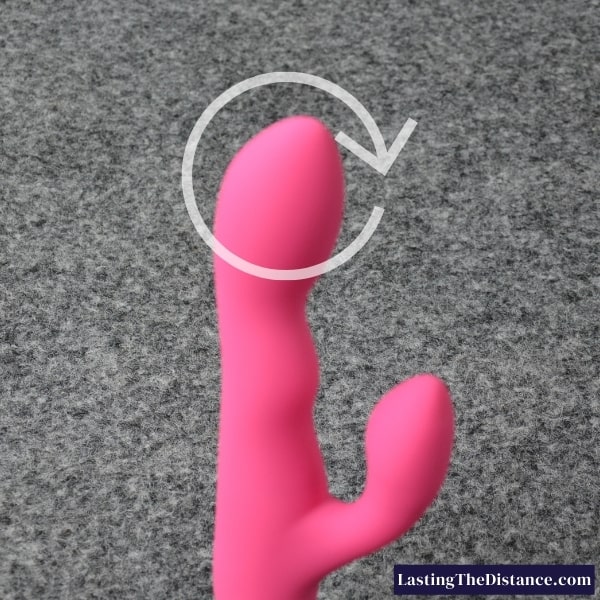 Increasing the speed Max 2 is stroked will enhance Nora's vibration intensity and speed of the rotating arm.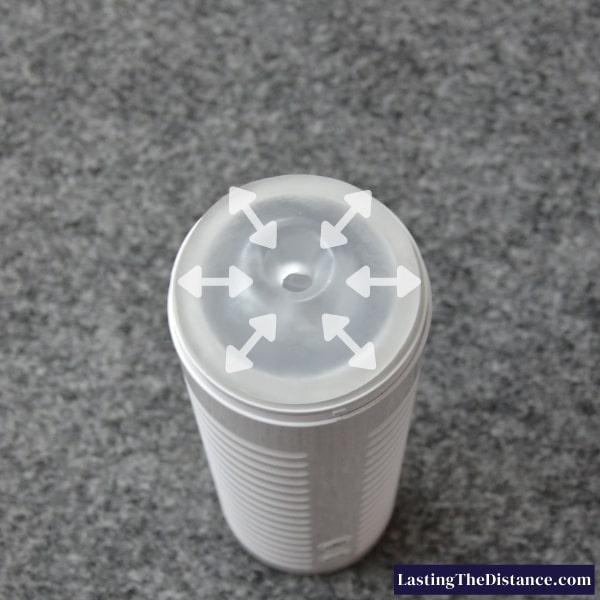 Also, inserting and removing Nora at increasing speeds will intensify the Max 2 vibrations and contractions.
These toys are also LGBTQ+ friendly, as two of the same toys can also be connected! E.g. Two Max 2 Strokers or two Nora Rabbit Vibrators.
11. Public Play
Public play might not be for everyone. But it can be a fun way to spice things up for the right couple.
You or your partner can take control of devices like vibrating panties, butt plugs and prostate massagers that have app and bluetooth connectivity.
This will definitely make your usual walk through the park or nightcap a bit more interesting!
12. Fall Asleep on FaceTime Together
Whether it's after dinner, a movie, FaceTime sex, or just a long day, there's something undeniably intimate about falling asleep together.
Prop your phone or laptop on the other side of the bed and doze off with the comfort of your partner's presence.
To note: Make sure you're phone is using WiFi and not your cellular data!
13. Swap Physical Love Letters
Emails and text messages are fantastic options for staying connected on a consistent basis. But there's something special about receiving an old fashioned letter.
You can catch your partner off guard in a sweet way by having a love letter show up in their mailbox, and it lets them know you're thinking of them even when you're not talking.
Not sure what to write? No worries! Check out our posts on long distance relationship quotes and messages that will help get your creative juices flowing.
14. Write Poems to Each Other
Writing poems can be daunting.
Take the pressure off by letting each of you decide whether your poem will be serious, romantic, funny, or just silly. Whatever you decide, though, make sure you give it your best and put some time and thought into it!
Or, if you're up for a challenge, you can attempt to describe your partner only using words starting with a letter of your choice.
15. Coffee Shop Date
Walk to your favorite respective coffee shops, order a latte and FaceTime each other while you enjoy your drink.
Even if you both have work to complete or a book you want to read, it brings a sense of normalcy into the relationship to do everyday things together.
16. Take a Bath Together
Put your laptop on a chair next to your tub, pour in the bubble bath, light some candles, and relax in each other's company as you unwind from your day.
17. Plan Your Next Date in Person
Maybe it's still going to be weeks or months before you're physically together, but the time will pass quicker if you have something to look forward to.
Planning in advance gives you additional perks, like securing reservations at that famous spot in your city, or getting good deals on flights and hotels.
18. Plant a Tree on Your Next Visit
Take a photo every time you visit it to see its growth and keep them in a book or journal.
That way you can see your tree growing right alongside your relationship and create your own "secret" spot that holds much value to you.
It is a beautiful way to bond while providing value for everyone else in this world. One tip on this one, though, don't pick a slow-growing tree or it might take a decade to see much progress!
19. Intimacy Q&A
What is your partner's favorite thing to do in bed?
What is your favorite thing they do to you?
What's the best part about virtual sex?
What's the most uncomfortable?
What are each of your dirtiest fantasies?
Dedicate one of your FaceTime dates to having an intimate Q&A session. It'll not only help you feel closer to one another, but could give you some fun ideas for the next time you're together!
Want more question ideas? Check out or post on the best long distance relationship questions to ask that will help you connect on a deeper level.
20. Grow Herbs Together
I know, this might sound boring, but it's a surprising satisfying activity. Get some small pots or a wondowsill herb planter and grow your own mint, basil, parsley or any other herb.
Take regular photos and see whose plant grows faster and looks better if competition is your thing!
Imagine your relationship is like this plant. You provide it with love and water every day and gradually it grows and strengthens. Then, as a bonus, you can enjoy the fruits of your labour.
Homemade pesto, anyone? So easy, and so delicious. Maybe mint mojitos?
Sweet Things to Do in a Long Distance Relationship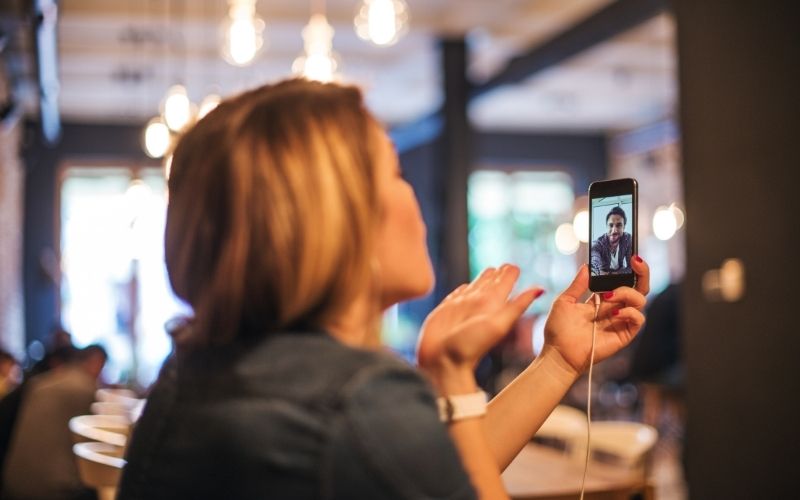 21. Plan Your Next Visit
It doesn't matter how far out you're planning, studies have found that having something exciting to look forward to reduces stress and improves mood.
So plan a weekend to visit one another!
Book opening night tickets to that movie you're looking forward to, or
Find fun things in your respective cities to make reservations for.
22. Order Each Other Take Out
There's nothing like coming home from a long day and not having to cook (or clean).
Order them their comfort meal from their local spot or switch things up and order them your comfort meal. You could even surprise them with something they've never tried before.
23. Subscription Boxes
Investing in a food or beverage subscription box could be one of the best things to do with your partner online.
Why?
Because every month or quarter, you get to set aside time to connect and have a tasting date to rate and compare that month's treats!
You could try different beers, wines, snacks, candy, or even tea depending on your shared taste.
We recommend Universal Yums. They deliver snacks from a different part of the world to your door each and every month! They also have one off boxes and different sizes to suit.
24. Work From Home Together
If you're lucky enough to be in similar timezones, take advantage of it and work together like colleagues.
You could:
Take coffee breaks at the same time
Flirt by the hypothetical water cooler, and even
Have lunch together!
25. Plan a Vacation Together
It can be less costly to just visit each other. But it's way more romantic to meet in the middle and experience a new country or city together.
You can never truly know whether or not you'll go the distance with your partner.
Dealing with lost luggage, missing a connecting flight, or getting lost in a foreign city together can be good indicators!
26. Make Cocktails Together
Teach one another how to make your go-to cocktails, so once you eventually close the distance for good you can surprise each other with your favorite drinks!
Or, if you want to try something new, look up a fun recipe online and follow the steps together and do a taste test.
Another option we recommend is the Online Cocktail Making Experiences from Uncommon Goods! Especially the "Thirsty Throwback: '80s Cocktails" offered by bartender Kate Olson!
27. Swap Clothing
Next time you visit each other, swap clothing so you both have a little piece of them that gets to stay with you once you say goodbye.
Maybe it's their softest hoodie, or just a t-shirt that smells like them that you can tuck under your pillow. Either way, it can be helpful to have something tangible to hold onto when you're missing them.
28. Write Open When Letters
Writing letters to each other to help get through the emotional LDR rollercoaster and challenges can be a thoughtful way to show support when you're not together.
Example prompts include, Open when:
you miss me
we're fighting
you've had a long day
you need some encouragement
Not sure what to write? Check out our post on Open When Letter Ideas that explores how your partner will be feeling at different times and what prompts, plus what to write, will help get them through.
29. Find Your Love Languages
Not everyone receives love in the same way. A gesture that might be really meaningful to you may not make much of an impact on your partner, and vice versa.
Take The Love Language Quiz together and learn more about how to make each other feel loved and understood.
30. Virtual Museum Visits
It can be discouraging to see couples doing activites together on a regular basis and feel like you and your partner don't have that same luxury.
But, with more and more virtual experience options, that doesn't have to be the case! Try something different for your date night and go on a virtual museum tour.
31. Video Calls With Loved Ones
Don't wait until you're able to be together in person to introduce each other to your loved ones! FaceTime your partner into your family brunch, or virtually join his weekly game night.
This will prevent you from feeling like your relationship isn't integrated into your "real world" and make it easier when the time comes to meet in person.
32. Create Care Packages
Care packages give you a chance to express your love with 'a bit of this and a bit of that'.
Fill a box with things like:
Their favorite snacks
Sweet notes
Photos of the two of you
A comfy sweatshirt, or even
Sex toys!
One thing is for certain is that the surprise is sure to brighten their day.
Not sure what to include? Check out our post on a few weird to wonderful care package ideas for long distance relationships.
33. Exercise Together
Having an exercise routine together keeps you connected while promoting a healthy lifestyle and keeping each other motivated.
It could be as simple as taking a walk together while you talk on the phone, or as competitive as having work out challenges over Fitbit or Peleton.
Or why not use the thousands (if not millions) of workout videos on Youtube and watch it in sync via a platform like Discord.
34. Challenge each other
Does your partner need some motivation? Challenge them!
Challenge them to do half an hour of exercise a day, or complete that task they've been putting off, or make progress on a creative project.
Make yourself grown up sticker charts, and report in for accountability.
35. Listen to Audio Books Together
Why not start a virtual book club with a platform like Audible?
Listen to excerpts of an audio book and then discuss it together. We suggest that you switch every month so you can both experience your partner's taste in literature!
36. Listen to a Podcast Together
Go for a stroll while you listen together, or listen on your own time and discuss it later.
Either way, starting a podcast together can allow you to learn more about each other's interests or start some interesting conversations about a new topic.
37. Watch Each Other's Favorite TV Series
Maybe you swore to never watch reality TV, or your partner avoids crime shows at all costs.
But watching each other's favorite TV series isn't about expanding your TV horizons (though you might be surprised). It's about showing that you care enough about each other to want to experience something the other enjoys.
To note: Depending on your region, streaming services may not serve the same content. Make sure to choose something you know you both have access to.
38. Questions About your Past
Since you've been together, you've gotten to know each other on such an intimate level.
But what about before you met?
Maybe you've already had that classic conversation about previous relationships, but what about your:
Childhoods
Families, or
College experiences?
39. Investigate Your Family Histories
Everyone's family history holds surprises and fascinating facts about those who've come before you. So why don't you learn something new about your own family and get to know your partner better at the same time?
Become detectives and find out who your ancestors were.
Where did they come from?
How did they make a living?
Why did they stay put, or move?
Draw your family trees and show them to each other. What surprised you?
Was there anything you didn't expect?
This LDR activity might take a bit of research, but it is well worth it. You could even set up some video calls with your parents and grandparents. They will love reminiscing, and you'll not only learn more about your family history but they will get to interact with your partner too! Win-win.
40. Meditate Together
Being apart for so long can feel like an emotional roller coaster and have you constantly looking ahead into the future.
Mediating can help ground you, stay present in the moment, and calm yourself down during stressful times.
Cute Long Distance Relationship Ideas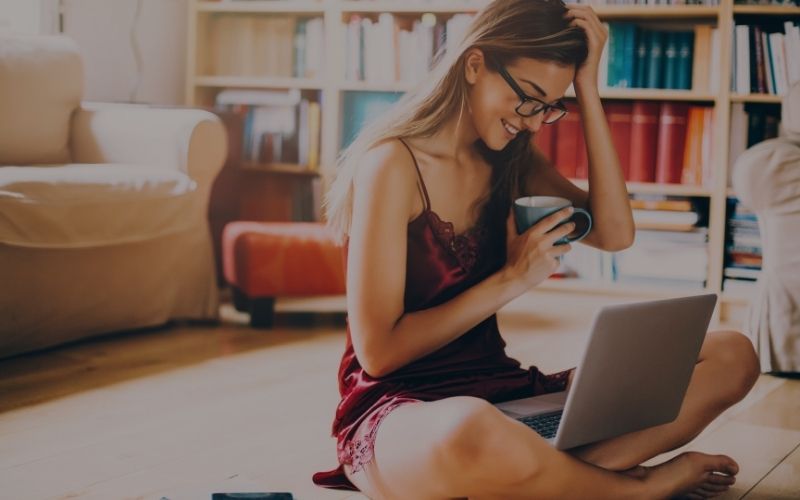 41. Online Experiences
Virtual museum tours aren't the only online experiences you can share!
From cooking to mixology to jewlery making to tarot reading, the opportunities are endless.
42. Nap together
Midday naps are already tempting, but what could make it more appealing than doing it with the one you love?
An added bonus, it'll be easier to motivate yourself to actually wake up when you have your partner there to talk to.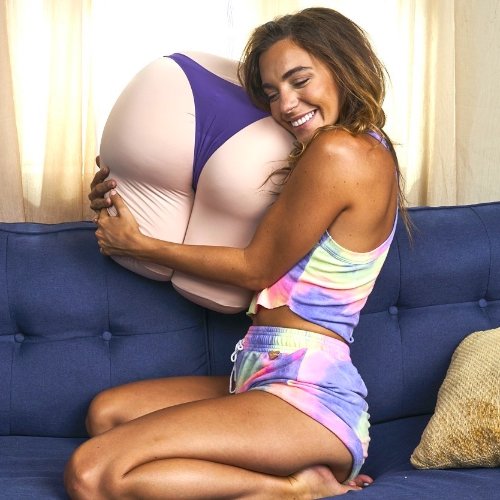 Want to take your naps together to the next level?
Check out these cool but quirky pillows from The Buttress Pillow.
43. Study Together
Maybe you're in school or maybe you're trying to learn each other's languages. Whatever your studying, take time to quiz or tutor one another to offer support and practice accountability.
Another option is to be each other's accountability buddy and study in silence while on video chat together.
44. Try Each Other's Favorite Snacks
This can be especially fun if you live in different countries with totally different snack brands and cuisines.
Send each other your favorite snacks and FaceTime while you try them all.
To note: If you are in an International LDR make sure to check what types of foods can and can't be sent via post.
45. Virtual Vacation
Don't have the funds to take a real vacation quite yet?
Lucky for you, there are live webcams all over the world that can transport you to a beautiful location without even leaving your couch.
Virtually experience multiple locations with your partner, and pick your favorite to save up to actually visit.
46. Buy Matching Gifts
Buy something together that symbolizes your love and relationship. It's fine if you're not quite ready for matching rings, you could still get something romantic like a bracelet or cute like a keychain.
The point is to have something close to you at all times that represents your connection.
Speaking of gifts! Check out our list of epic long distance relationship gifts that are sure to melt away the miles.
47. Email Chains
Alternate writing each other emails every day, replying to the original thread to create an ongoing chain of your conversation.
One day it might be a romantic letter, another day it might be a funny anecdote, and one day it might be a collection of photos representing some of your favorite memories.
This is also a great routine for international couples to get into as these email chains can be used as evidence in support of your relationship.
48. Listen to Music Together
Create and swap playlists that remind you of each other or your relationship.
Challenge: No skipping allowed!
Want some recommendations? Our post on the best long distance relationship songs will kick start your playlist. Then check out the platforms that will let you listen to music together online and in sync!
49. Create an LDR Journal
Why not buy a joint journal and mail it back and forth to one another.
Pick a designated amount of time for each of you to hold onto it. Whether it's a week or a month and fill it with:
Things you wish you could have shared with them
Ideas or thoughts you'd tell them about if they were there, or
What you've learned about your relationship through this experience.
Mailing a journal back and forth can get expensive. Another option is to use a Couple's Journaling App like Waffle!
50. Questions About the Future
You've covered questions about your individual pasts, and now know everything from their first crush to their most embarrassing college story…
But what about your shared future?
When you picture the future of your relationship, what do you both see?
Need to get the creative juices flowing? Check out our post on long distance relationship questions that will help kick-start important conversations.
51. Have Voice Message Conversations
To note: This works really well when asking questions about the future because it allows you to listen to the questions multiple times and think about how you want to answer beforehand.
Talking via video or the phone is great, but it's not always convenient or possible to connect right when you want to.
This asynchronous way of having a conversation can take some getting used to but it can be an amazing way to help keep you feeling closer when you're both not 'fully available'.
52. Play With Animals Online
You might not be able to share a pet yet, but that doesn't mean you can't play with them together!
Check out Pet Cube, where you can watch and interact with animals online.
53. Send Homescreen Messages
With the recent updates to iOS (features that Android has had for some time!) apps like noteit allow you to add a widget to your homescreen. Which lets you send and receive love notes and memos from your partner in real time.
It's a simple and cute way to instantly brighten each other's days.
54. Paint Together
Sign up for a virtual paint and sip and bring out your artistic side.
If you'd prefer something more casual, have a drawing contest and each give your best attempt to create a portrait of the other.
Draw.Chat is a great tool that is super simple to use and if you actually do want to find out who's more likely to be the next Picasso why not have your creations rated!
55. Take a Drive Together
If you or your partner like getting behind the wheel, take a drive around your town or cities and give the other a tour.
Point out all your favorite spots, and then go through a drive through and stop in a parking lot so you can share a meal together.
Just imagine when they come to visit and they remember the spots as you pass by!
56. Take a Relationship Quiz
The Love Languages Quiz isn't the only quiz out there for couples!
From informative ones like determining your attachment style, to fun ones like how well you know each other, spending a Zoom date taking relationship quizzes is a sweet way to pass the time.
Here are five great options:
57. Sing Karaoke Together
For the brave and performative couples among us, why not have a karaoke date.
Why not try Sing! Karaoke an iOS and Android app by Smule. You can record yourself singing then invite your partner to sing along with you and sync them together!
To note: If you don't want to be singing over the top of each other look for duets like the classic "Ain't no Mountain High Enough" by Marvin Gaye & Tammi Terrell.​
Fun Things to Do in a Long Distance Relationship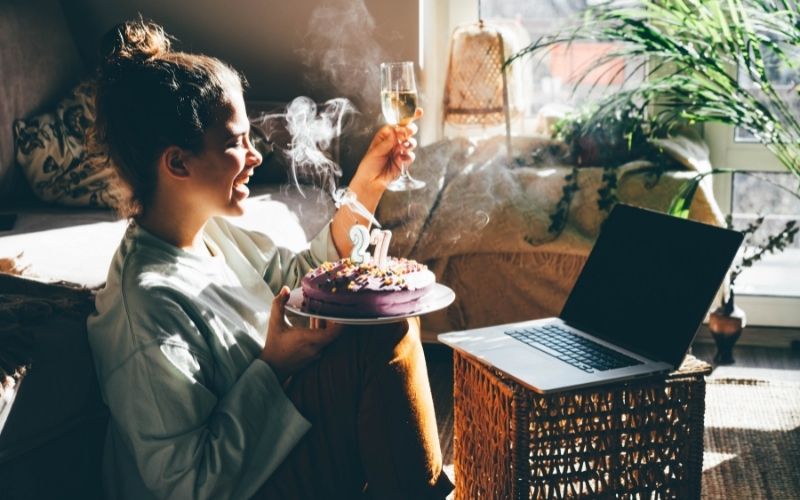 58. Create an LDR Bucket List
A healthy and inspiring activity for long distance couples is to create a bucket list.
List the experiences you want to have while apart AND together, plus things you want to accomplish in life.
You and your partner can create seperate bucket lists and compare (that's good for hours of interesting conversation).
Want an alternative? Why not check out our post and see how you can make a long distance bucket list together!
59. Virtual Escape Room
Test how strong your problem solving skills are as a couple and do a virtual escape the room.
It's a light-hearted way to see how well you work as a team while trying something new!
60. Create an LDR Fund
Practical and collaborative, set aside an envelope of cash or a free online saving account and put aside money for long distance related costs.
It can be used for things like:
Gifts
Plane tickets
Visa costs, or eventually
Closing the distance!
Whatever it's used for, it's a great lesson on budgeting and you can brainstorm together on how to maximize your contributions to the fund!
To note: You don't need to set up a 'joint account'. Having separate savings accounts is good enough as it shows how you are both contributing!
61. Play Drinking Games Together
Pop open your beverage of choice and play a virtual drinking game. Let loose and get a little drunk (in love), but always remember to drink responsibly.
Some games we love:
Never Have I Ever
King's Cup (Ring of Fire)
62. Join an LDR Support Group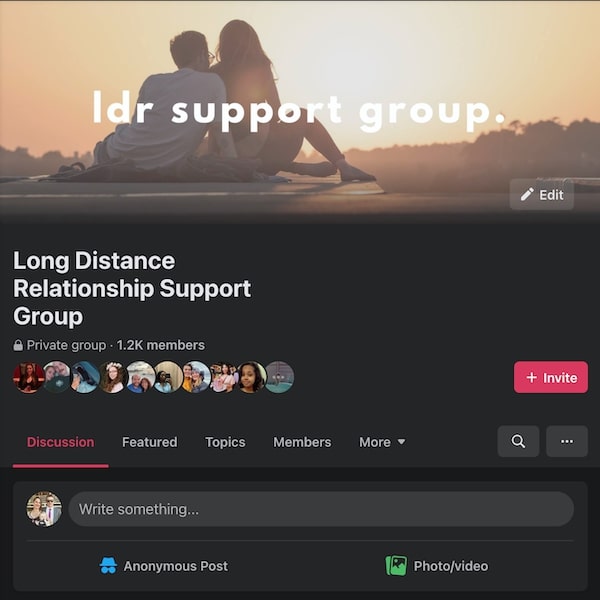 A long distance relationship can feel very isolating at times. Check out our LDR support group to remind yourself you are not alone.
Not only can you get extra support when you need it, but offering advice and support and others can give you a sense of fulfillment that can propel you through tough times.
63. Virtual Scavenger Hunts
Turn your own living room into an epic adventure with these virtual scavenger hunt ideas.
From solving puzzles to searching for random items around your house. These games can bring a sense of humor and playfulness into your relationship.
64. Start Planning to Close the Distance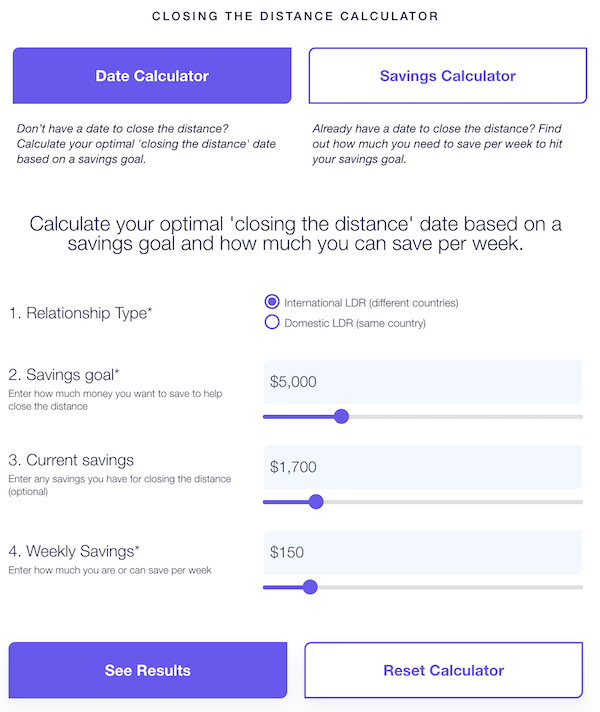 Use our Closing the Distance Calculator to determine what a realistic timeline would be.
There are two options to choose from:
The Date Calculator: Which outputs a date based on how much you want to save before closing the distance.
The Savings Calculator: Which outputs a $ amount you can save based on when you are planning to close the distance.
Even if the date is far into the future, it's vital to have a goal to work towards TOGETHER!
65. Try Each Other's Favorite Meals
Spice things on your weekly dinner date and try each other's favorite meals.
Either order each other your personal meal of choice, or get cheffing and try cooking them! If you can perfect the recipe, you'll get lots of brownie points once you're living together.
66. Learn a Language
If you both have different first languages, swap week to week and teach the other some key words or favorite phrases.
If you both speak the same language, download an app like Duolingo and start learning something new together.
67. Invent Your Own Secret Language
Make up words, phrases, or whole sentences, and then use them.
You can come up with new words that don't exist yet or combine and alter the existing ones.
Soon enough you will have invented your own long distance love language!
68. Try a New Hobby
Having a hobby has been proven to provide benefits like reduced stress and improved health. So why not pick one up together?
Try something you can do together on video calls or do virtually, like:
Practicing an instrument
Learning to play chess, or
Yoga
69. Create a Vision Board
Once you've taken time to ask each other questions about the future, visualize it!
Gather images and quotes related to the things you want to accomplish together and where you see your relationship heading.
To note: You could get crafty with some magazines and a poster board. But being apart, we recommend creating and sharing a virtual one on sites like Pinterest.
70. Play Simple Daily Games
Some healthy competition never hurt nobody! Try games like:
Wordle
Words with Friends, or
Draw Something
These games allow you to compete without needing to be actively playing at the same time. We think this is ideal if you and your partner are in different timezones.
71. Watch Sports Together
Maybe you support opposing teams, or maybe you watch completely different sports altogether.
Either way, make a night of it when your teams go head to head. Or make an effort to learn more about a brand new sport with the guidance of your partner.
72. Break a Record Together!
Have a look into the Guinness World Book of Records (or look on the Internet) and pick a world record to try to break.
Don't worry, some of the records are really weird and can be broken quite easily!
Even if you don't succeed, you'll have plenty of fun.
73. Fun Questions to Ask
Do you ever feel like your conversations are getting repetitive?
Or maybe you want to use your conversations as a way to deepen your connection but aren't sure where to start?
Check out our Deep and Meaningful Long Distance Relationship Questions and your conversations will never feel stale or dull again.
74. Play Boardgames Online
From Checkers to Scrabble to Clue, almost every board game you would play in person can also be enjoyed virtually.
Schedule a virtual game night with your partner, the loser has to plan the next visit!
We recommend TableTopia.com. They have thousands of online boardgames that load and work seamlessly in your web browser.
75. Play Visual Games Over Video
If you want to make game night a bit more personal, jump on a Zoom call and focus on visual games like:
Pictionary
Charades
Truth or Dare, or even
Strip Poker!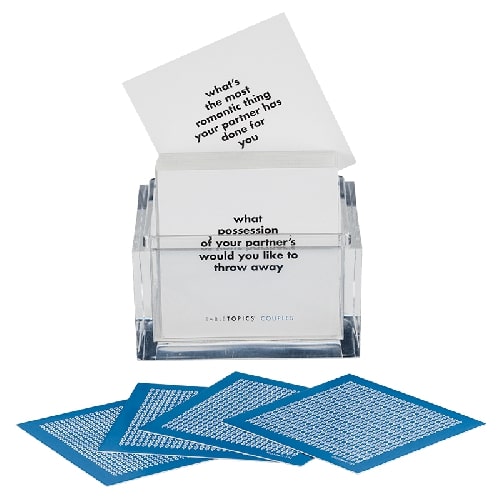 For couples who want a more serious and thought-provoking date night, TableTopics Couple Edition is the way to go. Prompts include:
Is it our similarities or differences that attract us to each other?
What's the best thing you learned from your mother?
76. Answer Riddles
Instead of recapping your day at work over the phone, get creative with how you use your time together.
Check out this riddle generator and buckle up for a battle of wits.
77. Visit Random Websites
Feeling adventurous? Hungry? Playful? Generous? Creative? Use Google's homepage to generate random search results based on your mood.
Find a charity to support together, a restaurant to try the next time you visit one another, or just stumble upon an interesting corner of the internet you never would have known about otherwise.
Can't think of anything? No worries. Check out The Useless Web! With a click of a button you'll be transported to a random website.
To note: Do this over a video call where you can share your screen rather than both of you trying to access the same Google searches or sites separately.
78. Make Each Other Laugh
The distance creates hard times and difficult days.
We all have periods where we feel overwhelmed, scared, and sad. But, hopefully, we'll also still have times of light and laughter.
Here's something that can help with the laughter side of things. Check out these funny questions to ask your long distance partner and talk about some of them together.
You can also have meme battles and send video clips that made you laugh.
Pro tip: Don't put pressure on them to watch and respond immediately, and don't assume they'll always find it just as funny as you do.
79. Share Your LDR Journey
Why not start a blog or vlog to document your long distance romance?
Not only will you create cherished memories for the two of you to look back on. But it can also be a great way to help other couples who are navigating the distance.
While all relationships are different, there is a shared experience that all LDR couples have. The more information, advice and support that is out there, the more likely LDR couples will truly go the distance!
Which Long Distance Activities & Ideas Will You Try?
Share this list with your partner and see what piques their interest!
Ask yourselves how much time you have and whether you're feeling energetic, chilled out, creative, romantic, or adventurous!
This list isn't meant to be gone through all at once, the beauty is that you can come back to it any time you're in a specific mood or simply to look for inspiration.
---
Hi, we are Lolo (Canada) & Nate (Australia) a couple that had to go through all that a long distance relationship has to offer, just like you. With our experience and lessons learned we want to help you keep your long distance relationship as strong as ever and ultimately last the distance!
Our

FREE

7 day LDR challenge is BACK!
Unlock better date nights, deeper communication plus a stronger intimate & emotional connection.
SECURE YOUR SPOT!